OnePlus 6 vs Google Pixel 2: can the underdog do the impossible?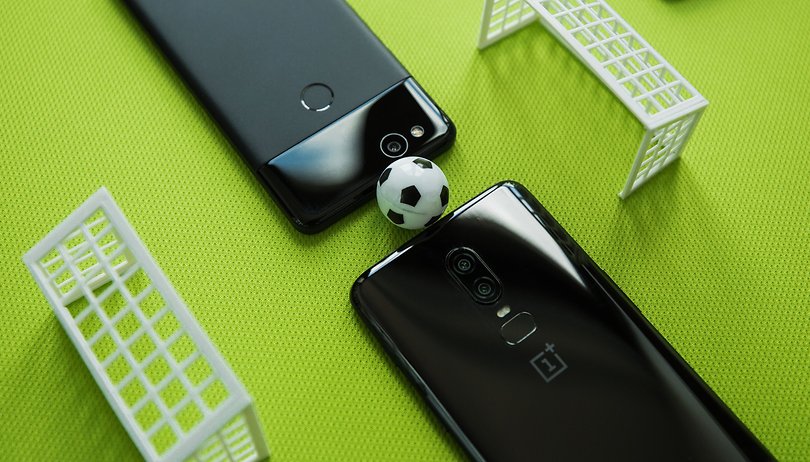 It's the second match in our quarterfinals, and this time the cheapest smartphone in our tournament is facing against one tough cookie. The OnePlus 6 has to stand up to the Google Pixel 2 in our shootout. Who will come away with the victory? That's up to you!
It was the big surprise of the first round of our Smartphone World Championship: the OnePlus 6 beat the Samsung Galaxy S9, which came as a bit of a shock to us. The Pixel 2 had the most decisive victory in the first round against the HTC U12+. Now it's the underdog against one of the favorites for the title. This should make for an exciting match!
The duel in the dark
Our low-lighting stage should weed out the pretenders, since the differences between the test photos can be quite glaring. To make sure that the votes are cast impartially, we'll make this a blind test, and the users from all our country domains will be participating in the poll. So we'll have participants from the US, UK, France, Italy, and Spain.
Scene number one
The twilight hour between sunset and the dark night is ideal for photos, and the light is particularly beautiful at this time, although it's a bit gloomy. This isn't so easy for small sensors and lenses in smartphones. Which device does it better?
Scene number two
As soon as it's really dark, artificial light sources need to illuminate the surroundings. The lamps and lights provide a high contrast between dark and bright areas. It's not easy for cameras to inhabit this middle ground between light and dark. You can see this in the pictures in this comparison.
Scene number three
There's just two candles illuminating the scene, but you should still be able to decipher the musical notes on the pages. The biggest obstacle to this is the image noise that eats up the details in the photos. Which of the two smartphones did it better in your eyes?
Thanks for participating!