Nexus 6 vs LG G3: which Android phone will make a bigger splash?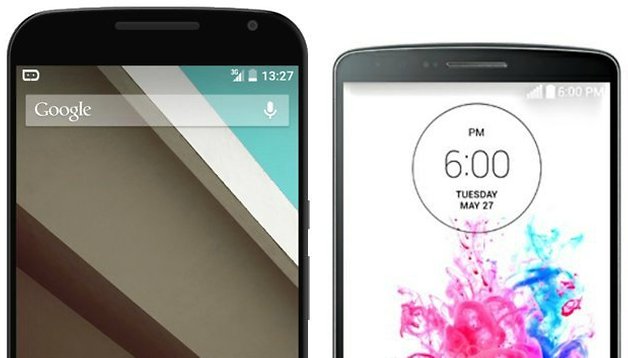 The Nexus 6 is here. It's big. It's water resistant. It's expensive. Whether you're a fan of the massive screen or not, the Nexus 6 is going to be one of the best Android phones of the year. It'll certainly put up a very good fight against our current reigning champ, the LG G3. Based on what we know, which phone do you think will turn out better? Take a look at the pros and cons of each phone in our Nexus 6 vs LG G3 comparison.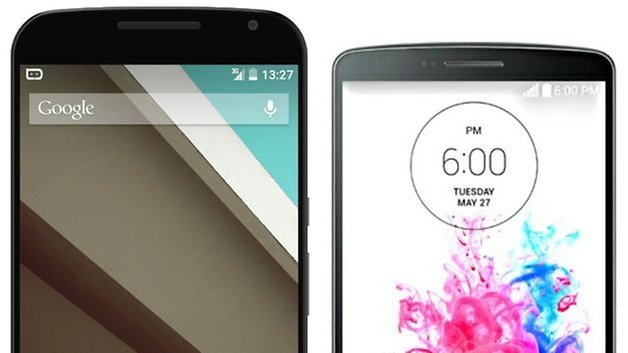 Nexus 6 vs LG G3: Design and Build Quality
Without a doubt the LG G3 is one of the best looking Android phones to appear this year, with clean lines, small bezels, curved back and symmetrically and intuitively placed rear buttons. Plus you've got all the benefits of plastic – lighter, cheaper and more shock absorbent – with all the allure of a metallic surface. The back of the G3 is removable, which provides access to a microSD card slot and removable battery, two features that will not appear on the Nexus 6.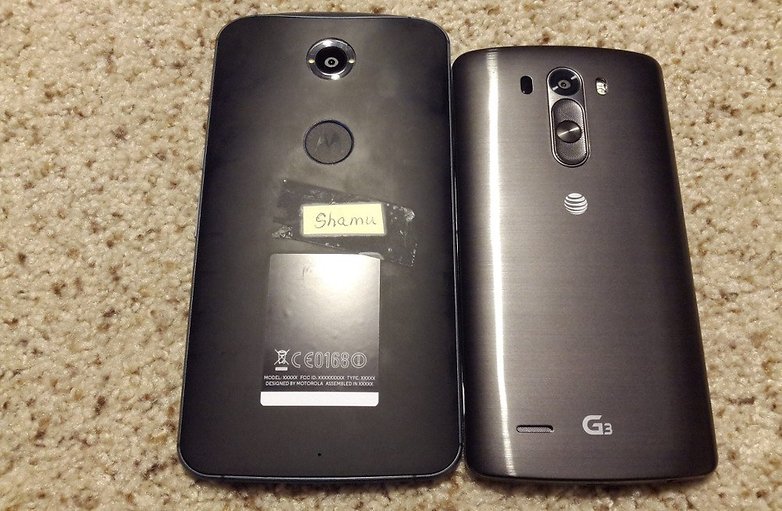 I'm also a huge fan of the Moto X (2014) styling, and with the Nexus 6 looking like a fatter Moto X, I'm a happy man. The dimensions of the Nexus 6 put it in the same size range as the Galaxy Note 4 and iPhone 6 Plus. The Nexus 6 weighs in at 184 grams, which isn't bad, considering it's around the same size as the Galaxy Note 4 which weighs in at 176 grams. The LG G3 is just 149 grams though, but much smaller of course.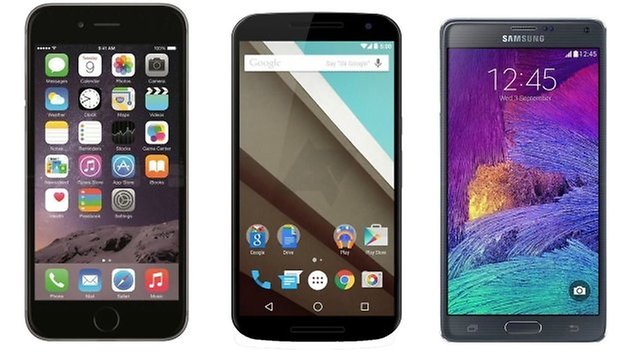 Up front though, the Nexus 6 doesn't really look that exciting, and certainly not as cool as the near bezel-less G3. The big-ass camera lens and ring flash on the Nexus 6 might not be to your taste either, but it should have pretty thin sides due to the curved back like the Moto X and G3. The Nexus 6 also comes with a metal-trim, but hopefully it won't be quite as slippery as the Moto X (2014) in the hand. The Nexus 6 will have dual front-mounted stereo speakers though, which definitely trump the LG's back mounted one, at least in terms of looks and convenience.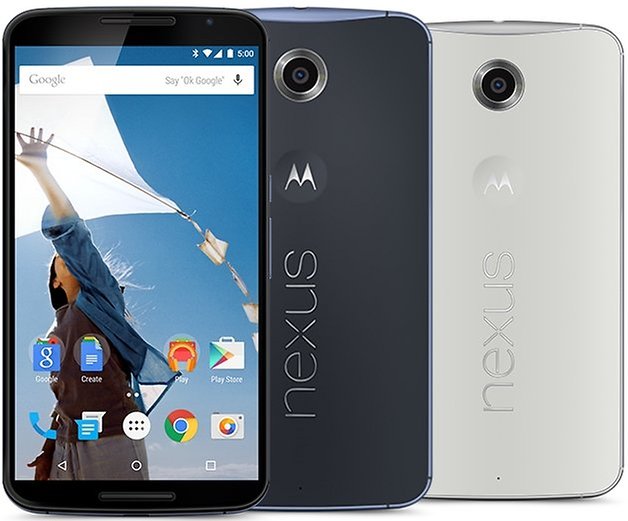 Nexus 6 vs LG G3: Display
The LG G3's 5.5-inch QHD display may not be the best in terms of color gamuts and other technical considerations, but it is still a very nice, super crisp panel. The colors are admittedly a bit muted compared to saturated phones like Samsung or Motorola though, so don't expect anything different with a Moto-made Nexus.
Thankfully, the Nexus 6 will arrive with an AMOLED display, like that found in the Moto X (2014), so you can high contrast, deep blacks and pretty saturated colors. Until we see the two devices side by side we can't confirm anything, but we expect the G3 to appeal more to those with a taste for subdued palettes and cooler pastels and the Nexus 6 to the bigger and brighter crowd.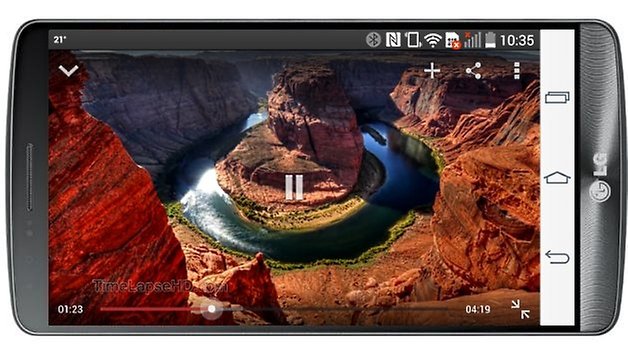 Nexus 6 vs LG G3: Software
The Nexus 6 will be delivered running stock Android 5.0 Lollipop. We're expecting the Nexus 6 to be one of the fastest and smoothest Android experiences available. Nexus devices are typically very lag free, even after prolonged usage and the Nexus 6 is going to have more RAM and a much faster clock speed than even the legendary Nexus 5, so you can expect it to be blazing fast.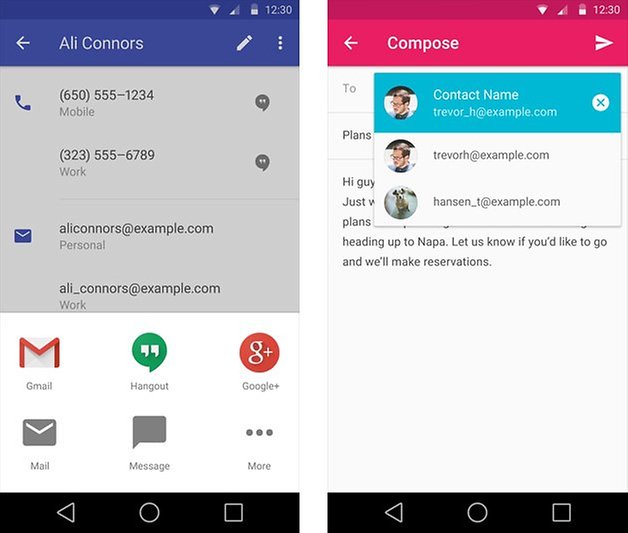 With the G3, LG chose to pare back the Optimus UI and make it a lot cleaner and neater. It's a faster interface than previous iterations, but it still lags occasionally and obviously cannot compete with stock Android unencumbered by any manufacturer skin, no matter how thin that skin is. Having said that though, the G3 will come with a variety of software additions the Nexus 6 will miss out on like Knock Code, multi-screen, QMemo+, floating mini apps and so on.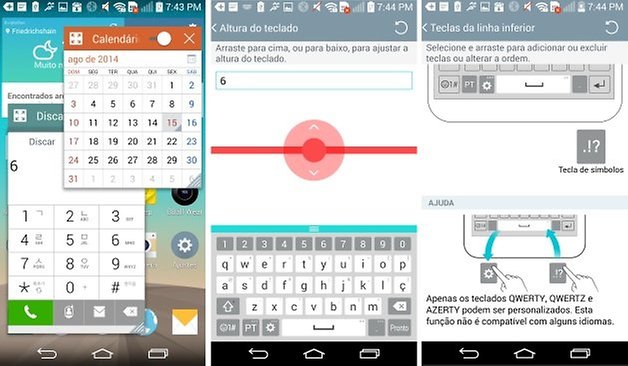 However, depending just how much Moto X there is in the Nexus 6, we might have gesture controls to add to Google Now's voice commands as well as a guest mode and business sandboxing option courtesy of Samsung's Knox which has been donated to Google. Add to this, fitness integration via Google Fit and the Nexus 6 will be packing more additional software features than previous Nexuses. We'll update you with with more when we have the Android 5.0 firmware in hand.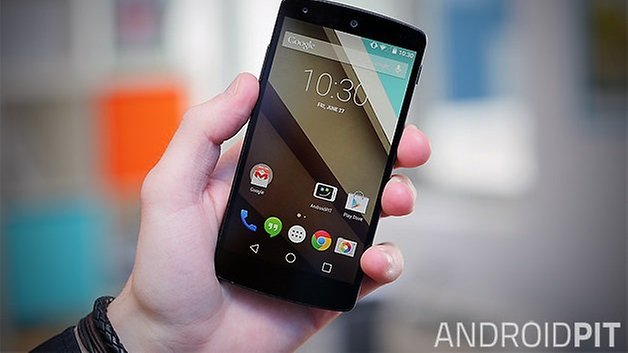 Nexus 6 vs LG G3: Performance
The Nexus 6 will pack a quad-core Snapdragon 805 clocked at 2.7 GHz and 3 GB of RAM. The G3, depending on which variety you buy, comes with a quad-core Snapdragon 801 clocked at 2.5 GHz and 3 GB of RAM (the G3 with 16 GB of internal storage only comes with 2 GB of RAM, so you'll notice slower performance if you decided to scrimp on internal storage to save some cash). As mentioned above though, the G3 has Optimus UI to contend with, so nothing will beat the stock Android Nexus 6 experience for smoothness and pure speed.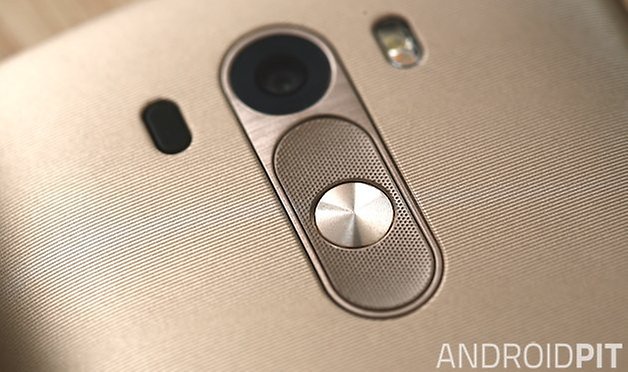 Nexus 6 vs LG G3: Camera
The new 13 MP Moto X camera hasn't knocked anyone's socks off. Indeed, we found that the Moto G (2014) camera is better than the Moto X (2014) camera. We're sure that both Motorola and Google are paying close attention to the complaints, because we know that Google really want to bring world-class photography to the Nexus line. Google certainly managed to improve the Nexus 5 camera dramatically with some software updates, but it'd be nice to get a Nexus with a great camera out of the box. At least the 13 MP Nexus 6 camera comes with optical image stabilization.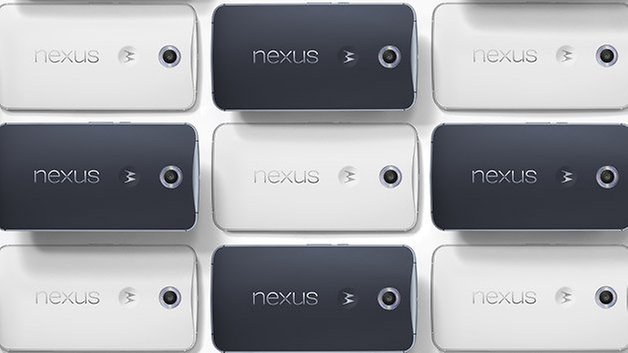 The G3's 13 MP camera, on the other hand, is one of the best around right now, with lightning fast auto-focus, great low-light and action focusing and superb daylight shots. The G3 does, however, suffer from LG's typically heavy post-processing. The camera app is also pretty light on preset shooting modes and misses a valuable manual mode (not that we'd expect these in the Nexus either). It's really great for what it is: a no-fuss, high quality shooter, but it could certainly be polished up a bit for those with advanced photographic needs.
Nexus 6 vs LG G3: Battery
The battery has been a traditional weak point of both the Nexus range and the Moto X, so we're not expecting the 3,220 mAh Nexus 6 to blow your mind in terms of battery. However, that is what we would say in the old world of Dalvik and Android KitKat. With the already-impressive battery optimizations of Android L perfected (hopefully), ART runtime finalized and the new battery management system in Android 5.0, you can expect to get a whole lot more life out of the same sized batteries we're used to today.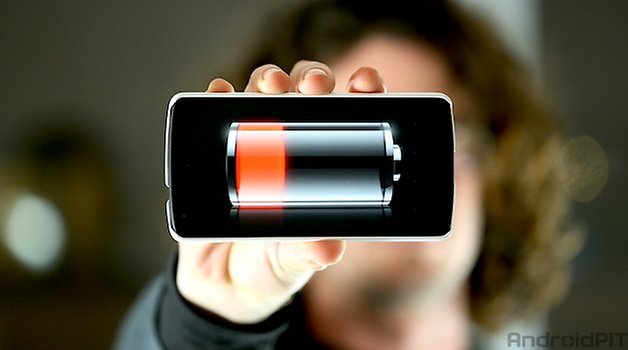 Of course, these same benefits will come to the G3's 3,000 mAh battery as well when it receives the update to Android 5.0, but these optimizations may not be done as well as those Google has built directly into the stock Android code base. Or perhaps they will be done better in the G3. LG certainly did a good job of throttling that QHD display down with adaptable technologies to maximize the battery life without letting the screen suck up too much juice when it wasn't required, so perhaps they will tweak Google's efforts even further for even better results. Battery life is going to be one of the main things to keep an eye on in the coming months.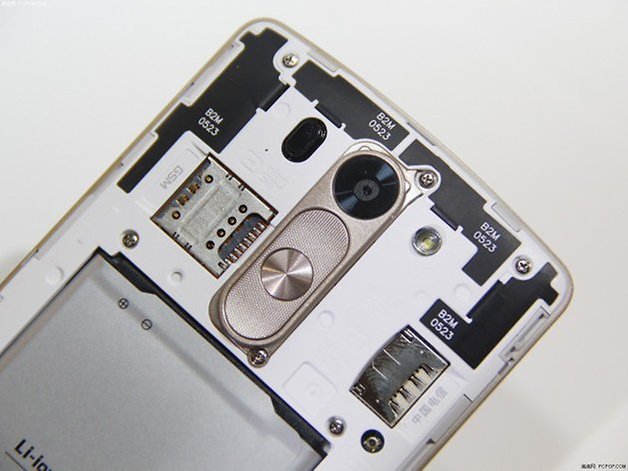 Nexus 6 vs LG G3: Release Date and Price
You can currently pick up a 16 GB LG G3 (with 2 GB of RAM) on Amazon for 460 USD and the 32 GB version (with 3 GB of RAM) for 525 USD on Amazon. The Nexus 6 price starts at 649 USD for the 32 GB verison, and it will be available for pre-order in late October and in stores in November.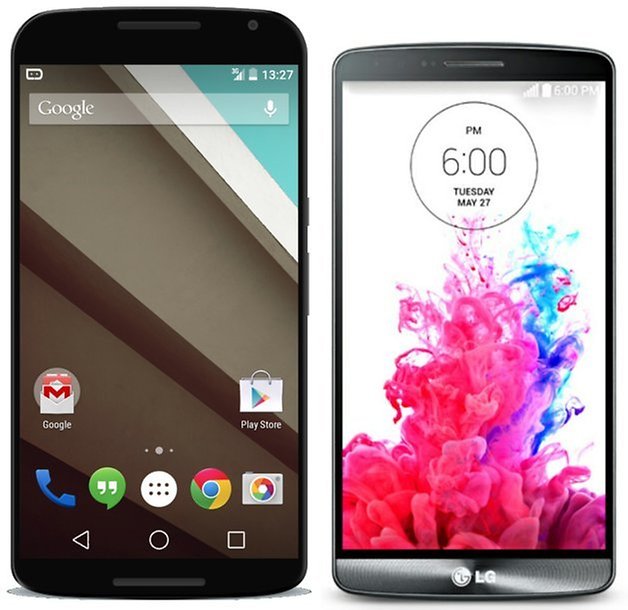 Nexus 6 vs LG G3: Tech Specs
| | Nexus 6 | LG G3 |
| --- | --- | --- |
| OS | Android 5.0 Lollipop | KitKat |
| Display | 5.9-inch QHD AMOLED, 496 ppi | 5.5-inch IPS+ LCD, 2,560 x 1,440 pixels (534 ppi) |
| Dimensions | 82.98 x 159.26 x 10.06 mm | 146.3 x 74.6 x 8.9 mm |
| Weight | 184 g | 149 g |
| Processor | Quad-core Qualcomm Snapdragon 805, 2.7 GHz | Quad-core Qualcomm Snapdragon 801, 2.5 GHz |
| RAM | 3 GB | 2 GB (16 GB storage), 3 GB (32 GB storage) |
| Camera | 13 MP with OIS | 13 MP with OIS+ and laser auto-focus, 2.1 MP (front) |
| Internal storage | 32/64 GB | 16 / 32 GB |
| Battery | 3,220 mAh, Qi wireless charging | 3,000 mAh (removable), Qi compatible |
| Connectivity | GSM, HSDPA, LTE, Wi-Fi, NFC, Bluetooth 4.0 | GSM, HSDPA, LTE, NFC, Bluetooth 4.0 |
| Price | 649 USD | 460/525 USD (on Amazon) |
Early verdict
This is a tough one. It's near impossible to say what will be better until we have them both in hand, but it seems pretty clear already that there's a few key differences: for unadulterated speed and the pure Android experience, it's the Nexus 6. For additional software features it's the G3. The Nexus 6 battery should significantly better than anything we've seen before, but those same benefits should make their way to the G3 eventually.
For the camera we're expecting the G3 to remain on top and which design you prefer is purely up to you. However, the Nexus 6 is water-resistant. This leaves the screen: just how good a QHD display will Google pop on the Nexus 6? We can't wait to find out.
Which phone do you think will be better? What's more important: screen size, speed, software or specs?