Nexus 4 Review: How Does It Compare to the Galaxy Nexus?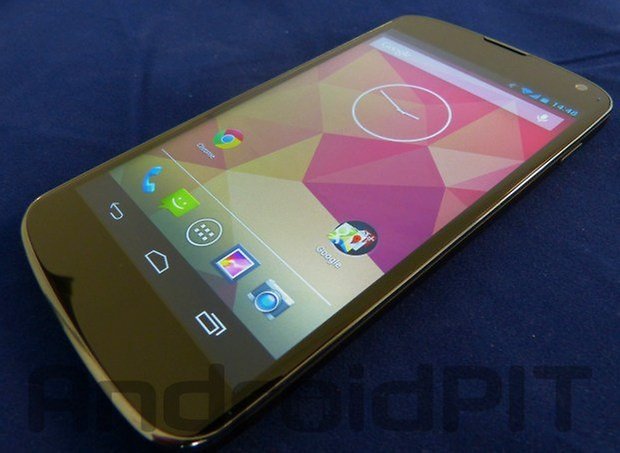 After a long, long wait, a Nexus 4 finally arrived by mail this morning and I couldn't wait to open the box. The joint project between Google and LG is a device I'd long anticipated. Seeing one in the flesh, I have to admit that this is one classy device. But is it worth your heard-earned Benjamins? Read on for our full review.
Design and Details
Press photos of the Nexus 4 made me a bit skeptical about the back casing. All those sparkles seemed more reminiscent of an 80s glam rock band than an elegant smartphone. But now that I've been playing around with the device all day, I can assure you that the sparkle effect is very subtle and can only be seen in direct light. I really like it, and it is certainly a more interesting design than a continuously black backing.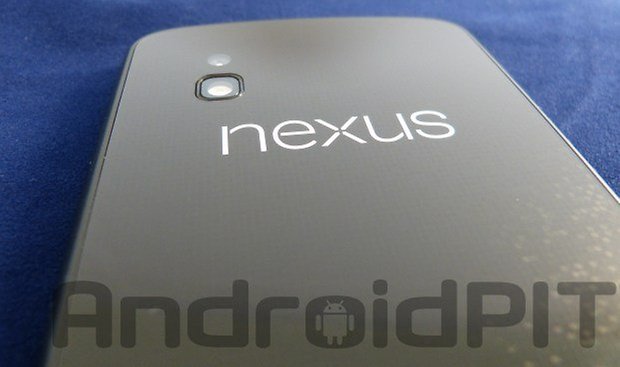 The other details do not disappoint. The edges of the device are slightly rubberized, keeping the Nexus 4 firmly centered in the palm of your hand. The buttons on the sides have a silver finish which lend the device an elegance, even if everything is made out of plastic. In our test model, however, we noticed that the ON / OFF button wobbled ever-so-slightly. While not a big deal, we just thought it should be mentioned.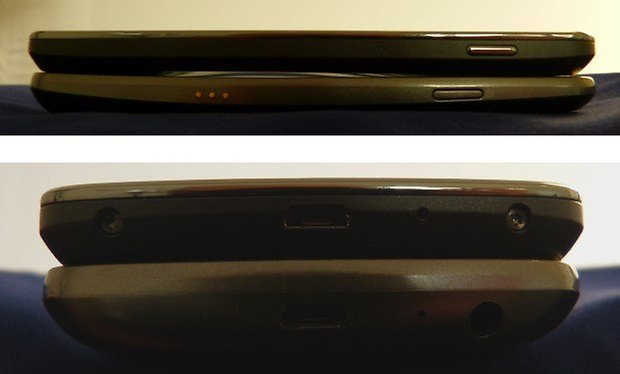 Nexus 4 on top, Galaxy Nexus on the bottom
Yes, the device – in pictures – looks similar to the Galaxy Nexus. But when you're holding it, it truly feels like an entirely different device. The materials are of a higher quality and it feels like a lot of care went into its design.
Display and Speakers
Unlike my Galaxy Nexus's AMOLED display which features a PenTile matrix, the Nexus 4 features an IPS display. This was a smart decision by Google: the colors look strong, but not over-saturated, and whites popped much better. On the Galaxy Nexus, white always looked more like light gray. Blacks were also rich and dark.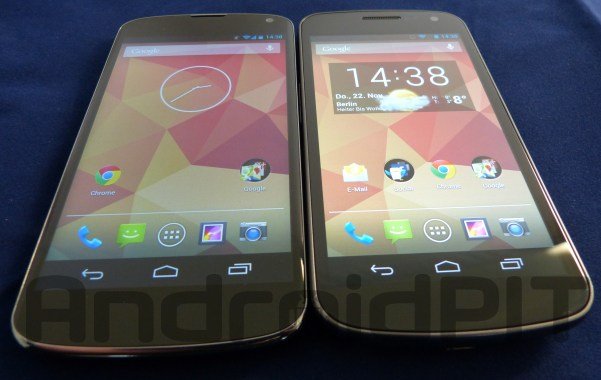 Sound quality was excellent. Whether a ringtone, notification or music, sounds are much clouder and clearer than on the Galaxy Nexus. You won't ever have to worry about missing a call.
Camera
On paper, the Nexus 4's 8MP back-shooter beats the GNex's 5MP easily. When it came to taking photos, too, I was able to take photos with more colors which offered a sharper picture with more detail. Here's a comparison. Can you spot the difference: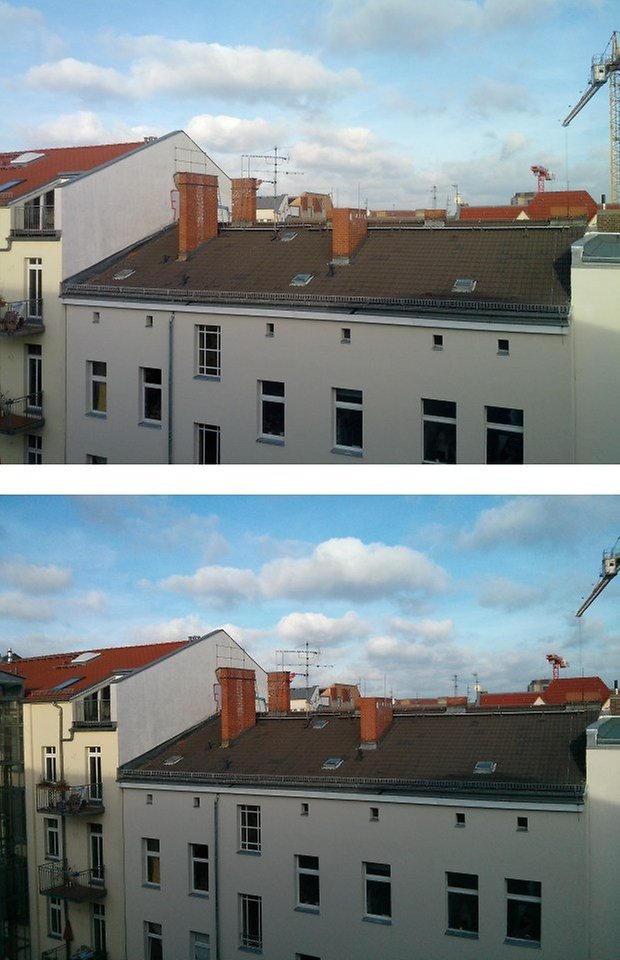 Above: Galaxy Nexus. Below: Nexus 4
But the front-facing camera, unfortunately, appears to take a step backwards. Noise is tronger and the overall picture is rather blurry and pale. See for yourself below.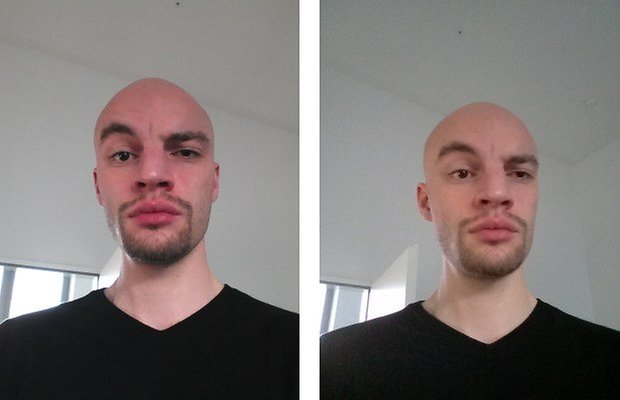 Left: Galaxy Nexus. Right: Nexus 4
The new camera also has an HDR mode, allowing you to shoot vivid photos using a high dynamic range. Of course, I've also created a quick comparison of this feature vs. the phone's standard mode. Here are two shots taken at dusk: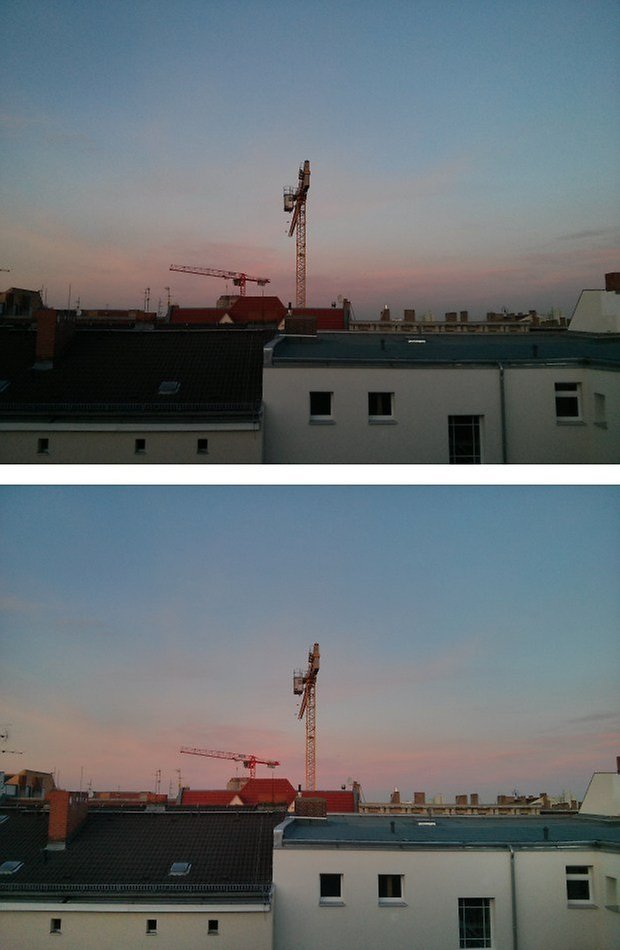 Above: without HDR. Below: with HDR.
Technical Data at a Glance:
CPU: Qualcomm Snapdragon S4 Pro, 1.5 GHz (Quad-Core)
Display: 4.7 inch, 1y280 x 768 pixels, IPS, Gorilla Glass 2
RAM: 2 GB
Memory: Optional 8 GB or 16 GB, not expandable
Camera: 8 MP (rear), 1.3 MP (front)
Size: 133.9 x 68.7 x 9.1 mm
Battery: Lithium-polymer, 2100 mAh
OS: Android 4.2
NFC, Bluetooth
Micro USB, HDMI SlimPort
WLAN 802.11 b / g / n
Operating System:
The pre-installed version of Android 4.2 has its own quirks, bugs and flaws (well-documented here) but despite everything, the system on which it runs is very snappy. I have always thought that my Galaxy Nexus was smooth as butter, but this phone is smooth as silk (and silk beats butter, because it's more expensive and luxurious). Whether switching between homescreens, multitasking or flipping through a photo gallery, there are no stutters whatsoever.
To read more about the general improvements made to Android 4.2, click here.
Memory:
The LG Nexus 4 I bought came with 8GB of memory, only 5.67 of which is actually usable. So many customers may strongly consider spending an extra $50 for more memory. For me, it would be well worth-it, since there is no option for expandable memory on this device.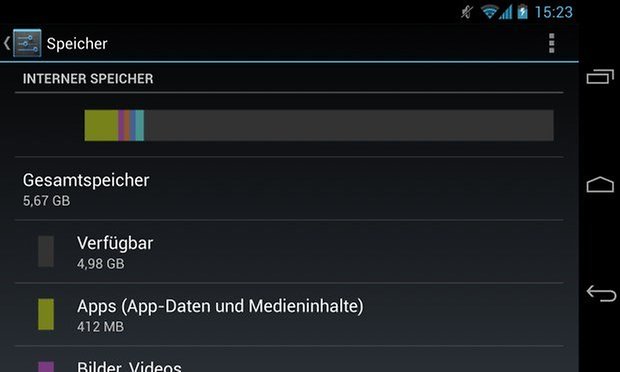 Conclusion:
The Nexus 4 is a great device, despite a few shortcomings – like its sub-par front-facing camera, lack of expandable memory and somewhat plain design. But if you can put up with that, you get a stylish phone at an unbeatable price. For me it is clear that it's time to retire the Galaxy Nexus and use this phone exclusively. The upgrade to the camera, display and speakers are reasons enough. But the almost ridiculously low price makes it a truly irresistible purchase.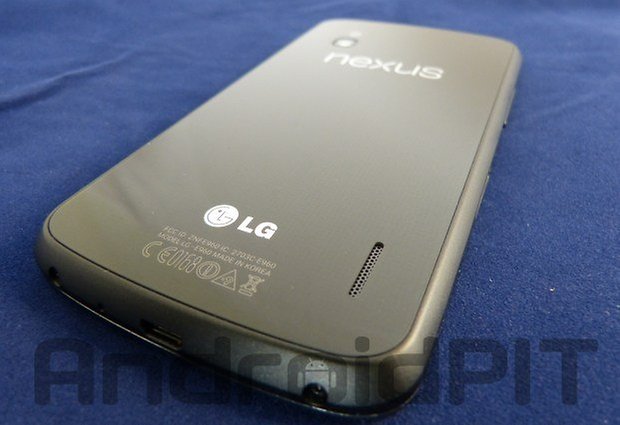 Pros:
Stylish design.
High attention to detail
Reasonable price
Display
Speakers
Rear Camera (especially HDR mode)
Cons:
Front camera
No removable battery
Memory not expandable
P.S. We'll let you know about battery life just as soon as we've tested it.
All photo: Nico Heister / AndroidPIT