Motorola Moto X Play review: big battery on a budget
Update:

Unlikely accident confirms Droid Maxx 2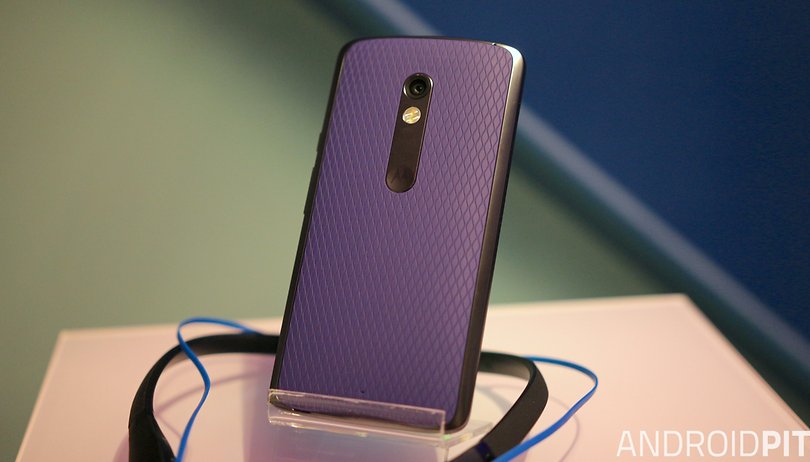 Apparently, Motorola wants to establish a new category of smartphones. According to one of Motorola's engineers, the Moto X Play is intended for users who want a great camera with longer battery life. The Moto X Play is kind of a hybrid between the Moto G (2015) and the Moto X Style. Find out how well it achieves its ambitions in our full Moto X Play review. [Note: the Moto X Play will be known as the Droid Maxx 2 in the US]
Good
Decent display

Big battery

Moto maker customizations

Stylish design
Bad
Mono speaker

Camera performance below expectations
Motorola Moto X Play release date and price
The Moto X Play was launched on July 28. The Moto X Play release date in Canada was August 21. Although there had initially been no planned US release, it now looks as though the Moto X Play will make it to Verizon as the Droid Maxx 2.
On October 14, Verizon and Motorola sent out press invites for an event to unveil "the newest DROIDS". Two days later, a screenshot of Motorola's new stock email client, Moto Email, on the Google Play store showed an email with a signature reading 'Sent from my DROID MAXX 2'. This improbable accident all but confirms the device, so we can expect to see it announced at the October 27 event.
The Canadian Moto X Play price is as low as CA$399 outright through SaskTel and Videotron, CA$410 at Koodo, CA$420 with Telus and CA$449 from Bell. We don't have a Droid Maxx 2 price for the US market yet, although it's been reported that it'll be around US$300.
The Moto X Play became available in parts of Europe on August 14. In the UK, the 16 GB version is available for £279, and the 32 GB version for £319. Elsewhere in Europe the 16 GB version is available for €349 but the 32 GB version has not been released or had a final price announced.
You can customize the look of the phone with Moto Maker, but that is not included in the cost.
Motorola Moto X Play design and build quality
The Moto X Play is not too dissimilar to the Moto X (2014), but any changes have been made in the right places. The Moto X Play feels more ergonomic and less slippery than the Bamboo-backed Moto X (2014).
In my opinion the Moto X Play is a better-looking phone that the Moto X (2014), but if you're looking for the same feel and level of craftsmanship, you'll be disappointed. The materials and build quality of the Moto X Play are quite different. Where the Moto X (2014) and Moto X Style are housed in aluminum, the Moto X Play is made of plastic made to look like metal. This does not mean that the Moto X Play is an ugly phone. But the polycarbonate frame and fake metal definitely feels less high-end.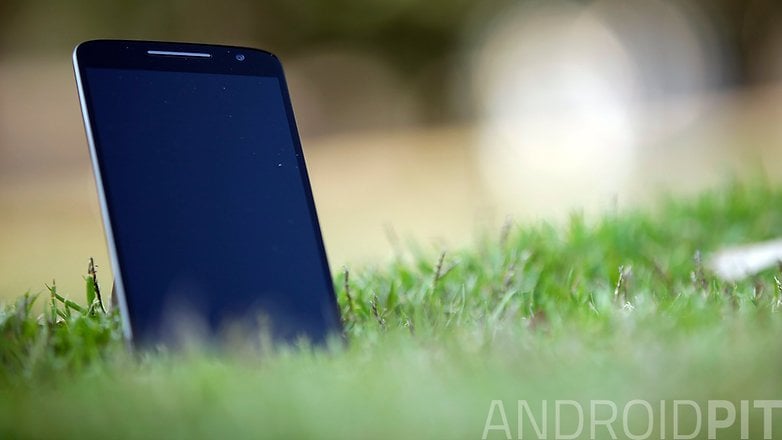 The top edge houses a SIM and microSD card tray (up to 128 GB) as well as a centered headphone port. There's a microUSB charging port on the bottom edge.
The power button and volume rocker are located on the right-hand side of the phone and, as usual, the power button is textured to make it easier to identify with your fingertip. Both buttons are within easy reach when using the phone one-handed.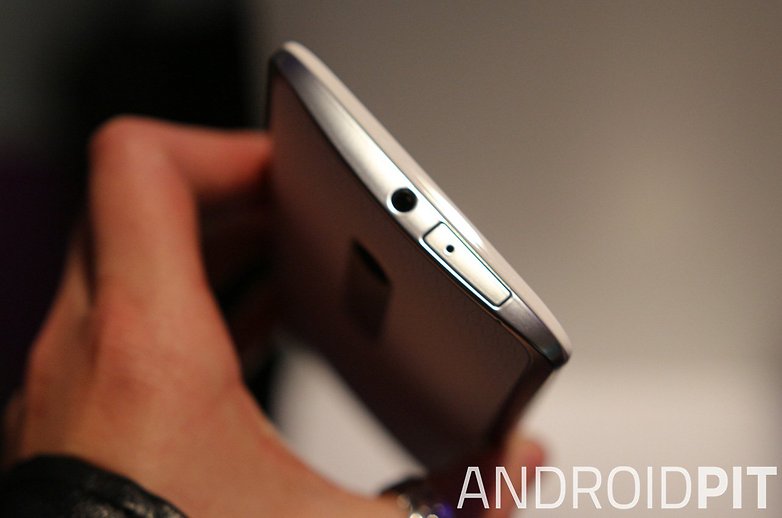 The rubberized texture on the back of our Moto X Play review unit feels good in the hand. Moto Maker offers you a choice of 14 different back plates, which each have their own texture and feeling. The battery cover is easier than ever to remove but the battery itself is not removable.
The Moto X Play weighs 169 g and is 10.9 mm at its thickest point. The new model is 25 g heavier than the previous one and 0.9 mm thicker. While it looks like there are stereo speakers on the front, only the bottom one produces any sound (the top one is just the earpiece speaker for calls). There are two microphones on the back too.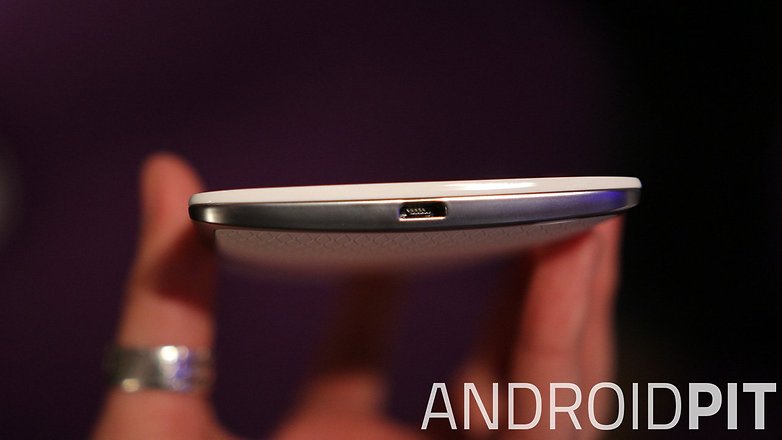 Although I didn't particularly like the materials Motorola chose, the design of the Moto X Play won me over. Motorola has retained its general style but managed to create a unique identity for this new entrant in its product portfolio.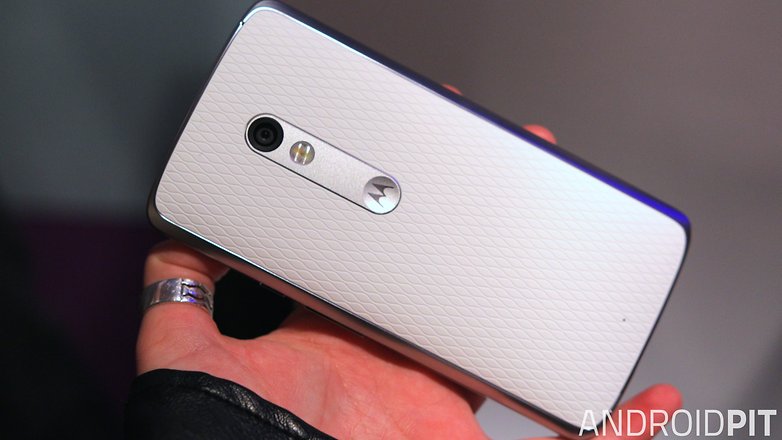 Motorola Moto X Play display
The Moto X Play display is perhaps its most controversial component. It is a 5.5-inch Full HD LCD with a pixel density of 401 pixels per inch. The panel does have balanced color reproduction and high contrast, but it's not quite up to par with the saturation or contrast levels of an AMOLED screen.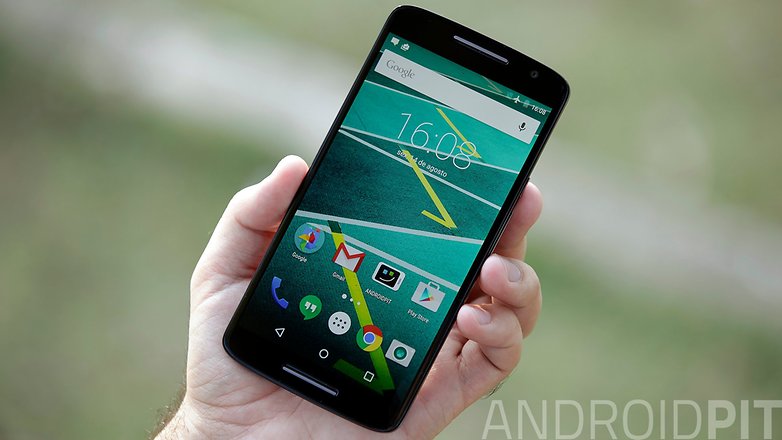 However, the problematic yellowish tint on previous AMOLED-screened Moto devices is nowhere to be seen. The LCD panel is more reflective than I'd like, but it's generally cooler than previous AMOLED displays and has a more neutral white balance. It's also brighter than the Moto X (2014).
The sharpness of the Moto X Play screen is quite good for such a relatively low pixel density and viewing angles are impressive – stable up to around 75 degrees. Contrast isn't quite so high though, and in bright sunlight it can be a little hard to see, even with the brightness pumped right up. Fortunately, you can tweak the display settings in a custom calibration section within the settings menu.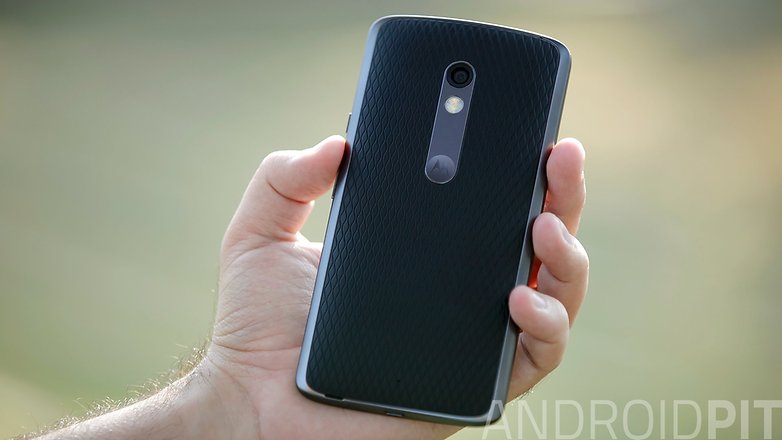 Motorola Moto X Play special features
Splash protection
The Moto X Play has a nano-coating that protects it against moderate splashes of water. The sealing is not the same as that found in the Moto G (2015) and so the Moto X Play is not water-resistant, but if you splash some water on it by accident it shouldn't be any worse for wear.
Moto Maker customizations
The Moto Maker customization options are an intrinsic part of choosing a Motorola device these days. There is barely anything you can't customize, from front and back colors, different back covers and accent colors, engraving and custom boot screen messages.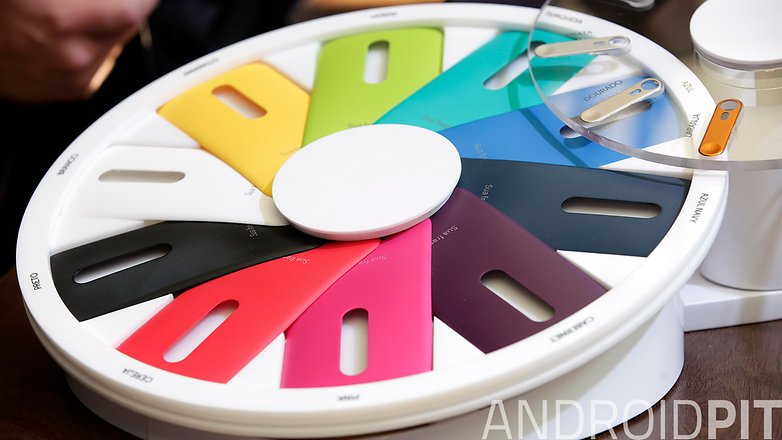 The Moto App
The Moto App is the nerve center for the smart features found on the Moto X Play. It can be used to configure gestures and motion controls or set a hotword for controlling the Moto X Play with your voice. Motion controls can be set to launch the camera on either the front or back, but unfortunately not for the flashlight.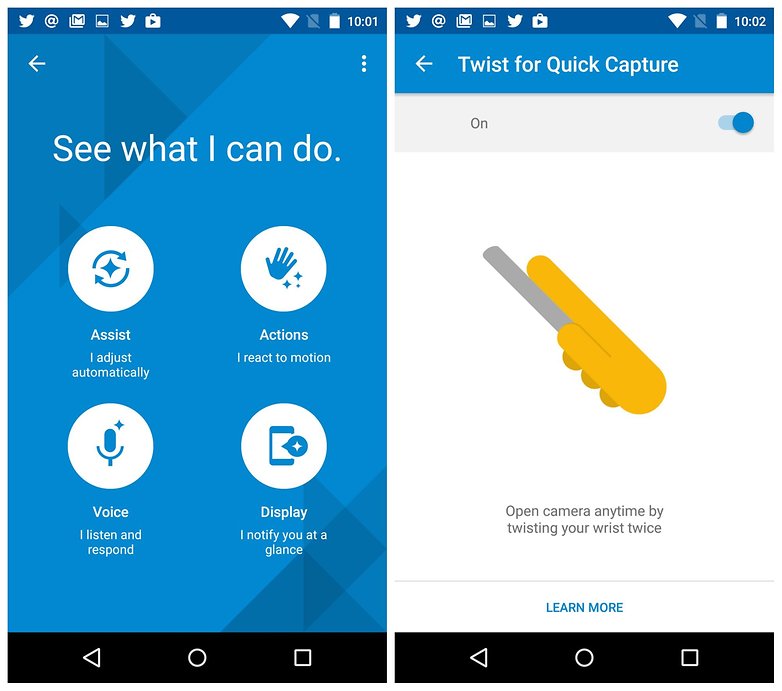 Motorola Moto X Play software
Since its days under Google, Motorola has become known for keeping Android relatively stock with a few select apps and features added on. The Moto X Play software runs on Android 5.1.1.
Most additional features, such as voice controls and gestures, which used to have their own sections in the settings menu, are now contained in the Moto App. While I can appreciate this will make the Android update process faster, I do miss having dedicated Moto sections in the settings.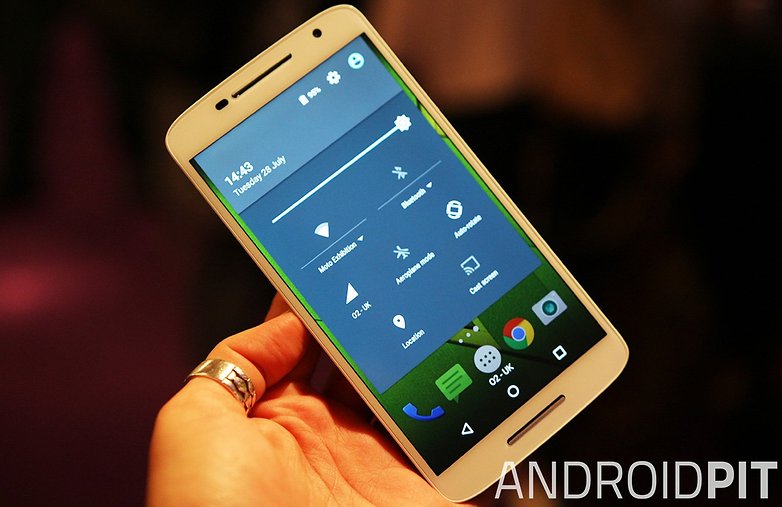 There are quite a few pre-installed apps, at least on our review unit. Some of these apps can be instantly uninstalled and others can be disabled (although you won't get any internal storage back for disabled apps). The best part of Moto software is that the more you use it, the more it learns about you.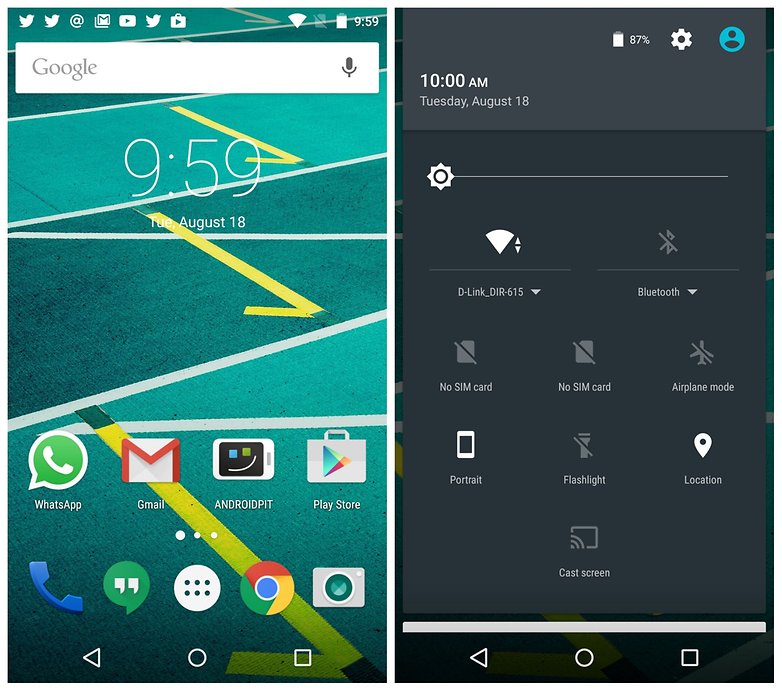 We asked Motorola when the Moto X Play Android 6.0 Marshmallow update would arrive and were told it would be either the end of 2015 or early 2016, depending on when Google delivers the source code. Android Marshmallow should be out in October and considering how few changes Motorola has made to stock Android, we don't think the update will be far behind Nexus devices.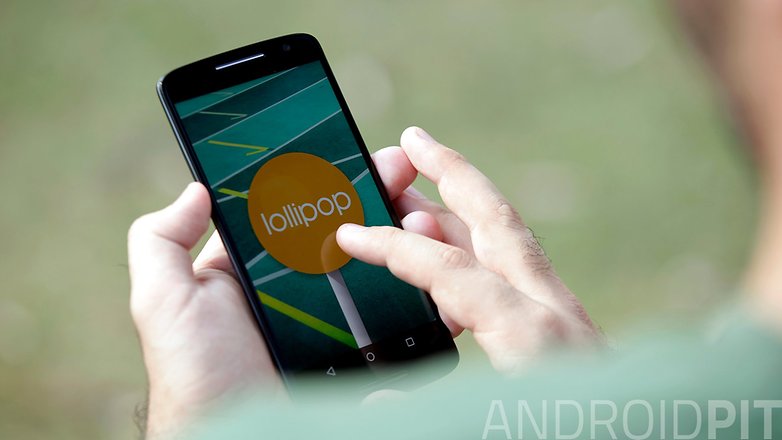 Motorola Moto X Play performance
The Moto X Play is powered by an octa-core Snapdragon 615 processor, the same processor found in the HTC Desire 820, Samsung Galaxy A7, Sony Xperia M4 Aqua and Alcatel OneTouch Idol 3. Four of the eight cores are clocked at 1.7 GHz and another four at 1.0 GHz.
As with previous Motorola devices, the Moto X Play has a special co-processor for processing natural language and contextual awareness. The GPU contained in the Snapdragon chip is the Adreno 405, which is a mid-range graphics processor. The Moto X Play also has 2 GB of RAM, 16 GB or 32 GB storage options and a microSD card slot for memory expansion up to an additional 128 GB.
I found performance to be entirely satisfactory during the testing period for this Moto X Play review. I experienced no crashes or software glitches. Motorola's choice to keep Android as stock as possible is clearly a good one in terms of stability: the fewer modifications you do the less chance there is of bugs, stutters or lag. At least if there's a problem you know it's a core Android problem and not something Motorola did.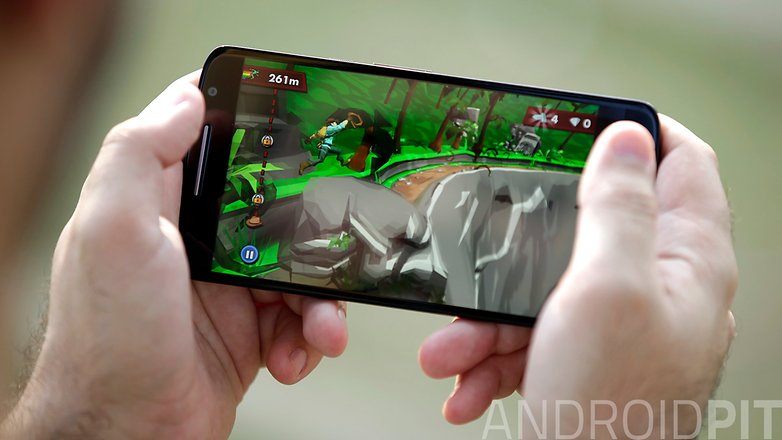 During testing I found no heat problems, even after heavy gaming sessions including Real Racing 3, Sonic Dash, Crossy Road or GTA: San Andreas. Despite the phone's mid-range processor, all game graphics could be left at their highest quality without stutters, dropped frames or excessive heat.
During testing I registered no heat problems, unless the unit was flying absolute full load, for example after I played games like Real Racing 3, Sonic Dash, Pitfall, Crossy Road or GTA: San Andreas. Despite the mid-class processor I could leave the graphics at the highest level in these games without causing any problems in system performance.
At one point while I was playing Pitfall there were 32 apps in the multitasking menu, various notifications coming in over an LTE network, email syncing and more. Nevertheless, the game ran without stuttering. In the AnTuTu benchmark app the Moto X Play managed a moderate 35,074 points (newer high-end flagship devices are inching towards 70,000). This result may be lower than expected, but my subjective experience with the Moto X Play test is not reflected by this benchmarking figure.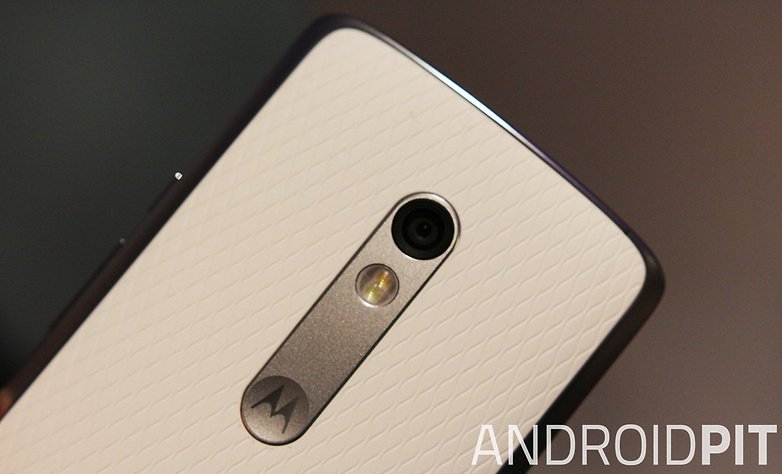 Motorola Moto X Play camera
Motorola has paid a lot of attention to the cameras on both 2015 Moto X devices. The Moto X Play camera has a new Sony sensor and while it doesn't have OIS, the sensor is sensitive to individual colors, combining light intensities individually for each color.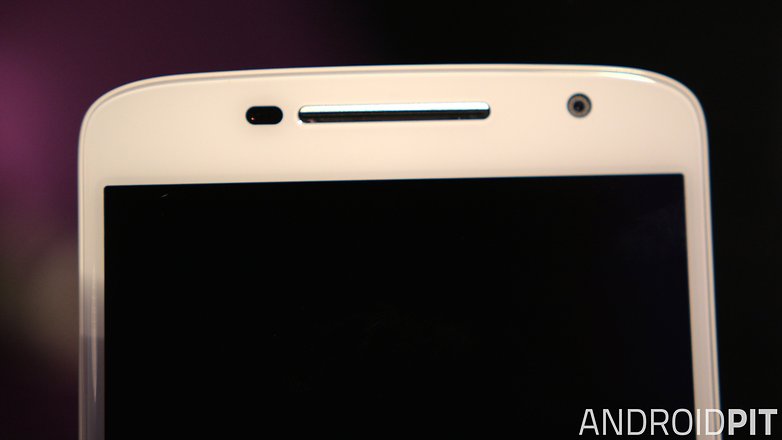 The results of the 21 MP rear-facing camera are impressive, as are the efforts of the 5 MP front-facing camera. The Moto X Play features 1,080p slow-motion video recording and a dual-LED with color correction. There's also panorama shooting, night mode, macro, tap focus and exposure control.
In low-light situations, the Moto X Play camera's f/2.0 aperture performs well. Our low-light shooting efforts were very satisfactory, especially for a phone at this price, although it did struggle without a flash. The camera software doesn't overdo it with automatic editing and it maintains sharpness and color balance nicely. Even at night there isn't excessive noise in the images, showing how seriously Motorola took getting the camera right in the Moto X Play.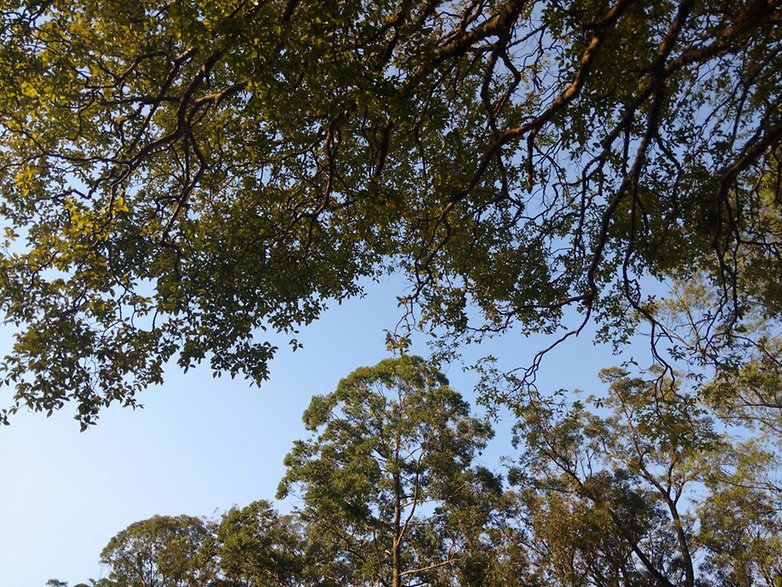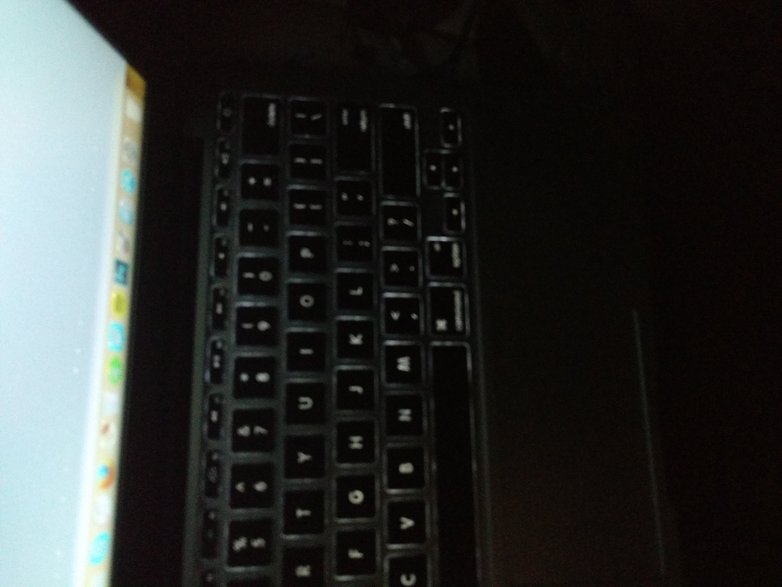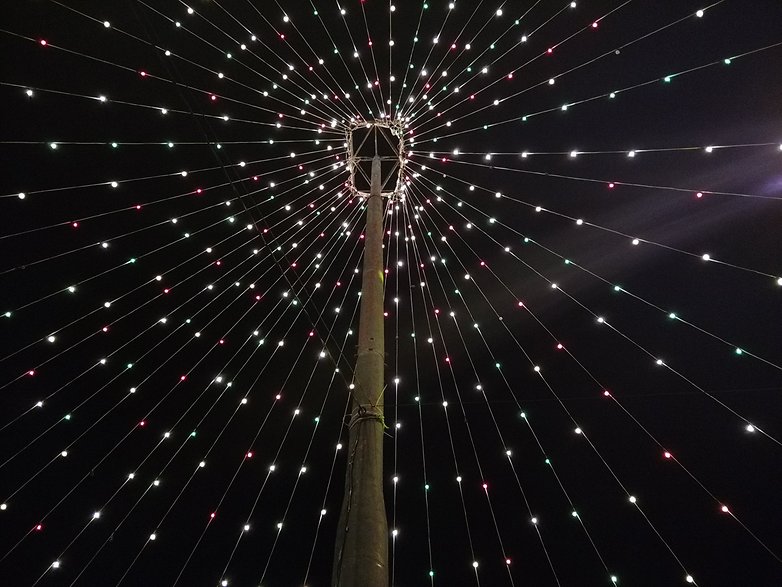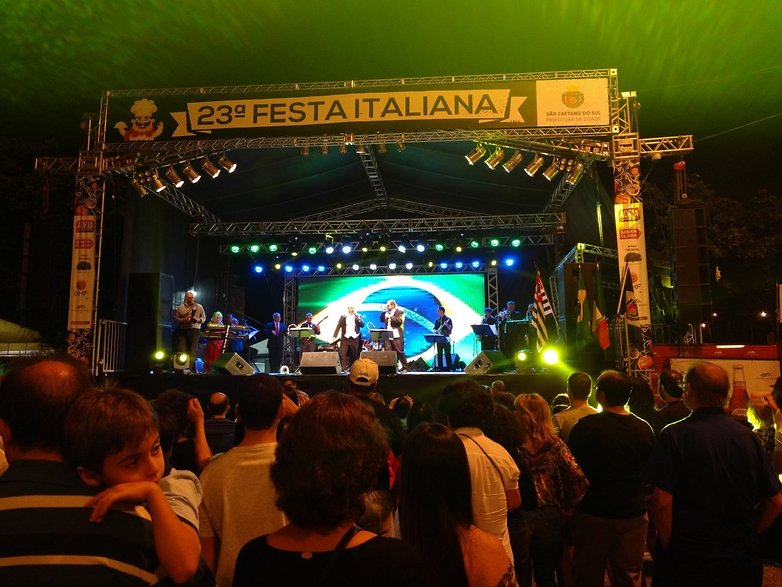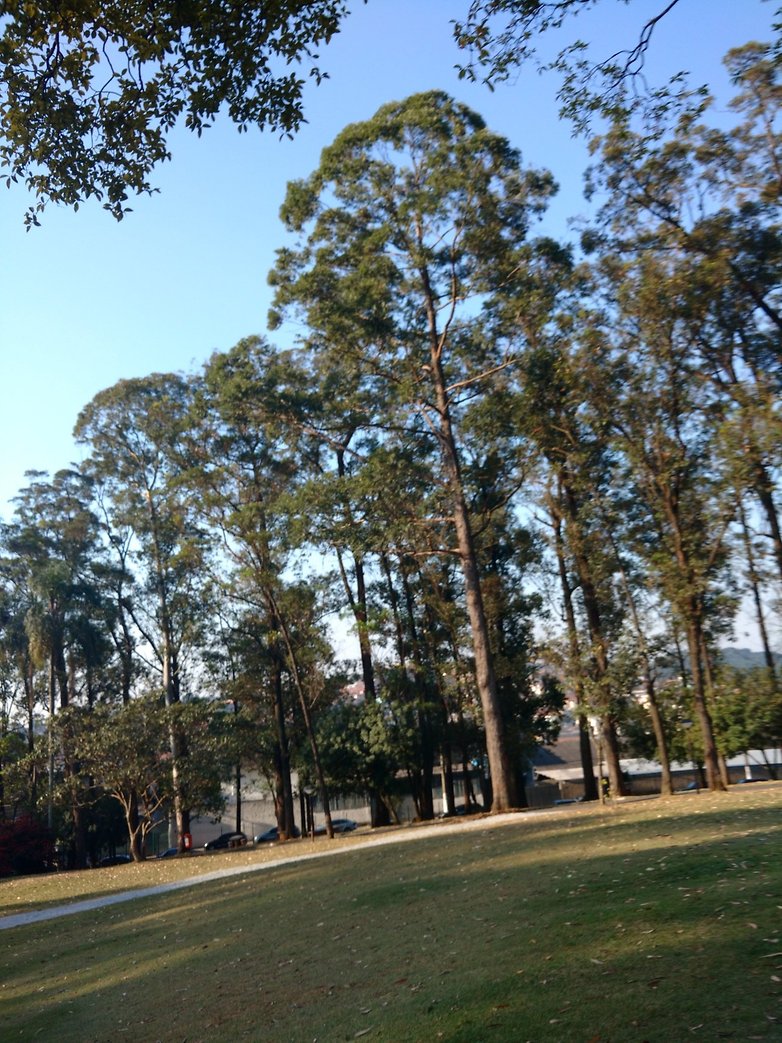 HDR mode is excellent and manual exposure controls are very handy. Not everyone will make use of them, but if you want to step your photography up a notch it's nice to have them available.
Stabilization comes via software, not optical image stabilization, which is a shame. Selfies are good quality though, and produce accurate skin tones.
Motorola Moto X Play battery
The Moto X Play battery is one of its main selling points. It's big: 3,650 mAh is among the largest batteries on any smartphone right now, of any size. A Full HD display means the power demands from the screen aren't that high either, so this phone will really appeal to those who demand great battery life. So how good is it?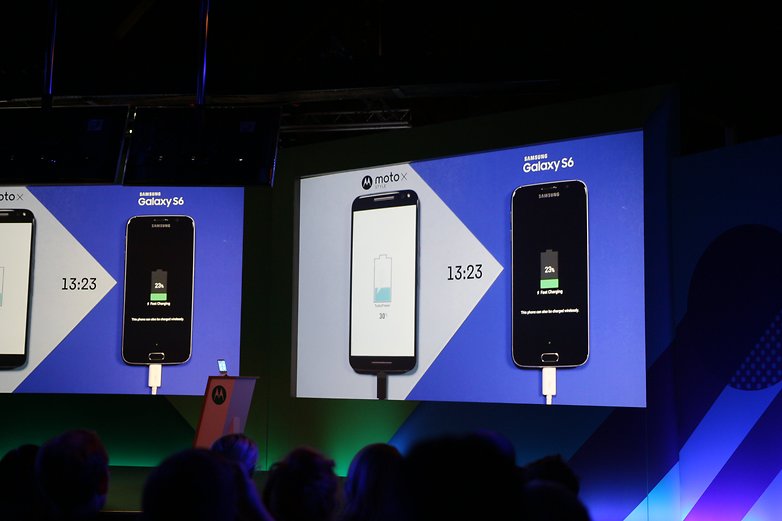 Pretty great, actually. You can see our Moto X Play battery life examples below, but it was generally very easy to make it through a full day of use, except when doing serious gaming or streaming YouTube via Chromecast for long stretches.
The Moto X Play also comes with Motorola's turbo charger and can be fully charged in about two hours and 10 minutes, with up to eight hours of charge in just 15 minutes. Motorola claims that the Moto X Play will make two days without a charge, but you'd have to be using it very lightly to get that kind of battery life.
| Usage type | WLAN | LTE |
| --- | --- | --- |
| Social networking | 21 hours | 15 hours |
| Games / social networking / YouTube | 12 hours | 10 hours |
| Camera/ social networking | 15 hours | 13 hours |
| Games / Chromecast / social networking | 8 hours | 7 hours |
During the Moto X Play review process I tested the battery under various conditions, which you can see in the table above. To kill the battery in eight hours requires serious use, but with moderate use, it wasn't uncommon to kill it within 15. On light days with occasional social media, email and always on Wi-Fi, the Moto X Play could manage around 23 hours without the use of battery saving mode.
Motorola Moto X Play technical specifications
Final verdict
The Moto X Play is a solid, affordable choice for anyone who wants ;above average battery life and camera performance for a mid-range price. The phone itself is mid-range in terms of specs, but Motorola had to make some compromises to keep the price low. Unfortunately neither the camera nor the battery performed quite as well as Motorola said they would, but they are both still above average for the price.
If you currently have a Moto X (2014), the Moto X Play probably won't entice you as much as the Moto X Style will, but the Moto X Play will definitely appeal to a large segment of the smartphone audience.
There is increasingly stiff competition in this price range, however, from the likes of the Asus Zenfone 2 and Huawei P8. The first offers fantastic value for money and the second more high-end specs (but a much smaller battery). The Moto X Play is a good phone, but the mono speaker is disappointing and despite increased resolution in the camera, it still doesn't produce the high-end results we expected.
Motorola Moto X Play - where to buy?