Moto G vs Galaxy S3: Generation smackdown of trailblazers in mobility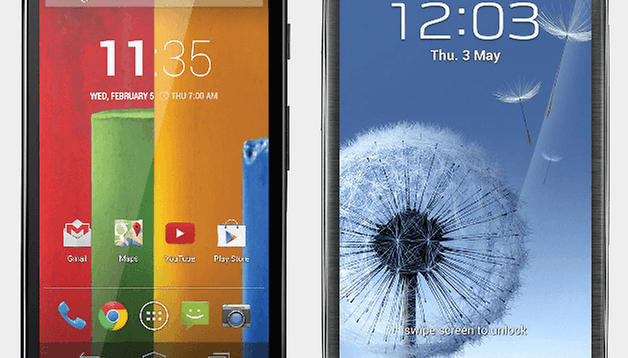 The Galaxy S3 was the flagship of Samsung in 2012 and revolutionized the smartphone market at the time. Many users still haven't parted with their device and refuse to exchange it for a new one. On the other hand, manufacturers are constantly creating new gems in the mobility scene, one of which being the Moto G, a mid-range smartphone, that thanks to its excellent price/performance ratio, has revolutionized the market in its own way. Currently the Moto G costs 199.99 USD which is about 50 to 90 USD dollars cheaper than the Samsung legend. Check out our comparison.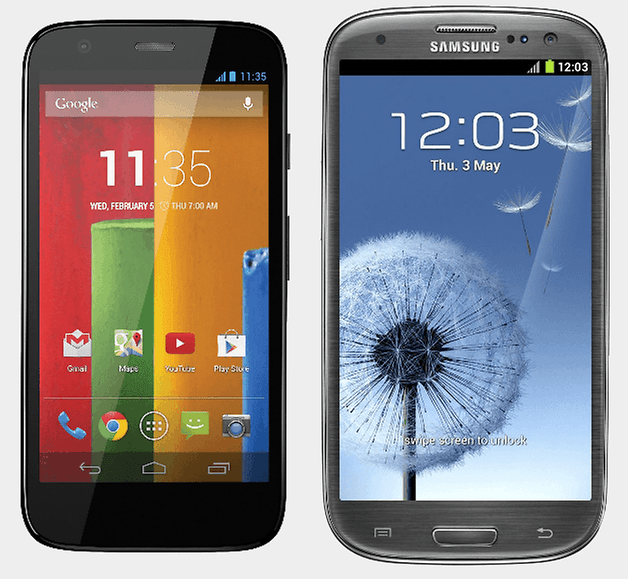 Design
These two devices could not be more different, though they do have one factor in common: plastic. The Moto G is smaller than the Samsung Galaxy S3, but has a thicker, more rounded profile.The roundedness of the Moto G allows for a more comfortable grip. Also, the Moto G is made of a 'rougher' plastic than the slick Galaxy S3, which makes it easier to hold, with less risk of dropping.

The Samsung Galaxy S3 on the other hand is lighter and offers the classic home button on the front, while the Moto G has capacitive buttons. Both have a removeable back piece, though the Moto G battery can't be exchanged nor does the device offer a microSD card slot. But if customizing your device is your thing, the Moto G might win some brownie points in your books since you are able to purchase various colored back pieces for the device.
Finally, there is one thing that I'd like to highlight when it comes to the Moto G, that being their resistance. To prove it, we chucked the Moto G into a body of water and it survived, as you can see in our submersion test video. And this from a smartphone that wasn't advertised as waterproof (please don't do this at home).
Software
The Moto G has the several ROMs based on the Android 4.4.2 firmware that has been created for the Galaxy S3. What's more, the Galaxy S3 offers a lot of gesture and voice controls.
Motorola offers some built-in software on the Moto G which is really useful, like Motorola Migrate to easily transfer data from an old to the Moto G, Motorola Care to help with fixing device problems, Motorola Assist which is like Blocking mode for Samsung, among many other things.
Specifications compared
The design and software are the key components that usually influence a consumer's decision, although there are other issues, such as weight, which could impact which device is finally bought. Both smartphones have processors that offer nearly the same power, the screen sizes are very similar, all with the same resolution and a equivalent battery. Of course, the biggest difference between the two is the price difference, as mentioned before. Is it worth upgrading from the Galaxy S3 to a newer device? Let's see the rest of the technical specifications in the following table :
| | Samsung Galaxy S3 | Motorola Moto G |
| --- | --- | --- |
| Operating system | Android 4.3 | Android 4.4.2 |
| Display | Super AMOLED, 4.8-inches, 1,280x720 pixels, 306 ppi | LCD, 4.5-inch, 1.280 x 720 pixels, 329 ppi |
| Processor | Quad-Core Exynos 4, 1.4 GHz | Quad-Core Snapdragon 400, 1.2 GHz |
| RAM | 1 GB | 1 GB |
| Internal storage | 16 / 32 / 64 GB + microSD | 8/16 GB |
| Battery | 2,100 mAh | 2,070 mAh |
| Connectivity | HSPA, 3G, Wi-Fi 802.11 a/b/g/n, Bluetooth 4.0, NFC, USB v2.0, USB OTG | GSM/GPRS/EDGE/UMTS/HSPA+, Wi-Fi, Bluetooth 4.0 |
| Camera | 8 MP / 1.9 MP | 5 MP / 1.3 MP |
| Dimensions | 136.6 x 70.6 x 8.6 mm | 129.9 x 65.9 x 6-11.6 mm |
| Weight | 133 grams | 143 grams |
| Price | 224 - 298 USD (Amazon 28.03.2014) | 179 - 199 USD (Amazon 28.03.2014) |
In fact, the price difference between the Samsung Galaxy S3 and Moto G is understandable: the smartphone from the South Korean company was (and is for many still) one of the high-end devices in mobility that offer some great features. Among these is the camera which has a higher resolution and provides better results than the Motorola phone. Another component that makes me lean towards the S3 is the battery which offers a higher capacity and is removable, plus we can't forget the inclusion of an SD card slot, a major bonus if you aren't into cloud storage.
But that doesn't mean the Moto G is chopped liver either. In fact, this smartphone's advantage is that it offers pure Android and the latest version of the operating system, all while avoiding skins that can decrease the fluidity, as in the case of Samsung's TouchWiz user interface. We were also really impressed by the G's resistance, its high degree of customization and price/performance ratio which makes it stand out next to competitors.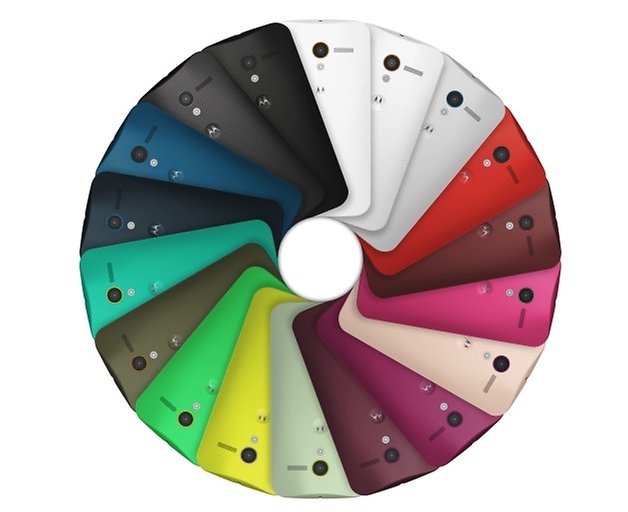 It is a tough call for sure and since I've used a Galaxy S3 for over a year now, I could see myself purchasing a Moto G to be able to take advantage of the stock Android UI, but camera is a big issue.
What smartphone would you upgrade from as a Samsung Galaxy S3 owner?