Galaxy S4 battery saving tips: 6 ways to increase your battery life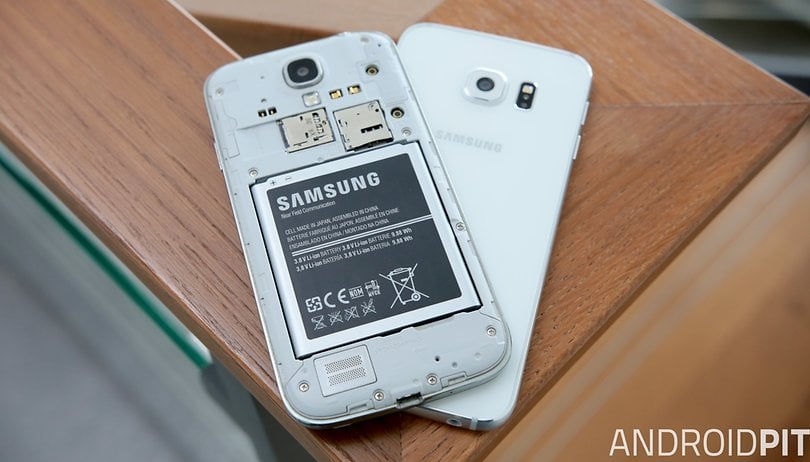 There's no denying the quality of the Samsung Galaxy S4, but things can always be improved, and in this case it the battery life that needs improving. If you've been looking for ways to boost your Galaxy S4 battery life, you've come to the right place. Here are our best Galaxy S4 battery saving tips. NEXTPITTV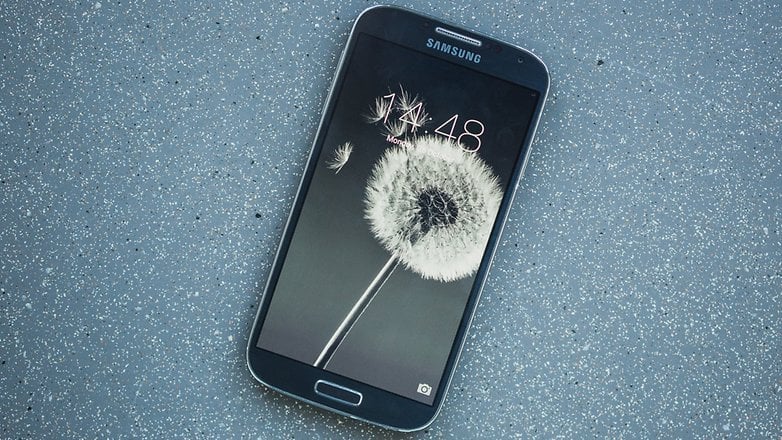 1. Adjust the display brightness and screen timeout
Your phone's display is the number one reason for battery drain. But this is an easy fix. Simply ensure that you haven't checked the auto box for the screen brightness, and dim the screen. You might need to turn it up again in direct sunlight, since AMOLED displays can be difficult to read outdoors at times, but this is easy to do manually.
You can also reduce the duration of timeouts. The shorter the timeout, the more battery you'll to save.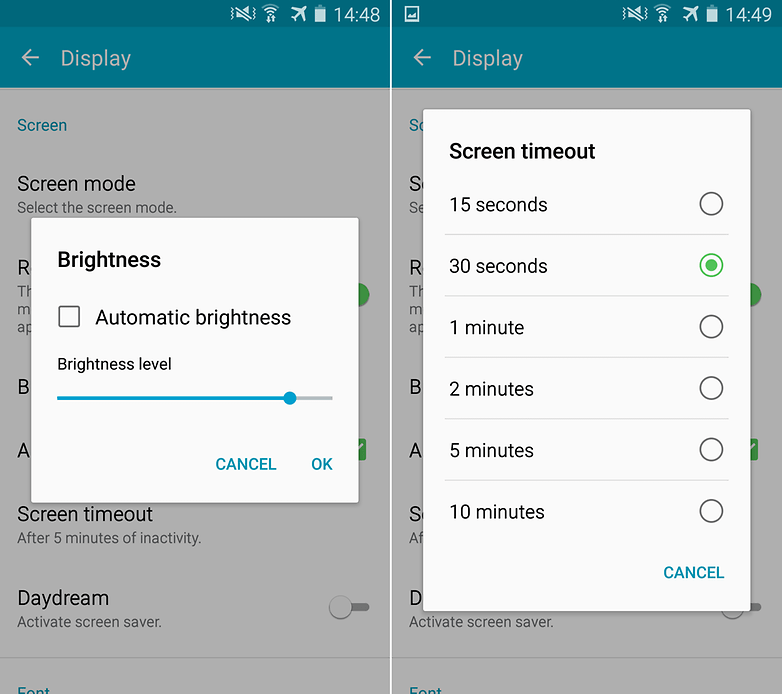 2. Turn on the Galaxy S4 Power saving mode
The Galaxy S4 is full of features, which is a double-edged sword, since these often do a lot of the battery draining. The advantage is that it comes with a Power saving mode, which will let you eke out the last remnants of your device's battery life.
Switch this on by going to Settings > My device > Power saving mode. What this does is limits the processor and screen brightness, and disables haptic feedback, the vibration you feel when you type: some normal features which are actually the hungriest power consumers of them all.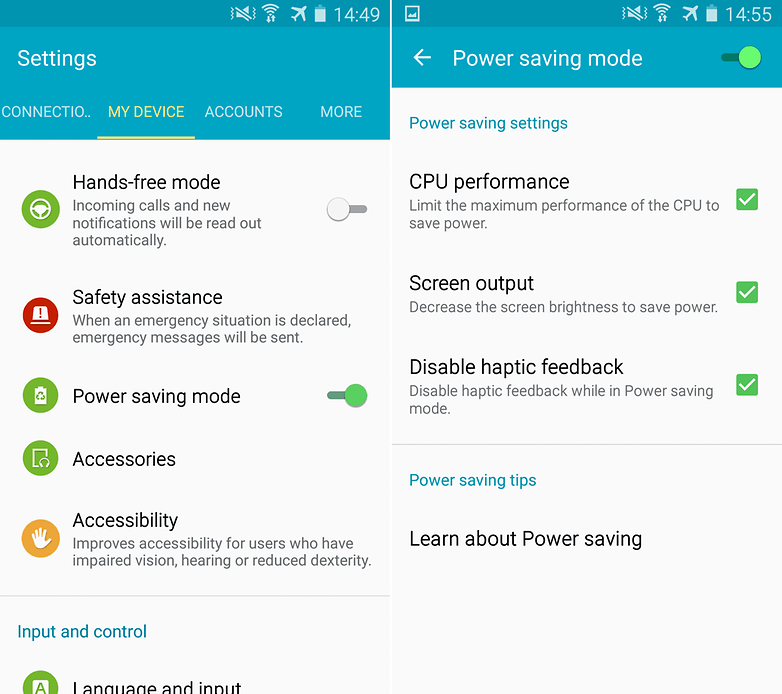 3. Disable smart gestures
If, like many Galaxy owners, you don't find yourself swiping your palm elegantly across the face of the screen to take screenshots all that often, you can safely disable the motions and gestures built into TouchWiz without feeling a tremendous sense of loss. The bonus is that doing so will also save you some battery.
To put an end to these features go to Settings > My device > Motions and gestures and swipe the toggles to the left side.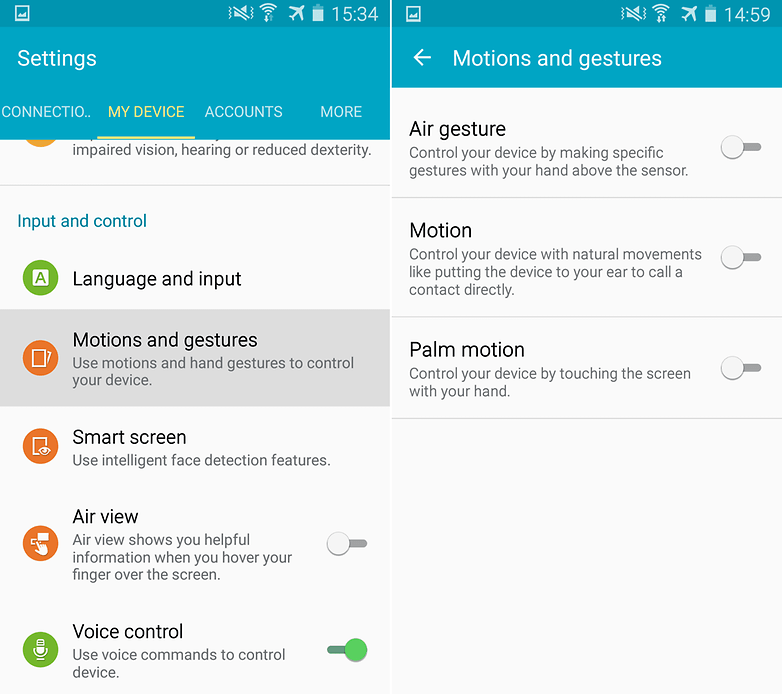 4. Use a black wallpaper
Your Galaxy S4 has a Super AMOLED screen, which means black pixels are not lit up. If the pixels aren't lit up, you're saving battery life. So if you have a black wallpaper, you could save quite a bit of battery. It's really easy to set one too, so if you don't mind the aesthetic difference it makes, you should give it a go.
For more information, take a look at our How black wallpaper can save your Android battery article.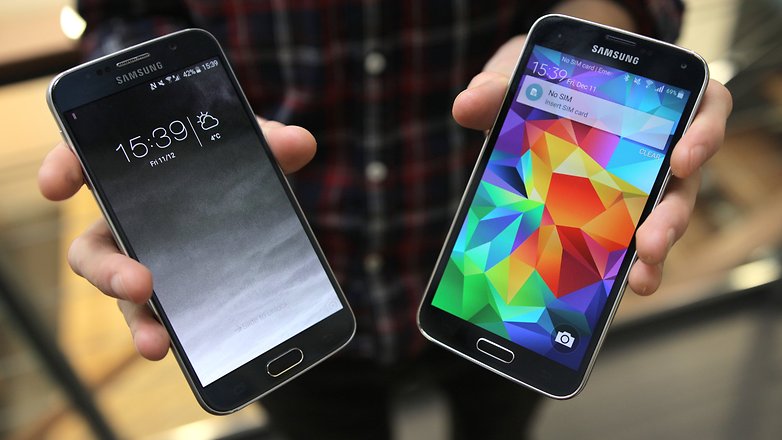 5. Switch off unused settings options and auto-sync on the Galaxy S4
Leaving certain settings on may cause your battery to slowly but surely decline. If you have NFC, Wi-Fi, Bluetooth, GPS and Mobile Hotspot turned on at all times, it will drain battery pretty rapidly.
The good thing is that these are easy to toggle on and off in the Quick settings of your device. Just swipe down to get into the notification shade – if any of these settings are glowing green, they're active. Tap them to deactivate them. You might want to go one step further and stop auto-syncing on any cloud storage apps you might have installed.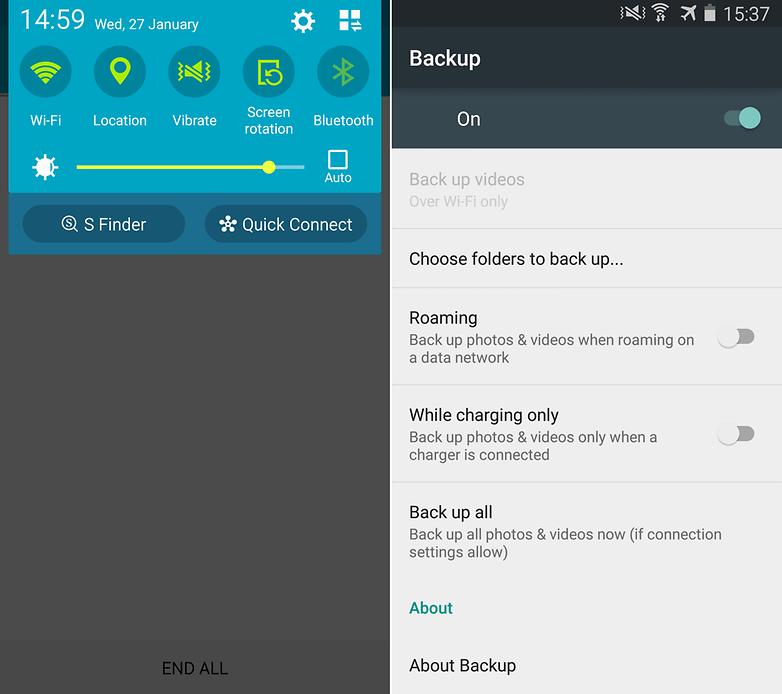 6. Try a Battery saving app on your Galaxy S4
The Google Play Store is full of free and paid apps that will help you manage your battery life. Some of them will show you which apps are consuming the most battery life. Below you'll find a nice list of battery apps to choose from.
Better Battery Stats
Better battery Stats will help you identify which processes in your phone drain your battery the most so that you can isolate the problem to your phone as much as possible. You should leave this app on for about 24 hours and then analyze the results to get more information about how you use your battery.
System Tuner
You can also use System Tuner to kill apps that are using battery on command after you have isolated the problematic apps. This app requires you to root your phone. A warning needs to come with this though, because you should make sure that you are not killing apps or processes which are vital to keeping the phone functioning properly. A rule of thumb is to let everything that has to do with the Android OS stay running.
Greenify
Greenify is another app that requires root. It does the same things as System Tuner but is easier to use. Once you have rooted your device and installed the app it should be plain sailing from there. Simply identify the apps that misbehave and then go ahead and Greenify them. The app should do the rest and not break any major functionality in the process. This app may not be as in-depth as the previous one but it is far simpler.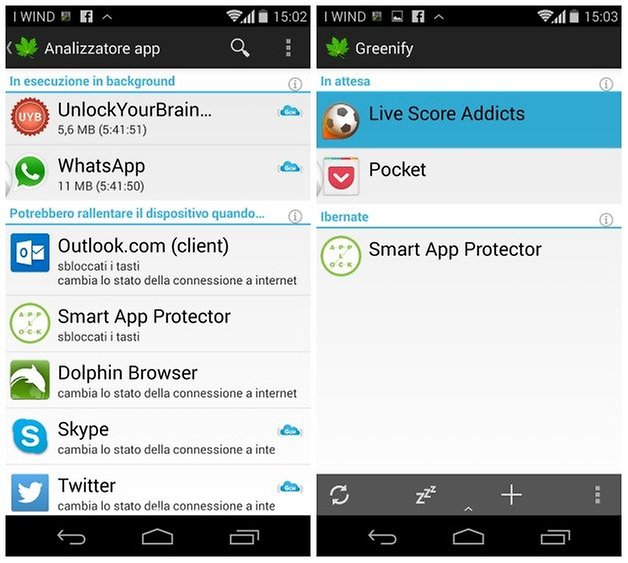 Did any of these Galaxy S4 battery tips help you? Do you know of any other good ones? Let us know in the comments.