Mobvoi TicWatch Pro 5 Review: Samsung and Google, Watch Out!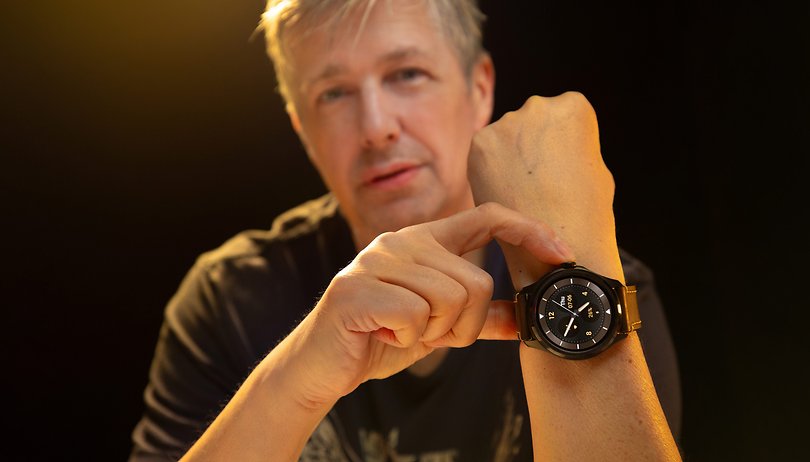 Do you want to enjoy maximum battery life, a fast processor, and can live without some of the health features found in a modern smartwatch for your Wear OS smartwatch? If you ticked all of the above, then the recently unveiled TicWatch Pro 5 might just be the right tool to wrap around your wrist! This time, we took several weeks to test out the numerous features of the flagship smartwatch for you.
Good
Wear OS 3.5

MIL-STD-810H rating

Top-notch performance

Powerful 628 mAh battery

Very good workmanship

Dual display technology

Standardized wristband

Operation via a rotating crown
Bad
No voice control (yet)

Only compatible with Android

No wireless charging support
Mobvoi TicWatch Pro 5: All deals
The Mobvoi TicWatch Pro 5 in a nutshell
At the end of May 2023, Chinese wearable manufacturer Mobvoi officially unveiled the TicWatch Pro 5. Since then, the smart Wear OS watch has also been available in the US for $349.99 a pop in just one color—Obsidian. The potential customer will not be spoilt for choice when it comes to the color or memory, that is for sure!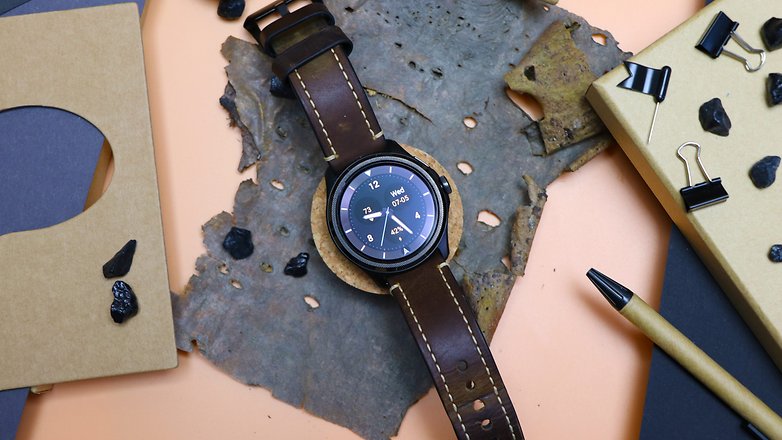 However, a colored silicone wristband can be added to the shopping cart for $16 apiece in Mobvoi's online store. However, since it is a standardized 24 mm wristband, any conventional wristband can also be purchased at a later time if you so desire. In our review, we happened to settle for a leather wristband in dark brown that is available on Amazon for cheap.
Mobvoi TicWatch Pro 5: A summary
I have now reviewed the TicWatch Pro 5 for slightly more than a month. Usually, in long-term reviews like this, the more time passes by, the more bugs we discover.
It is not so with the TicWatch Pro 5. This latest Wear OS flagship from Mobvoi wowed us from day one with its high-performance capability, reliable sensors that provided us with a wide range of tracked metrics, and being plenty of fun to use on a daily basis thanks to the inclusion of a new rotating crown for the very first time.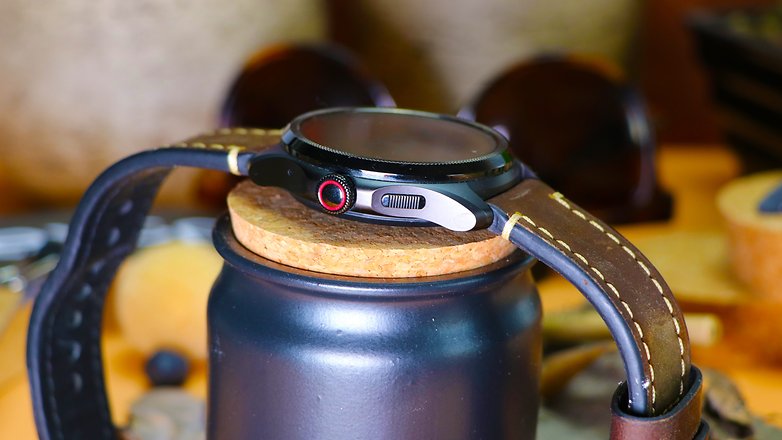 Only the current lack of cohesion with Google's Wear OS app and missing wireless charging support via a smartphone or equivalent somewhat dimmed our generally positive impression a bit. However, we are quite sure that the app's compatibility with Wear OS will be fixed via a software update soon.
Design & display
The Chinese wearable manufacturer Mobvoi is probably not a familiar name to everyone. In 2019, they were already able to extend the battery runtime of their first-ever TicWatch despite running on the power-hungry Google Wear OS by incorporating a dual-layer display. In the latest flagship, the TicWatch Pro 5, the company also used this technology by displaying even more information and combining it with the latest technology, including the Snapdragon W5+ Gen 1 SoC mated to 2 GB of RAM and 32 GB of internal storage space.
---
Pros:
MIL-STD 810H rating.
Rotating crown.
Google Wear OS.
Very good workmanship.
Dual display technology.
24 mm standard wristband.
Cons:
---
I can't remember whether I first saw it on Apple or Samsung, but a rotating bezel (or rotating crown) that scrolls through the menu smoothly, already made a lasting impression on me back then. Now, Mobvoi integrated a similar rotating crown into its TicWatch Pro 5, which I still find to be simply ingenious.
The Chinese manufacturer positioned another hardware button directly above the central crown that can also detect the pressure at which it is pressed, ensuring that you will not come up short in ways to operate the device.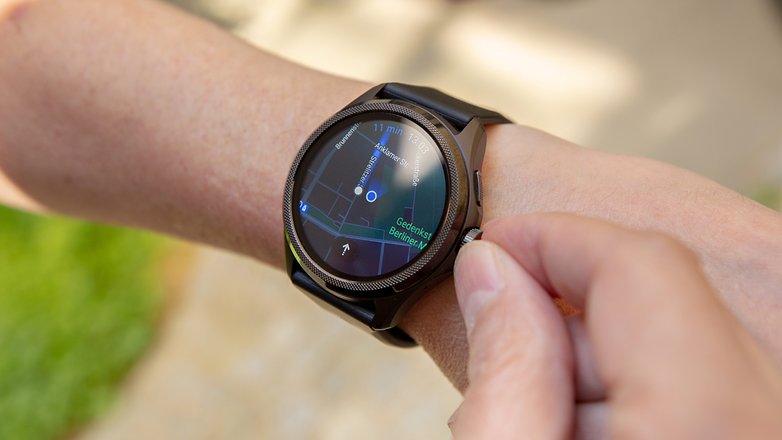 The TicWatch has a 1.43-inch OLED display with touch functionality and a 466 x 466 pixels resolution, protected by Corning Gorilla Glass. However, the real highlight is the monochrome FSTN LCD that is located right above it. Yes, you read that right: This energy-saving liquid crystal display is positioned above the OLED display and is used for the always-on display, otherwise known as the so-called "essential mode" and will show up when you indulge in sporting activities.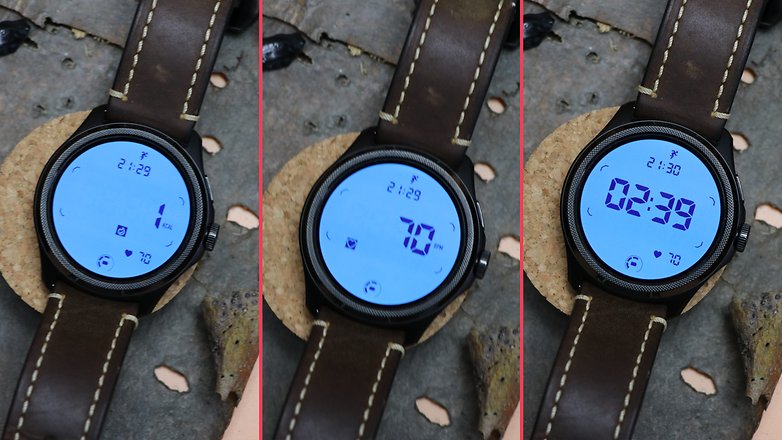 I particularly liked the LCD because, unlike an OLED panel, it is very easy to read even when you are under direct sunlight. During a running workout, it can be difficult to operate or read the smartwatch. That's where a display that is focused on the most important values, plus the six different color backgrounds that indicate the heart rate zones, becomes very helpful.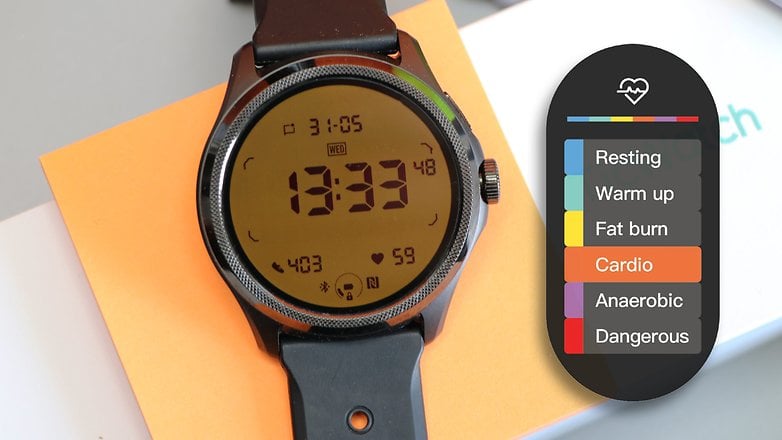 Finally, it should also be noted that the TicWatch Pro 5 has a built-in vibration motor, speaker, microphone, NFC chip, Bluetooth 5.2, and 2.4GHz Wi-Fi connectivity. For accurate satellite tracking, the Mobvoi smartwatch receives location information via GPS, Beidou, Glonass, Galileo, and QZSS satellites. The wristband is interchangeable with any standard 24 mm wristband.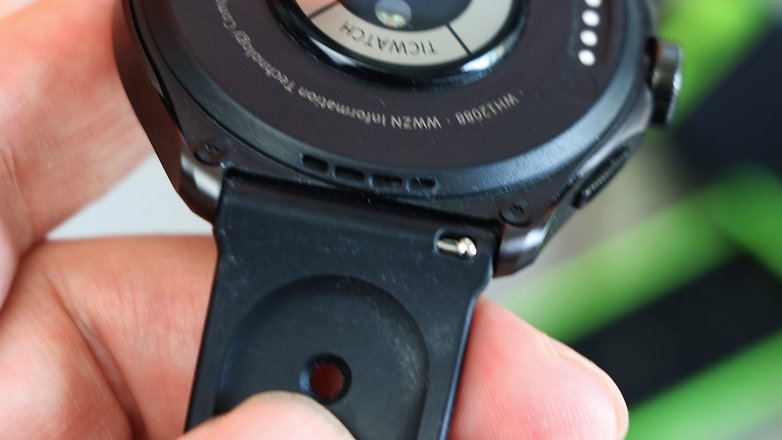 Smartwatch features
The TicWatch Pro 5 is powered by Wear OS 3.5 and has the July 5, 2023 security update installed. I do not want to dive into the unpleasant history that earlier models, thanks to Samsung's exclusivity on the OS, still suffer from today. The advantage of Google's operating system is crystal clear here with Play Store access and its extensive app and watch face offerings.
---
Pros:
Wear OS by Google (and Samsung).
All the important functions are present.
Cons:
No LTE version is available.
No voice control support.
No integration with the Wear OS app.
Mobvoi watch faces are available via the TimeShow app.
Mobvoi Health app is not as comprehensive as its competitors
---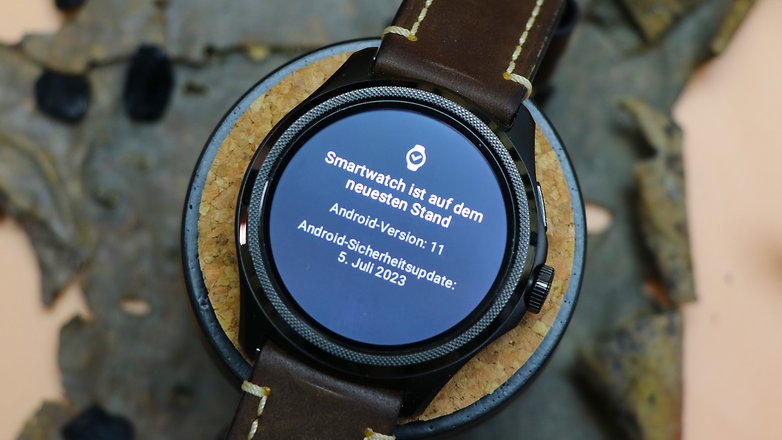 While its predecessor, the TicWatch Pro 3 Ultra GPS, connected to the Android smartphone using the Wear OS app, the TicWatch Pro 5 (still) only allows the use of the in-house Mobvoi Health app. This resulted in an unpleasant side effect where our smartwatch is not compatible with any Apple iPhone. Can Mobvoi afford to turn the other way in the long run? Possibly, since most Apple users will settle for an Apple Watch anyway.
Thanks to Google's operating system, all other known features work without any problems, including contactless payment via Google Pay. The integration of all applications installed on an Android smartphone is also possible without running into complications. That includes music control from Spotify, navigating using Google Maps, and receiving and answering messages in apps like WhatsApp and Slack.
There is no Google Assistant voice control despite the built-in microphone and speaker. However, Mobvoi did announce that they want to include that feature via an update at a later time.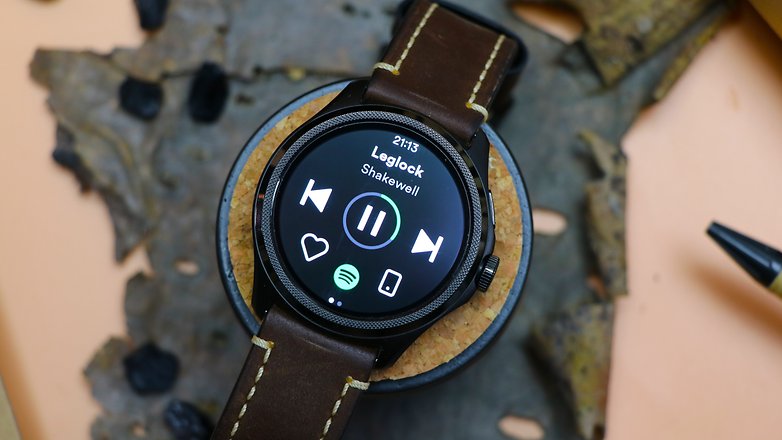 There is currently no LTE version of the TicWatch Pro 5 available, but it is being considered. Although watch faces can also be installed from the Google Play Store, Mobvoi also provides the "TimeShow" app, which allows you to install and use various watch faces. All the watch faces found here are not free, since there will be some paid options to choose from.
Sensors & Tracking
Mobvoi did not get stingy with the TicWatch Pro 5 in terms of sensors. The TicWatch Pro 5 offers everything that can currently be tracked with a smartwatch. Of course, this will primarily include an HD PPG heart rate sensor as well as an SpO2 sensor to analyze the blood oxygen level. What the smartwatch lacks, however, is an ECG sensor to track your blood pressure. Nevertheless, problems such as cardiac arrhythmias and atrial fibrillation can be detected.
---
Pros:
Packed with an impressive array of sensors.
Cons:
---
Irregular heartbeats, tachycardia (less than 60 beats/minute), and bradycardia (over 100 beats/minute) can also be detected using the TicWatch Pro 5. What is rather unusual (yet welcome) would be the ability to detect your body temperature, air pressure (barometer), and altitude (altimeter). In addition, in the TicWatch Pro 5 is also equipped with a compass and sleep-tracking capability.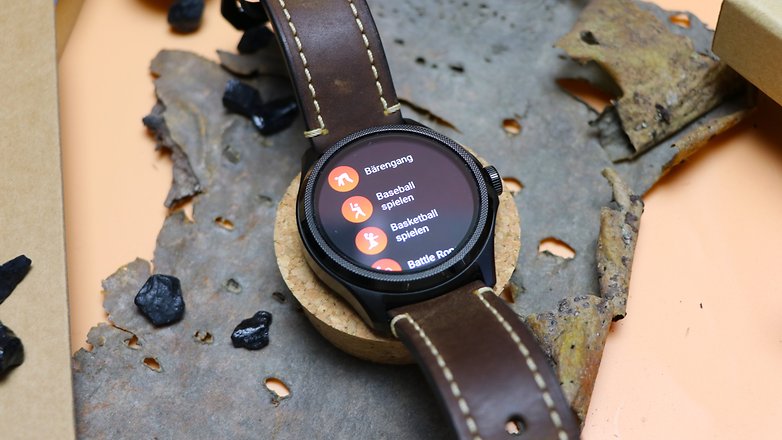 The Mobvoi Health app that was mentioned earlier is useful to analyze data collected by the numerous included sensors. I wore the Amazfit GTS 4 on my other wrist for this review since it comes with dual-band GPS and polarized antennas, boasting the ability to determine the most accurate location no matter where I am.
There were only minor deviations in a direct comparison: For instance, the Amazfit tracked a total distance of 3.14 km for my chilled-out stroll around Berlin, while the TicWatch clocked up 3.24 km. However, when it came to certain more complicated locations, both watches shone in this department, as depicted by the accurate detection of the rather short, circular trail that just took place on a parallel hiking trail.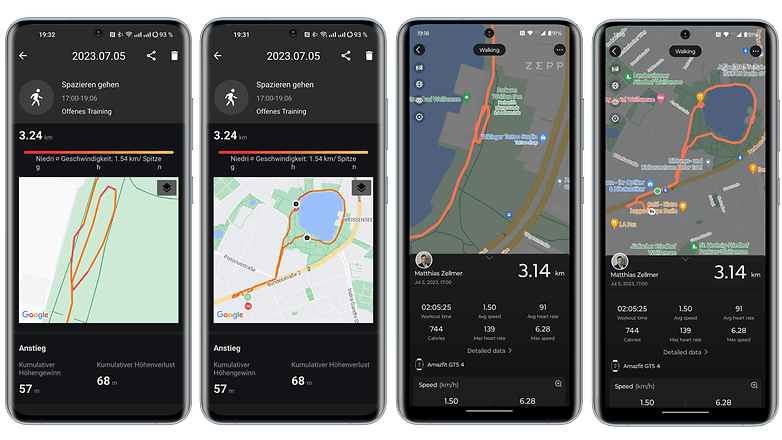 I also compared my pulse sing a medical blood pressure and heart rate monitor. Lo and behold, even differences to the "professional device" were minimal. While the blood pressure monitor detected a heart rate of 75 beats per minute, Mobvoi's smartwatch offered one beat less.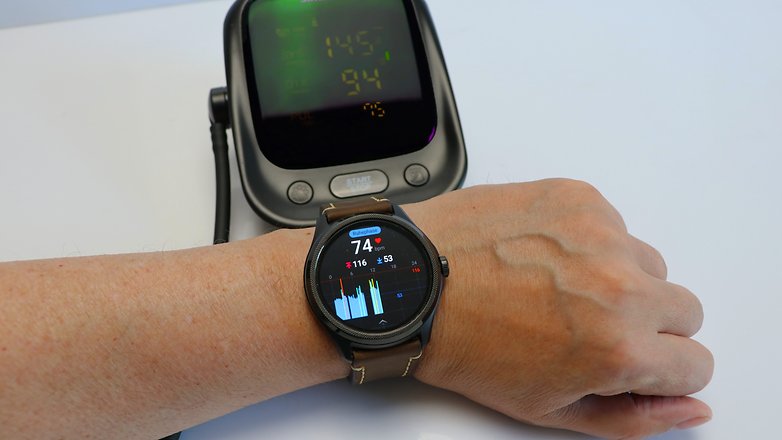 Values detected in sleep tracking, SpO2, and VO2 max were similarly accurate. Here, I found the "1-click instant measurement" to detect the current heart rate, blood oxygen, breathing rate, stress level, and general heart health to be very useful and efficient. On the whole, the tracking capability of this timepiece can be rated as very accurate and represented a good balance between necessary data and an explicitly fitness-oriented smartwatch, such as the Garmin Forerunner 955 that we reviewed, which can also recognize the different muscle groups trained.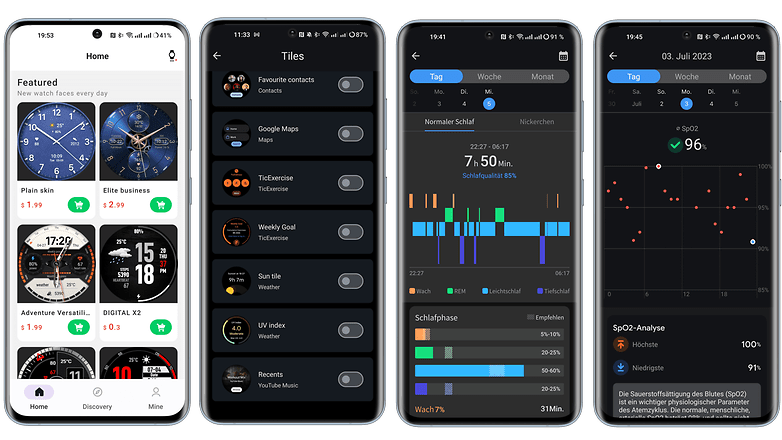 Mobvoi TicWatch Pro 5 battery
The TicWatch Pro 5 is equipped with a 628 mAh battery, which is a record in the realm of smartwatches as far as I know. That would also basically translate to having the longest runtime with only one battery charge. However, a lot of it is also contextual, depending on the individual's use with the TicWatch Pro 5.
---
Pros:
It simply keeps on going!
Cons:
No wireless charging support.
---
The manufacturer specified 45 days in Essential Mode for the TicWatch Pro 5. However, I will not buy an OLED smartwatch only to use it in restricted mode with the LCD panel enabled. However, Mobvoi also advertised 80 hours of runtime in Smart Mode, which is rather remarkable considering the operating system it runs on, Wear OS 3.5. However, this rating should also be taken with a grain of salt.
The smartwatch can be used in a wide range of scenarios. In particular, the TicWatch Pro 5 can automatically set the energy-saving night mode to kick in at a certain time. Also, you will also have to consider features like 24/7 tracking for heart, sleep, and blood oxygen levels, turning the display turns on with a wrist motion, and numerous factors play a decisive role when it comes to battery consumption.
To keep a long story short: I easily managed a week without having to hunt for a power outlet with the TicWatch Pro 5 with my favorite settings enabled, while going through a rather constant flood of Slack and WhatsApp messages, in addition to incoming emails. That is an absolute record considering that it took just two to three days before running on empty with the predecessor.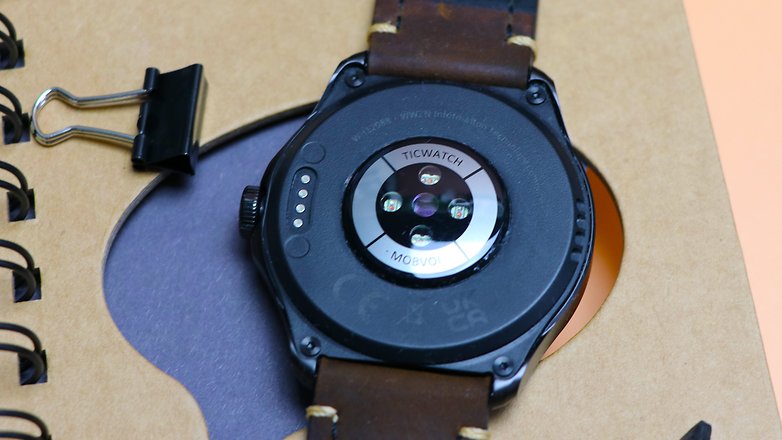 Charging is performed via the four pogo pins mounted behind and a magnetic charging cable, which connects to a conventional power supply via a USB-A plug. I don't think this is fitting for a flagship smartwatch in 2023. I would have actually liked to see wireless charging support thrown into the mix, which also accepts a Qi wireless charger in the car, at a café, or even receive juice from a smartphone.
The manufacturer advertised fast charge capability, which charges it to 65% of the maximum capacity within 30 minutes. However, it takes almost a full hour for a full charge. I am still trying to find out if this is related to the power supply and its current.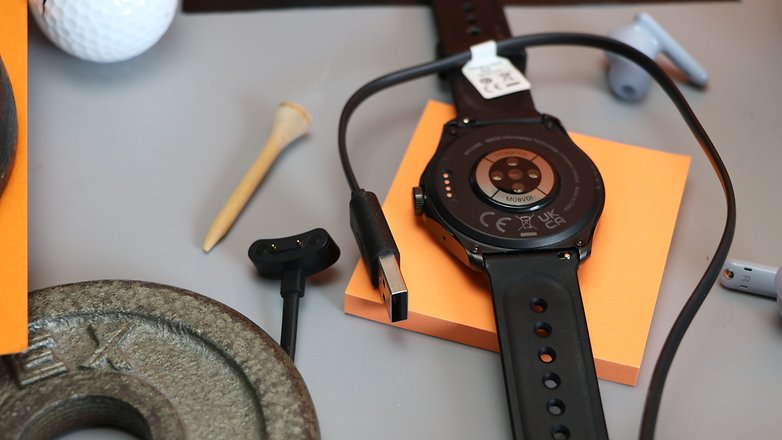 Final verdict
As a loyal supporter of Mobvoi since 2019 when the company launched Wear OS-powered smartwatches with an energy-efficient dual display, I am particularly pleased to have also reviewed the TicWatch Pro 5. I have practically witnessed from one smartwatch to another, how the TicWatch became better and better, and with the TicWatch Pro 5, the Chinese company has now achieved what I imagine to be the perfect smartwatch with Google's Wear OS.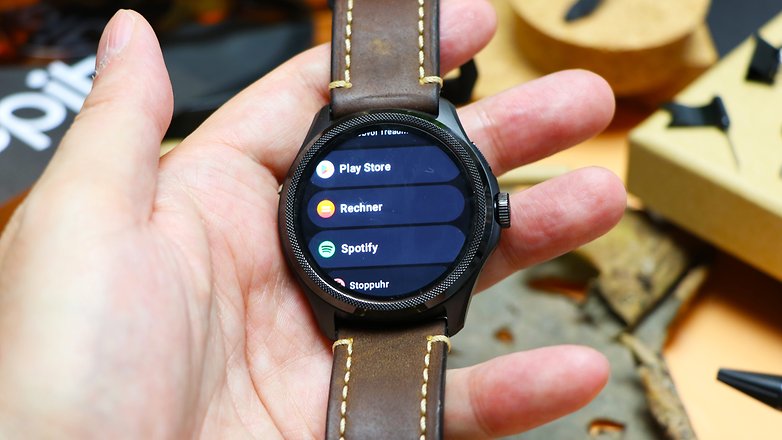 From the rotating crown to select menus, to the display that works in a buttery smooth fashion thanks to the Snapdragon W5+ Gen 1 SoC, the military-standard 810H and the long battery life have impressed me enough to drop $350 for the Mobvoi smartwatch. Of course, the smartwatch should also ideally have an ECG sensor or support wireless charging, but that is all I could think of as negatives in the TicWatch Pro 5.
Location detection is quite accurate worldwide thanks to the support of five global satellite systems while tracking via its numerous sensors is very reliable and accurate. The smartwatch also performed brilliantly in all its other functions. In my eyes, the Mobvoi TicWatch Pro 5 is an excellent alternative to a Samsung Galaxy Watch 5 Pro (review) and a Pixel Watch.