LG V40 ThinQ review: a solid smartphone, but is that enough?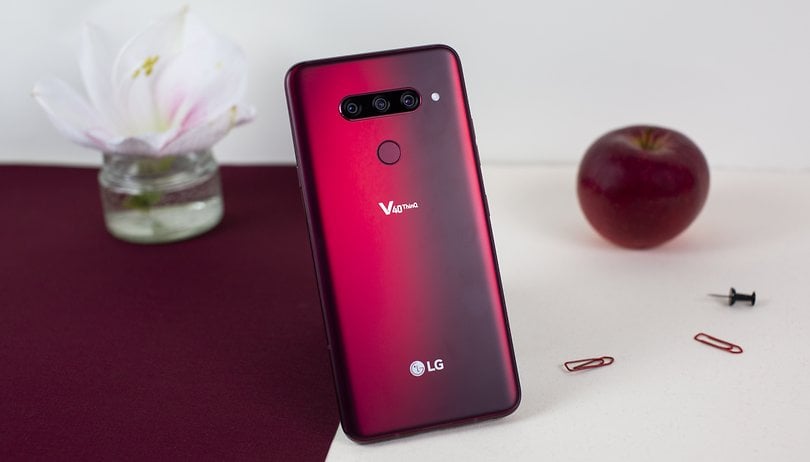 LG's V series has always been the richest in every respect. Since last year, the V30 has had many camera features and a Quad DAC audio solution. This year the company intends to take a step forward. On paper, the V40 ThinQ is a device that can compete with any other phone in the high end, but is it really the case? Find out in our full review. NEXTPITTV
Good
Design and grip

Top performance

Triple camera

Audio quality
Bad
Software

Small battery capacity

Display
LG V40 ThinQ release date and price
LG V40 ThinQ is currently only available in the United States and South Korea at a price of between $900 and $980 depending on the phone provider. As far as the UK is concerned, LG has not yet announced when it will be available, so we are waiting for an official announcement from the company.
A proven design
If you enjoyed the looks of the V30, the V40 ThinQ is no exception. Here, too, we find a familiar rounded design and a huge 6.4-inch display. Despite this, the phone may look big but I can assure you that it can be held very well in your hand without too much effort.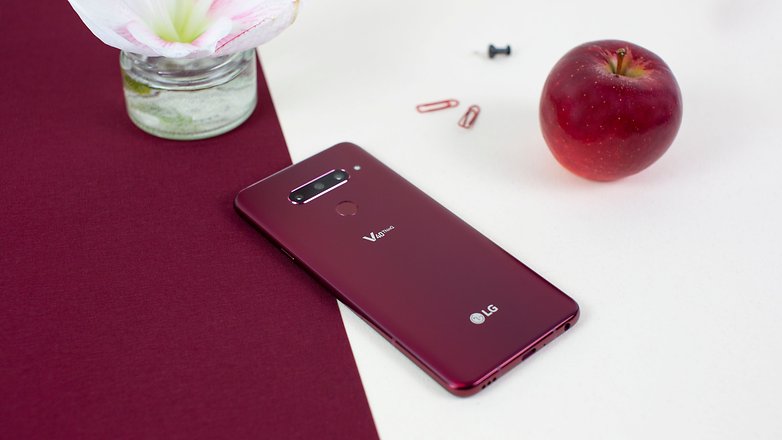 On the front, we find the classic love/hate feature (a notch). It's not so big, even though it contains two cameras. LG also offers the possibility to hide it easily and you can customize the notification bar with colors or icons.
The back of the V40 is protected by a Gorilla Glass 5 panel and includes a fingerprint reader and, for the first time, a triple camera module. The right side houses the power button and the slot for SIM and microSD, while on the left side there is the volume balance and the button dedicated to Google Assistant.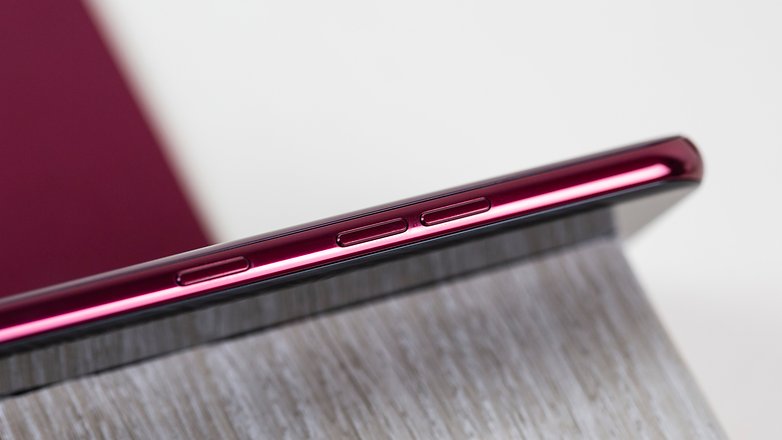 At the bottom of this LG V40 ThinQ we find a pleasant surprise, namely the Boombox speaker already seen on the G7, followed by a USB type-C port and a headphone jack. Overall, the feeling that the V40 offers whilst holding it in your hand is really pleasant and its size is comparable to that of the Samsung Galaxy Note 9. Finally, LG has equipped this smartphone with IP68 certification and support for wireless charging.
OLED is the right choice
The V40 features a 6.4-inch OLED display with a resolution of 3120x1440 pixels (set to 2340x1080 pixels by default). The panel is very good, although, despite its 538 ppi, it is not as sharp as those offered by the competition.
The lighting produced by the display is good but does not come close to the 1000 nits of the G7 and you may have difficulties under direct sunlight. However, looking at it from different angles, I've never noticed any kind of tendency towards blue from this display and the colors are extremely saturated, almost too much maybe. I mean, this display is either hated or loved, it's a matter of taste. Of course, you will always have the possibility to change the calibration of the colors, as well as their temperature.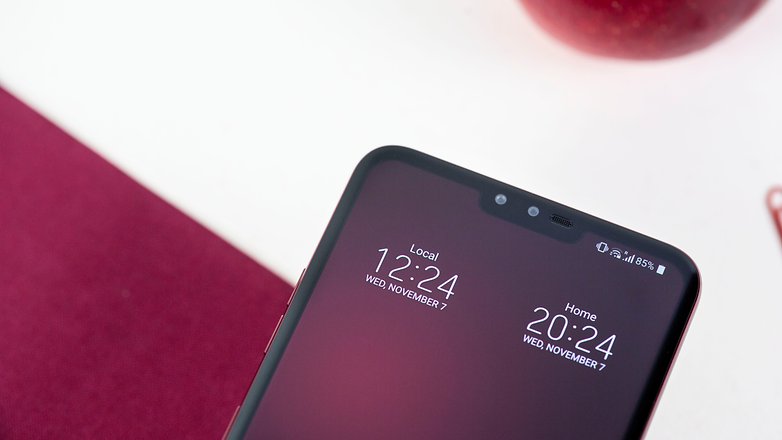 This display is also HDR10 compatible, which means that you can enjoy significantly better multimedia content with than the optimized standard displays.
What, no Android Pie?
Unfortunately, LG has not yet offered a top of the range software with the latest release of the green robot on board. The V40 ThinQ runs Android 8.1 Oreo, which particularly disappointed me. Moreover, no release date has been declared for the Android 9 Pie update. All we know is that it's going to land sooner or later!
LG's user interface has never been a strong point and this time, as in the past, I have struggled with it. The design always seems the same for years and the stylistic elements offered by the company do not fit exactly into my personal tastes.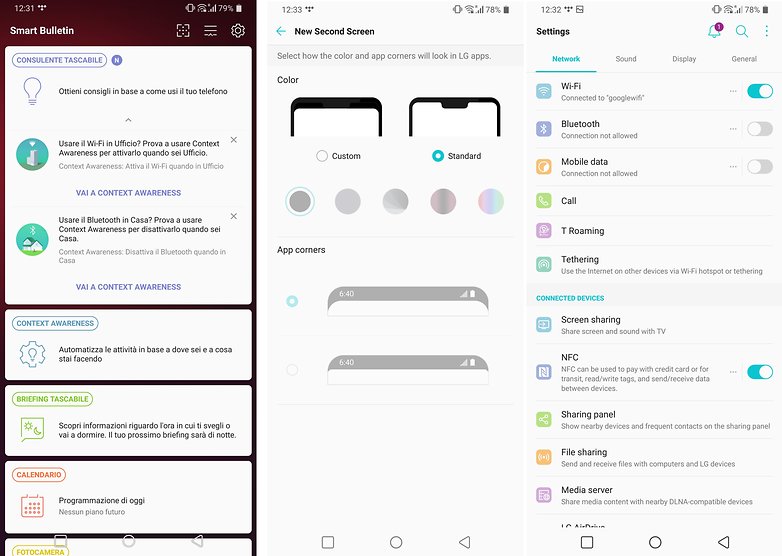 The settings menu is still organized into four different tabs, which almost always made it difficult for me to find many of the submenus I needed. Also, by default, the app drawer is not active but for lovers of this feature, you can enable it in the settings of the launcher.
The latter integrates Google Discover (the former Google Feed), which can be accessed by scrolling from left to right directly into the homescreen. If you miss Google Now, this is definitely a rather welcome alternative.
Try and stop it!
The LG V40 ThinQ is undoubtedly one of the top-of-the-range models in 2018. With a Snapdragon 845 from Qualcomm on board, and accompanied by 6GB of RAM and 128GB of internal storage, it can stand up to all of the market leaders.
In the United States, only the version with 64GB of memory is currently available. The 128GB version tested by us is only available in South Korea. To make everyone happy, LG has equipped the V40 with a microSD slot to expand the memory up to 512GB.
Like most of the other leading devices of 2018, the performance of the V40 ThinQ has been solid. In my two weeks of intensive use, I have never seen (or even noticed) the slightest hesitation. Applications are launched quickly and multitasking performs excellently. I mean, it has no trouble keeping up with your daily activities.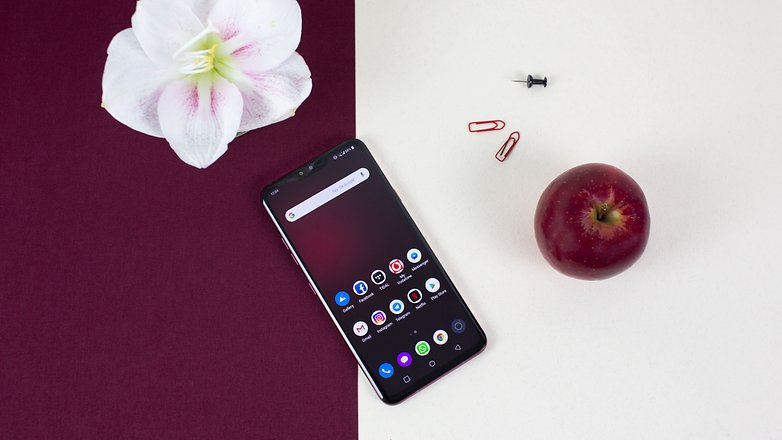 We have performed our usual benchmark tests by comparing the V40 with other current top-of-the-range handsets. You can see the results in the table below. These are obviously the averages of three tests carried out for each device.
LG V40 ThinQ: benchmark test comparison
| | LG V40 ThinQ | Huawei Mate 20 Pro | OnePlus 6T | Google Pixel 3 XL |
| --- | --- | --- | --- | --- |
| 3D Mark Sling Shot Extreme | 3233 | 3564 | 4702 | 4079 |
| 3D Mark Sling Shot Vulkan | 2579 | 3335 | 3861 | 3333 |
| 3D Mark Sling Shot | 4098 | 2468 | 6388 | 5247 |
| 3D Mark Ice Storm Unlimited | 58192 | 37330 | 64753 | 35526 |
| Geekbench 4 - single/multicore | 2391/8513 | 3326/9726 | 2396/8981 | 2350/8333 |
| PassMark Memory | 12209 | 31071 | 12364 | 7540 |
| PassMark Disk | 52372 | 75478 | 75065 | 69870 |
Quad DAC and Boombox are still on board
Once again this year, LG's famous 32-bit DAC is back, thanks to which you can enjoy high-quality audio that sounds better than any other smartphone at the moment. LG reigns supreme in the niche of audio quality, at least until consumers no longer worry about having the 3.5mm jack. For now, its removal is seen as a bad move and LG is one of the few companies that still today has kept faith with the word of the users.
If you prefer to listen to music directly from the speaker, the Boombox speakers inherited from G7 will not let you down on quality audio. I've never heard a smartphone sound as loud as this one.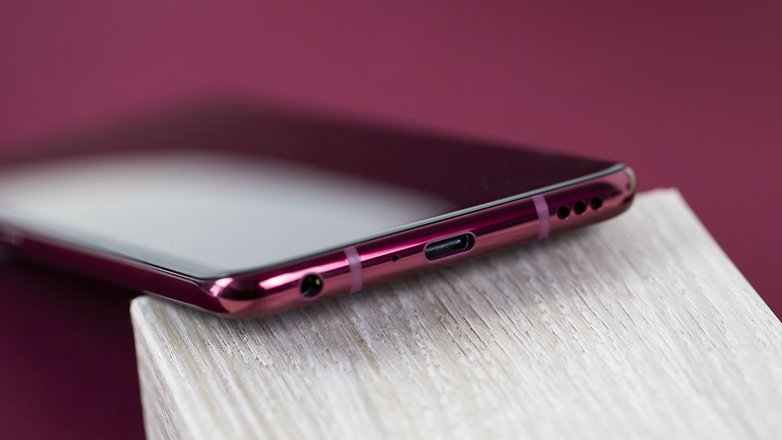 A huge step forward
The camera is nowadays one of the most important aspects that is taken into account when purchasing a new smartphone. After the bad performance of LG G7, I want to reassure you immediately: the cameras of the V40 are undoubtedly in line with all the rest of the specifications of the device.
This year LG decided to play the wild card with three rear cameras. Some manufacturers choose to include a wide angle or a telephoto lens, but not LG: the company has decided to opt for all possible technology including both types of sensors.
There is a standard 12MP lens with f/1.5 aperture and a 78-degree field of view, a 16MP wide-angle lens with f/1.9 aperture and a107-degree field of view and a 12MP telephoto lens with 2x optical zoom with f/2.4 aperture and a 45-degree field of view.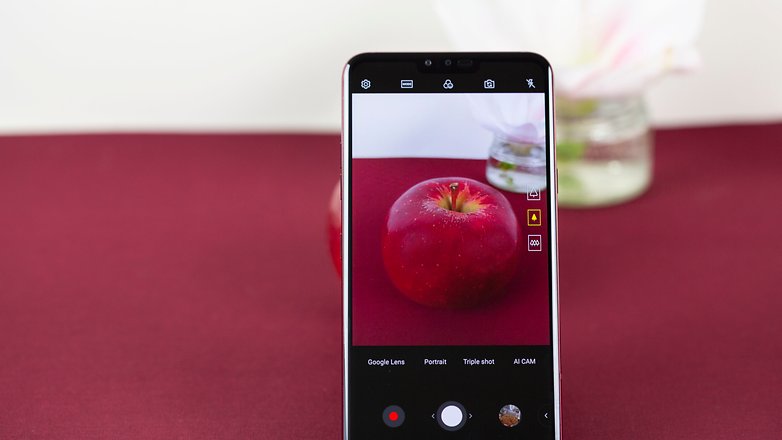 These cameras really amazed me and I'm pretty sure LG worked a lot on the software. The camera app is really complete with all kinds of shooting modes: one of the most interesting is the Triple Shot mode which allows you to take a picture with all three cameras at the same time, so you can choose the angle you like best later.
However, the optical zoom has particularly disappointed me because instead of keeping the photos beautiful and sharp, these are taken with a clear presence of noise.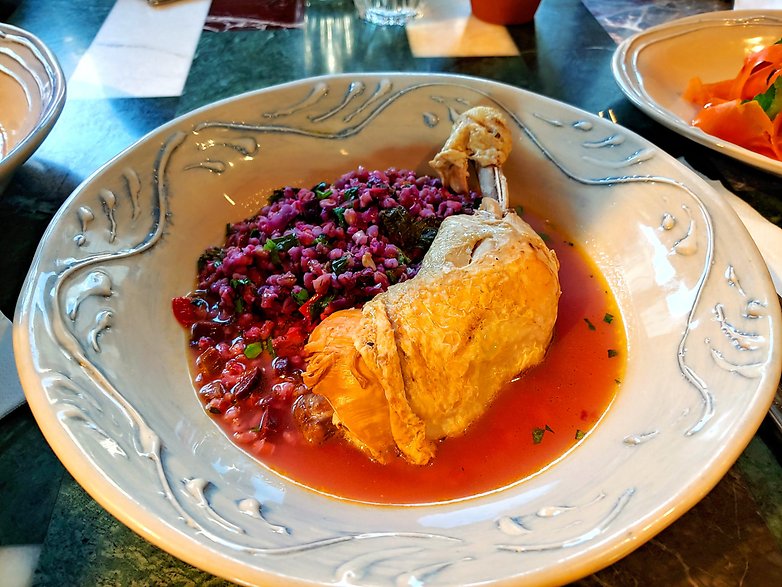 On the front, we find two other cameras (and so we've reached five!): a standard lens with an 8MP sensor, f/1.9 aperture and an 80-degree field of view and a wide angle lens with a 5MP sensor, f/2.2 aperture and a 90-degree field of view.
This allows you to create both wide-angle and portrait selfies. Honestly, as I said in our test dedicated to the camera, I expected a wider angle, but still a good job was done.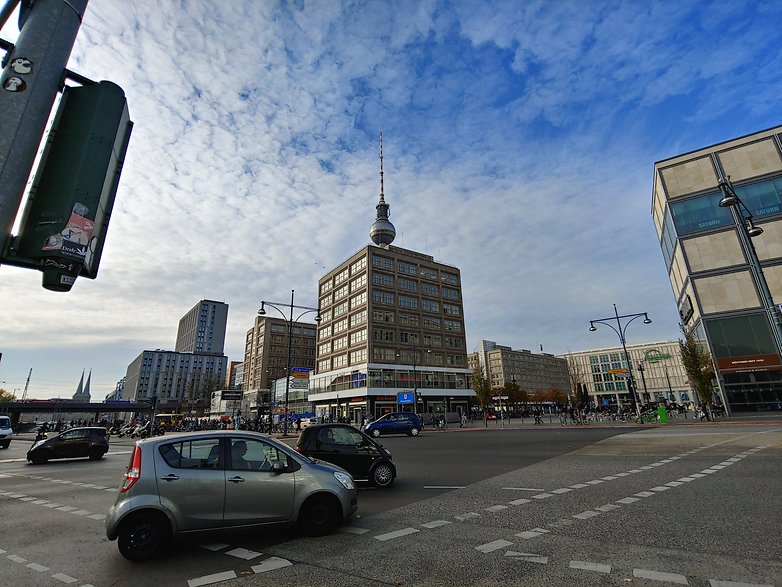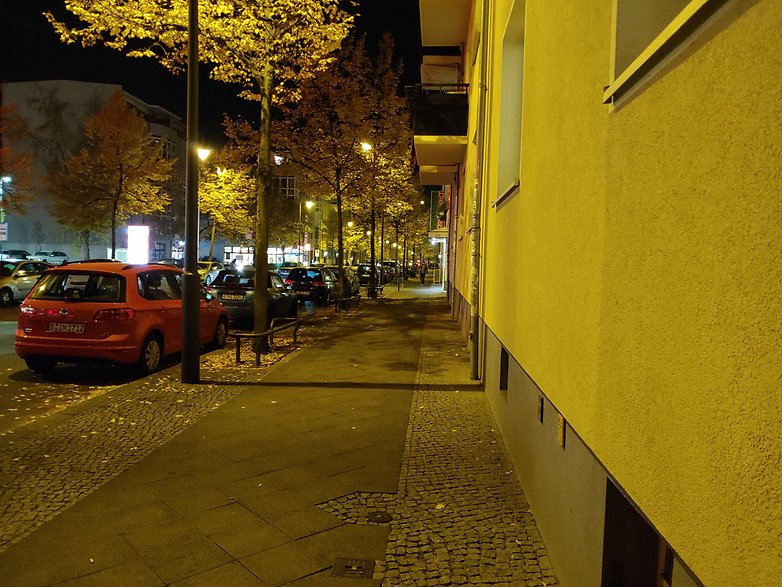 Also on the V40 we find Google Lens and an AI mode integrated directly into the camera app, but to learn more (also with regard to the shots obtained) I refer you to the dedicated article. Finally, I invite you to take a look at the album in which I shared some shots captured with the V40 ThinQ by clicking on the link below.
More capacity would be welcome
The 3300 mAh battery aboard the V40 ThinQ offers not exactly spectacular battery life. Honestly, with such a large screen, I expected a battery of 4000 mAh so that it could compete with the Galaxy Note 9 .
With less intensive use you can easily arrive in the evening with a 20% charge, but things change when you use it more than usual, especially if you have brought the display to maximum resolution. To help the battery survive a little longer I recommend using the default resolution (2340x1080 pixels).
Constantly using the maximum resolution and applications such as WhatsApp, Facebook, Instagram and five synchronized GMail accounts, during my experience I was able to total an average of only 3 hours and 20 minutes of active screen, which is surprisingly negative.
In our PC Mark test, the result is 8 hours and 55 minutes, which exactly reflects the gap between the V40 ThinQ and the other top-of-the-range products it has to deal with.
LG V40 ThinQ technical specifications
| | |
| --- | --- |
| Dimensions: | 158.8 x 75.7 x 7.6 mm |
| Weight: | 169 g |
| Battery size: | 3300 mAh |
| Screen size: | 6.4 in |
| Display technology: | POLED |
| Screen: | 3120 x 1440 pixels (537 ppi) |
| Front camera: | 8 megapixels |
| Rear camera: | 16 megapixels |
| Flashlight: | LED |
| Android version: | 8.1 - Oreo |
| RAM: | 6 GB |
| Internal storage: | 64 GB |
| Removable storage: | microSD |
| Chipset: | Qualcomm Snapdragon 845 |
| Number of cores: | 8 |
| Max. clock speed: | 2.7 GHz |
| Connectivity: | HSPA, LTE, NFC, Bluetooth 5.0 |
An upgrade, but...
The LG V40 ThinQ is an absolutely top-of-the-range device from the point of view of the spec sheet. It can do a lot of things, that's true, but unfortunately it can't do them better than the competition.
On the one hand, I thank LG for making this phone in a design I love, and for the mini-jack for headphones, a button dedicated to Google Assistant, the speaker Boombox and the audio DAC, but on the other hand, the V40 cannot convince me to spend this amount of money without looking elsewhere.
After all, LG has designed and publicized this smartphone by focusing on its photographic capabilities, which has certainly improved a lot, but that does not get sensational results to leave me speechless when you look at the progress made in recent years by the competition (see Huawei Mate 20 Pro and Google Pixel 3).
In short, the LG V40 ThinQ is a real device suitable for everyday use, but particular features (though important) such as the Quad DAC and the Boombox driver, which stand out from the competition are few to succeed in prevailing.