LG G3 software features tour [Update: video]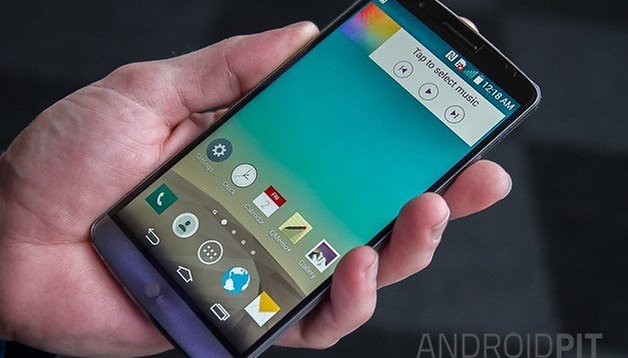 I've now spent a day with the LG G3 and I have to say I'm impressed with what LG has done with the software; not only their makeover of the rather dated Optimus UI, but also their restraint when it comes the temptation to overload a new flagship with too much fluff. Everything about the G3 screams ''refined.'' Let's take a visual walk through the major new software features of the LG G3. There's a lot of screen shots, so get comfortable! [Update: software features video added.]
Note: the LG G3 given to media is a pre-production Korean version with non-final software, so there may be some changes in the final version. As such, I won't go on much about things that are ''missing,'' as they may return.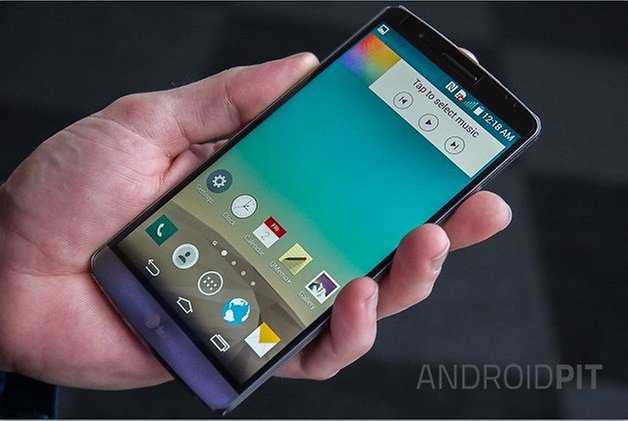 ​
Optimus UI
The first thing you notice upon looking at the G3 running Android 4.4.2 is the new look Optimus UI. Previously, LG had tended towards a childish, blocky interface, but the new UI is clean, crisp and uses ''mature and sophisticated'' colors, avoiding vivid colors and clashes. The home screen is spacious with new circular and square app icons which look pretty tidy. Except the camera icon which looks like a clothes dryer.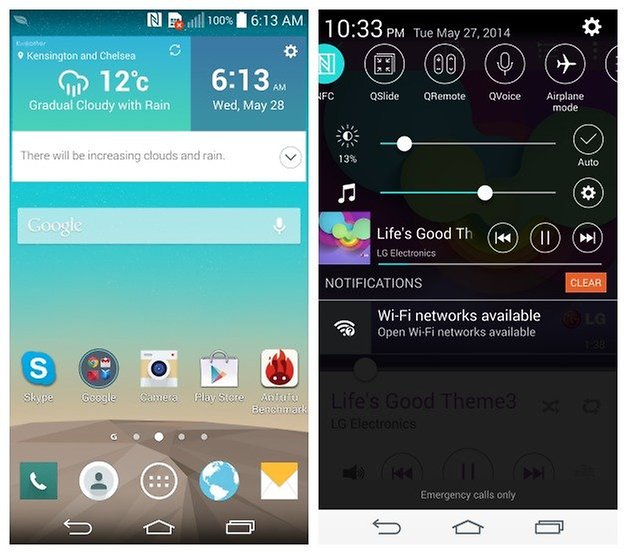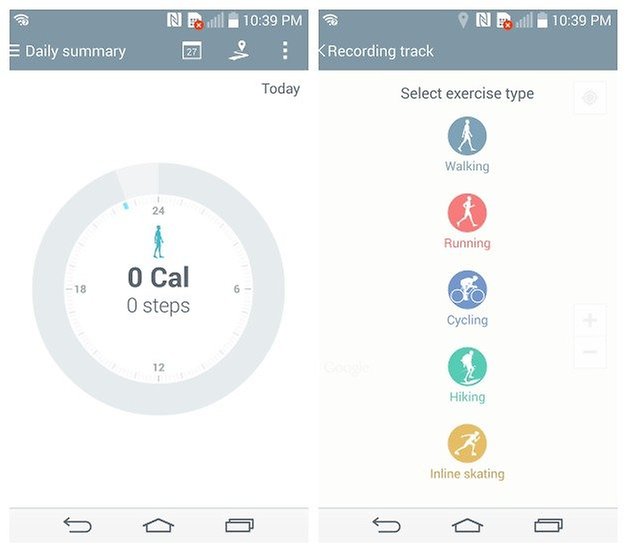 The notifications shade is like a mixture between iOS and Samsung's riffing on Windows Phone in their new TouchWiz interface, but to my mind, it looks a whole lot better than both. You can access all the familiar Quick Settings and bring up your QSlide app row. There's also a dedicated brightness and volume slider. LG's major apps have all been given a color-coded identity to ''enhance task awareness'' and LGHealth occupies a prominent position in the same way as SHealth on the Galaxy S5.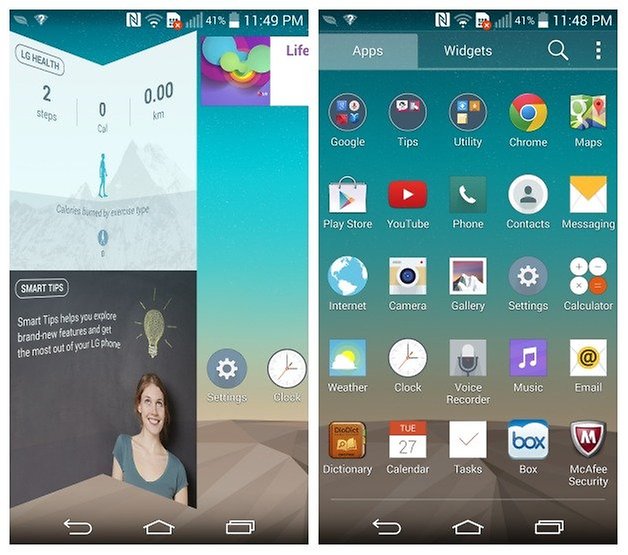 The app drawer is nice and clean too and doesn't feel too cluttered, with tabulated apps and widgets and a transparent background. The settings menu comes in a tabulated form by default but this can be switched to the easier to navigate list view. The old menu button has been replaced by the now default recent apps button and you can bring up your home and lock screen settings, as well as app, theme and widget shortcuts with a long press. Dual Window apps can be accessed with a long press of the back arrow. Long pressing the home key gets you Google Now.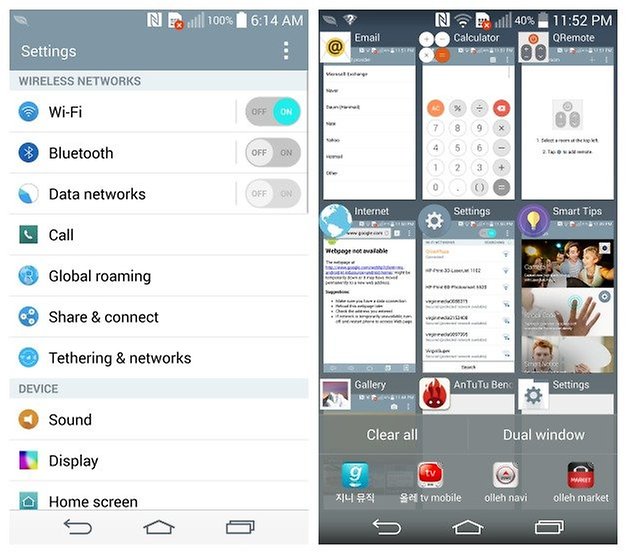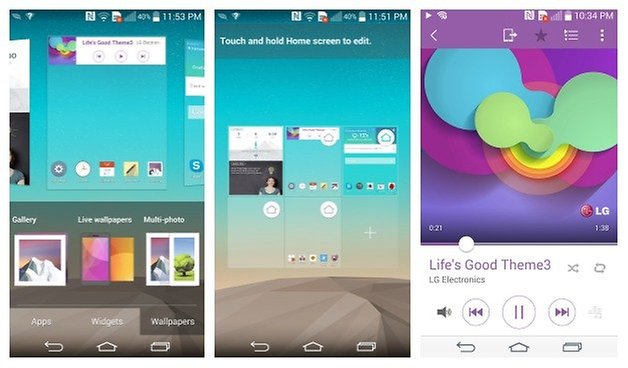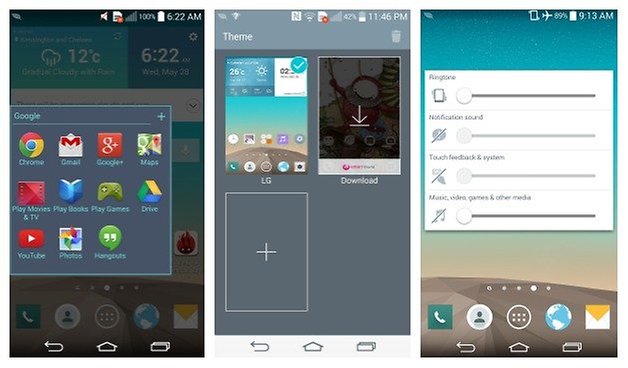 Software features
Some familiar software features reappear in the G3, like Knock On to access your clock and notifications and Knock Code to directly access your home screen (or enter Guest Mode, where only five pre-selected apps can be accessed). There's also some motion gestures, mostly related to flipping the phone, facing t down or picking it up for answering and rejecting calls and so on. The volume keys on the back are still shortcuts for the camera and QMemo+, which lets you write on top of any screen and save or share the results.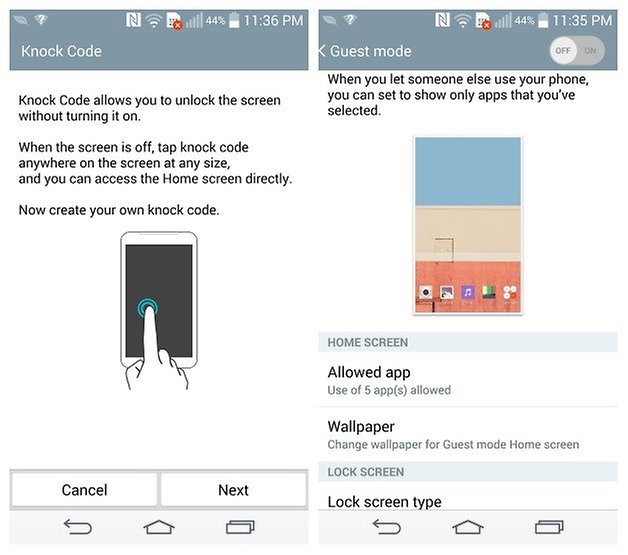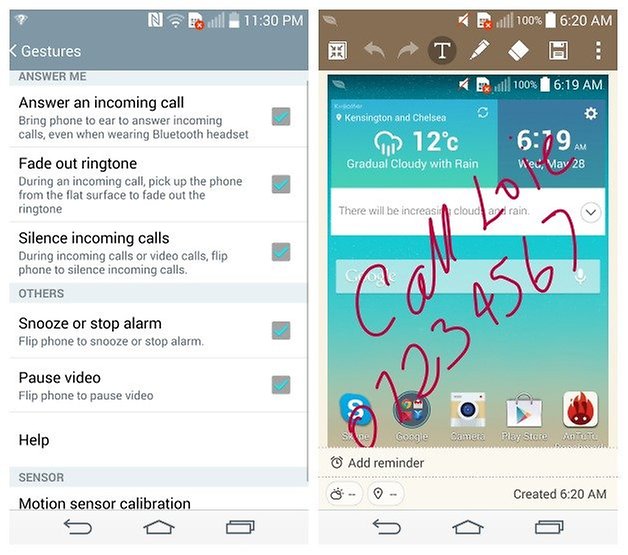 LG has brought a couple of new creations in Smart Bulletin and Smart Notices with the G3. These act a bit like Google Now, providing suggestions, reminders and recommendations based on your smartphone usage habits, current activity, length of time you've had the phone and more. You can even get friendly reminders to dress appropriately according to the weather forecast and suggestions on accessories and upgrade promotions for a new device. Other functions include device cleanup, app and feature tips, uninstall recommendations for unused apps and the like.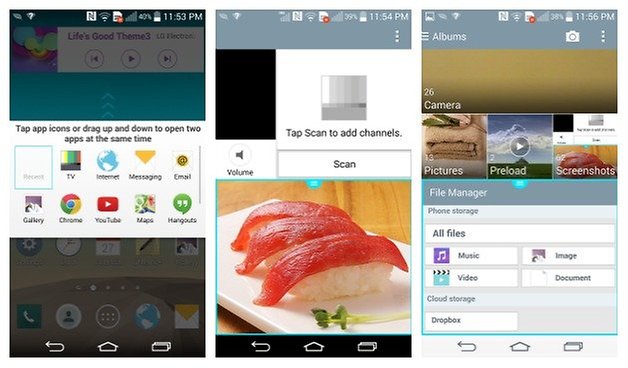 Dual Window makes a comeback, allowing you to screen share with two apps at a time and QSlide offers the ability to place up to two floating windows anywhere on the screen. Transparency and window size can be adjusted, so you can watch videos while writing messages, calculate sums while working on an email and so on. The LG Smart Keyboard also makes its debut on the G3, bringing cool features like a resizable keyboard, adjustable keyboard setup and adaptive touch response areas so the G3 learns your mistyping habits whenever you use the backspace. It's also got flow swiping and predictive text.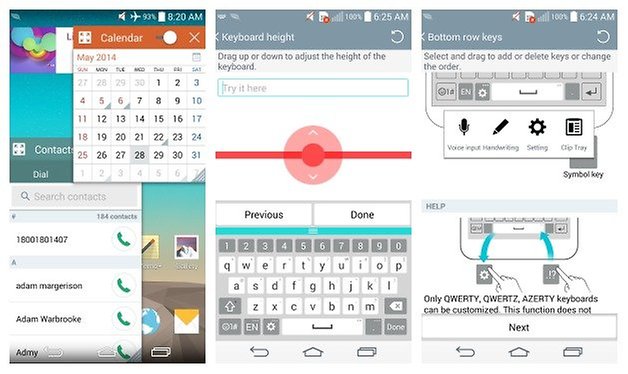 Camera
The camera app has received a nice makeover and the default view will see a crystal clear full screen view with just your shutter buttons and an overflow menu on screen for maximum visibility. A tap of the overflow menu brings up camera modes and settings. As mentioned above, there may well be some changes to functionality in the final version. For now, the camera modes are limited to Dual shot, Panorama, Auto and Magic Focus, which allows for limited refocusing of a shot. Settings include a grid overlay, timer, voice shutter, and HDR. The G3 shoots at 3 MP, 9 MP, W10 MP and 13 MP, and records video at HD, Full HD and 4K with slow motion HD at 120 fps.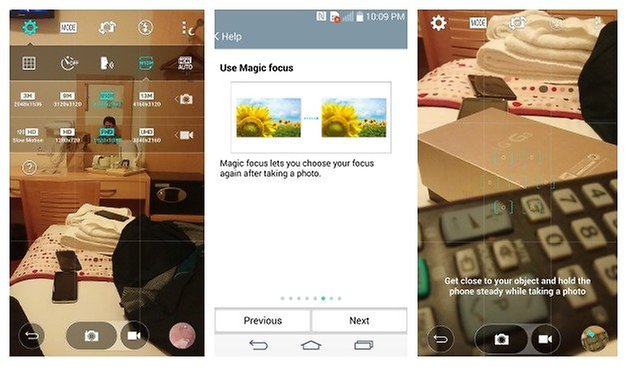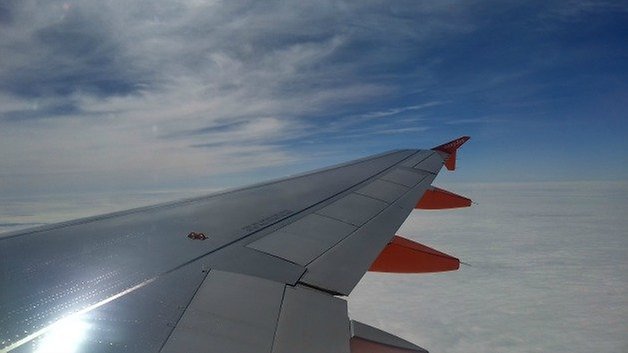 The camera is also equipped with the laser auto-focus module on the back next to the dual-LED flash. This allows for super-fast auto-focusing because the infrared laser is activated as soon as the camera app is launched, shooting a conical beam out to measure distance. The laser auto-focus is particularly useful for low-light focusing but the camera also uses contrast-based focusing and face recognition. Shooting is incredibly fast, especially when burst shooting. LG's figure is 276 milliseconds, making it faster than the Galaxy S5 (of course).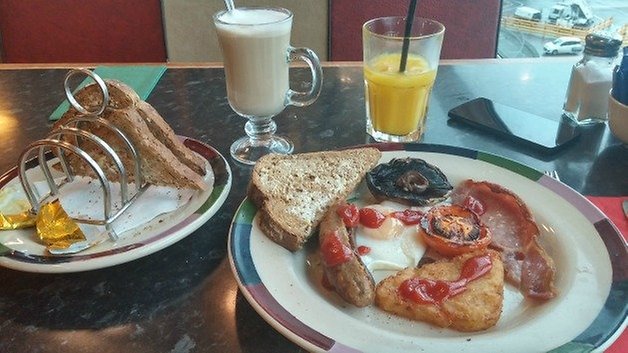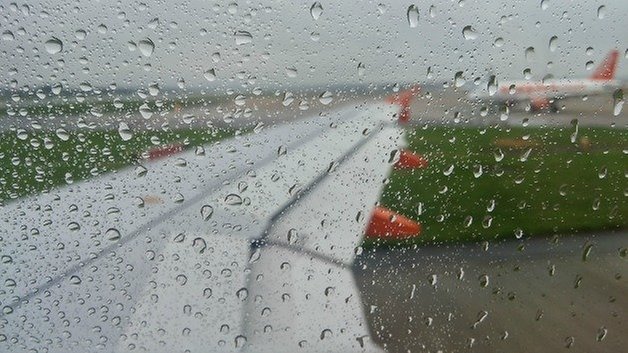 The front camera has be redubbed the selfie camera as all decision were made with that in mind, from sensor to aperture to lens angle. You can switch from rear to front-facing cameras with a swipe of the screen and the selfie camera comes with a built-in Beauty Mode slider. There's even a trick to provide a fake ''flash'' to illuminate a selfie subject and gesture-based timer activation.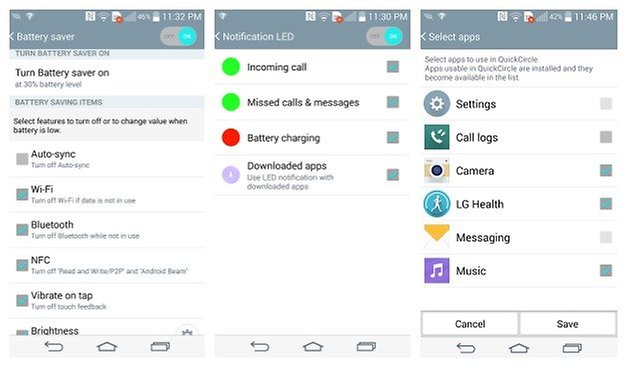 Other features
The LG G3 also has a battery saving mode where you select the features to disable when the battery reaches a set level. You can choose from a standard home screen or Easy Home option and you can personalize the home key in the same way as you could with the G2 but the LED notification ring from the power button has been ditched in favor of a more standard LED blinker next to the sensors on the upper front bezel. Lastly, there's an IR blaster up top and a QRemote app for controlling various rooms and devices in your home.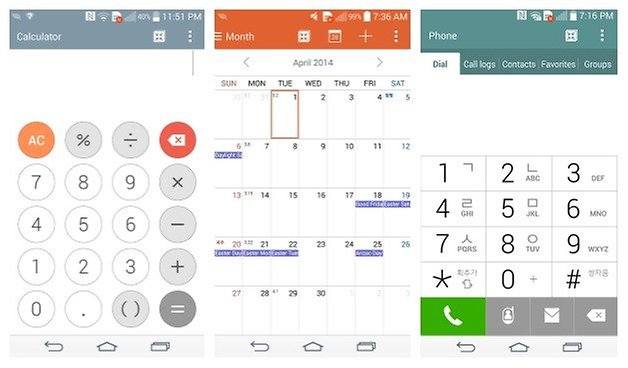 Conclusion
LG has truly practiced the art of refinement with the new Optimus UI and the G3. Seemingly no superfluous elements have been included, in either design of the handset or the construction of the software. Everything about the G3 and new Optimus UI is clean, crisp and sophisticated and it all works together wonderfully, in a way the patchwork efforts of Samsung with the Galaxy S5 and TouchWiz could only aspire to. There will surely be a few more additions in the final software version, but what I've seen so far has left me quite impressed.
For more information on the device and hardware features, check out my LG G3 hands-on review.
What are your thoughts on the new Optimus UI and G3 features? What do you think the G3 is missing?