LG G Watch R review: Circular, but not full circle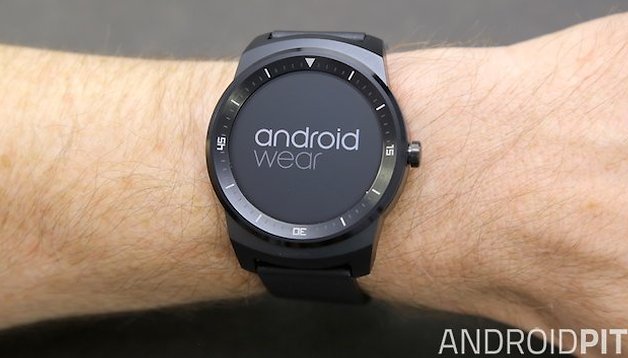 Most Android Wear smartwatches are not very good right now. A lot of this is down to Android Wear still being in its fledgling stages, complete with bugs, limitations and some hardware issues. The LG G Watch R is no different: while it is very good in some respects, there's still a bit too much that isn't up to scratch to make it a must have - and yet it is still probably the best Android Wear watch around. Read on for the full LG G Watch R review to see where it comes full circle and where it comes up short.
Good
Excellent battery life

Good screen quality

Fully round display

Classic design
Bad
Quite large and bulky

Expensive
LG G Watch R design and build quality
The LG G Watch R is a pretty big watch, even larger than the Moto 360 and much chunkier. Although the G Watch R is made of metal (stainless steel and aluminum), it kind of looks and feels like a heavy duty plastic, making its material choice seem cheaper than it actually is. It features a fully circular P-OLED display, surrounded by a wide bezel in a diver's watch style (although the bezel does not move or light up) with sharp angular lines. There is a physical button on the right and a standard 22 mm calf skin strap that can be switched out for any other kind of band.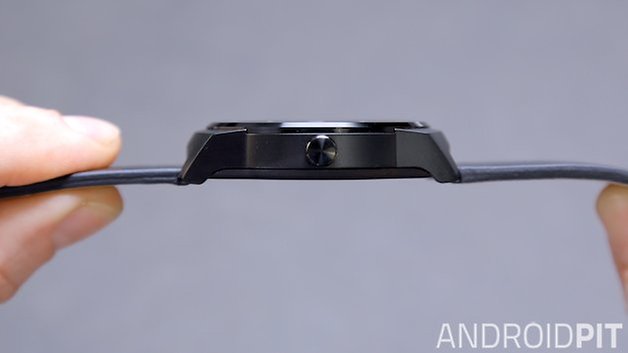 On the back of the G Watch R is a recessed pogo pin setup, that nestles into the included cradle, which is like a circular version of the magnetic dock that came with the original LG G Watch – sadly there is no Qi charging for the G Watch R. A heart rate sensor lies in the center of the back of the watch and there's a pinhole microphone on the bottom edge next to the strap pin. The design of the G Watch R is rugged, manly, bulky and classic: it's the weekend diver's watch equivalent to the Moto 360 dinner suit watch. The G Watch R is IP67 rated against water and dust.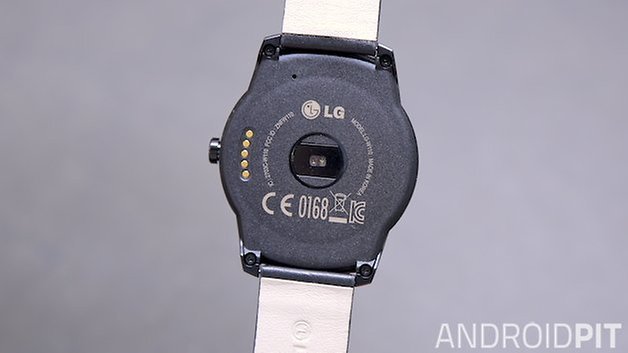 The G Watch R is certainly not going to appeal to everyone's design taste. It appeals to mine because of the kind of watch I normally wear, but it is definitely big. I can get away with it, but if you were at all worried about the size of the Moto 360 then I wouldn't even bother with the G Watch R. It's also quite chunky, making it look pretty weird on most women's wrists and quite large even on my own. But it is absolutely within the size realm of similar ''real'' watches, so it's all a matter of how big you expect a watch to be.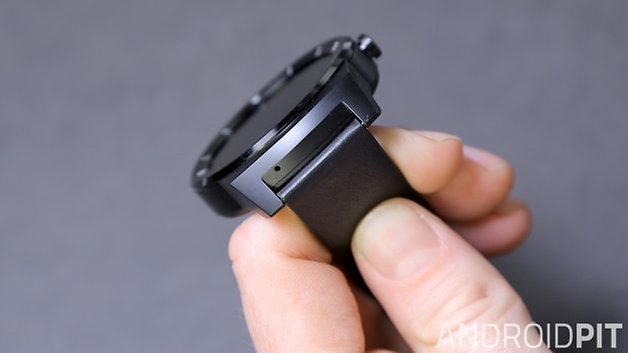 The bezel on the front adds a bit of permanent flair to the G Watch R, regardless of the watch face you pick. If you like it, then great, but if not, then you're stuck with it. Fortunately, the G Watch R looks best with classic rugged watch faces rather than minimal digital ones. The strap, sadly, looks and feels rather cheap and not at all like what you'd expect from calfskin leather. It shows signs of wear and tear quite quickly and tends to crack at the point the strap closes. The buckle itself is also rather awful: large, clunky and angular: kind of like the G Watch R in general.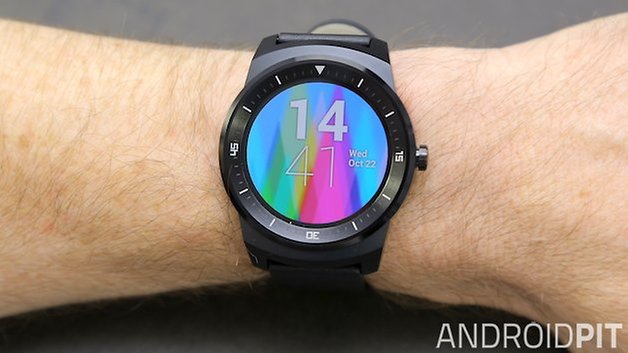 LG G Watch R display
Despite its massive size, the G Watch R ''only'' has a 1.3-inch display, compared to the 1.5 inches on the Moto 360 and even larger diagonals on square watches. However, the G Watch R packs impressive resolution for that screen size: 320 x 320 pixels, giving it a very nice pixel density of 245 ppi. This pixel density gives the G Watch R possibly the best screen I've seen on an Android Wear watch so far and it is, thankfully, fully circular.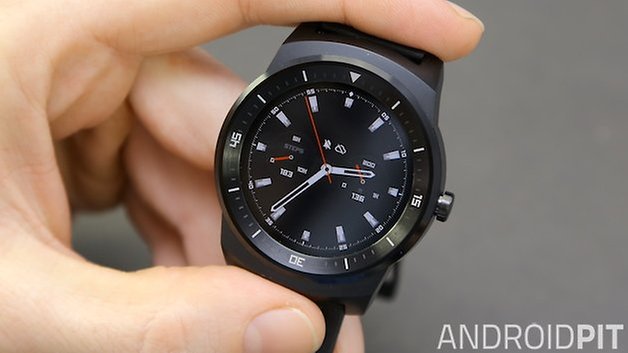 Through my use of other Android Wear devices I came to the conclusion that I much prefer OLED displays over LCD. LCD is just too bright in the dark, even when it is on the lowest brightness setting. Sure, OLED displays are not as great in full sun light (because they are not back-lit like LCDs), but I found the G Watch R to be perfectly readable in direct sunlight, even when in the dimmed ''always on'' mode. Although the minute markers are not so easy to see, depending on which face you're using, the hands are perfectly visible. Like most digital displays though, you'll have to contend with some pretty serious reflections.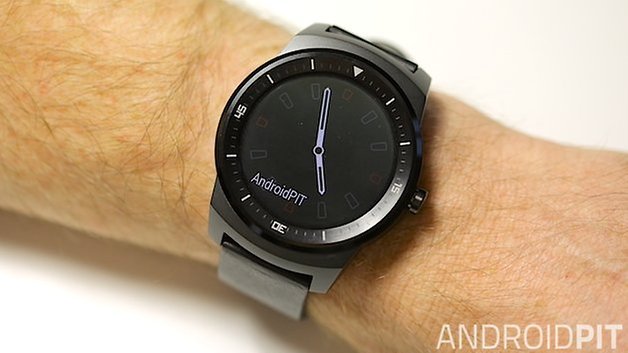 You have a couple of options to turn the display of the G Watch R on and off. You can tap it or press the physical button to turn it on, and press the physical button or place your palm on the screen to turn it off (your thumb is actually large enough of a surface to turn the display off). The G Watch R also turns on when you lift the watch to look at it (interestingly the minute hand tends to jump forward a bit when it does this from the ''always on'' readout).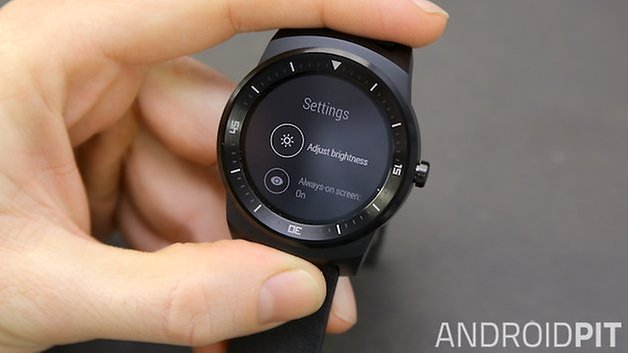 The G Watch R has 6 levels of brightness setting, as well as an ''always on'' mode, which, unlike the Moto 360's ambient mode, will actually keep the dimmed screen illuminated permanently. The G Watch R doesn't have any ambient light sensors though, so there's no ''auto-brightess'' option. One final thing to note: the P-OLED screen can suffer from burn in, so keeping the watch on ''always on'' mode – which is easily one of the best features of the watch – can have repercussions in the long run.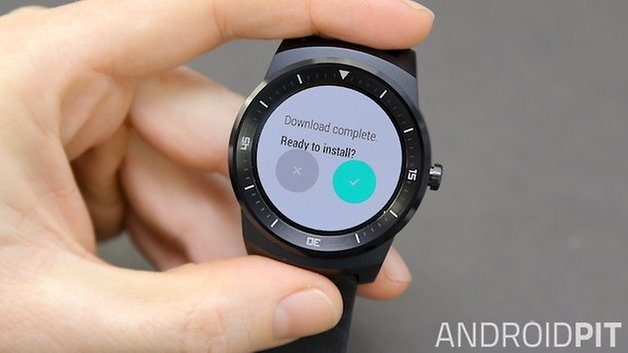 LG G Watch R software
Move along, there's nothing to see here. The G Watch R runs Google's standard Android Wear operating system that provides a very simple interface based on swiping up and down to scroll through notifications and left and right through actions like replying to messages, opening the notification on your phone, dismissing it or seeing further details. If you've used a Wear device before you'll be right at home, and if not, it'll take you all of a minute to get used to it.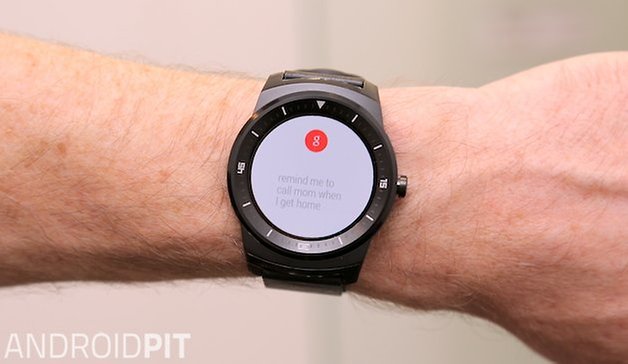 Having said that there are a few differences on the G Watch R. First of all, the presence of the physical button opens up some possibilities not found on other smartwatches. As mentioned above, you can turn the screen on and off with the physical button, and you can long press it to jump straight to the settings menu. This process is much, much faster than it is on the Moto 360. It can also be used like a Home button: press it once to turn the screen off and again to turn the home screen back on. This can be done super quickly and is really quite useful.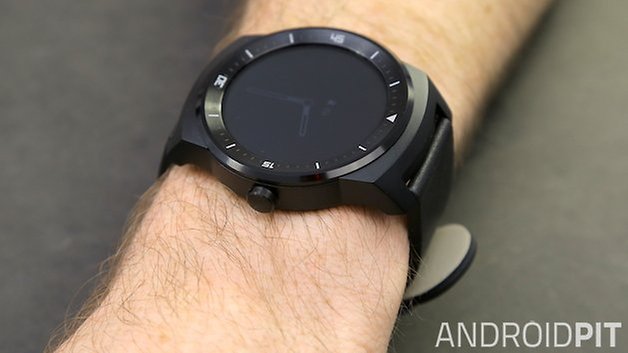 First of all though, you need to install the Android Wear app on your smartphone, then pair the G Watch R to it. You simply enable Bluetooth then confirm the pairing code and you're sorted. I didn't have any dropouts or lost connections other than when I strayed too far from my phone, but the G Watch R fairly reliably reconnected whenever I came back within Bluetooth distance. I wouldn't say it's perfect, so you kind of need to keep an eye on it, but it's better than it has been on other Wear devices.
You can add specific apps to your Wear device through the app on your smartphone, and the G Watch R comes with a grand total of 24 included watch faces. You can add more custom watch faces and even customize the ones you have through the app. Swiping down from the top of the home screen shows the date and battery percentage and toggles mute/unmute. If a notification is sitting on the bottom o the screen, you can now swipe it down to clear it without dismissing it. This is possibly the coolest feature of the recent 4.4W.2 update.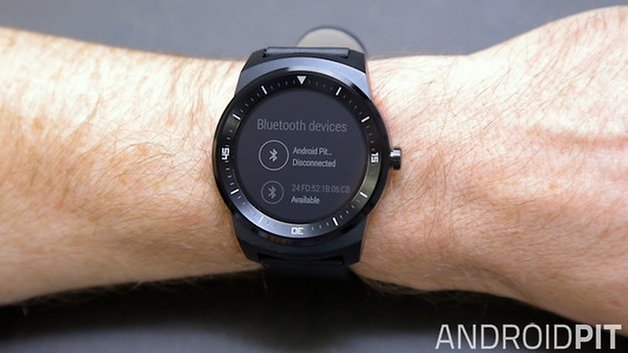 Further features of Android Wear include a heart rate monitor and Google Fit, voice commands a la Google Now, Play Music offline controls, Bluetooth menu for connecting to headphones and speakers, turn-by-turn navigation and more. The G Watch R also has a compass and barometer so it can keep track of elevation as well as be used as a pedometer. While many of these are useful features, a lot of them already exist on your smartphone and they will only be useful if you already make use of them. If you've never used voice commands before, buying a smartwatch may not be the trigger to make you start.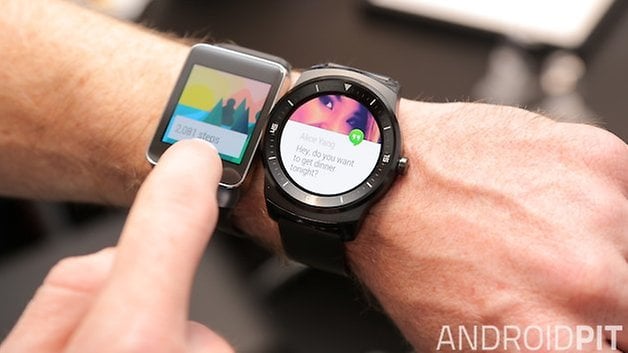 LG G Watch R performance
After using the slightly laggy Moto 360 for a while, the standard internals in the G Watch R were a nice return to form. While the G Watch R specs are pretty much identical to the rest of the first-gen Android Wear devices, the better screen on the G Watch R is the most notable improvement. The G Watch R has 4 GB of on-board storage and 512 MB of RAM, along with a Snapdragon 400 CPU with Adreno 220 GPU.
In my week with the G Watch R I never had any stuttering, freezes or lags like I have experienced on other devices. Most notably the Moto 360. Of course, you won't be blown away by the performance of any smartwatch right now, but the G Watch R stands up to the competition perfectly well. I'd still like the stability and reconnection performance of Bluetooth to be more rock solid though.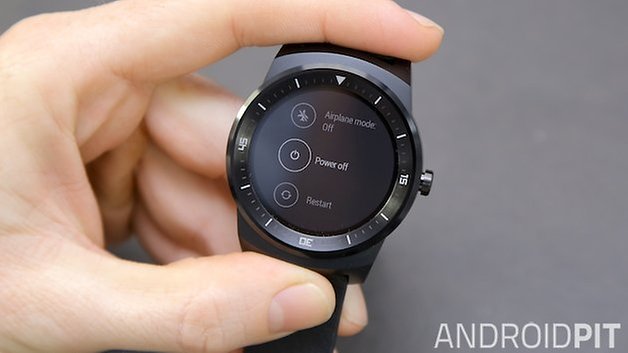 LG G Watch R battery
The G Watch R has the best battery on any any Android Wear smartwatch right now. The original G Watch (which was really Google's first smartwatch, not LG's) has great battery life, as does the Gear Live, and the G Watch R doesn't disappoint. Despite ''only'' having a 410 mAh battery (the G Watch has a 400 mAh battery), the P-OLED display and small screen size makes that juice last a long time. LG has also dropped ''always on'' mode drain to just 10% of what it was on the G Watch, giving you a breezy two-day battery life on the G Watch R.
LG says you can get three days if you leave ''always on'' mode off, but I can't see any reason to do away with what is probably the best feature of the G Watch R: an always on display that easily gets you through more than a single day of use. With the screen on maximum brightness and with a LOT of notifications coming in from social media, email and Reddit and a little bit of voice commands and navigation thrown in, I'm still reliably making it through two days (well, from 7 am one day to midnight the next) with around 10-15% remaining.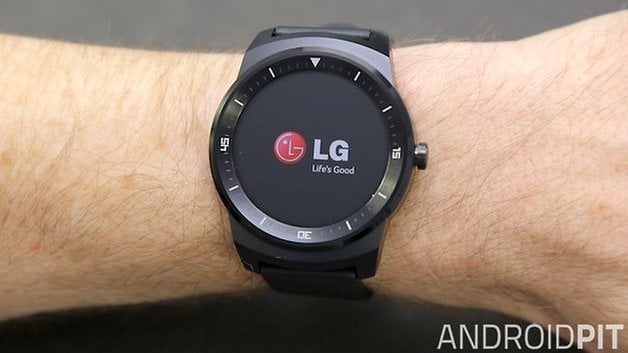 Price and Release Date
The G Watch R is already available in the UK for 225 GBP via Clove and will sell in Europe for 299 EUR. We expect the US LG G Watch R price to be 299 USD. For more information on the market start and pricing for the G Watch R, take a look at our LG G Watch R price and availability roundup. The LG G Watch R release date was on October 24th in the UK with Europe and the US following afterwards.


LG G Watch R technical specifications
Final verdict
It's hard to say if the G Watch R is the best Android Wear smartwatch around right now because none of them are all that great. The battery and display on the G Watch R make the Moto 360 look like a laughing stock, but the Moto 360's less intrusive design and Qi charging (which I think should be a smartwatch standard) are enviable features in their own right. If I was pressed to, I'd say yes, the G Watch R is better – mostly thanks to the impressive battery and screen – but it is still a long way away from being an essential purchase (and I know there are many out there that still prefer the Moto 360).
For what it is, the G Watch R is really quite good, but there's still a lot that needs to improve before I'd recommend that anyone rush out and fork over the money for this (or any other watch). For geeks like me, it's a given: the cost of a smartwatch is justified, but it may not be for everyone. In the final analysis though, the G Watch R is large, chunky, expensive and doesn't really offer much that other smartwatches don't already (except better battery life), but it is well built, performs well and is as good as or better than all of the other Android Wear offerings available. I'm giving it four stars but that's also because I like the design and can manage the size: these factors may be more of an issue for others.