LG G Flex 2 review: ahead of the curve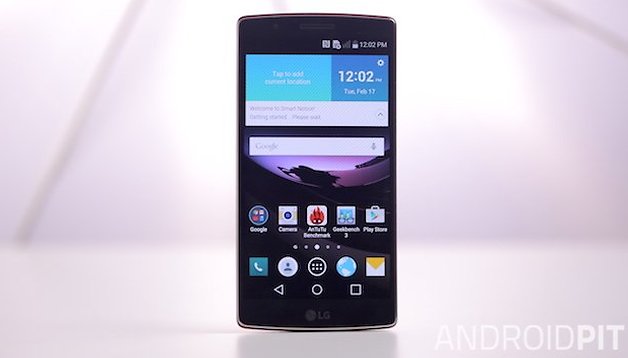 The first phone to be curved and flexible, the original LG G Flex suffered from a few issues like a weak camera, low resolution display with ghosting problems and a high price tag. While the price tag may have come down in the new LG G Flex 2, lots of other things have improved and the G Flex successor is a force to be reckoned with. Find out just how much in our LG G Flex 2 review.
Good
Curved and flexible design

First phone with 64-bit Snapdragon 810

Full HD P-OLED display

Improved camera
Bad
Smaller battery than original G Flex

Specs not much better than the LG G3

Thermal throttling of CPU under load
LG G Flex 2 release date and price
The LG G Flex 2 release date was staggered as usual, with South Korea getting the device on January 30, 2015 and Singapore taking pre-orders as of February 27, followed by Hong Kong. Some US carriers are now making the phone available and Vodafone in the UK is also taking pre-orders.
The unlocked LG G 2 Flex price has not yet been officially confirmed, but US Cellular has an up front LG G Flex 2 price of 630 USD. Sprint has the LG G Flex 2 available outright for 504 USD. AT&T is taking pre-orders but there is still no word from Verizon or T-Mobile.
LG G Flex 2 design and build quality
The first thing you notice about the G Flex 2 is its curved form factor, which LG claims provides an immersive viewing experience just like watching a curved TV, with a 5.5-inch phone at 30 cm apparently matching a 55-inch curved TV at three meters. In reality it feels pretty much the same as a regular phone, even if LG does have the science to prove it.
A superior audio experience is also promised thanks to the ergonomics of the phone, in relation to the curvature of the face, as well as the fact that the curved back allows the speaker audio to avoid being muffled when placed on a flat surface.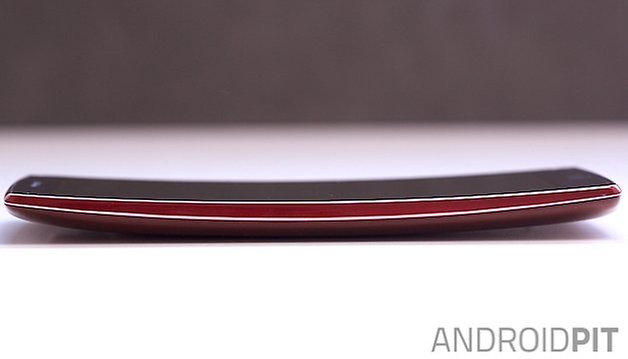 Call quality is improved by 2 dB over the original G Flex because the curve brings the mic a centimeter or so closer to the mouth. It's hard to judge as significantly better than other phones, but when receiving a call from the G Flex 2 it does sound clearer with less interference.
The rebounding sound waves from the speaker also come out louder and crisper than with other rear-mounted speakers. But ultimately, the G Flex 2 is a curvy, bendable phone that looks cool and is an instant conversation starter.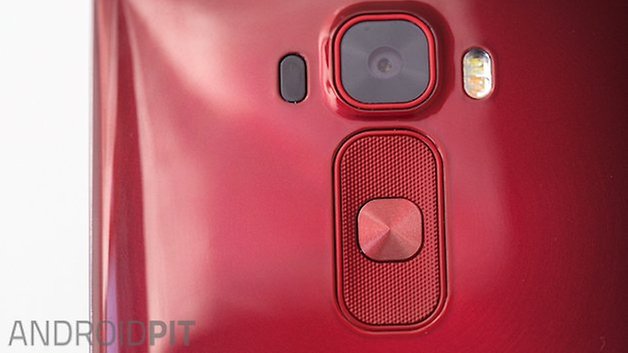 On the back, the rear-key set-up has changed a little from the LG G3, but not by much. The central power button feels a little loose to me, and almost like you could pull it off, but the button layout, size and usability has greatly improved since the original LG G2.
Like the LG G2 and original G Flex, the back of the G Flex 2 is a monstrous fingerprint magnet that shows up all kinds of greasy markings right from the get-go. If you're gentle on back cover abuse, the G Flex 2 should stay looking new for much longer, but I wouldn't count on it.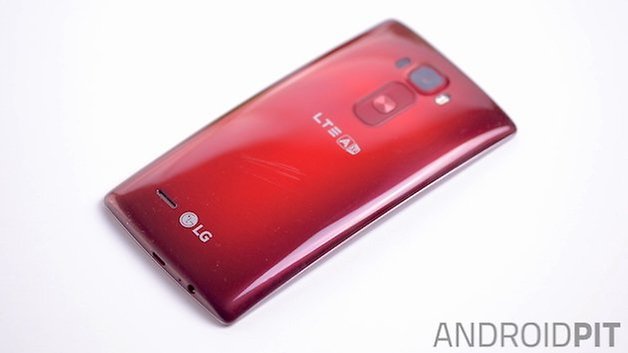 On the front we've got a typically luscious LG display with minimal bezels (but nothing too revolutionary) coming in at 5.5 inches. The G Flex 2 once again brings a P-OLED display for improved durability, along with a custom treated Gorilla Glass panel to produce LG's proprietary Dura-Guard Glass, but this time the display is much better than the original G Flex.
Dura-Guard is apparently 20 percent stronger than Gorilla Glass 3 and features much better strength and shock absorbency at the edges, where drops are felt most. I can't say I've gone out of my way to drop the G Flex 2, but when it has taken a tumble it has been no worse for wear. The removable back cover reveals a non-removable battery and microSD and SIM card slots.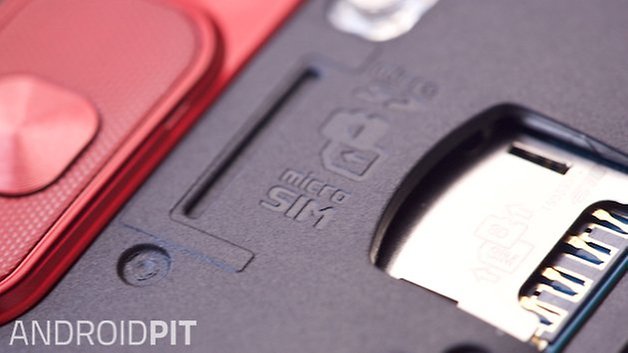 There are two color options for now: Platinum Silver and Flamenco Red which are tinted more at the edges and look quite good, even if they are a little glossy for my tastes. The front of the device looks pretty much like an LG G3 and the rear color doesn't make its way onto the front of the device at all.
The G Flex 2 is 15 percent lighter than the original G Flex at just 152 g and only has a marginally larger footprint than the G3, measuring 149.1 x 75.3 x 7.1-9.4 mm. Of course, the G Flex fits your palm, pocket and face like no other device around but the curve is ultimately secondary in importance (in my opinion) to its flexibility and ruggedness.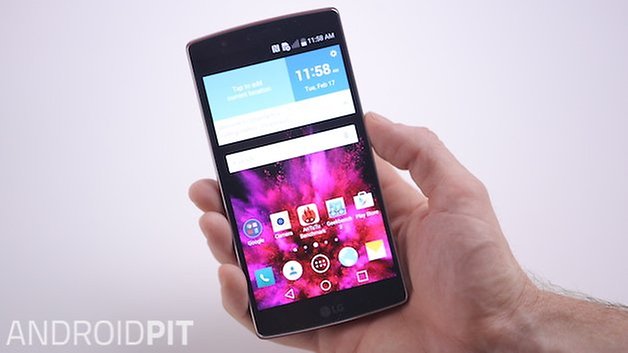 LG G Flex 2 display
The G Flex 2 features a Full-HD, 5.5-inch plastic-OLED display with an acceptable pixel density of 403 pixels per inch. Making the phone more pocket-friendly and bumping up the resolution will please those who didn't like the original G Flex's size or screen quality, but the absence of a QHD screen may be a barrier for others. I'll remind you though that the use of an HD display on the original G Flex was due to technical limitations – not choice – and the same may well be true here.
The display itself is pretty great – no visible artefacts or ghosting that I could see and good deep blacks, nice saturation and bright colors. The sharpness may not be there when compared to the LG G3, but for me it seems more satisfying, most likely due to the properties of the OLED display. The brightness has also been beefed up compared to the G3 and it is easily readable under direct sunlight.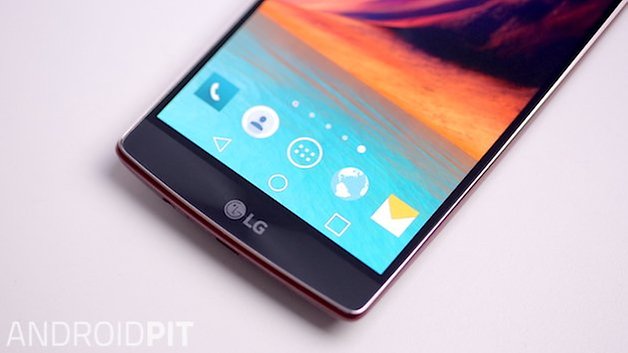 While I'm not always a fan of overly-saturated and contrasty displays, it's hard not to like the G Flex 2's display, especially when compared to the original G Flex. Our test unit did seem to have an overly cool tint at first, but switching to the Vivid color setting and turning off the "Auto-adjust screen tone" setting brought it closer to white (although it was still a bit cool).
As far as the display glass goes, the Dura-Guard coating is chemically bonded to Gorilla Glass via a rather complicated gas burning-in process that improves on Gorilla Glass' existing strength in the center of the display panel by providing additional durability around the edges, making the entire device even more indestructible than the first G Flex.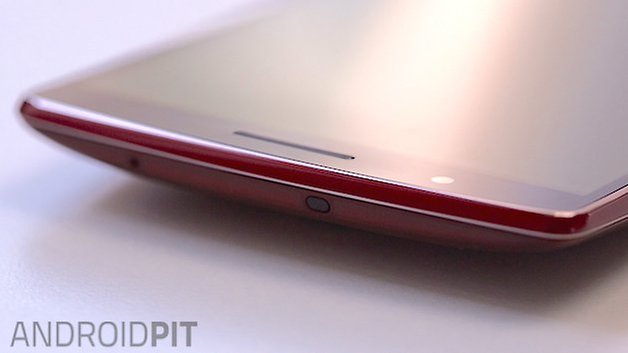 LG G Flex 2 special features
LG has introduced a more advanced second generation self-healing material that is supposed to repair scuffs and scratches in just 10 seconds, as opposed to the three-to-10 minutes of the original G Flex. In my experience, the self-healing back of the G Flex 2 doesn't live up to the hype.
It's all a bit complex, but micro-capsules inside the material burst when scratched and fill in the gaps to reproduce an uninterrupted surface. In my very first scratch test though, I irreparably gouged the surface and I wasn't even pressing hard. The key was admittedly sharper than most, but it was indeed a regular key that lives in my pocket.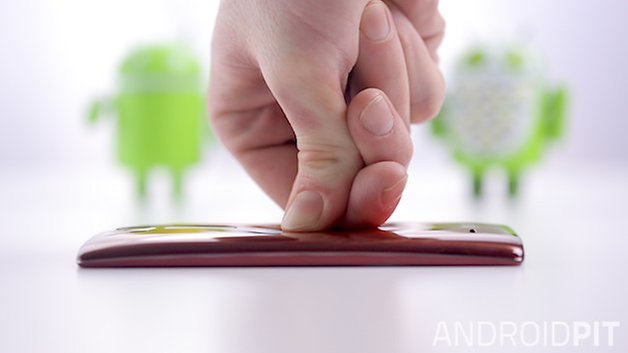 Internally, the entire chassis is quite elastic, including a flexible battery, and the whole device bends just as easily as the original G Flex. This elasticity means that you have nothing to fear from sitting on your phone or dropping it, thanks to superior shock absorbency. This is the real jewel in the crown of the G Flex 2.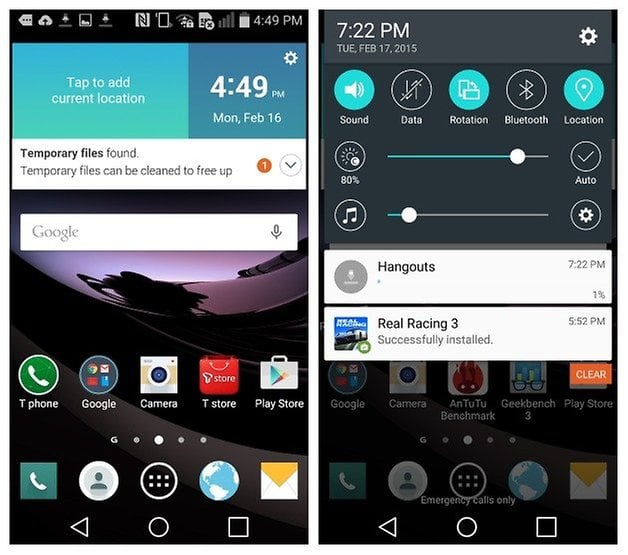 LG G Flex 2 software
The G Flex 2 software is Android 5.0.1 Lollipop out of the box with LG's Optimus UI. Everything on the software side from the LG G3 has been ported over to the G Flex 2 along with a couple of nice new additions.
The best of these features is undoubtedly Glance View, whereby you simply swipe down on a darkened screen to bring up a preview of the time, date and any notifications you may have.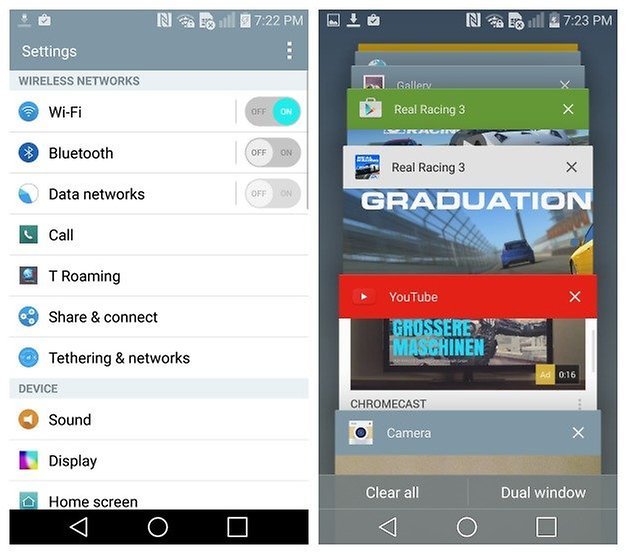 Unfortunately you can't see anything other than icons in the status bar, but the idea is a good start. It would be nice if you could incorporate a two-finger swipe for expanded lock screen notifications, for example.
Of course, Knock On and Knock Code unlocking options remain as security features, but Glance View provides the opportunity to more intuitively – and more quickly – check the time and your notifications without the need for fully unlocking your phone.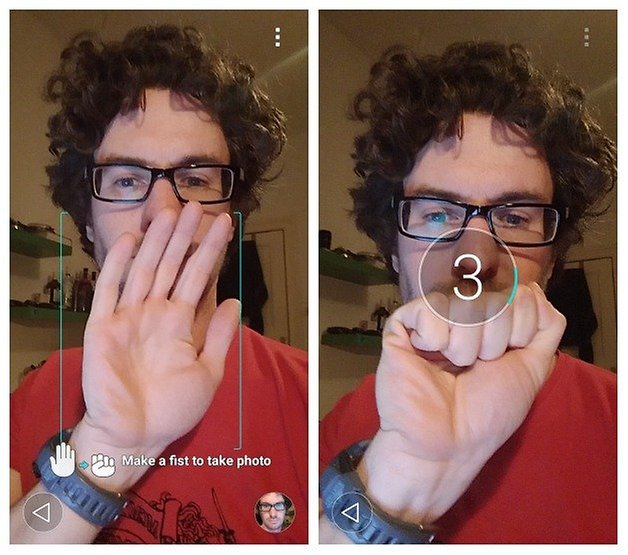 When it comes to other LG G Flex 2 features, the phone is also selfie-friendly, with Gesture Controls for snapping selfies from up to a meter-and-a-half away (selfie sticks, anyone?). Simply hold the phone up to take a selfie and close your fist to start a timer.
As you bring the phone down, the G Flex 2 knows the next thing you want to do is check your photo, so it automatically enters a photo preview and then resumes camera mode if you raise the device again. You can also disable this feature if you don't like it.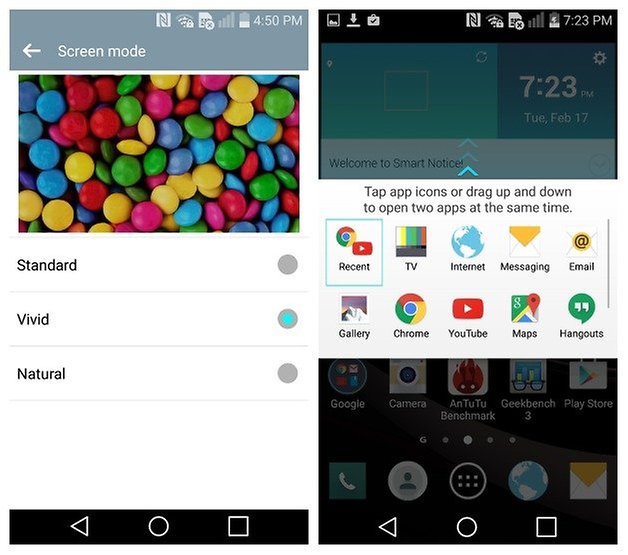 Dual Window screen sharing is on board, so you can open two mini-apps at once for faster multitasking. You've also got Smart Notices (a kind of LG-specific Google Now for phone maintenance, reminders etc), Smart Tips to help you get the most out of your phone and resizable and adaptive Smart Keyboard.
There's not too much else on the software front you wouldn't already know from the G3 other than seamless Android Wear integration via stock mini apps, but LG seems to have learned that gimmicks for gimmicks' sake are best left on the drawing board.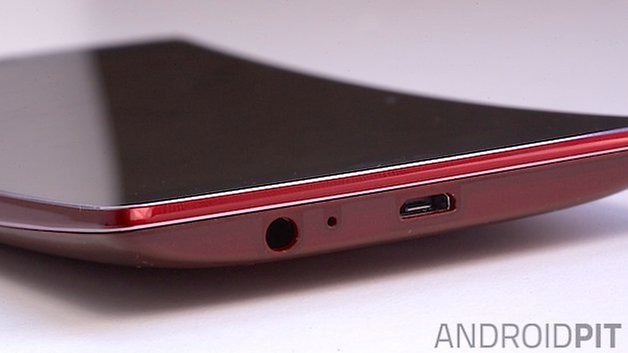 LG G Flex 2 performance
The LG G Flex 2 specs are pretty impressive: packing a 64-bit octa-core Snapdragon 810 clocked at 2.0 GHz, the G Flex 2 promises to ride high on the specs front for all of 2015. Backed up with 2 or 3 GB of RAM depending on whether you opt for the 16 or 32 GB version (like the G3 before it), the G Flex 2 has all the power you're likely to need.
With greatly improved performance over the Snapdragon 805 – and better battery management – the 64-bit 810 is the next level in mobile CPUs. One thing that needs to be mentioned though is the issue of thermal throttling.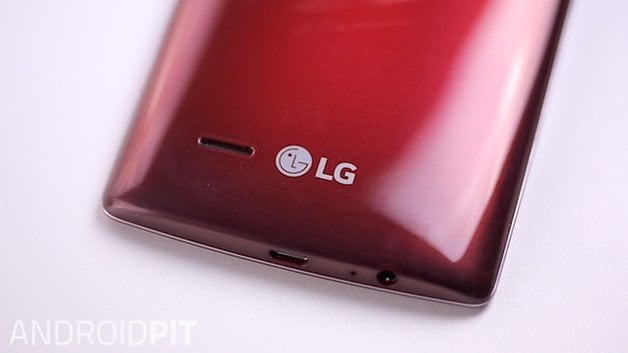 While the issue of the Snapdragon 810 overheating seems to have been blown out of proportion, LG has confirmed that the CPU's performance may be throttled back when under load to avoid overheating. I can't say I noticed this in my time with the G Flex 2, but it is a consideration if you are likely to be using the phone for processor-heavy tasks like hi-res gaming.
Of course, this is nothing new either: the Xperia Z2 has a nasty habit of shutting down after shooting a short amount of 4K video due to overheating, and so does the Z3. The G Flex 2 actually dissipates heat quite well, and while I did get some irregular heat warnings while benchmarking, the device itself was certainly not hot enough to warrant a heat warning. LG had this to say on the matter:
"The devices sampled are representative of final industrial design and user experience but are continuing to undergo additional optimizations to enhance benchmark performance. We expect our upcoming software releases to provide further improvements in this area."
The Snapdragon 810 houses an Adreno 430 GPU for speedy pixel pushing and tri-band Cat. 6 LTE for 300 Mbps data speeds. Bluetooth 4.1, NFC, Wi-Fi 802.11 a/b/g/n/ac and USB 2.0 round out the specs sheet. Here are some benchmark results that put the G Flex 2 at the top of the pile, exactly where you'd expect it to be.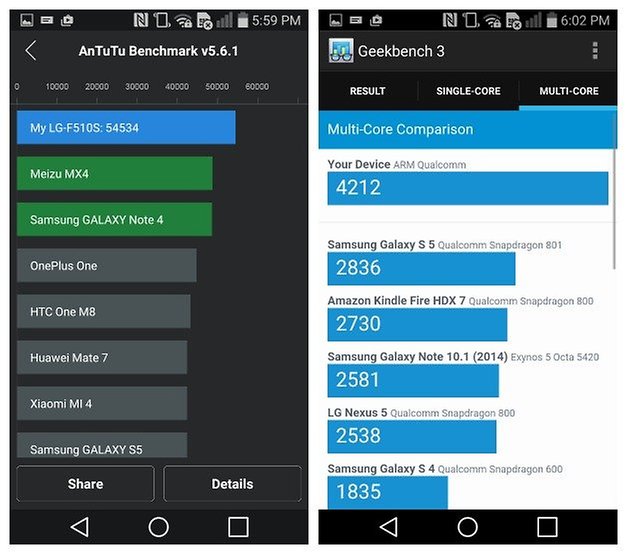 In practice, the phone is generally very fast and responsive, but I did experience the occasional glitch or hiccup when trying to force problems with rapid multitasking, app switching or swiping at speed. Returning to the home screen occasionally produces a noticeable delay as on-screen elements are redrawn. It's nothing too serious, but not what you'd expect from a 2015 flagship. On the other hand, Real Racing 3, our standard gaming performance app, performed very well and looked great too.
Some other minor performance issues worth noting are a little bit of lag in switching between the front and back-facing camera, which is very slow. Apps don't always launch as fast as I'd like them to either. Swiping down the notifications shade also seemed marginally slower than it should be. But these are very minor issues: the G Flex 2 is one of the fastest phones around right now.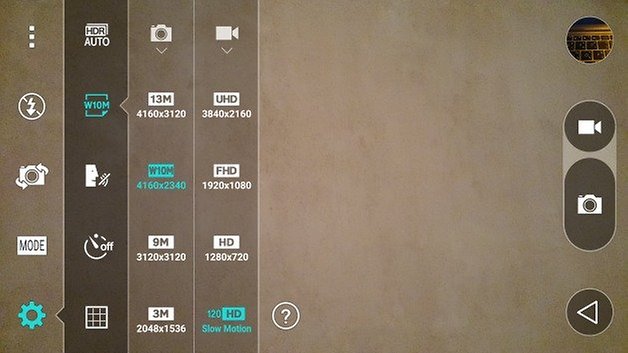 LG G Flex 2 audio
The LG G Flex 2 has a rear-mounted speaker that produces crisp and loud audio. The LG G3 had a 1.5 Watt speaker but for the life of me I can't find the output of the G Flex 2 speaker anywhere. Nevertheless, it does sound a bit louder and better than the G3, which wasn't a particular slouch in the audio department.
If you want best-in-class audio, get the HTC One M9 and if you want the loudest speaker on the block you're looking for the Galaxy S6. If you're happy with a middle-of-the-line speaker with good peaks and decent enough bass (for a smartphone) that gets plenty loud enough then the G Flex 2 is perfectly satisfactory. Its positioning on the curved back does create a nice echo effect that amplifies the sound even further.
LG G Flex 2 camera
The G Flex 2 has the same camera module from the LG G3 but with improved software. The exceptional laser auto-focus module reappears too, along with OIS+. The same 2.1 MP camera appears up front and the camera interface is all very familiar, with just three preset modes: dual-shot, panorama and auto.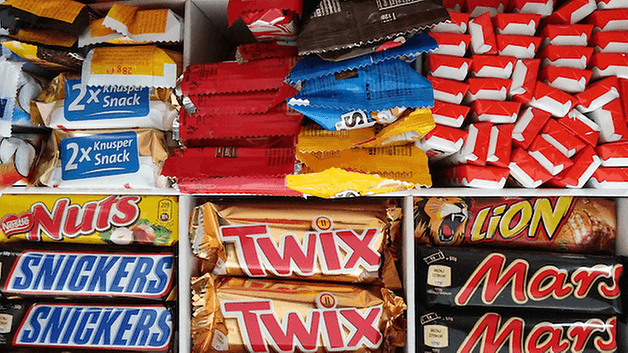 Shooting options are up to Full-HD video up front with 1 MP or 2 MP still photos, and the main camera has a range of shooting options up to 13 MP for stills or UHD video. The G Flex 2 also supports 120 fps slow motion and HDR.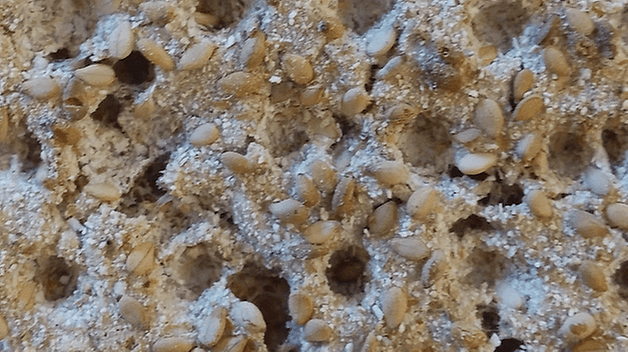 The camera interface is very straightforward and intuitive to use. Camera detail is very true-to-life in terms of resolution and accuracy of detail. Low light performance is exceptional, thanks to the laser-auto-focus module and OIS+. Representation of color was very accurate, skin tones are very natural and HDR mode is excellent.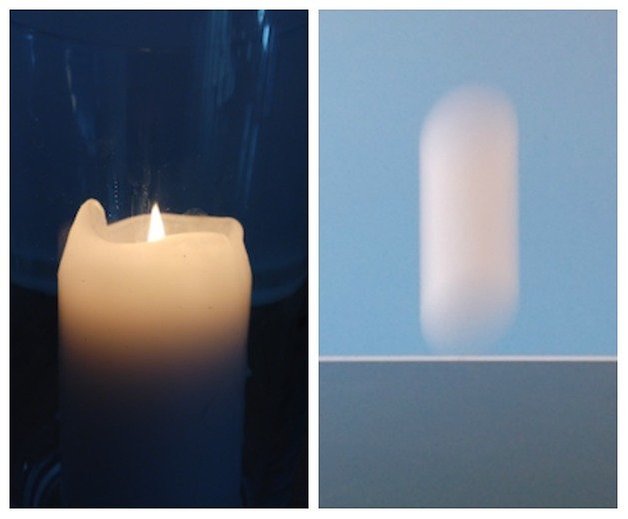 On the down side, shutter speed seemed surprisingly slow, considering the G Flex shares the G3's super-fast shutter. This created some difficulties when timing shots properly, especially moving subjects. Launching the camera app and switching between cameras was also slower than expected and it's also really easy to smudge up the lens seeing as it's so close to the volume up button. All in all, though, the camera results were outstanding.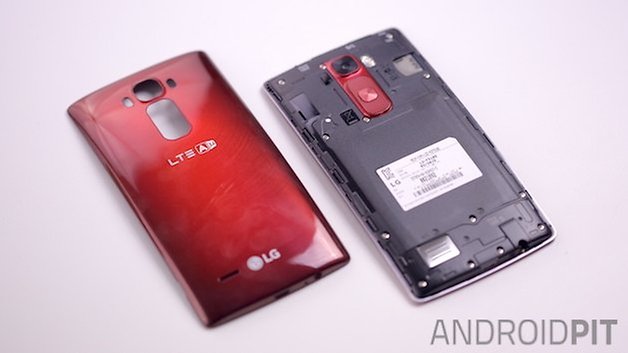 LG G Flex 2 battery
The G Flex 2 specs include a 3,000 mAh non-removable battery under the back cover – a step down from the 3,500 mAh battery in the first G Flex. Nevertheless, the software and hardware optimizations of Android Lollipop and the Snapdragon 810 mean that the G Flex 2 does not suffer on the battery life front.
Fast charging technology also means the G Flex 2 can charge up to 50 percent capacity in less than 40 minutes. The G Flex 2 also makes use of stepped charging technology; where standard battery charging comes in at 1.8A, the G Flex 2's stepped charging is capable of 2.6A.
Under the pressures of test conditions the G Flex 2 was making it through a day of heavy use quite easily. The combination of a good-sized battery, Full-HD display, battery-saving OLED screen, Android Lollipop's power optimizations and the energy-efficiency of the Snapdragon 810, the G Flex 2 should have no troubles getting you through a normal day of usage.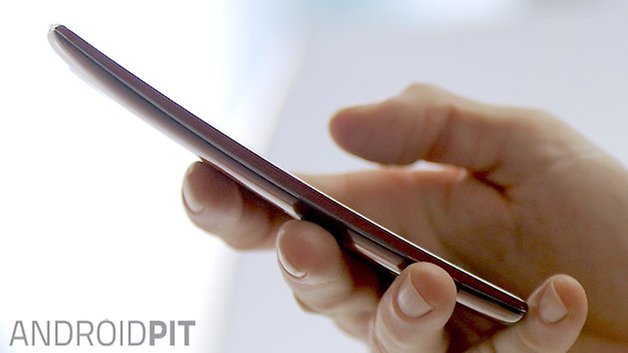 LG G Flex 2 technical specifications
Final verdict
The LG G Flex 2 is a very impressive phone that requires a lot of hard work to find flaws in (not including performance, which will hopefully be rectified soon with a software update). So much so that it almost feels like nitpicking. LG listened to feedback on the original and improved critical areas that needed attention like size, camera and display quality, while doing even more on durability and not loading up with new gimmicks simply for the sake of it.
Some may feel that LG didn't go far enough: after all, the G Flex 2 has a very similar specs sheet to the original G Flex, with a much improved SoC coming at the cost of the larger battery, one of the original G Flex's greatest strengths. But the improvements in hardware make that additional battery capacity unnecessary. The G Flex 2 also shares a lot of DNA with the LG G3, but considering how good the G3 is, this is hardly a bad thing.
The LG G Flex 2 does something the original G Flex couldn't: it puts forward a convincing argument for the possibility of a premium device with serious hardware backed up by all the benefits of superior durability, flexibility and ergonomics. As a normal phone the G Flex 2 would be great, but adding a near-indestructable build quality makes it truly outstanding. Stay tuned for a finalized review rating in the near future.