iPhone 6 vs Galaxy S5 comparison: with hindsight, a clear winner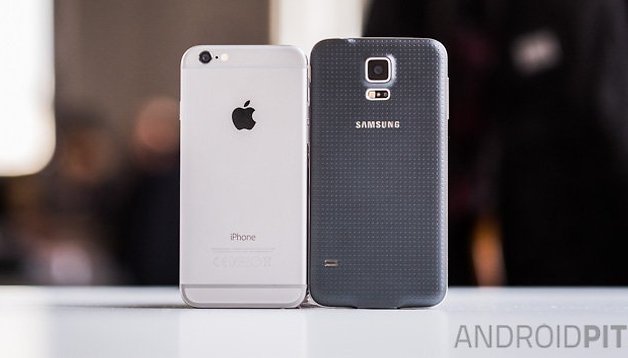 The iPhone 6 has been a global sales success for Apple ever since its release alongside the iPhone 6 Plus. But how does Apple's crown jewel match up against the Android powerhouse from Samsung, the Galaxy S5? Let's see in our iPhone 6 vs Galaxy S5 comparison.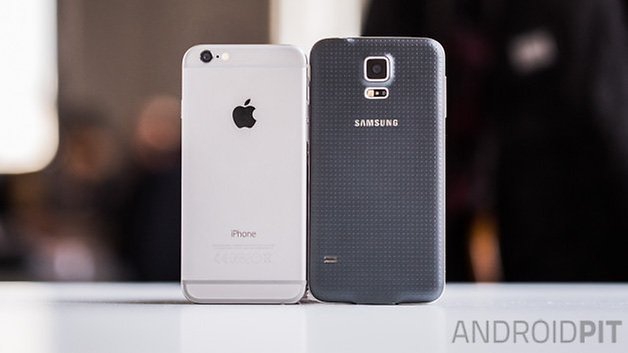 iPhone 6 vs Galaxy S5: display
The iPhone 6 is packing a 4.7-inch Retina HD LCD. That's a resolution of 1,334 x 750 pixels and a pixel density of 326 pixels per inch (ppi). The Galaxy S5 has Samsung's lusciously saturated 5.1-inch Super AMOLED with typically high contrast and bright colors. The S5 comes in at Full HD resolution (1,920 a 1,080 pixels) and 432 ppi.
The iPhone 6 has quite high contrast, and the images we've taken with it look great. The iPhone 6 has added a nice slide-down action when you double-tap the home button to make handling a larger screened device with one hand a little more comfortable.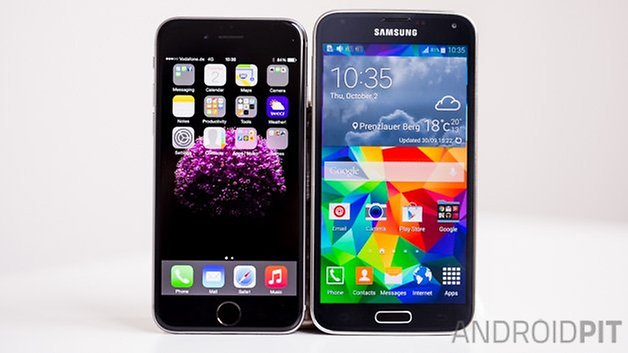 iPhone 6 vs Galaxy S5: design and build quality
The iPhone 6 has rounded corners, is plated with glass and features an anodized aluminum back. The back also has a stainless steel Apple logo and slightly protruding camera, like the Galaxy S5. The iPhone 6 is insanely thin though, at just 6.9 millimeters.
The iPhone 6 looks similar to the Sony Xperia devices presented at IFA 2014. As always, the Apple build quality is exceptional and it certainly looks slicker than the rather tacky rubber and plastic of the Galaxy S5. Still, it's horses for courses, so design and styling is a matter for you to decide.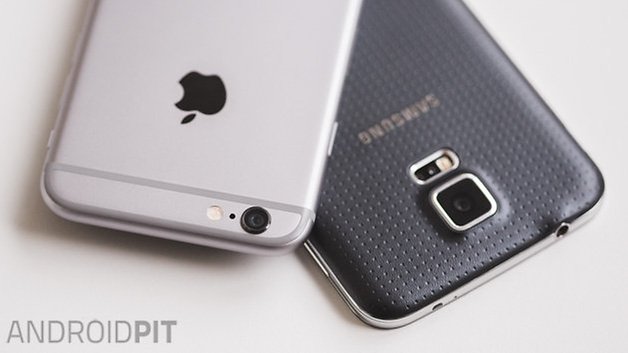 iPhone 6 vs Galaxy S5: processor and RAM
The iPhone 6 is packing the 64-bit A8 chip, with two billion transistors, a 13 percent size decrease compared to the A7, but is also 25 percent faster. The Galaxy S5 comes in two varieties: either a quad-core Snapdragon 801 clocked at 2.5 GHz or an Exynos 5 octa-core with four 1.9 GHz cores and four 1.3 GHz cores. Both S5 models have 2 GB of RAM. However, Apple shows its engineering nous in this department as the iPhone 6 has only 1 GB of RAM, yet still performs well under load.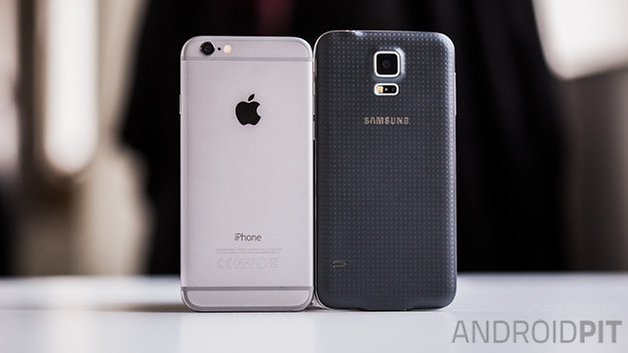 iPhone 6 vs Galaxy S5: operating systems
Let's not get into the sticky business of iOS versus Android in this article: that's a fight for another battleground. The iPhone 6 runs iOS 8 and has the usual array of Apple-specific features. The Galaxy S5 runs Android 5.0 Lollipop, currently with Samsung's TouchWiz user interface on top.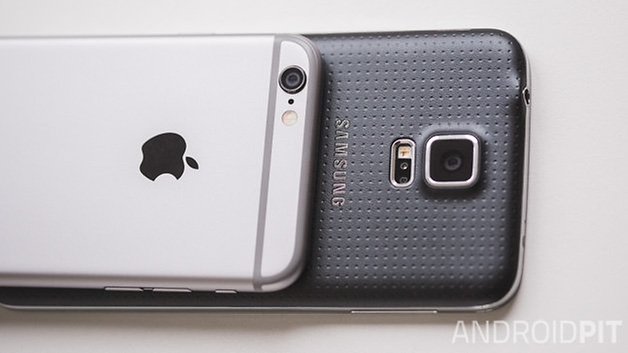 iPhone 6 vs Galaxy S5: camera
The iPhone 6 has an 8 MP iSight camera with True Tone flash and f/2.2 aperture. There's also a new iSight sensor with faster auto-focus that promises to be double the speed of the previous iSight camera. Speaking of speedy cameras though, the Galaxy S5 has a super-fast auto-focus of its own at just 0.3 seconds. The S5's camera comes in at 16 MP and an ISOCELL sensor.
Both devices have digital image stabilization (not optical), but the iPhone 6 Plus and new Galaxy Note 4 have brought OIS to the flagship mix. The Galaxy S6 and S6 Edge have OIS as well. The iPhone camera is pretty legendary, but then again, so is Samsung's.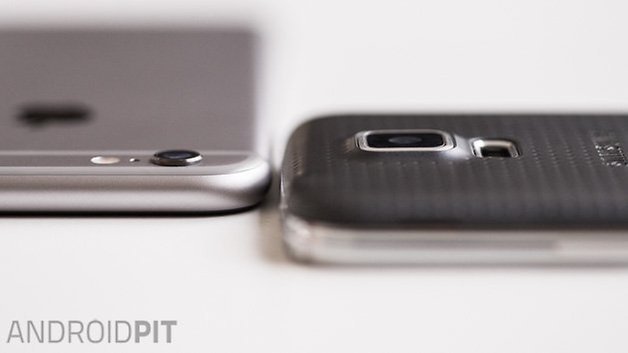 iPhone 6 vs Galaxy S5: battery
The iPhone is packing a typically small non-removable battery compared to the Galaxy S5's 2,800 mAh replaceable battery. The iPhone 6 battery comes in at 1810 mAh, which is around 65 percent smaller than the S5's. Still, Apple devices manage well for such a small cell.
The Galaxy S5 on the other hand has fantastic battery optimizations and a great Ultra Power Saving Mode that can drag out your battery life for days if you need it to. Samsung once pulled a publicity stunt where they manged a week-long cross country trip, so you get the picture.
iPhone 6 vs Galaxy S5: tech specs
| | Apple iPhone 6 | Samsung Galaxy S5 |
| --- | --- | --- |
| System | iOS 8 | Android 4.4.2, TouchWiz |
| Display | 4.7-inch IPS LCD, 1,334 x 750 pixels, 326 ppi | 5.1-inch Super AMOLED, 1,920 x 1,080 pixels, 432 ppi |
| Processor | Apple A8, dual-core 1.4 GHz, M8 motion co-processor | Quad-core Snapdragon 801, 2.5 GHz, Adreno 330 |
| RAM | 1 GB | 2 GB |
| Internal Storage | 16/64/128 GB | 16/32 GB + microSD (up to 128 GB) |
| Battery | 1810 mAh non-removable | 2,800 mAh, removable |
| Camera | 8 MP iSight (rear), 2.1 MP (front) | 16 MP (rear) with real-time HDR, 2 MP (front), 4K video |
| Connectivity | GSM/HSDPA/LTE,Wi-Fi 802.11 a/b/g/n/ac, dual-band, Bluetooth 4.0, NFC, USB 2.0, | GSM/HSDPA/LTE, Wi-Fi 802.11 a/b/g/n/ac, dual-band, Bluetooth 4.0, NFC, USB 3.0, IR blaster |
| Dimensions | 138.1 x 67 x 6.9 mm | 142 x 72.5 x 8.1 mm |
| Weight | 129 grams | 145 g |
| Price | 199 USD (16 GB), 299 USD (64 GB), 399 USD (128 GB) on a two-year contract | 599 USD (approx. outright) |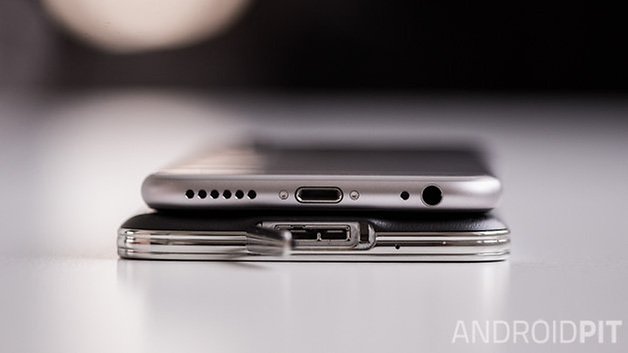 iPhone 6 vs Galaxy S5: final verdict
Of course we've picked a winner here, but I suspect you already know which device is for you. I applaud the look of the iPhone 6 and appreciate Apple going out on a limb, but the Galaxy S5 has also cemented its position as one of the best Androids of 2014. Whether it is enough to knock down the iPhone 6, that's for you to decide. But looking back at the qualities - and flaws - of these two devices, and seeing the very Apple-like direction Samsung has decided to with the design of the Galaxy S6 and S6 Edge, I feel vindicated in naming the iPhone 6 as the better device.
What are your thoughts on the iPhone 6? Is a clear KO for the S5, or a closer finish?