iPhone 5S vs Galaxy S4, LG G2 & Xperia Z1: Tech Specs battle it out!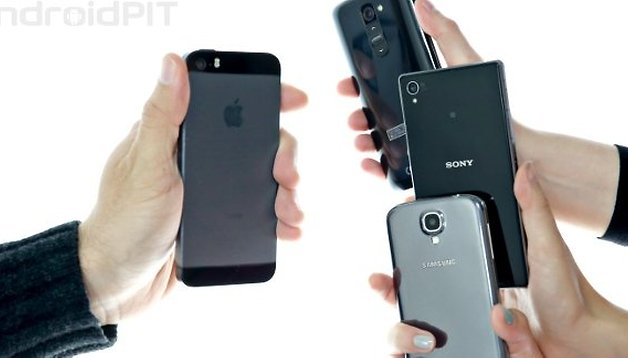 Yesterday, Apple presented the iPhone 5S: whether it's an innovation or just more of the same old stuff is still up for debate. But what is hiding under the hood of the new smarpthone? Can the Apple smartphone match up to other Android chart toppers when it comes to technnical specifications? Lets see how it shapes up below.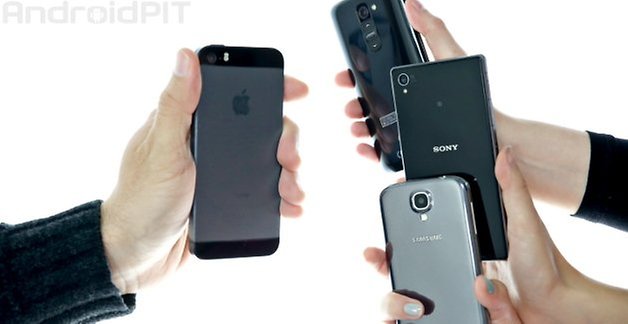 Apple has always been good at selling dated things is if they were brandnew, which became quite evident during the iOS 7 presentation yesterday. I got the feeling that many ideas had been borrowed right from Android during the unveiling of the new iPhone 5S: a fingerprint scanner like the Motorola Atrix, the bigger photo sensor pixels like we've seen with HTC deliver to the One under the term ''Ultrapixel''.
Though the new Apple ''innovations'' have been the cause for torrent debates all over the web, what is really up with the hardware? Our tech specs comparison shows where Apple is leading the pack and where Android devices are definitely still the kings of the castle.
iPhone 5S
Galaxy S4
Xperia Z1
LG G2
System
iOS 7
Android 4.2.2
Android 4.2.2
Android 4.2.2
Display

4 inch, LCD

1,136 x 640 Pixel

326 ppi

5 inch, AMOLED

1,920 x 1,080 Pixel

440 ppi

5 inch, LCD

1,920 x 1,080 Pixel

440 ppi

5.2 inch, LCD

1,920 x 1,080 Pixel

424 ppi

Processor
A7 64-bit, M7
Snapdragon 600
Snapdragon 800
Snapdragon 800
RAM
N/A
2 GB
2 GB
2 GB
Internal Memory
16/32/64 GB
16/32/64 GB + microSD
16 GB + microSD
16/32 GB
Camera
8 MP, Dual LED
13 MP
20 MP
13 MP, OIS
Front camera
1.2 MP
2 MP
2 MP
2.1 MP
Wi-Fi
802.11 a/b/g/n
802.11 a/b/g/n/ac
802.11 a/b/g/n/ac
802.11 a/b/g/n/ac
NFC
no
yes
yes
yes
Fingerprint sensor
yes
no
no
no
Battery

k.A.

<250 hours on Standby

2,600 mAh

<370 hours on Standby

3,000 mAh

<880 hours on Standby

3,000 mAh

Standby time N/A

Dimensions
123.8 x 58.6 x 7.6 mm
136.6 x 69.8 x 7.9 mm
144 x 74 x 8.5 mm

138.5 x 70.9 x 8.9 mm

Weight
112 g
130 g
170 g
143 g
Price
$199 for 16GB / $299 for 32GB / $399 for 64GB on two year contract.
$ 699.99 (16 GB)
$936 (16 GB)
$630; $199.99 with a two-year contract
Evaluation
The iPhone 5S shines in three different areas: it's the smallest and lightest smartphone with a 64 bit processor, which should also come to the Andorid operating system in the year to come, and a fingerprint sensor. But that's as far as it got. On the other hand, when it comes to the named top Android devices, the included NFC chips, the bigger and higher resolution displays and stronger batteries kick the iPhone 5S got to the curb. Not only that, the new iPhone doesn't even support the fastest Wi-Fi standard ac. It's also missing extra special features like the Z1's watertightness and the G2's optical image stabilizer.
During the Apple announcement, the company made the biggest emphasis on the camera. When taking a look at the technical sides of this, it's still inferior to what Android devices have to offer, however it was regularly proven in the past that the photos taken by iPhone cameras set the standard for smartphones. In this case, we'll have to check with a practical test.
The usual picture
All in all the tech specs comparison between the iPhone and its premium Android competitors shows that Apple is dwindling behind, yet is asking for a hearty price of $399 for a 64 GB model of the iPhone 5S, a very brave move. That being said, looking merely at these numbers is only part of the picture and Apple has never needed to herd their customers with flashy processors or huge displays. Their clever marketing ploy and perfect combination of hardware and software does the trick too. And as it stands, Apple has yet to be beaten from the top.
What's your opinion on this? Where do you see the iPhone 5S in comparison to the Android competition? Do you think that Apple can still hold its position here for long?