Huawei Watch vs. Motorola Moto 360 comparison: budget smartwatch face-off
Authored by:
Deactivated Account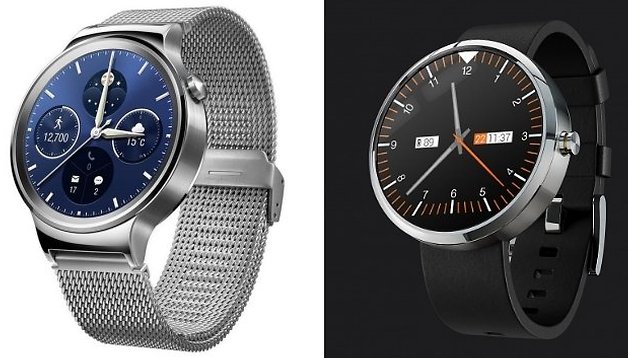 The Huawei watch is chic, but observers will quickly notice that it has a certain resemblance to the Moto 360. This is not unusual - Huawei is known to be quite open about sourcing inspiration from its competition. So let's look at these two round beauties in our comparison of the Huawei Watch and Moto 360.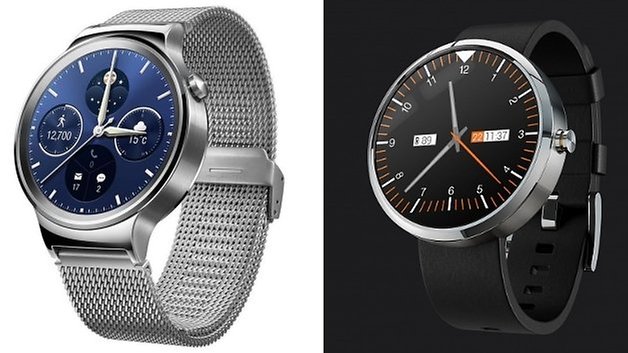 Huawei Watch vs Motorola Moto 360: Price
We still do not know anything about the price of Huawei watch, but experience tells us that this will be one of its strongest selling points. Huawei is quite capable of producing a cheaper watch than Motorola. The Moto 360 is currently retailing for 249.99 USD and we suspect that the Huawei Watch will be no more expensive than that - probably even cheaper.
Huawei Watch vs Motorola Moto 360: Design
The bodies of these two round watches is very similar. In principle, there is a round, metallic housing with a button (or a "crown" as Apple, and now Huawei, calls it) on the right side. While the Moto 360 is completely round and the wristband is connected to the housing, the Huawei Watch's wristband connection hinges extend off the top and bottom of the device, making the overall design less rounded than the Moto 360. Overall, the designs are both very similar and, after seeing the success of a rounded form factor, it is not surprising that Huawei has decided to not use corners and edges.
Huawei Watch vs Motorola Moto 360: Specification
While both watches differ slightly on the design front, the differences regarding internals are quite distinct. This is mainly due to the fact that Huawei used internals we might call 'standard' for the latest smartwatches, whereas the Moto 360 was regarded as a disappointment from hardware point of view. This is reflected primarily in the outdated processor. The Huawei Watch sports a Qualcomm chip, however, which is currently installed in just about every smartwatch.
The Huawei Watch battery is extremely small, with 300 mAh and is even smaller than the Moto 360's. However, Huawei's processor is much more energy-efficient than others, which should help it compensate in the battery life department.
Technical Specifications
| | Huawei Watch | Moto 360 |
| --- | --- | --- |
| Display | 1.4-inch, AMOLED, 400 x 400 pixels | 1.5-inch, LCD, 320 x 290 pixels |
| Processor | Snapdragon 400, 1.2 GHz | Texas Instruments OMAP 3, 1 GHz |
| RAM | 512 MB | 512 MB |
| Internal memory | 4 GB | 4 GB |
| Battery | 300 mAh | 320 mAh |
| Operating system | Android Wear | Android Wear |
| Extras | Heartrate monitor | Waterproof, heartrate monitor, light sensor, wireless charging |