Huawei Watch GT 2 review: the smartwatch that lasts
The Huawei Watch GT 2 is official and offers an additional option for all tech enthusiasts who want to wear a smartwatch on their wrist. But what does it offer and at what price? Discover everything in our complete review!
Good
Design and customization

Easy to use

Battery life

Affordable price
Bad
GPS sometimes inaccurate

Unnecessary notifications

No Always-on mode
Available October from €229
The Huawei Watch GT 2 will be available in Europe in October. The 46 mm (455 mAh) model will be available at a catalog price of €249 with three case colors: Stainless Steel Black (Sport), Stainless Steel (Classic), Stainless Steel Titanium Grey (Elite). The 42 mm (215 mAh) model will be sold at the recommended price of €229 in three colors as well: Stainless Steel Black (Sport), Stainless Steel (Classic) and Stainless Steel Gold (Elegant).
Financially, the Huawei Watch GT 2 is, therefore, a good deal for a smartwatch because it remains more affordable than many of its competitors. For our test, we tested the 46 mm Classic model. It comes with two bracelets: one in beige leather and one in Black Fluoroelastomer.
Finally, please note that the Watch GT2 is compatible with both Android (Android 4.4 or higher) and iOS (iOS 9.0 or higher).
A pretty smartwatch
A watch is a fashionable object, and high-tech manufacturers seem to have finally understood it. So whether a watch is a smartwatch or not, it is essential to give importance to the design. The arrival of Apple with its Apple Watch had moved the market and Huawei followed the trend. Not to do so would have been dangerous as the Apple Watch largely dominates the sector (50 percent market share according to Strategy Analytics' figures for 2018).
As explained above, Huawei offers the Watch GT 2 in two different models with different sizes:
Watch GT2 42 mm, measuring 41.8x41.8x41.8x41.8x9.4 mm, features an AMOLED 1.2-inch display with a resolution of 390 x 390 pixels and a 20 mm bracelet
Watch GT2 46 mm, measuring 45.9x45.9x10.7 mm, features a 1.39-inch AMOLED display with a resolution of 454 x 454 pixels and a 22 mm bracelet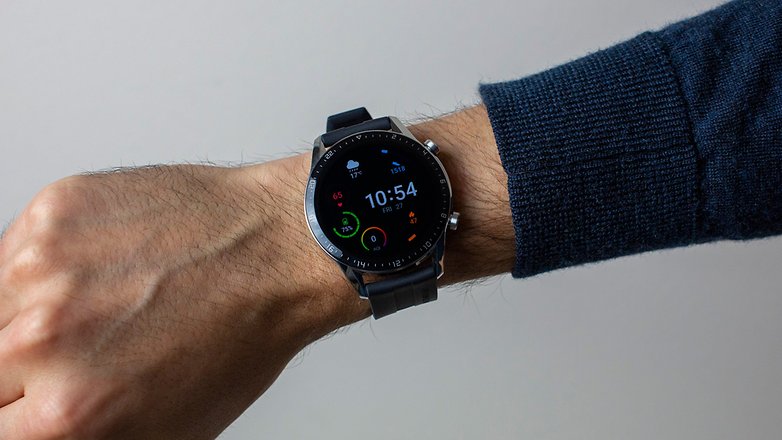 Aesthetically, this new Watch GT 2 incorporates the design elements of the first version with a traditional watch look and a round stainless steel case. The watch thus has a circular dial that houses a numbered non-rotating bezel around the screen.
The most striking feature is the borderless design of the watch. Huawei uses 3D glass on its watches. The smartwatch offers two circular physical keys on the right side to navigate the operating system. The first one returns to the home screen while the second button accesses the physical activity menu. Two short presses on the second button launch a physical activity session.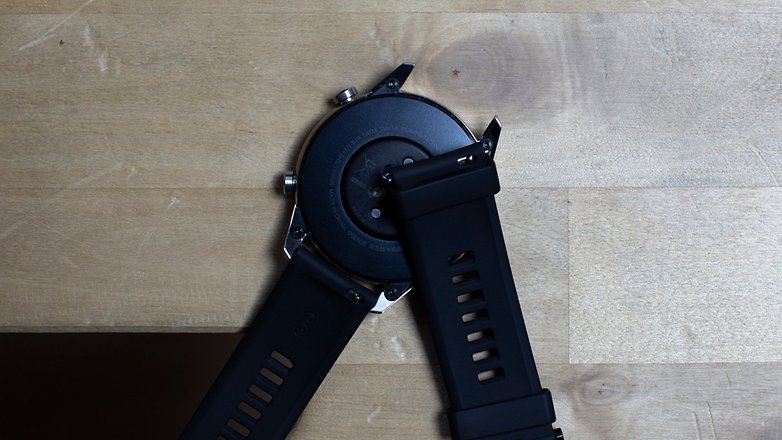 At the back of the housing are the sensors and charging pins that are magnetically attached to the charging base. As on the first model, the Watch GT 2 is waterproof (up to 5 ATM, 50 meters deep) and you can use it for swimming (or washing dishes).
Overall, the Watch GT2 is a pretty smartwatch that will suit all users, even those who are more demanding in terms of fashion (thanks to the many customization options offered by Huawei). As always, the finishes are of high quality and its light weight (41 grams without the bracelet) has made it easy to forget on the wrist and ensures good comfort on a daily basis. Nothing bad to say either about the two supplied bracelets (leather or silicone) which are resistant and pleasant. If you don't like the style, it is always possible to change easily.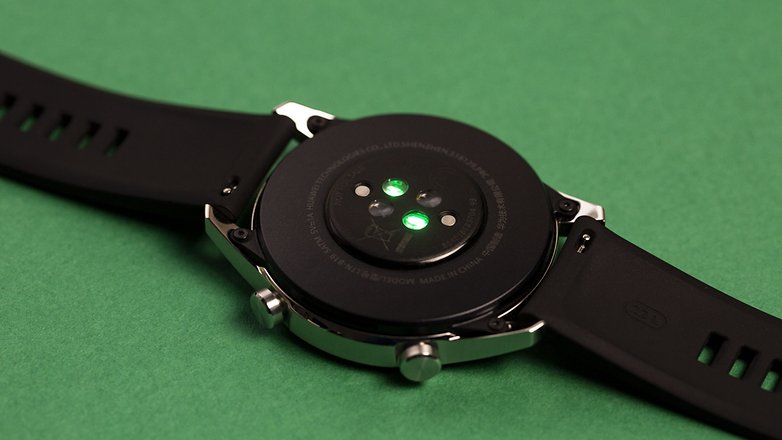 A beautiful AMOLED display
Our Watch GT2 test model features a 1.39-inch AMOLED display. At this price, this is good news because the screen offers perfect contrasts and can save energy with deep blacks. The definition is unchanged from last year (454 x 454 pixels) and remains largely sufficient for all uses on the watch.
The readability is very good, even when the light conditions are bright (the Berlin sun is not very strong in Autumn, I grant you that). Automatic brightness management is also good. Overall, the Watch GT2 does not disappoint. I simply miss the presence of an Always-on display mode like the latest Apple Watch Series 5, which avoids moving your wrist to check the time, which still remains, let's admit it, the main function of a watch.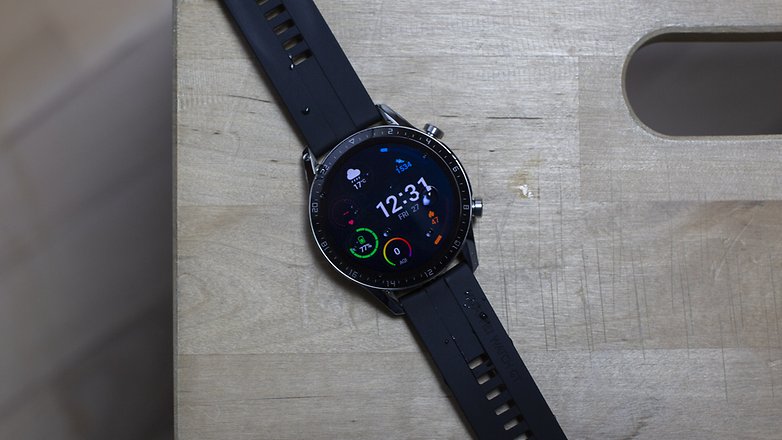 Lite OS on the menu
Yes, the watch is not based on WearOS, but this choice is not linked to the ban imposed by the United States on the Chinese brand. Huawei, in fact, already in the first generation of Watch GT, boycotted WearOS in favor of Lite OS. There is, therefore, no App Store to download watch-specific applications.
Lite OS is both an advantage and a disadvantage for Huawei's connected watch. Its simplicity of use means that any novice can feel comfortable with the watch, but the OS is a little limited in terms of functionality.
In concrete terms, the watch displays a menu in the form of a list similar to the Apple Watch where you can find all the features of the watch: music, activities, sleep, stress, heart rate, contact, calls, weather, notifications, alarm, torch, find my phone, etc. The navigation by gestures is smooth and you can access the basic parameters of the watch directly from the watch (change the dial, brightness, vibration...).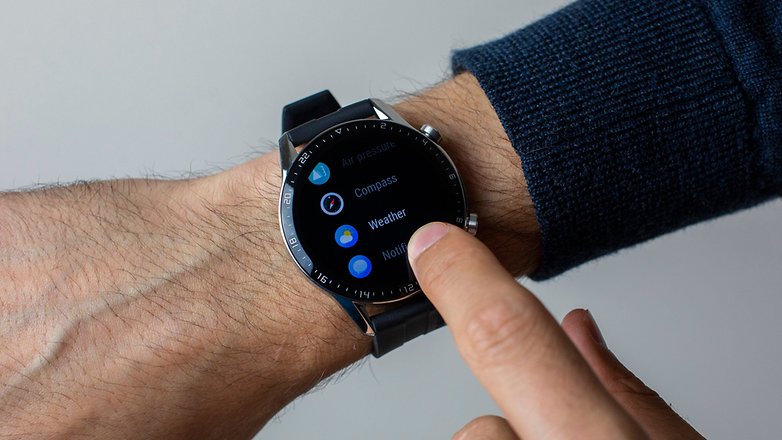 For more complicated settings, however, it is recommended to use the Health application with which the watch is synchronized. You can find all the results of your sports sessions but also define the applications for which you want to receive notifications. On this subject, the Watch GT2 is still limited. The text is sometimes poorly displayed and you cannot reply to messages, for example. The same goes for photos that are not even displayed. Too bad.
However, the Health application remains good, providing a good user experience. The graphics are good and the information is displayed in a clear and detailed way so as not to miss any of the data captured by the watch.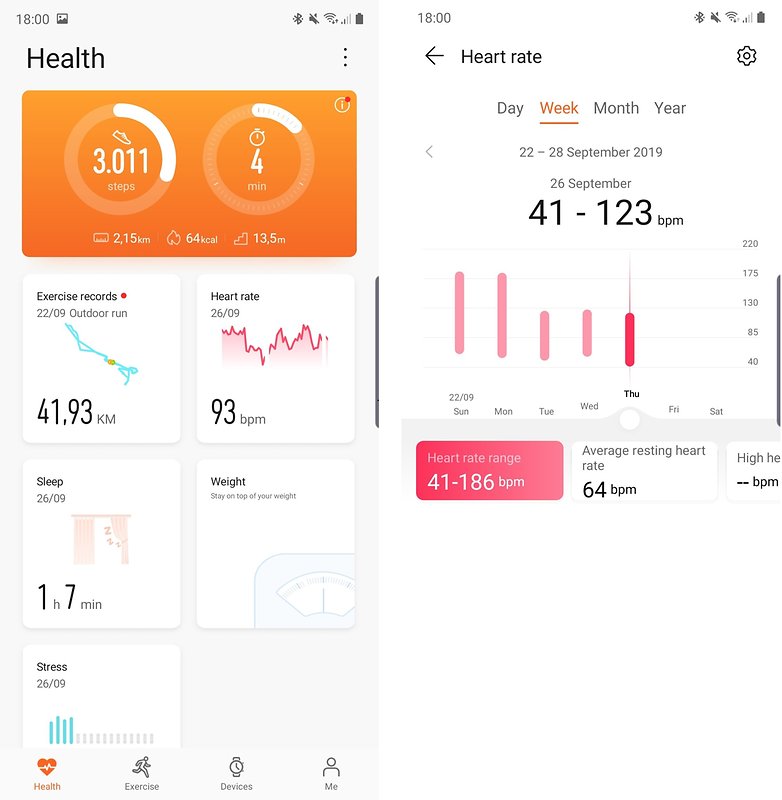 Improved performance
The Huawei Watch GT 2 is powered by the Kirin A1 processor. Unlike last year, the smartwatch is more powerful and offers the necessary fluidity to navigate. It still does not offer Wi-Fi or a 4G modem but offers at least good a Bluetooth connection.
The processor also integrates Bluetooth and audio units optimized compared to the previous generation chip. The Huawei Watch GT 2 includes a GPS module. This is generally accurate but can sometimes be imprecise. When running, the watch recorded a 41 km course in just 25 minutes. Either the GPS was mixed up or I smashed the marathon world record!
There is also an optical sensor for measuring heart rate. I didn't encounter any problems with this. Other sensors include a gyroscope, a geomagnetic sensor and an atmospheric pressure sensor. A microphone and loudspeaker are also integrated.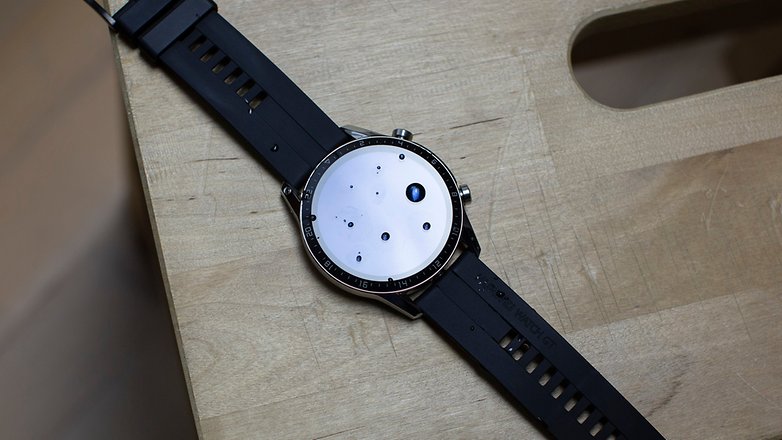 A sport-oriented watch
The Watch GT2 focuses on sport and physical activity. Fifteen sports are supported: eight outdoor sports (running, walking, trekking, trail running, cycling, open water swimming, triathlon) and seven indoor sports (walking, running, cycling, swimming, free training, cross-training, rowing). A sports coach is also available on your wrist to give you some training advice and motivation. For sporting use, the Watch GT2 is sufficient and perfectly fulfills its mission. It is, however, a little less complete than some Garmin watches but they are more expensive.
Other features include sleep monitoring, but the most interesting is the control of music and smartwatch calls. The sound is loud enough to hear well and you have to speak loud enough for the other person to hear you. It works, but I still have trouble believing in the usefulness of this feature. As for listening to music on your watch, I do not even going to entertain that thought.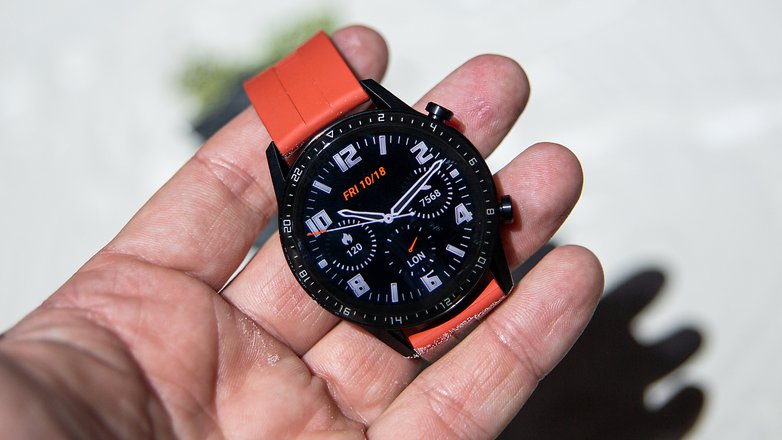 Funny thing, the watch can assess your stress level. However, you must first configure this feature by answering a series of rather amusing questions. However, I remain skeptical about the results.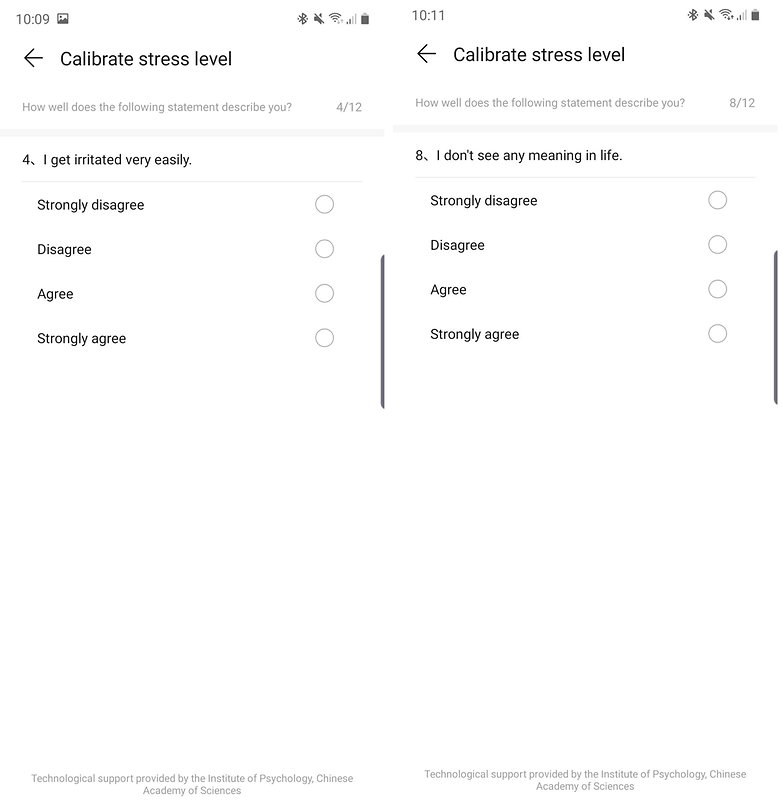 A 445 mAh battery that ensures endurance
Huawei equips the Watch GT 2 46 mm with a 445 mAh battery compared to the 420 mAh battery of the previous model. It can be recharged via the circular charging base and, in the 46 mm model, promises up to two weeks of battery life with the heart rate monitor on and active call notifications. The 42 mm model can operate continuously for up to one week with its 442 mAh battery.
The good news is that Huawei's promises are quite correct. With my daily and rather intensive use (notifications on, two one-hour runs with GPS active per week, a lot of time on the screen), you can count on a little less than a week of battery life. It is indeed the GPS that is the most energy-consuming. If you abuse the GPS, the watch's autonomy drops drastically (30 hours of GPS use for the 46 mm model, 15 hours for the 42 mm model). If you don't run too much, you can expect more time. Anyway, a nice score for a smartwatch.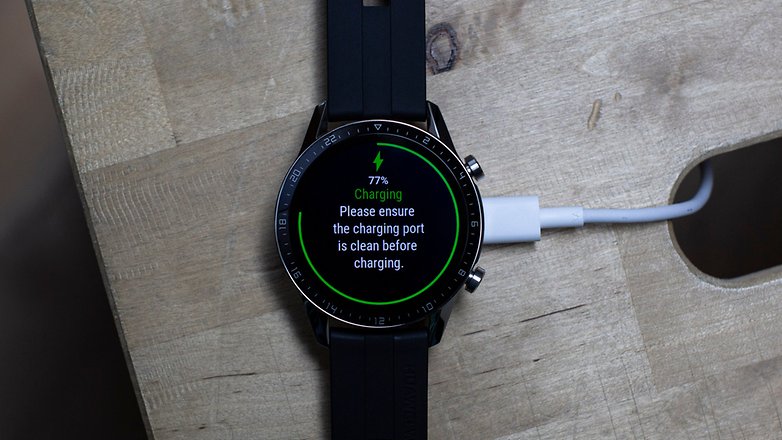 Huawei Watch GT2 technical specifications
Final verdict
With its new Watch GT 2, Huawei focuses on sporting features and, once again, excellent battery life. This is one of the most important aspects when you decide to buy a smartwatch and the second generation is doing a good job in this regard.
While the watch still has some weaknesses compared to other smartwatches, the Huawei Watch GT 2 is a connected watch that is pleasant to wear on a daily basis and is a good companion for monitoring your sporting activities. Add to that a reasonable price and you understand why this Watch GT2 can appeal to a wide audience.
---
This article was amended on September 27, 2019. Since that day, this has been the final version of our review, but the comments written during the hands-on period have not been deleted.