Huawei Mate X3 Hands-on: Foldable Hardware at its Best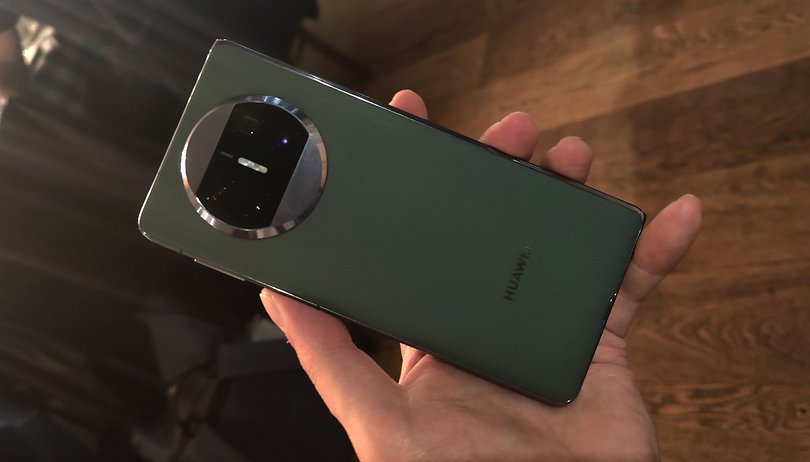 Huawei now offers the thinnest foldable on the market with the Huawei Mate X3. But is it enough for the Chinese manufacturer to challenge Samsung's Galaxy Z Fold 4 and Honor Magic Vs in the real world? We already had some time with the inward-folding Android smartphone during the launch event and would like to share our first impressions with you.
Good
Very good haptics

Slim design

50 W wireless charging

First photo results are convincing

Snapdragon 8+ Gen 1 is completely sufficient
Bad
Too expensive

No 5G support

No Google Play Store

No Google Mobile Services

No analog audio jack

Timid software update policy

Proprietary NM cards instead of microSD
Huawei Mate X3: All deals
Huawei Mate X3 in a nutshell
Huawei and Samsung are the great foldable pioneers. At the time of the early Mate X and Galaxy Fold launches, the two manufacturers were actually on par: In 2019, it was not yet foreseeable how badly the US policy would truly damage Huawei. Four years later, we still have to do without access to the Google Play Store, the Google Mobile System (GMS) apps, and 5G support in the Huawei Mate X3.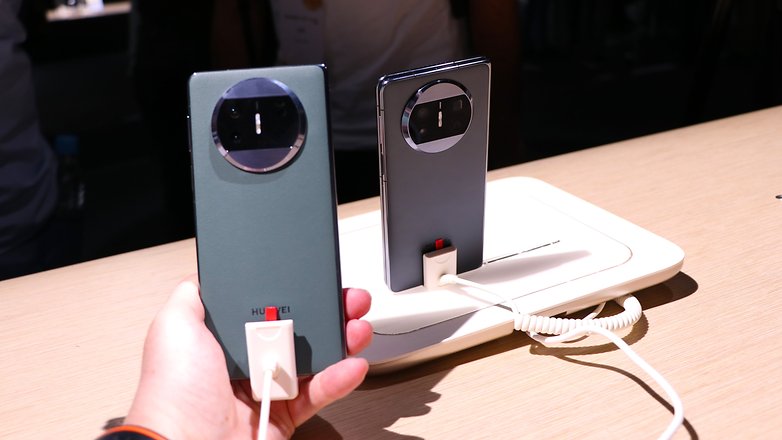 The Chinese company does not offer a selection of possible storage configurations—the Mate X3 is only available with 12 GB of RAM and 512 GB of ROM. The storage cannot be expanded with a conventional microSD memory card, but it can be expanded by up to 256 GB with the in-house Nano Memory Card (NM Card).
The Huawei Mate X3 has been available since May 9, 2023 in the dark green and black colors for 2,199 Euros (approx. $2,360) . As always, don't expect to find the Mate X3 on US shelves.
Huawei Mate X3 design and build quality
Until now, the Xiaomi Mix Fold 2 reviewed by my colleague Antoine Engels was considered the thinnest smartphone on the market. This title now goes to the Huawei Mate X3, even though the difference is only a few millimeters—if that.
The latest Huawei foldable measures 156.9 × 72.4 × 11.08 mm when folded - the Xiaomi device 161.1 × 73.9 × 11.2 mm. When unfolded, our test candidate measures 156.9 × 141.5 × 5.3 mm - Xiaomi on the other hand offers 161.1 × 144.7 × 5.4 mm.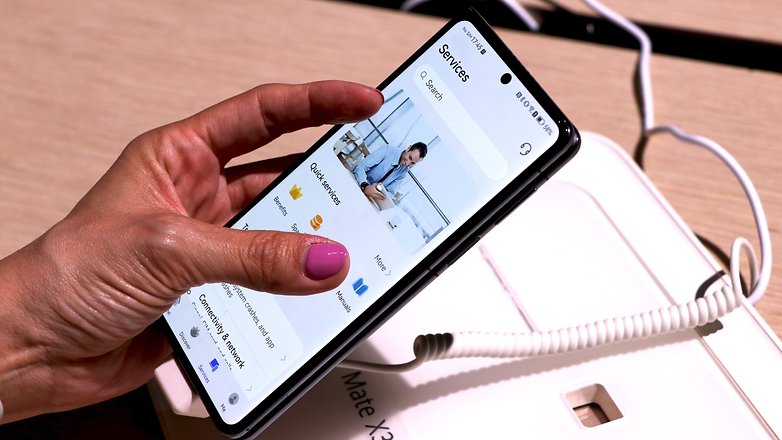 The weight is 239 or 241 g depending on the version (with or without artificial leather). In the black color, there is a grippy glass back, and in the green color, customers get vegan imitation leather.
Thus, the Huawei Mate X3 is one of the first full-size foldable that actually feels very good in the hand. The build quality is outstanding as typical for Huawei and does not give any reason for criticism. The Mate X3 is also protected against water penetration according to IPX8.
Huawei Mate X3 display
Huawei had tried out externally foldable displays for its large foldables for a long time. The Huawei Mate X3 folds on the inside again, which I personally see as an advantage. The delicate 7.85-inch OLED screen is automatically protected against external influences during transport. This offers a resolution of 2,496 x 2,224 pixels (426 PPI) in an 8:7.1 format with an adaptive refresh rate of 120 Hz.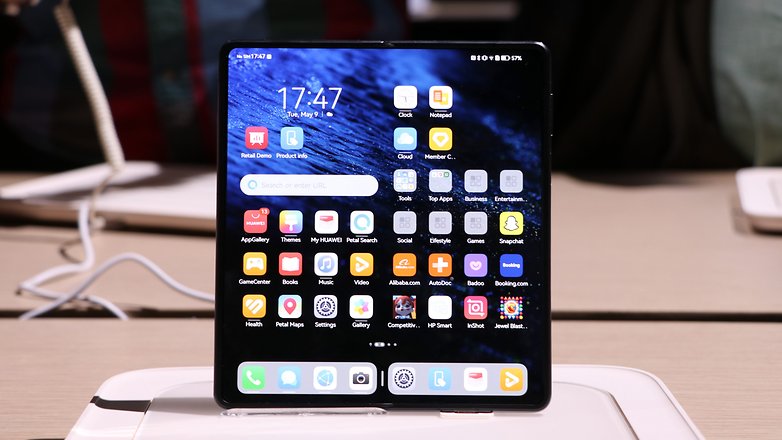 The outdoor display offers a diagonal of 6.4 inches in a 20.9:9 format with a resolution of 2,504 x 1,080 px (426 PPI). There is also a maximum of 120 frames per second here, albeit based on LTPO technology, and thus even down to one frame per second. The outdoor display gets additional protection from Huawei's own Kunlun glass, which is supposed to survive drops from a height of 1 to 1.50 meters onto a wooden floor several times without any damage.
Both displays could be read optimally in our first hands-on in terms of brightness, contrast, color fidelity, and viewing angle stability. According to Huawei, the inner display is supposed to use the so-called non-Newtonian fluid materials. This was explained with a flexible hardness. The panel is soft during slow movements and correspondingly resistant during fast forces. This video explains the principle using starch and other daily materials.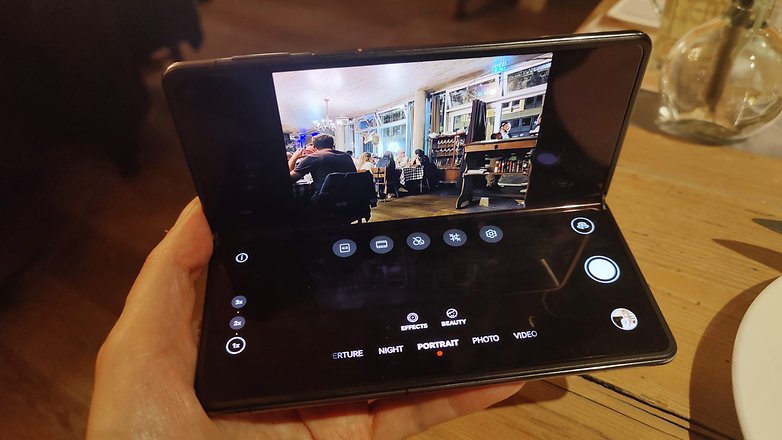 The Chinese manufacturer pays special attention to the so-called "Flexstop mode". This ensures that the foldable smartphone is locked at a 90-degree angle, so that the display is split in two in the camera app, for example—you then have a large viewfinder window at the top and the operating elements for the camera at the bottom.
On the other hand, it was still noticeable that the crease is really almost invisible in Huawei's Mate X3. Compared with the South Korean competition, the company has done a good job here. Our detailed review will show whether this remains the case after several weeks of use.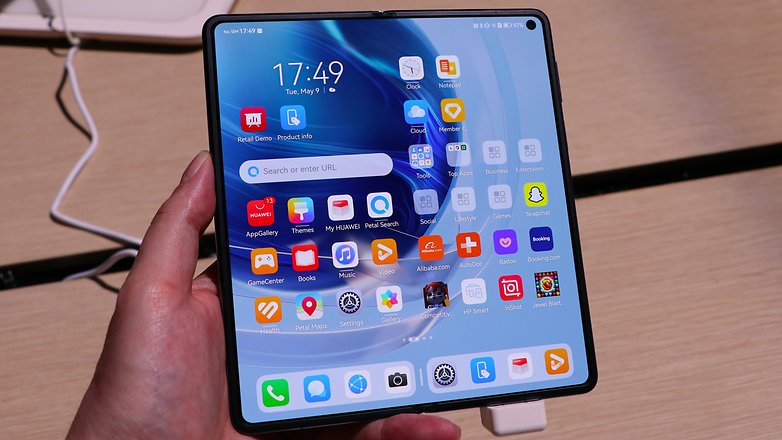 Huawei Mate X3 software
Even though we only had the chance to get to know the Mate X3 for the first time, the missing Google Play Store was of course immediately noticed. Apps are thus available from the in-house AppGallery. And just like the Huawei P60 Pro, the Mate X3 also lacks Google Mobile Services. Huawei supplies EMUI version 13.01.0 on top of the Android 12 base operating system.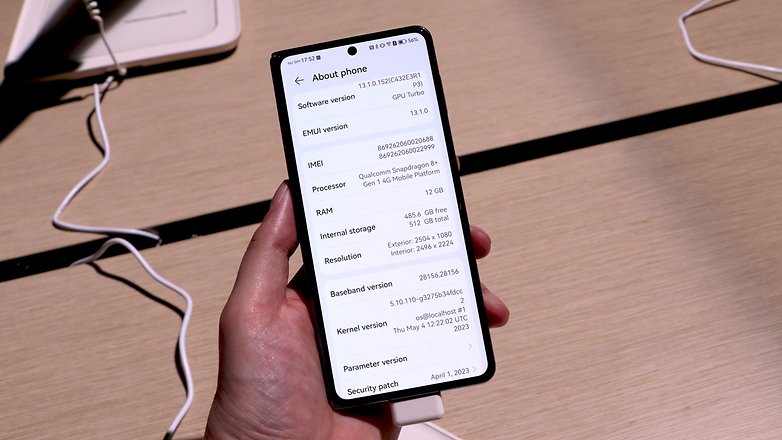 According to initial "cautious" information, the Huawei Mate X3 is guaranteed system updates for two years. Huawei promises three years of support for security patches—of course, this means Huawei's own patches. We will provide more information about the software as soon as the latest foldable arrives in the NextPit editorial office and we can test it extensively.
Huawei Mate X3 performance
The Chinese company Huawei, which has been under a US embargo since 2019, is currently not allowed to install 5G technology in its smartphones. The company uses the Snapdragon 8+ Gen 1 with a 4G modem and an Adreno 730 GPU provided by the Californian chip manufacturer Qualcomm.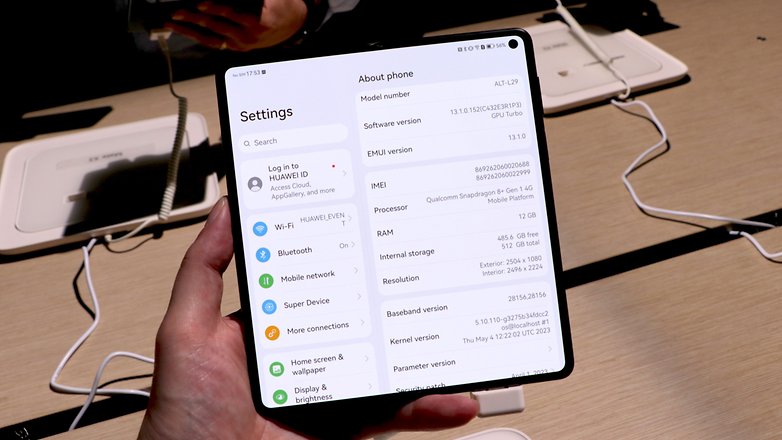 The SoC manufactured in a 4 nm process has a total of eight cores: one prime core (3.2 GHz) and three so-called performance cores with up to 2.5 GHz, as well as four efficiency cores clocked at 1.8 GHz (power-saving cores). My first impression of the installed processor's performance: It is more than sufficient. It does not matter whether it is used on a daily basis or when playing complex games.
Huawei Mate X3 camera
Huawei has made a name for itself in terms of smartphone photography over the years. Thus, the Huawei foldable can also boast a respectable ensemble of cameras. Both displays offer an 8 MP punch hole camera (f/2.4). It is located in the upper center of the cover display, and in the upper right corner of the inner display.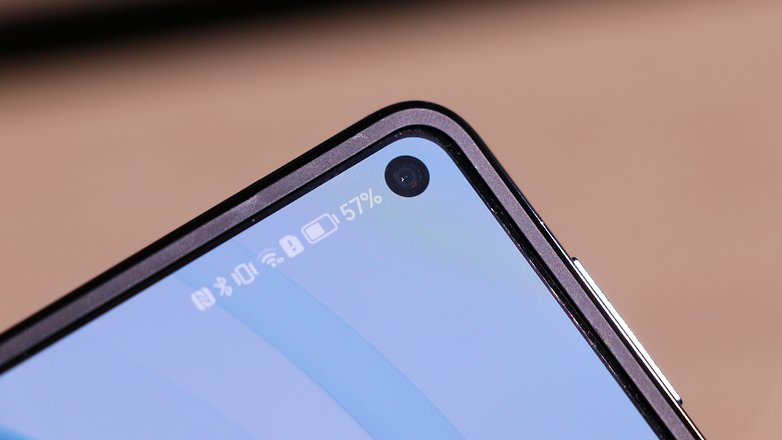 On the back, there is a circular array under the banner of the "Ultra Vision XMAGE" camera, which houses a total of three cameras. The main camera consists of a 50 MP sensor with an aperture of f/1.8, an equivalent focal length of 23 mm, phase detection and laser autofocus, and optical image stabilization.
Furthermore, Huawei installs a 13 MP ultra-wide-angle camera with a field of view of 120 degrees (f/2.2, 13 mm) as well as a 12 MP telephoto zoom periscope camera with PDAF and OIS, at an aperture of f/3.4. The latter can be easily recognized by its rectangular optics. The lens system allows for a lossless 5x magnification at an equivalent focal length of 125mm, and even a 50x zoom is possible digitally.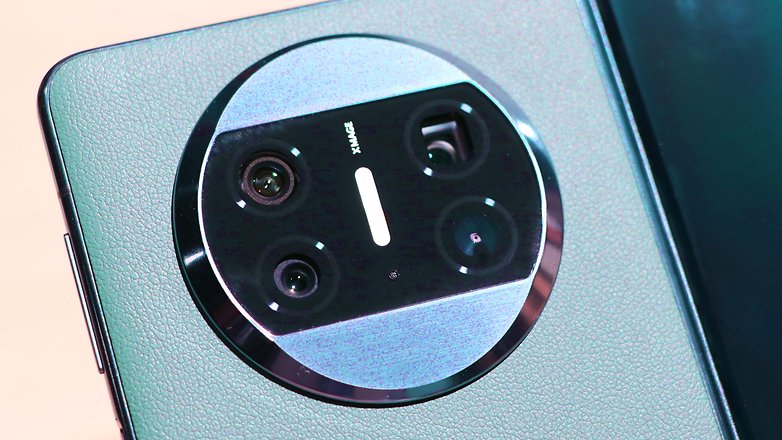 Unfortunately, we were only able to test the Mate X3 under the most modest lighting conditions imaginable, but the camera took really outstanding photos for just those lighting conditions, which still showed a surprising amount of detail even when zoomed in on the smartphone's display.
Apparently, Huawei only uses Sony IMX sensors, and the main camera is equipped with the 1/1.56-inch IMX766 quad-bayer sensor. Huawei still favors the RYYB filter matrix above the sensor, which uses yellow instead of green color filters. By the way, you shoot with 12.5 MP by default. We are looking forward to a detailed test report with photos from all areas of life.
Huawei Mate X3 battery
Huawei's Mate X3 has a 4,800 mAh battery despite its thin build. Huawei specifies a standby time of 489 hours. Continuous calls should be possible for up to 20.8 hours with a full battery. We still have to find out what this means in the end in a "PC Mark Work 3.0" battery test.
The spec sheet at least tells us that the Mate-X3 Foldable is capable of 66 W of wired "SuperCharge" charging. The Foldable still manages 50 W wirelessly. Again, we do not know the charging times yet. For comparison: In our review, the Honor Magic 5 Pro, which is equipped with a 5,100 mAh battery and the identical charging technology, manages a runtime of 14 hours and needs 43 minutes for a full charge.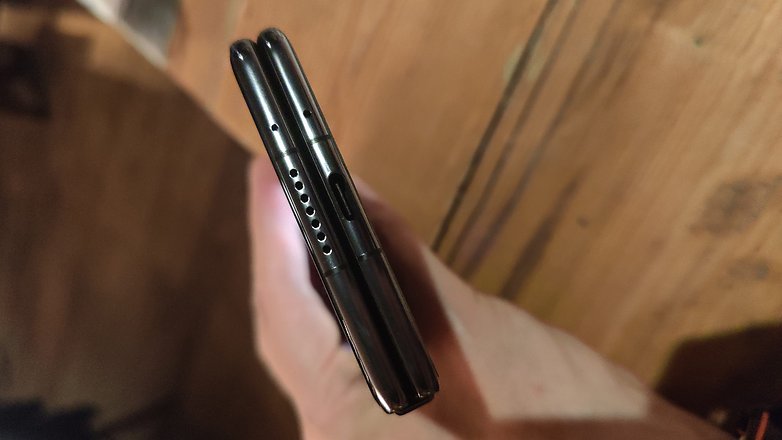 Early impressions
The Huawei Mate X3 has to struggle with the same problems as its brand colleagues in the West—and that is really a shame. Apart from that, the Chinese company has really managed to create a haptically, visually, and technically appealing foldable that is not perceived as such in the pocket or hand due to its slim and light build.
In combination with the first impression of a really great main camera, Huawei's Mate X3 really does not have to hide from the foldable competition. If you have not been able to get used to a full-size foldable for size reasons, you should definitely take a look at the Mate X3.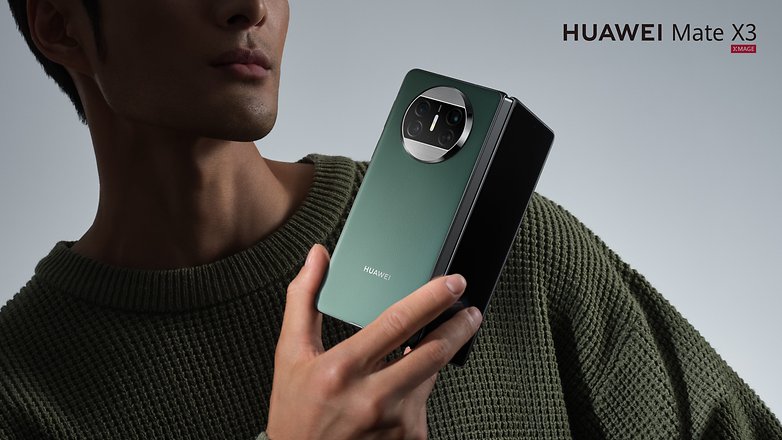 The last weak spot is the insane price of just under 2,200 Euros (approx. $2360). Is the technology really still that expensive after almost five years in the market—and above all: Can Huawei really afford these prices? I think the company urgently needs to catch up in terms of price and update policy. However, in my opinion, the biggest issues are unfortunately outside Huawei's control...