Huawei Ascend Mate 7 review: the best finger scanner on Android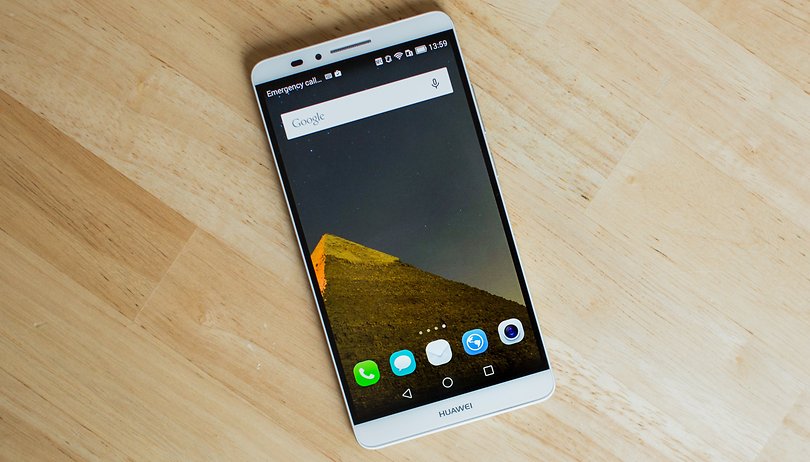 Huawei has skipped a few naming conventions with the Ascend Mate 7, which is actually the successor to the Mate 2. But they haven't skipped any detail or cut any corners: the Ascend Mate 7, as big as it is, is crammed with great features. In our Huawei Ascend Mate 7 review we'll run you through everything you need to know about Huawei's new monster-sized smartphone.
Good
Stylish design and great build quality

Extremely accurate and fast finger scanner

Unique user interface

Good battery
Huawei Ascend Mate 7 design and build quality
The Ascend Mate 7 is a really nice looking smartphone. Huawei has always made well crafted devices, but the Ascend Mate 7 seems to be a maturation of their confidence in the manufacturing process. While the Ascend P7 is a great looking phone, the Mate 7 seems more like Huawei's design language has arrived.
The HTC-esque aluminum chassis looks great and has a bevelled edge at the back, transitioning to a gently curved back panel made of metal that feels great in the hand and much less blocky than the P7 which, at this size, would have felt unwieldy. We can't deny the design influence of the HTC One Max here, but it looks great nonetheless. The Mate 7 is significantly lighter than the One Max though and has plastic ''ends'' on the back (at the top and bottom) to allow the antennas to work properly.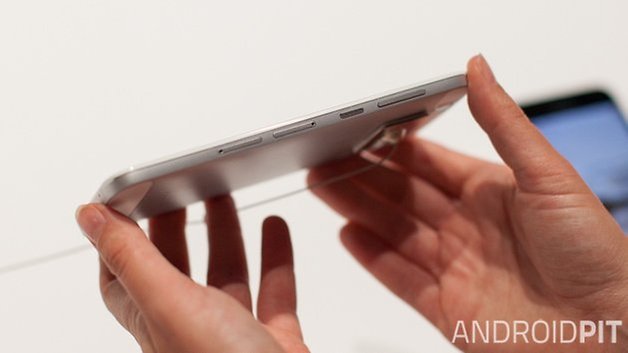 On the back there is a camera lens with single LED flash to the side and Huawei's finger scanner below it. The camera is slightly raised and the scanner slightly recessed, with a nice metallic border around it. The left side holds a slot for a micro-SIM as well as another tray for microSD expansion, which can also be used for a second nano-SIM. The top holds a headphone port and microphone and on the bottom the microUSB 2.0 charging port and another microphone can be found.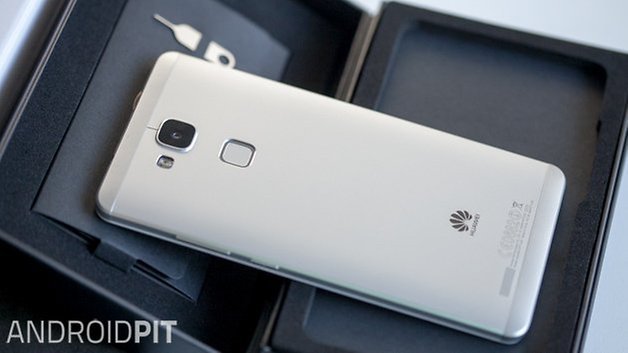 On the right hand side, you'll find the volume rocker and power button, which has a nice textured detail. The speaker port is found on the back in an unassuming position, and while it might have been nice to have bottom or front mounted speakers, if these would have diminished those tiny bezels it would have been a shame. Overall, the Huawei Ascend Mate 7 really looks the business and it's hard to find a flaw with either the design or build quality of the phone.
Huawei Ascend Mate 7 display
At 6 inches, the Mate 7's IPS negative LCD screen is really big, but it doesn't seem too big. For example, it is significantly smaller than the HTC One Max, despite having a slightly larger display. This is because the Mate 7 has very small bezels on the sides and minimal bezels above and below the screen. All told, the screen to body ratio is an impressive 83%. Not bad at all. I'll be honest though, there's a bit of shimmying involved and one-handed operation is near-impossible in the far corners unless you enable one-handed mode.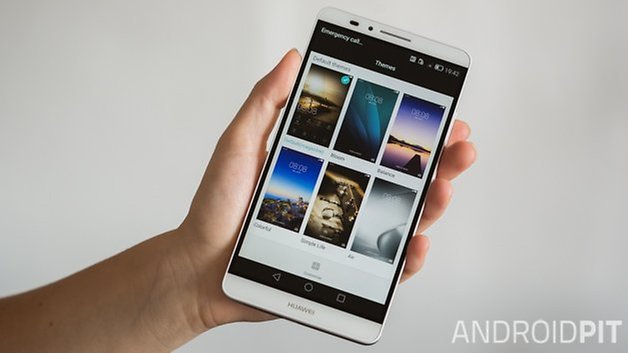 The Mate 7 has Full HD resolution, bringing a pixel density of 368 pixels per inch. This isn't spectacular but isn't bad for a device in this size range. The Emotion UI is particularly muted and, in all honesty, a bit dull, so it's hard to get a sense of how well the screen performs right out of the box. If you load up a colorful image though, you'll soon see that the Mate 7 can handle some serious color, with great brightness and contrast, thanks to Huawei's efforts to increase the contrast ratio.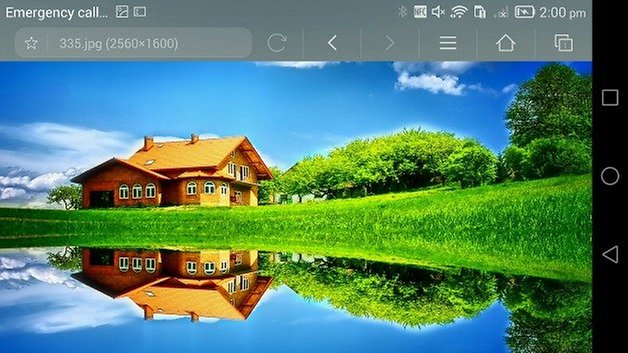 Up close you will notice some pixels standing out, but this is natural for a Full HD display at this size. The Mate 7's screen is a major step up from the HD offering on the Mate 2, but if you want more pixels you'll have to look elsewhere for them. For comparison's sake, the HTC One Max has only a few pixels more. Huawei allows you to adjust the warmth or coolness of the display via the settings menu.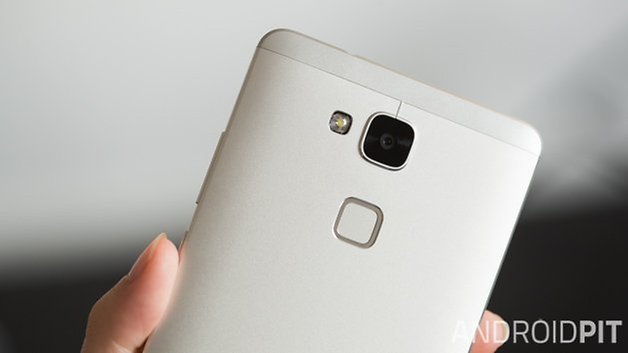 Huawei Ascend Mate 7 special features
The Ascend Mate 7 introduces a finger scanner and I have to say it works remarkable well. It's just as fast as that found on the iPhone 5s, although the iPhone requires you to press the TouchID button first to start the scan and the Huawei scans on contact. Regardless, it is is quick and it is very reliable, much more so than other Android finger scanners I won't mention.
You can register up to 5 fingerprints and can use them to unlock the Mate 7 from a screen-off state or from the lock screen, enter your private data ''safe'' in the file manager or you can lock or unlock apps with just your fingerprint. You can also set a fingerprint to initiate guest mode and protect private apps, galleries and contacts. The quality of the finger scanner is a real feather in the cap for Huawei and it even works with wet fingers.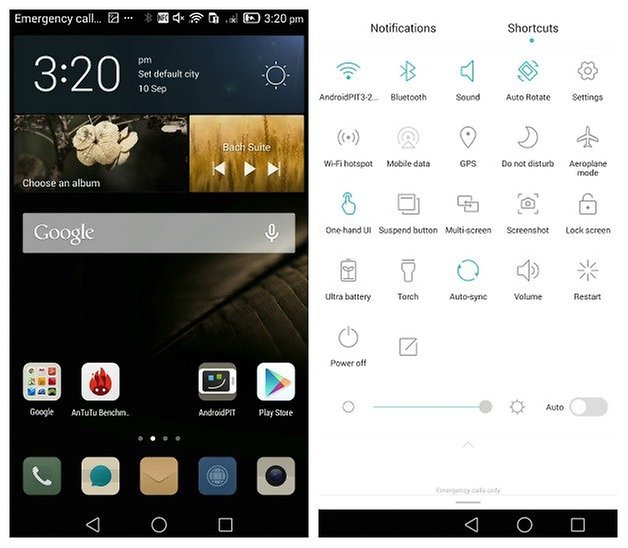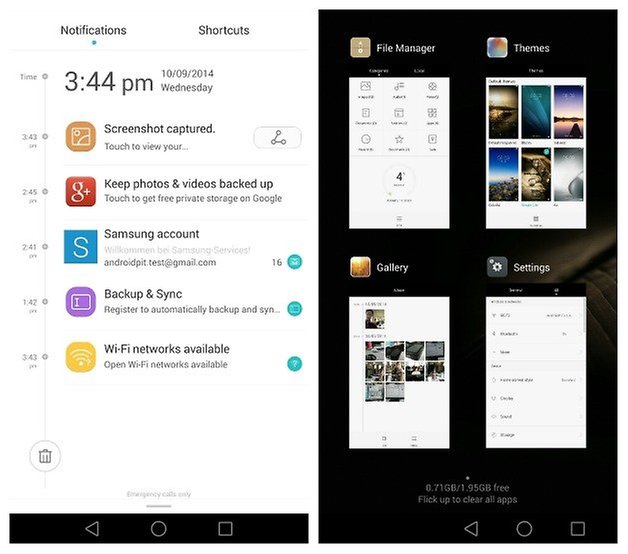 Huawei Ascend Mate 7 software
The Mate 7 ships with Android 4.4.2 KitKat and the all-new Emotion UI 3.0, rebranded as EMUI. The interface is really refreshing and makes a very nice contrast to some of the heavy and cluttered Android interfaces around. Even as an irregular Huawei user, it is easy to navigate and is well laid out and simple to use.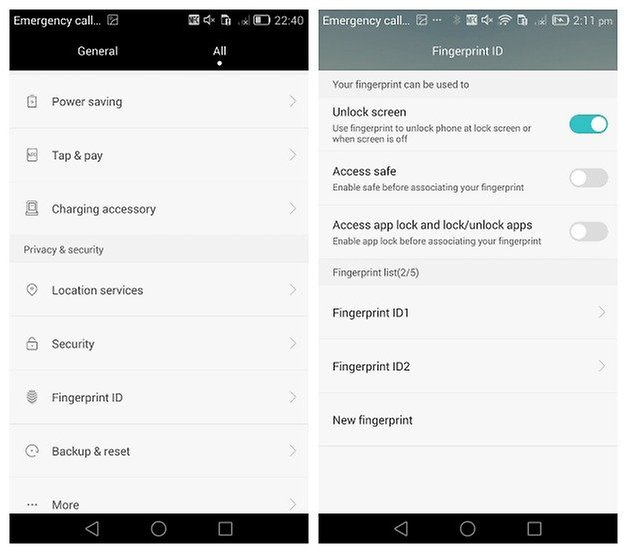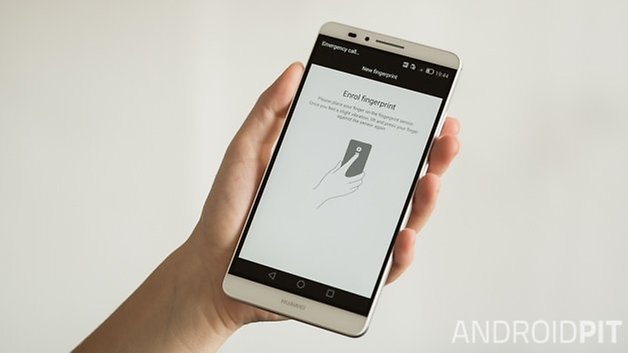 Of course, those unfamiliar with Huawei's app drawer-less interface might find the iOS feel a little weird, but if you're not hell bent on having an app drawer it actually doesn't matter too much once you get used to it. You can customize with ease using a variety of built-in themes which you can customize down to the smallest detail or you can pick up more from Huawei's theme store.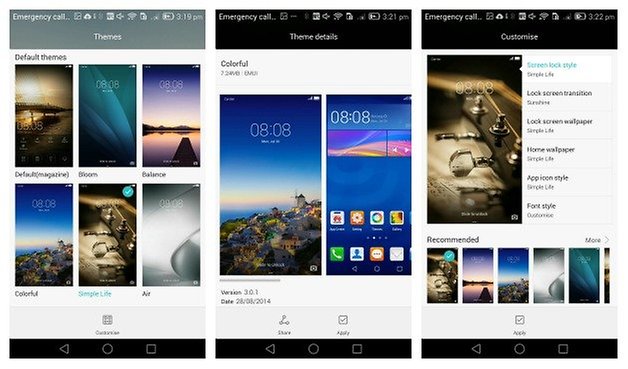 The Mate 7 also comes with some nice software features like notification manager, do not disturb, networked apps, gesture controls, customizable navigation bar (which, incidentally is in the new Android L style) and Suspend floating menu button for quick access to common actions and apps, kind of like Samsung's Toolbox. Software-wise, the Mate 7 is very accomplished without being bloaty.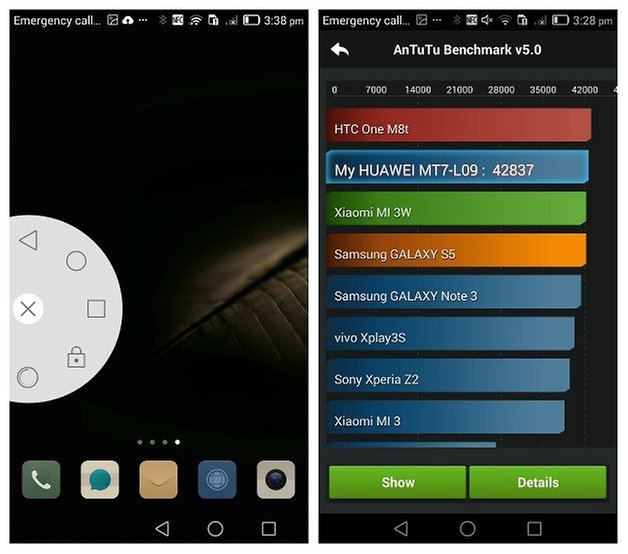 Huawei Ascend Mate 7 performance
The Ascend Mate 7 is really quite snappy and enjoyable to use, undermining the expectations you might have from its relatively low price tag. Huawei's own octa-core Hisilicon Kirin 925 chipset (quad-core 1.8 GHz Cortex A15 and quad-core 1.3 GHz Cortex A7) manages demanding tasks with ease, but doesn't quite seem to be in the same class as high-end Snapdragon or Exynos processors. I'll mention here that the device I am reviewing is a pre-release model, so things could change.
Huawei claim the processor architecture can save up to half of the battery by using the low-power cores for less demanding tasks. The 16 GB version comes with 2 GB of RAM and the 32 GB version bumps the RAM to 3 GB. On both versions, pixels are pushed around by the Mali-T628 GPU. The Mate 7 is also Category 6 LTE-equipped, so if your area supports data speeds like that you can take full advantage of up to 300 Mbps downloads with the Mate 7.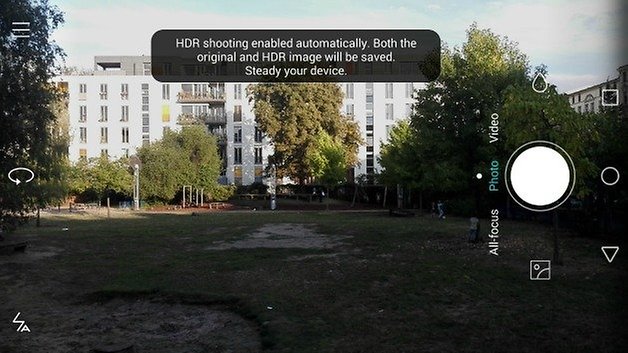 Huawei Ascend Mate 7 camera
The Ascend Mate 7 has a 13 MP camera with a super clean interface. The camera shoots very quickly and surprisingly well. Bear in mind that at full resolution you're stuck with a 4:3 aspect ratio and to shoot at 16:9 you'll only be able to capture 10 MP shots.
You can use a double press of the volume down button to launch the camera app when the screen is turned off, and you can use your voice or even the finger scanner pad to shoot a picture as well. There's HDR, panorama and beauty mode, as well as All-Focus for post-focusing your shots.
The front-facing camera is a 5 MP shooter which has a built-in beauty mode and lets you take a stitched together panoramic groufie photo which works quite nicely too. While the Mate 7 may not be able to tackle the big guns photographically, it performs perfectly acceptably.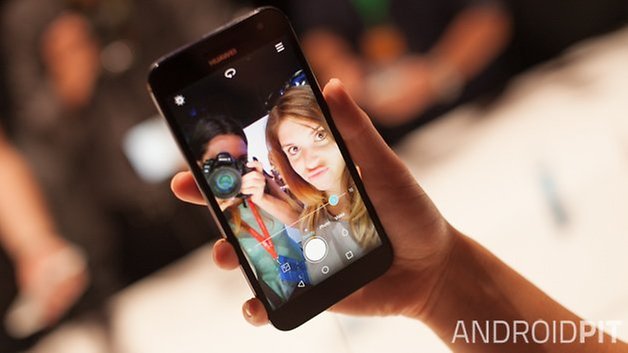 Huawei Ascend Mate 7 battery
The Mate 7 has a whopping great 4,100 mAh battery which is non-removable. You can easily breeze through a day on this device and depending on your usage approach two days. Huawei claim you can get close to two and half day's of battery life, but I expect this would require usage of the power saving modes included on the Mate 7, including Normal, Smart and Ultra power saving modes.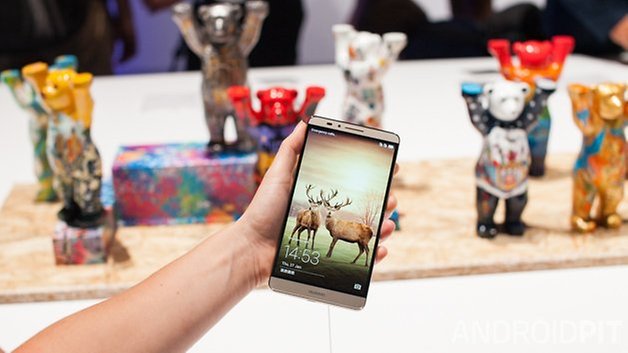 Huawei Ascend Mate 7 technical specifications
Final verdict
The Ascend Mate 7 is a very impressive phone and it's a shame that it is not more widely available. It will be launched at the end of October and if you have the chance to try one out or pick one up, I'd highly recommend that you do. The camera may not be the strongest point of the Mate 7 but almost every other category has you nicely covered. For the class it is in, the Mate 7 is very impressive, even if it can't really compete with the Galaxy Note 4. If you like the idea of the HTC One Max but not the execution, then the Mate 7 might just be for you.
Huawei Ascend Mate 7 release date, price and news