Common HTC One M9 problems and how to fix them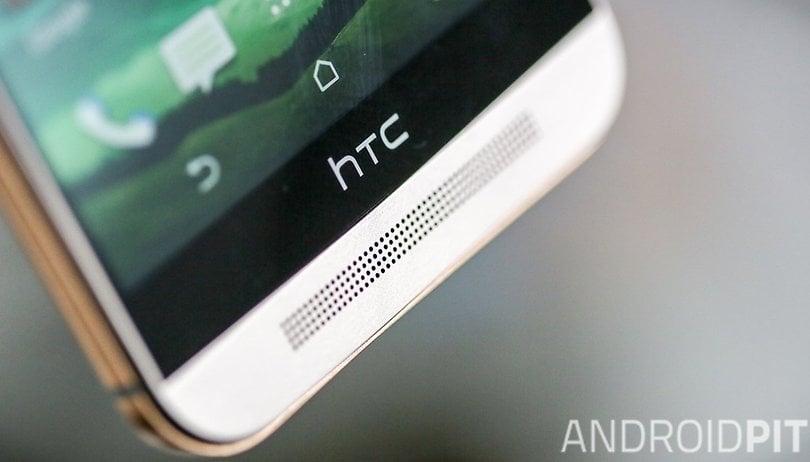 The HTC One M9 may be one of the leading flagships of 2015, but it still has its share of issues. If you're experiencing overheating, poor battery life or other troubles, then we're here to show you how to fix these common HTC One M9 problems.
Poor battery life
There are countless reasons why your HTC One M9 may be suffering from poor battery life, and they're problems that are suffered by owners of other phones too. Here are some of the things you can do to slow down the rate at which the One M9 battery depletes:
Go to Settings > Sound & notification > App notifications and switch off notifications for apps you don't wish to receive them from.
Your display is a big - but obviously quite necessary - battery drain. Go to Settings > Display & gestures > Brightness level and lower the brightness. Alternatively, with the Automatic brightness box ticked, turn down the brightness slider. This will limit the automatic brightness of your screen.
Go to Settings > Display & gestures > Screen timeout and lower the amount of idle time required before your screen automatically switches itself off.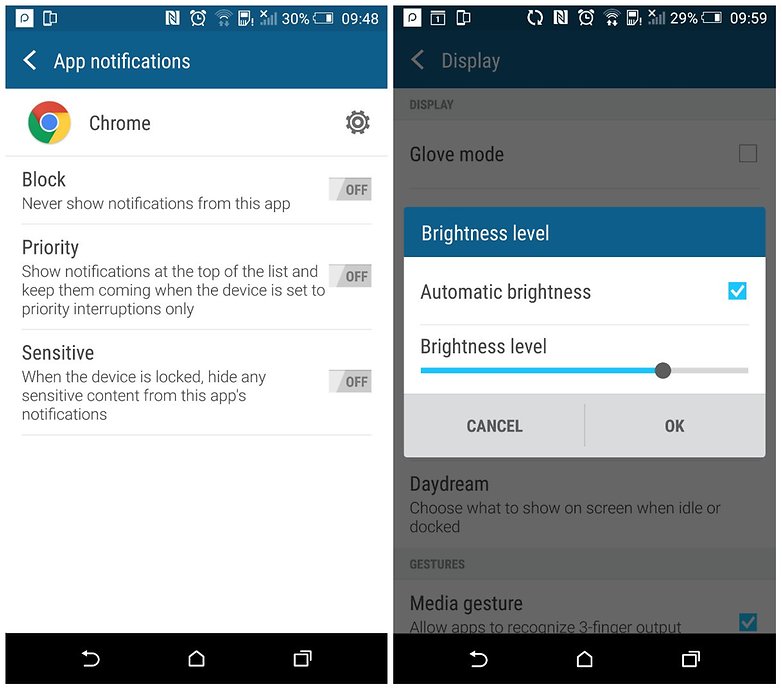 Auto-rotate not working
Auto-rotate is an age-old smartphone feature, but it's still prone to the occasional bit of misbehavior. If your One M9 doesn't auto-rotate, first go to your Quick Settings and make sure it's enabled. If it is, but it's still not working, you may need to re-calibrate your phone's G-Sensor (a flashy word for gyroscope).
To do this, go to Settings > Display & gestures > G-Sensor calibration
Put your HTC One M9 on a flat surface, then tap Calibrate and wait until the screen says 'Calibration Complete'
HTC One M9 Overheating
The Snapdragon 810 chipset powering the HTC One M9 got a lot of stick for its tendency to overheat during use. When we tested it out in our Snapdragon 810 vs 808 comparison however, it looked like HTC had fixed the widely-reported problem. However, if your experience differs from ours and you're still experiencing overheating, then there are a couple of workarounds you can try.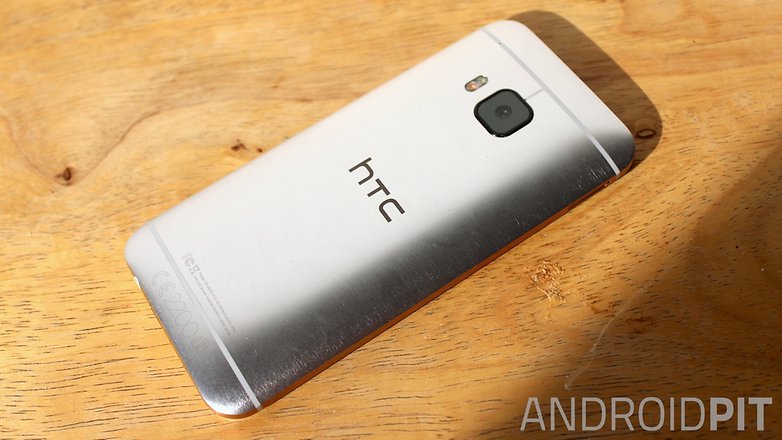 Use power-saver mode when possible: This may not sound like the most satisfying of solutions, but the fact is that most of the time you won't be pushing your One M9 hardware to the limit anyway, and can use power-saving mode with no noticeable performance drop, but a noticeable decrease in temperature.
Don't use your phone while it's charging: Carrying out demanding tasks like gaming on your phone while it's charging can cause it to overheat. This issue isn't unique to the HTC One M9, and if you find that it overheats only when you use it during charging, then the simple solution is to stop doing it.
Double-tap to wake not working
One of the HTC One M9's most touted features lets you double-tap the switched-off screen to wake your phone, but it's prone to failure. The feature is tied in with the One M9's G-Sensor, and is designed to work when you're holding your phone upright in portrait mode. If your One M9 is on a flat surface or in landscape mode, double-tap to wake might not work.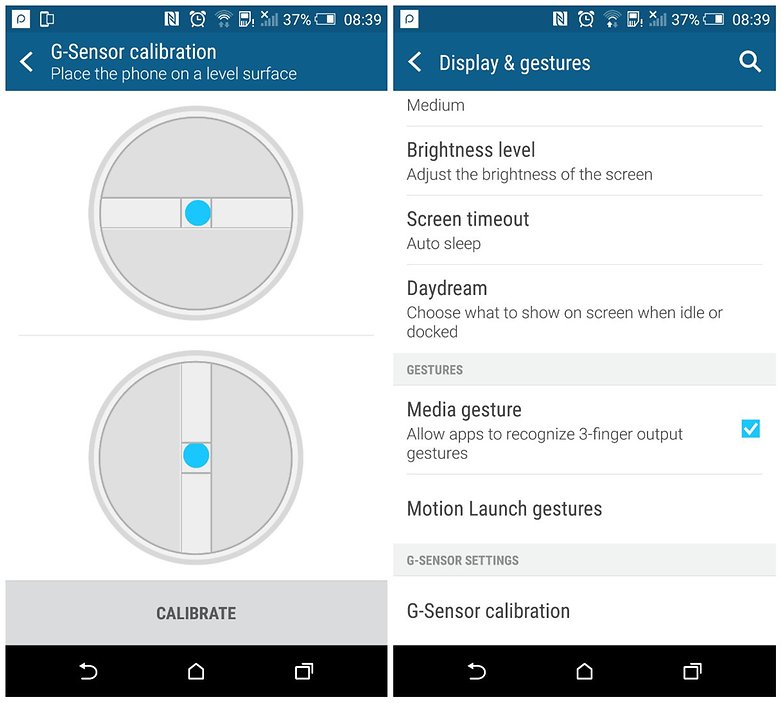 Another possible issue is that your G-sensor might not be calibrated. To fix this, go to Settings > Display & gestures > G-Sensor calibration then tap Calibrate.
HTC One M9 charging too slowly
If you were expecting your HTC One M9 to charge at lightning speeds just because it supports Quick Charge 2.0 then you're in for disappointment. The One M9 - like most phones - doesn't ship with a Quick Charge charger, but you can buy the official one online.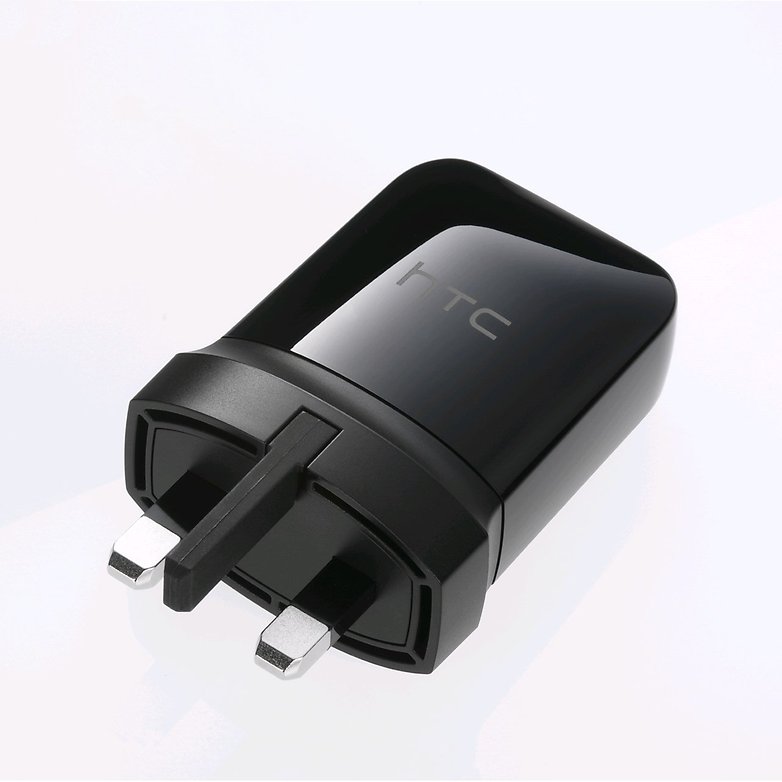 A less pricey solution to the HTC One M9 battery charge problem includes turning on Power Saver or Extreme Power Saver mode while it's charging - both of these can be switched on from your phone's Quick Settings menu. Also, don't use your phone while it's charging because it'll charge slower and could damage your phone battery.
Are you experiencing other HTC One M9 problems? Let us know in the comments and we'll try to offer up fixes in the future.