HTC looks further into VR with Vive Cosmos and improved Pro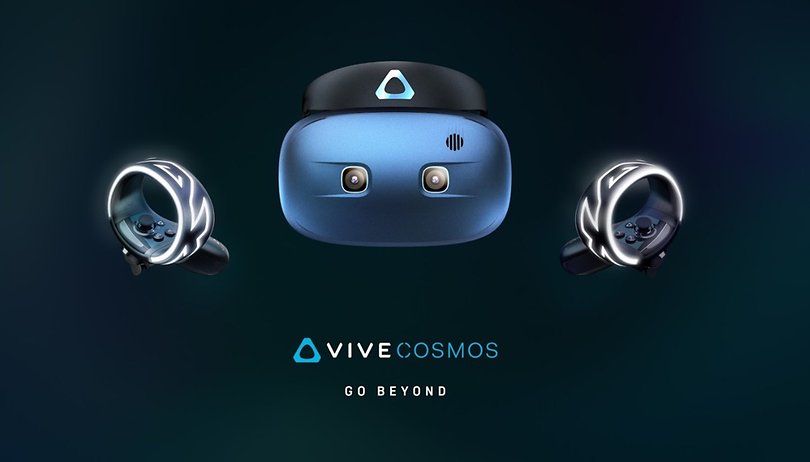 HTC's smartphone devision may be past its glory days but the company continues to lean hard into VR, with a range new hardware and software products for the HTC Vive brand unveiled at CES 2019, including an all-new headset, an upgrade to the Vive Pro and new software options.
HTC looks to the stars with Vive Cosmos
The new virtual reality headset, called the Vive Cosmos, seems pitched at a relatively mainstream consumer VR market, with no need for external sensors but with fully tracked motion controllers. Strangely enough, this headset will be connected to a PC but will also work with mobile devices, according to the mysterious teaser shown below.
We'd like to give you a first look at VIVE COSMOS, the newest VR headset from VIVE. #HTCVIVECOSMOS #HTCVIVE #VIVEPORT pic.twitter.com/oP00jXoevU

— HTC VIVE (@htcvive) January 7, 2019
A flip-up visor, reimagined motion controllers that seem somewhat similar to those of the upcoming Oculus Quest, with gamer-style joystick and buttons rather than trackpads. If Vive can learn anything from Oculus, however, the controllers are the right place to start. Although details such as price and specs are still sketchy, it seems that HTC wants to support modular upgrades for this headset, and it could be set to supersede the original Vive kit, with a simpler set up but the "sharpest screens yet" from the brand.
Tied to the Vive Cosmos unveiling (or at least, partial unveiling) is the announcement of a new VR UI, the Vive Reality System (Vivers) that will "build a seamless bridge from the real to the virtual world" according to Drew Bamford, VP, Creative Labs at HTC Vive. "The tools and environments of Vive reality system want to make spatial data processing to everyone. Here, VR will not feel like starting an app, but like a back and forth between different worlds." Vive have also confirmed that they are working with Mozilla to bring out the first Vive-specific VR browser.
The Vive Cosmos is meant to be the first device to come fully integrated with Vivers, but the release date and price is still uncertain. We only have a cryptic 'coming soon' from HTC, and an assurance that developer kits will be offering in "early 2019".
The Vive Pro Eye can now follow your gaze
The ultra high-end Vive Pro also got some love thanks to a new improved version called the Vive Pro Eye which features native eye-tracking capability. A visual technique known as "foveated rendering" is leveraged to render sharp images around wherever the human eye is focused on during a virtual scene, and correspondingly reduces the image quality around the peripheral vision. This should lead to improved, more realistic optics based on where your attention is in the virtual environment.
Eye tracking isn't just for improving visuals, it can also be used for targeting, effectively letting you select things by focusing your gaze, without the need to involve motion controllers. Great for quickly browsing virtual OS menus, web tabs and suchlike. HTC has already showcased eye controls using a Major League Baseball app called MLB Home Run Derby VR, set to launch this year.
The Vive Pro already costs a pretty penny, and we still don't know how much the version with eye-tracking will cost, only that it's slated for Q2 2019.
Viveport Infinity opens up a vast library of VR content
Of course the most advanced headsets are nothing without quality content to experience with them. But with VR still in its early stages, it can be tough to know what to take a chance on with your money. Viveport Infinity is a new Netflix-style subscription service from HTC that gives users unrestricted access to hundreds games, experiences, 360 degree videos and other VR content without having to pay for them individually. Not only will this benefit heavy VR users, but new adopters of the technology will be incentivized to explore the content library and try new things.
Access to Viveport Infinity is already possible on all current and future Vive devices and even Oculus Rift and other Wave ecosystem devices. While it may be a great way to showcase VR content for new users, it's still the price of the headsets themselves that will determine whether HTC can win the escalating VR wars.
What do you think of the HTC Vive's CES 2019 announcements? Is the company taking VR in the right direction.