HTC 10 review: a new beginning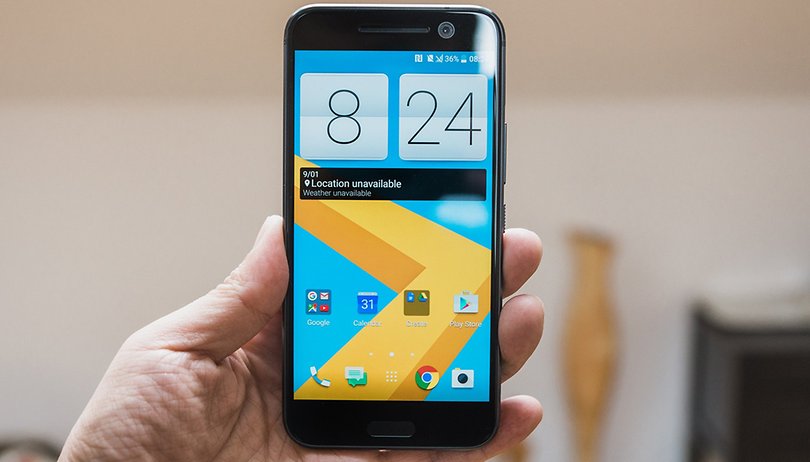 It's finally here – HTC has introduced the HTC 10, its grand successor to the One M9. With its newest flagship, the Taiwanese manufacturer has abandoned its former naming convention to leap for a fresh start. Whether HTC has achieved this, we'll clarify in this HTC 10 review.
Update: Fresh deal on the device with T-Mobile. Head to our release date section for more details.
Good
Excellent craftsmanship

Very good ergonomics

High performance

Very good camera

Front camera has OIS

Very good sound
Bad
Light power loss when warm

Smartphone warms up under load

Laser autofocus cover malfunctions when dirty
HTC 10 release date and price
HTC's 2015 flagship, the HTC One M9, got off to a difficult start. It had to deal with performance and heat problems, mostly resulting from its Qualcomm Snapdragon 810 processor. But thanks to the update to Android 6.0 Marshmallow, HTC's former problem child managed to mature into a first-grade smartphone.
With the HTC 10, the Taiwanese manufacturer hopes to get off to a better, less troubled start by venturing a figurative reboot, while hoping to avoid so many literal ones. So we see the 'One M' style of naming dispensed with, leaving just a number: 10.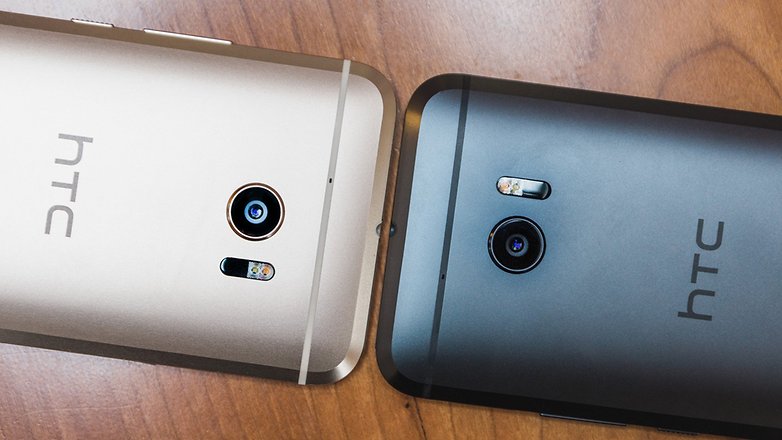 The new top model from HTC was presented on 12 April, 2016, and is now available for preorder. But the roughly $750 phone will not see delivery until mid-May 2016. Fabian Nappenbach, HTC's product director for Central Europe, told us in an interview at the launch event that there would be no exclusivity when it came to presales. The HTC 10 will thus be widely available from then on, in unlocked and carrier-branded variants. Also, there will be no exclusivity when it comes to the three color variants. The gray, silver and golden versions will be available to all on the open market and through carriers.
T-Mobile announced they are offering a deal for pre-orders of the HTC 10. If you order between May 18 and May 24 you can get the HTC Rapid Charger for quick charges and the HTC Ice View, the case that protects the device. You must pre-order this through T-Mobile and only while supplies last.
This is not a bad deal but it certainly isn't a good one. T-Mobile lists the price at $679.99 or $28.34 over 24 months and with prices that high the pot should be a bit sweeter. If T-Mobile wants to get new customers to buy a high-price flagship device then they should also offer a deep discount on the device as well.
HTC 10 design and build quality
The design of the HTC 10 will no doubt be a topic of heated debate once more, because HTC has largely stuck to the design of last year's models, as that of the One M7, M8 and M9. HTC has adjusted the phone so that it differs from its predecessors, but it has not abolished the HTC One design aesthetic.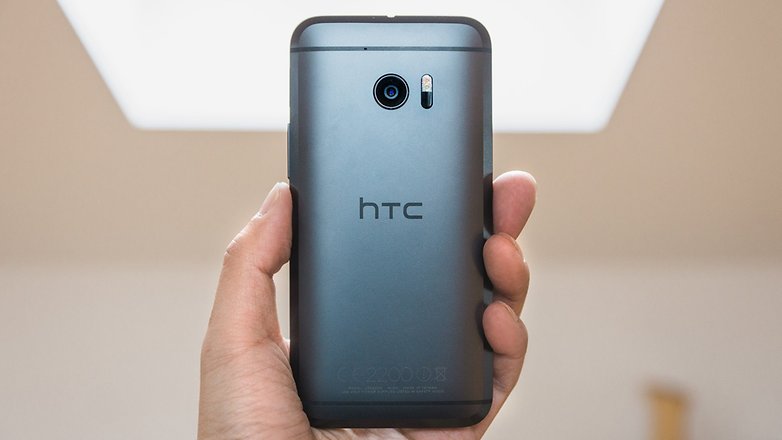 The most striking design feature of the HTC 10 is the very wide, diamond-cut edges on the back of the device . These wide edges have received additional polishing, while the rest of the slightly curved back is brushed and has a shimmering matte appearance.
The wide diamond cut and the curved back of the HTC 10 makes it appear as though floating when laid flat, and offers it the impression of a very thin side profile. At its narrowest point, the HTC 10 is only 3 mm thick, while it is 9 mm thick at its center.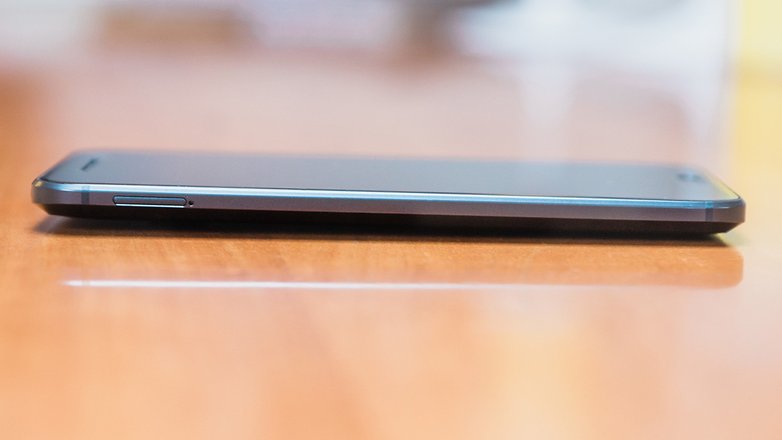 On the front of the device, HTC fans have become accustomed to a rather faceless smartphone, and the HTC 10 takes this further. The HTC logo between the fingerprint sensor and the display has disappeared, leaving a brandless smartphone behind. HTC has also modified the classic BoomSound stereo speaker, so that at the front, only one speaker can be seen, at the top of the device. The second speaker is placed out of sight on the lower part of the frame.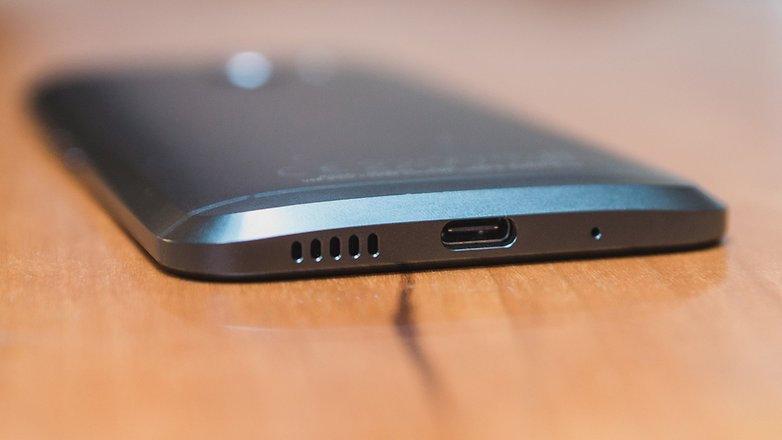 New to the HTC 10, two capacitive buttons are now located to the left and right of the fingerprint sensor, which also functions as the home button. thus HTC utilizes the entire 5.2-inch WQHD display for displaying content. No ugly black bar with software keys reduces the display size on the HTC 10.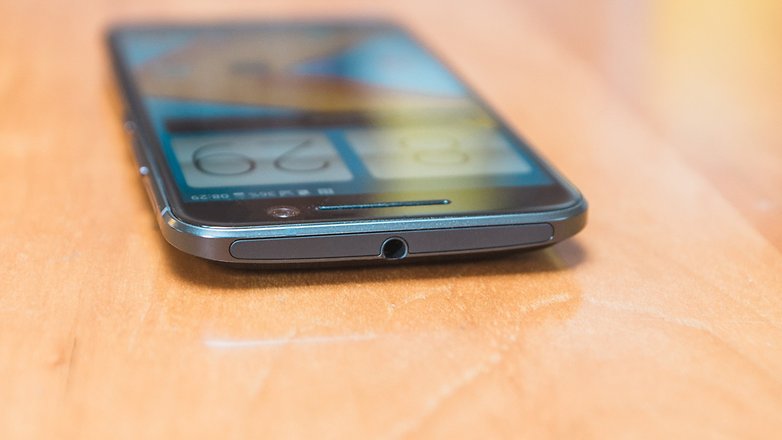 The volume rocker and the power button on the side of the device remain unchanged, except for the addition of a textured surface to power button similar to what we saw on the HTC One A9.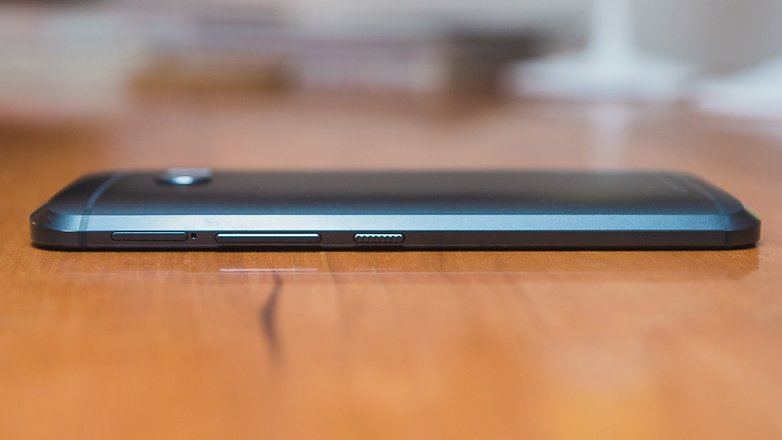 In all, the changes in design from the One M9 to the HTC 10 seem small, but I, personally, have always welcomed a clear design philosophy from manufacturers. HTC brings a defined vision to its top smartphones, as Sony does to its product line, with the OmniBalance design principles. And, from a distance, smartphones like these from HTC and Sony are easily recognizable.
HTC 10 display
The display of the HTC 10 is not, as had been erroneously suggested prior to the official presentation, an AMOLED display. Instead we find a Super LCD display 5. With Super LCD, which HTC employed on the 10's predecessors, there is virtually no space between the display and Gorilla Glass cover. The display has been placed directly against the glass.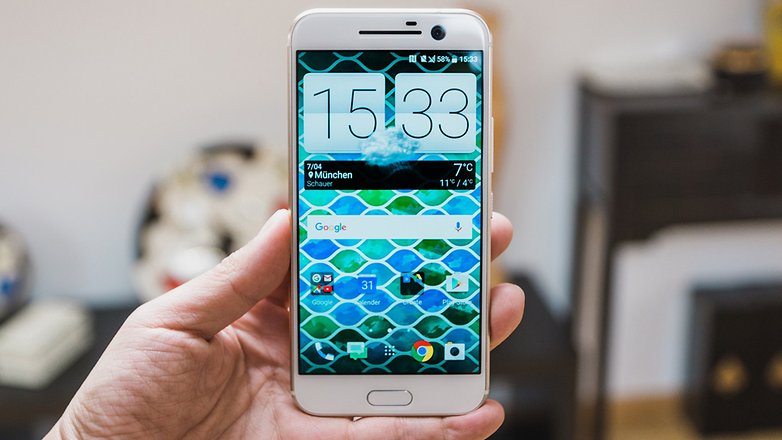 In practice, the colors are very rich and almost AMOLED quality . In our short time during the hands-on, the 5.2-inch display, with its 1,440 x 2,560 pixel resolution shone brightly and was easily legible even under direct light. A color shift was not noticeable even at shallow viewing angles.
HTC 10 software
Regarding software, there is good news: HTC has purified the software of its flagship smartphone . The HTC 10 is delivered from the factory with Android 6.0.1 Marshmallow and equipped with the HTC Sense 8.0 interface. But HTC has also dropped a lot of pre-installed apps as well. Rather than having a pile of duplicate apps, those from HTC and those from Google, only Google apps are loaded from factory when an HTC equivalent isn't needed. An example is the gallery app. The HTC Gallery app has been dumped in favor of Google Photos. Two isn't better than one when one does what two can.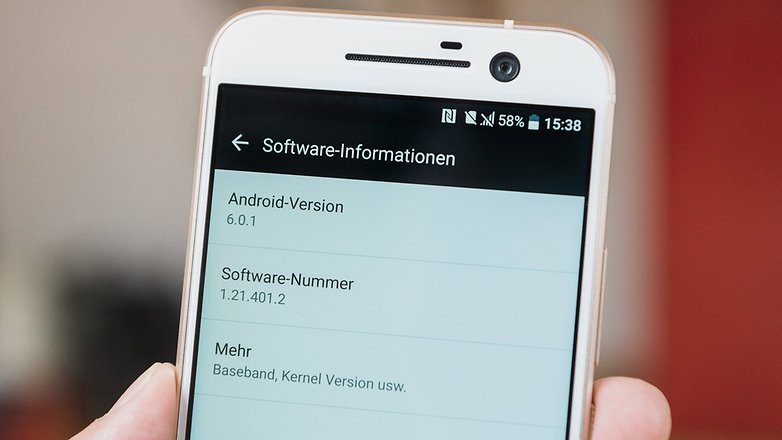 Why has HTC taken this step? Firstly, HTC's European product director Fabian Nappenbach said that Google is one of HTC's most important partners. It was also decided so as to speed up the software update procedure, both for apps and operating system. As such, it is also a service to the end user, because this gets out updates faster. Well done, HTC.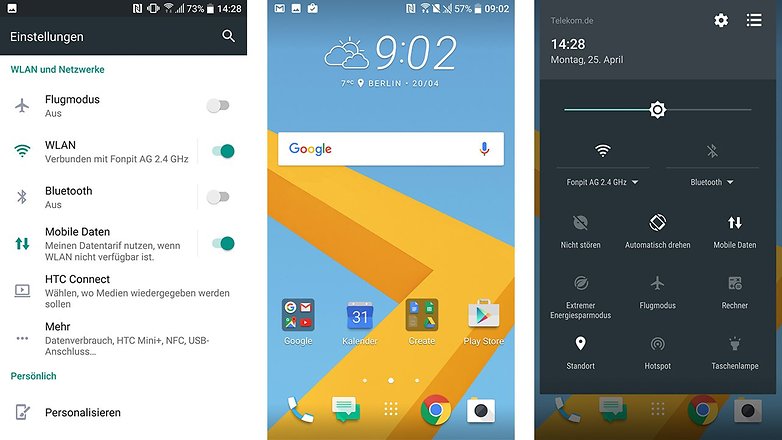 Actually, this approach to stock Android has already begun with the HTC One A9. There, we saw the notification bar and quick settings become stock Android; a step back from HTC's complete Sense UI. More visible changes can also be seen in the respective switches in the settings of the HTC Sense interface. These follow the Android standard, even if the arrangement in the settings are still HTC-owned. HTC's minimalist adaptation means that faster updates are easier to release, which benefits HTC as well with the need for fewer adjustments.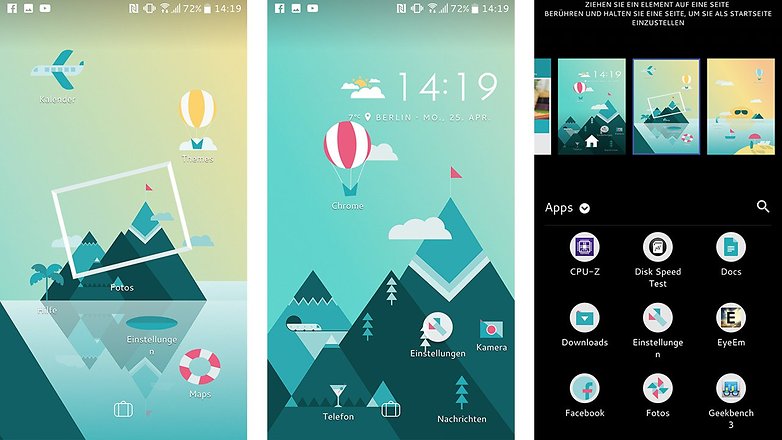 Those who wish to have more flexibility in the design of home screens can go for Freestyle mode. In this mode, apps and widgets can be freely arranged on the home screen. But bear in mind that to do this, you'll have to download this theme from the Theme Store.
HTC 10 performance
The HTC 10 is the best phone the Taiwanese company builds right now. Accordingly, it should only come with the best hardware. For the CPU, HTC used the tetranuclear Qualcomm Snapdragon 820 with a maximum clock speed of 2.2 GHz. It also packs an Adreno 530 graphics chip, 4GB of RAM and internal memory of 32 GB. The latter can be expanded with a microSD card of up to 2 TB capacity.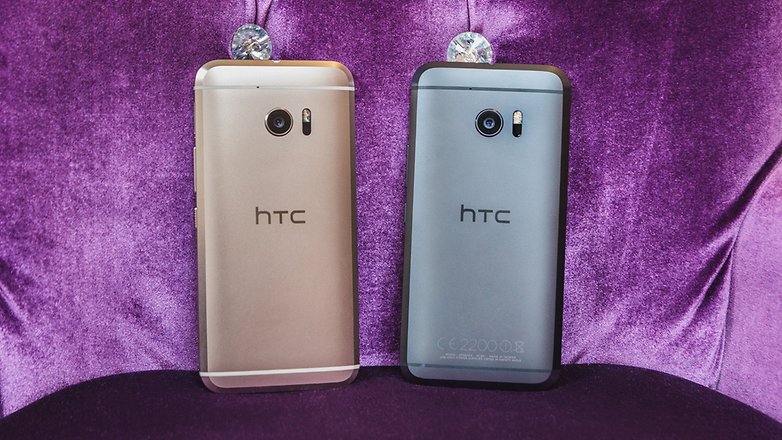 Phone with similar include the LG G5, or when it imported from China, the Xiaomi Mi 5. The latter had shown, during testing, that Qualcomm's newest processor delivers performance similar to the Exynos 8890 of the Galaxy S7 and S7 Edge. So the HTC 10 is certainly powerful.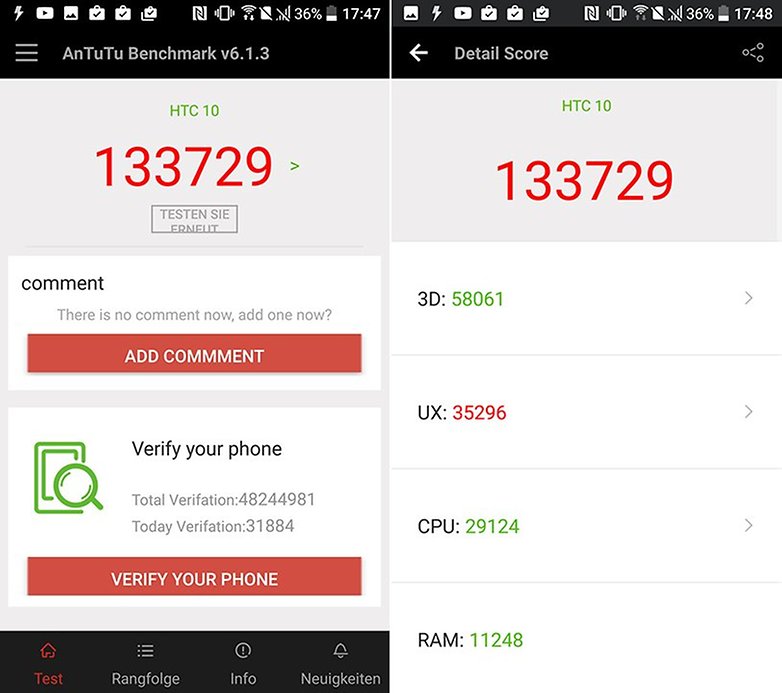 In benchmark tests, we see that the HTC 10 has similar performance to that of the LG G5 and Xiaomi Mi 5. However, neither these two other devices, nor the HTC 10, can displace the Galaxy S7 or S7 Edge from first place in the benchmarks.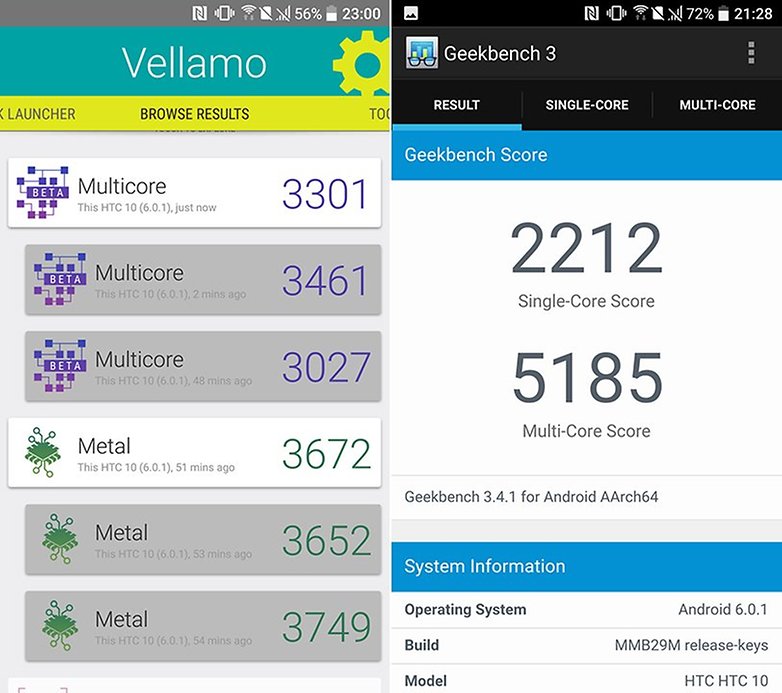 However, in everyday life you won't notice much of a performance difference between an HTC 10 and Samsung Galaxy S7 ). Both smartphones are very fast in everyday use. But something to note is that the HTC 10 can be a little warm after an intensive game session. Warmer than other flagships, anyhow. The reason is that the HTC 10 has a full metal housing, through which the waste heat is released. But does the 10 get really hot? No, never.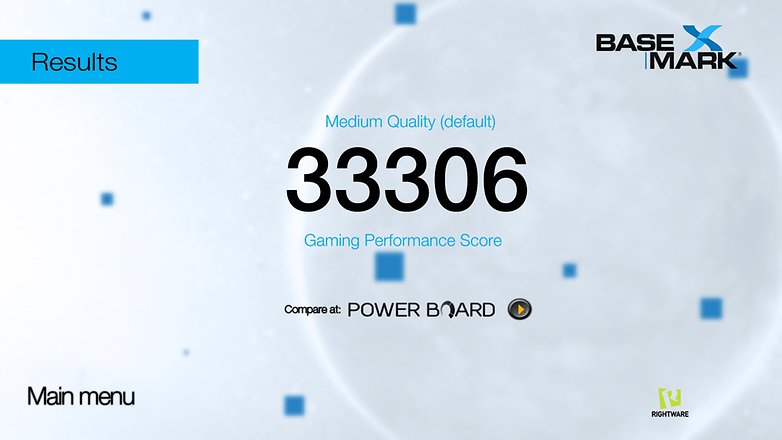 HTC 10 audio
HTC smartphones are known for their BoomSound directional stereo speakers. With the HTC 10, stereo speakers are still installed, only with a slight difference this time. One speaker is now no longer on the front, but on the underside. The speaker above the display now acts as a tweeter and the speaker in the bottom of the frame is used for reproducing low frequencies.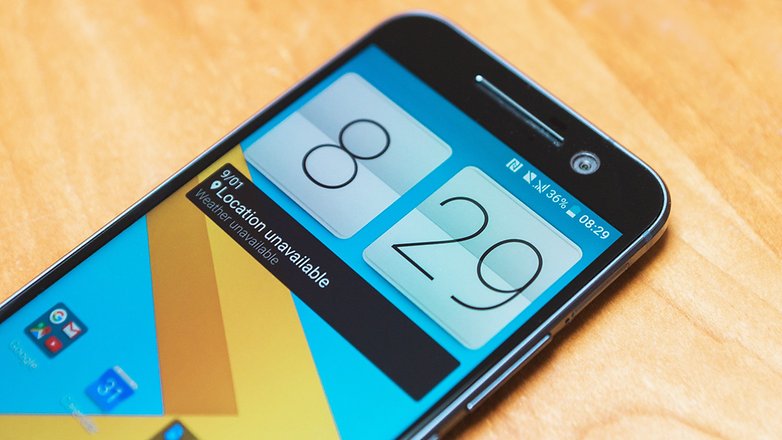 Stereo sound is only reproduced while you play video or watch games. This new boom sound system, which HTC calls Hi-Fi Edition, sounds good during music playback, as well as with videos and games . It's quite powerful for a smartphone.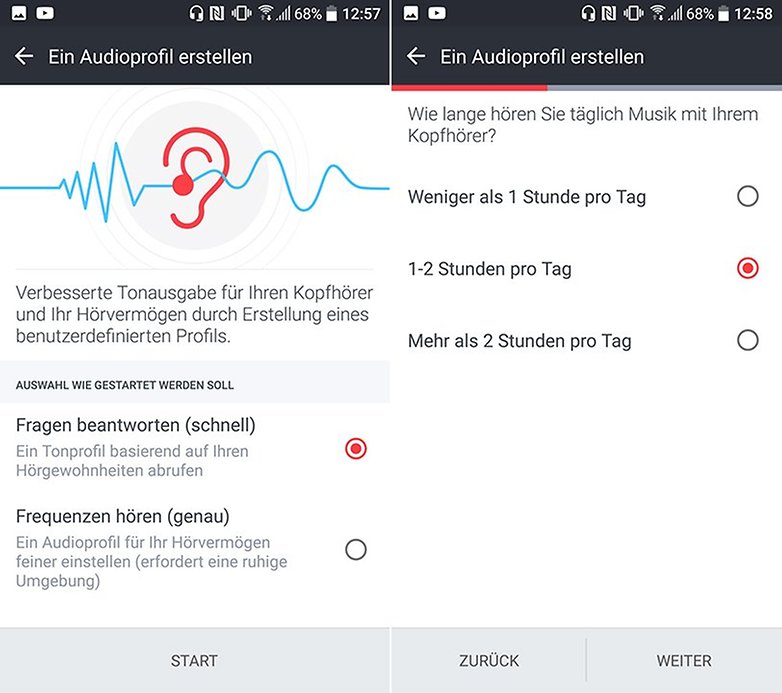 In order to achieve an optimal sound experience on the HTC 10, the user needs to modulate the sound only once on their own hearing. To do this, you can conduct a hearing test, which is reminiscent of a test at the ear, nose and throat doctor. It plays sounds at different frequencies and you have to adjust the volume for as long as you can hear the tone. After the test, sound is then optimized to your own hearing. According to my ear, I perceived enhanced sound after this.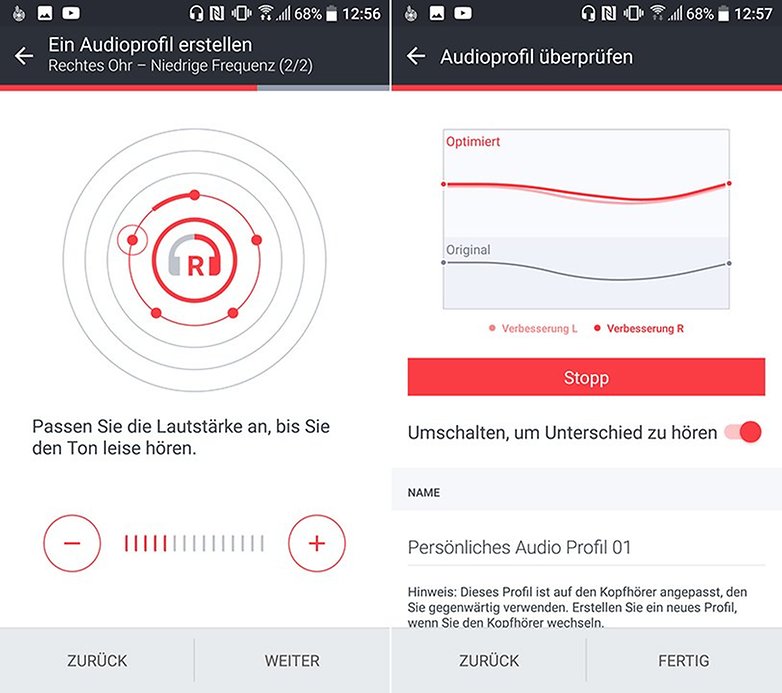 HTC 10 camera
The cameras in HTC's top smartphones have been innovative, but unfortunately were always one or two steps below the competition for picture quality. HTC had touted the benefits of larger pixel size for better low-light performance, producing an 'Ultrapixel' camera in the HTC One M7 with a resolution of only 4 MP. That was not enough for the year 2013. Since the end of 2015, manufacturers like Huawei for the Nexus 6P, Samsung for the Galaxy S7 and Apple for the iPhone 6S used image sensors with low megapixel counts to provide larger and more light-sensitive pixels.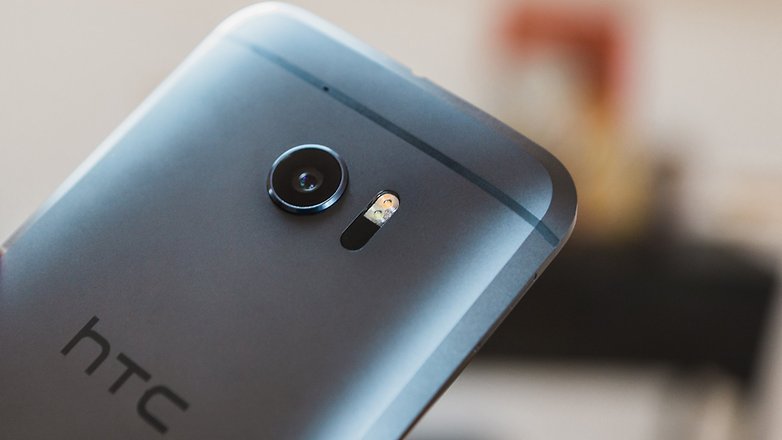 In 2014, HTC introduced the One M8 with a camera that had low resolution but large pixels. HTC was once again innovative, but unfortunately the camera's image quality wasn't convincing enough. In 2015, manufacturers like Huawei and Honor developed smartphones that were equipped with two image sensors that created photos with simulated depth of field effects like that of DSLR cameras with large aperture.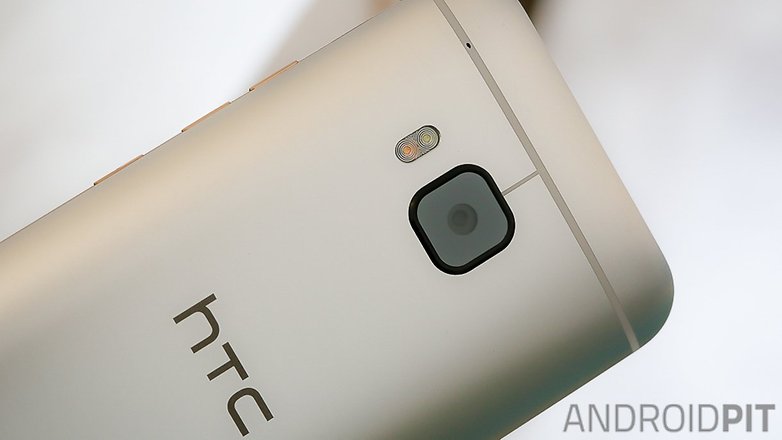 With last year's One M9, HTC went for a more innovative camera that kept up with the ever-growing megapixel trend. The 20 MP camera looked great on paper and, although it appeared to be able to compete with the LG G4 and Galaxy S6, its image quality was once again a disappointment.
The HTC 10 has a 1/2.3-inch image sensor with 12 MP resolution in which the pixels are 1.55 microns in size. The aperture of the camera is large at f/1.8 and also comes with laser and hybrid autofocus to ensure fast focusing .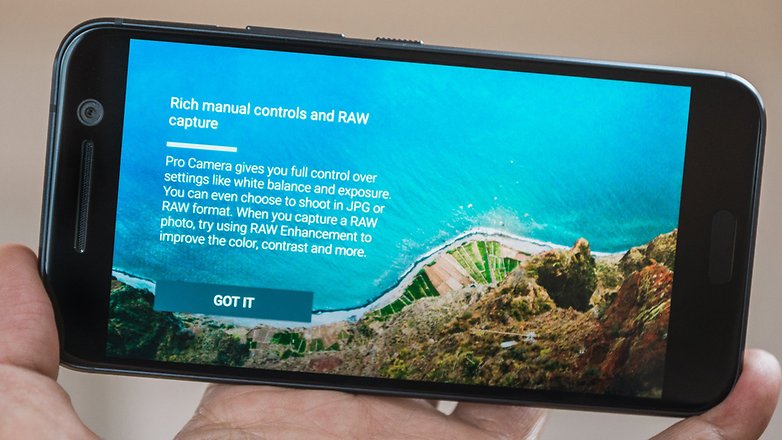 When reading the technical specifications of the camera, I noticed that it is highly likely that this module is already being used in another phone - such as the Nexus 5X or Nexus 6P. HTC has confirmed this suspicion. We can say with certainty that inside the HTC 10 is a Sony IMX377 sensor. Unlike the two Nexus smartphones, the HTC 10 has a larger aperture and an optical image stabilizer.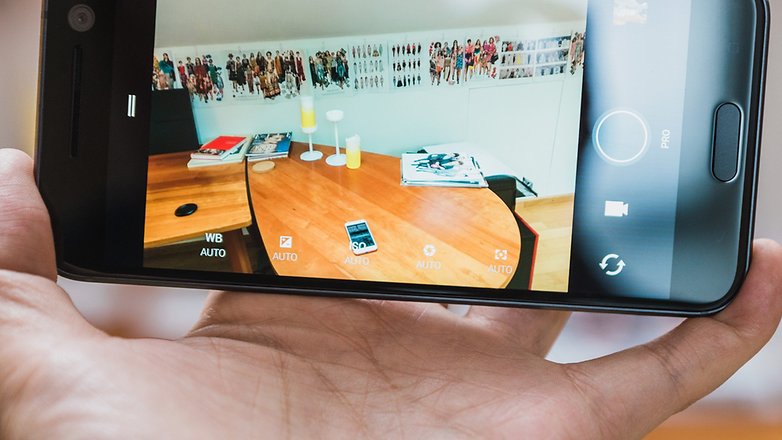 The front camera has, at first glance, only a 5 MP image sensor (with enhanced autofocus), an f/1.8 aperture and an optical image stabilizer. The HTC 10 could be one of the best selfie smartphones that is currently available.
But unfortunately the cameras of HTC's flagship smartphones have always looked good on paper. In the end what counts most is image quality. We'll be sure to test it when we get the final smartphone with finished software. Despite this, focusing was fast and colors were naturally captured.
After our testing, we can say that the HTC camera finally provides adequate image quality. The main camera has a 12 MP image sensor and produces very good photos in daylight and also in low-light. Thanks to the large pixel, low light images aren't too noisy.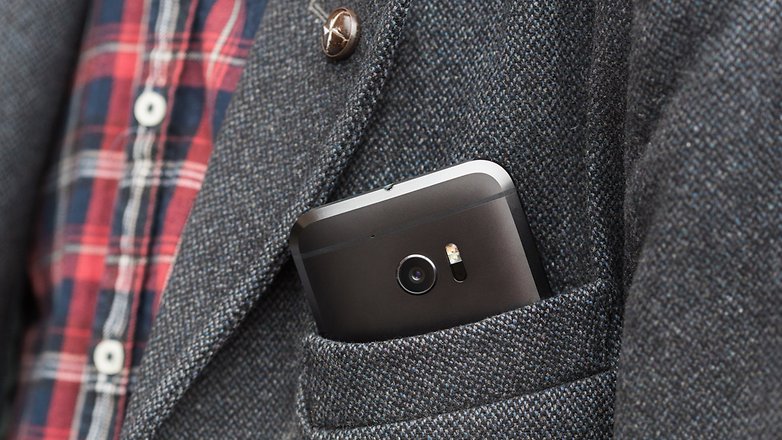 Weak spots in picture quality appear when you enlarge part of an image. You realize that the transitions between details are not strongly defined and there is something lacking with regards to image sharpness. We also noticed that when using the main camera, the laser autofocus responds somewhat to dirt and grime. I'd recommend that you clean the cover of the laser autofocus whenever you want to shoot.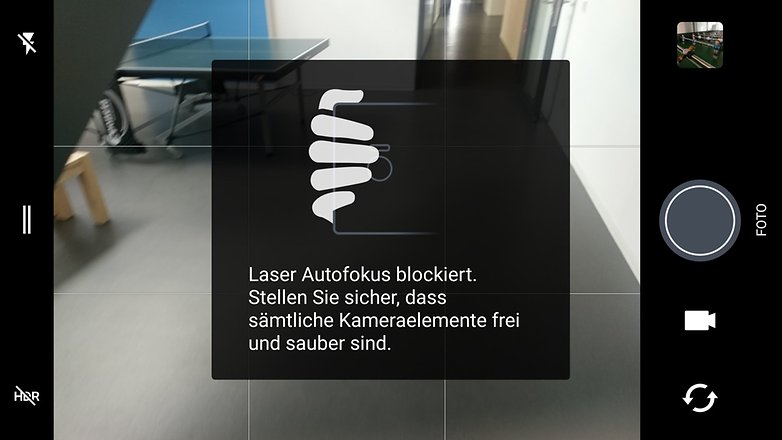 The front camera of the HTC 10 takes good selfies thanks to an optical image stabilizer. The main camera has OIS and compensates for shaky shots. Here, videos are recorded in 4K with a maximum of 30 frames per second or 120 frames per second in slow motion mode.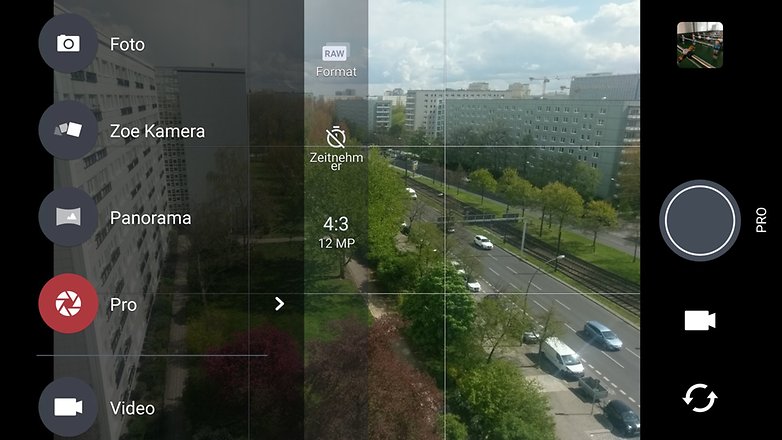 The camera app has been tidied up and now comes with fewer settings. By default, it's set to shoot HDR images automatically. If you'd prefer not to shoot like this then don't forget to disable HDR mode. Whoever wants to have even more settings choose Pro mode. Here, you can modify white balance, exposure compensation, ISO speed, shutter speed and focus all manually using the slider.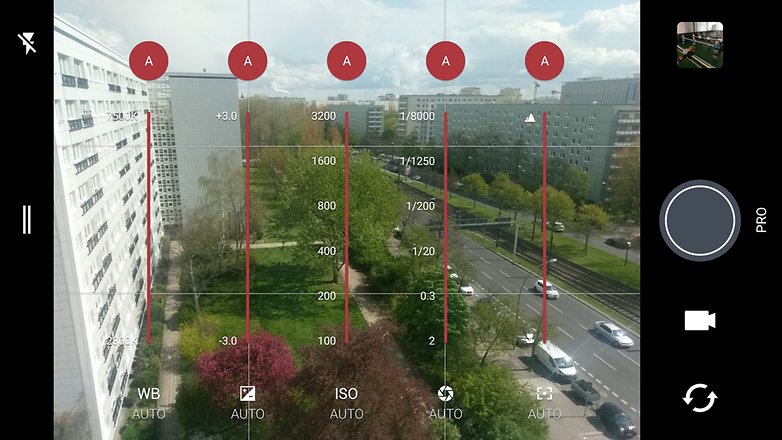 So that you can convince yourself of image quality from the HTC 10 camera, we have all the pictures saved not only in the following photo gallery, but also in full resolution.
HTC 10 battery
Regarding battery capacity, HTC has given us a bump here. Three years ago, the HTC One M7 was stuck with a battery of only 2,300 mAh; the One M8 had 2600 mAh and last year HTC built the One M9 a battery of 2,840 mAh. The HTC 10 has a battery capacity of 3,000 mAh. Compared to the competition, HTC 10 battery capacity is about average .
The HTC 10 battery test scores in AnTuTu Tester results are unsurprising. The score is in the range of the LG G5, Xiaomi Mi 5 and the Huawei P9. In daily usage there was, in this respect, no significant outliers. The battery capacity was 37 percent after a 12-hour day. If one more frugal with this smartphone, you might actually achieve the specified HTC duration of two days on a charge.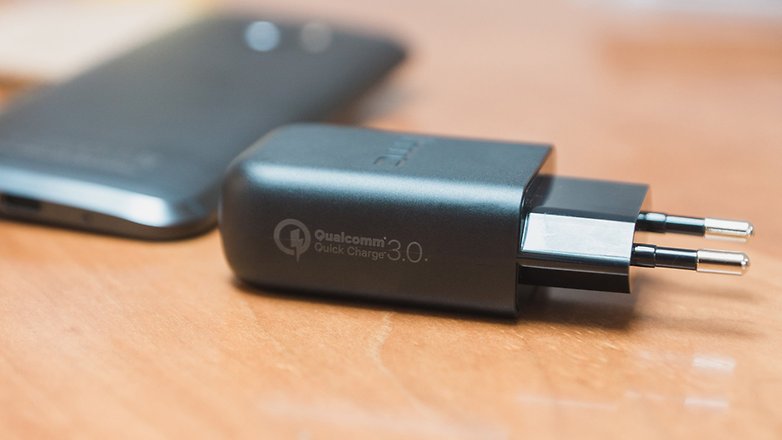 Thanks to Quick Charge 3.0, the battery should be charged to 50 percent within 30 minutes. The corresponding power supply now delivers this speed by default. With the HTC One A9, that was not the case.
HTC 10 technical specifications
Dimensions:
145.9 x 71.9 x 9 mm
Weight:
161 g
Battery size:
3000 mAh
Screen size:
5.2 in
Display technology:
LCD
Screen:
2560 x 1440 pixels (565 ppi)
Front camera:
5 megapixels
Rear camera:
12 megapixels
Flashlight:
Dual-LED
Android version:
6.0.1 - Marshmallow
User interface:
HTC Sense
RAM:
4 GB
Internal storage:
32 GB
64 GB
Removable storage:
microSD
Chipset:
Qualcomm Snapdragon 820
Number of cores:
4
Max. clock speed:
2.2 GHz
Connectivity:
HSPA, LTE, NFC, Bluetooth 4.2
Final verdict
The HTC 10 is not a design revolution. Changes in hardware and software are somewhat conservative. Many minor changes combine here to give us an improved flagship that is adequate for its time.
But HTC has finally eliminated a weak point of past devices - the camera. After several experimental years, the Sony IMX377 image sensor with OIS and a large f/1.8 aperture has been used in a very good HTC 10 camera. There's no need to fear a comparison with the Galaxy S7 or LG G5.
The HTC 10 is a thoroughly enjoyable smartphone without technical shortcomings. But even so, it lacks a unique selling point and wow factor to inspire the masses. Samsung's Galaxy S7 has been on the market for more than a month and in many places is already cheaper than it was at launch. The HTC 10, at its price right now, is more expensive than the Galaxy S7. LG can emphasize with its modules that the G5 is an innovator. Huawei has a dual camera made in collaboration with premium brand Leica in its P9. But where does HTC stand?
I, for one, can say that the HTC 10 is worth a look, even if the device is not so impressive at first glance. Small touches in the software, in the design, the ergonomics and the BoomSound are what makes the HTC 10 into a real and evenly-matched alternative to Galaxy S7, LG G5 or Huawei P9. Welcome back, HTC, in the Champions League of smartphone manufacturers.