How To Root The Samsung Galaxy S4: This Is How It's Done! There's already a way to root the Samsung Galaxy S4. Thanks to djrbliss from the XDA forum and despite the obstacles set by Samsung, the S4 can be rooted with few clicks. By completing this, you'll be able to get rid of the TouchWiz applications. This is how it's done: NEXTPITTV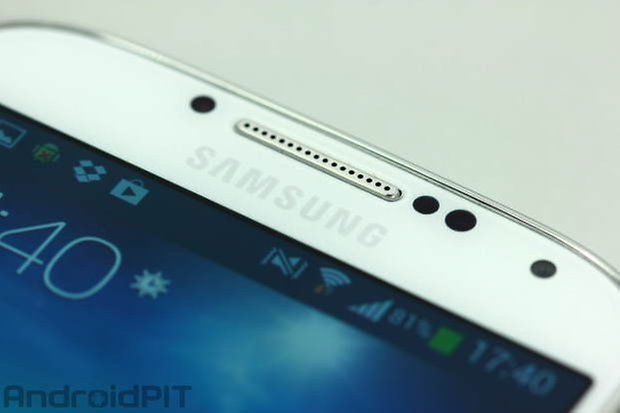 Warning
The root entails many risks and if you don't perform the procedure correctly, you could find yourself with an unusable phone. That being said, this method won't have the consequence of loss of data, but caution is advised! Save all of your files beforehand. Neither AndroidPIT nor I will be held responsible for any damages incurred on your phone.
It should also be signaled that Samsung's warranty might be nul and void after doing this. If something were to go wrong during the procedure (you unplug the chord accidentally, for example), there aren't any custom ROMs at the moment, though they should start appearing in the next few days. In conclusion, be very careful and follow all of the instructions.
Further Warning [New]
The rooting method presented here doesn't work with the software version of the Galaxy S4 ending with the letters MDM. This version will be installed along with the update of about 80 megabytes. Many thanks to our community for notifying us of this!
This tutorial is exclusively designed for the Samsung Galaxy S4 GT-i9505 with the Snapdragon 600.
Download the files necessary for the root here: http://vulnfactory.org/public/motochopper.zip
The procedure
Decompress the motochopper.zip file that you've just downloaded.
Activate the developer options on your Galaxy S4 by pressing on the Build Number several times (7x ) found under ''About Device''.
Under the ''More'' tab, you'll find the ''Developer options'', in which you'll check the box for USB debugging. After that, simply confirm.
Connect your Galaxy S4 to your PC and wait until Windows has correctly installed all of the drivers (this can take a few minutes).
Once the S4 is properly recognized, go to the motochopper file and launch the run.bat file.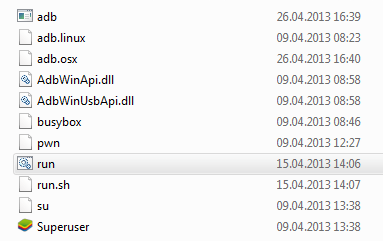 Once this window pops up, click on any key to continue.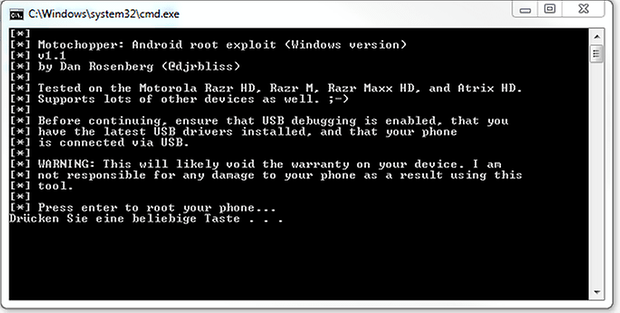 A message will appear on your Galaxy S4, to which you click OK. After a short while of waiting, you'll be asked again to click on any key. Your S4 will restart.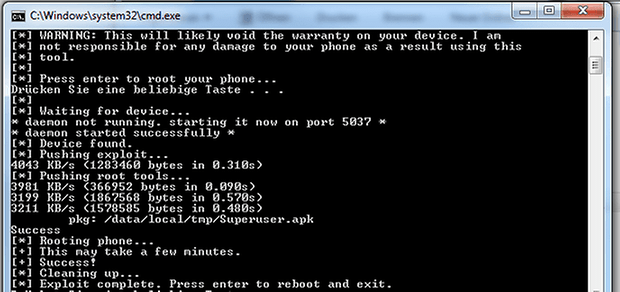 Congratulations! Your Samsung Galaxy S4 GT-i905 has been rooted!