Honor 8 vs OnePlus 3: a Chinese conundrum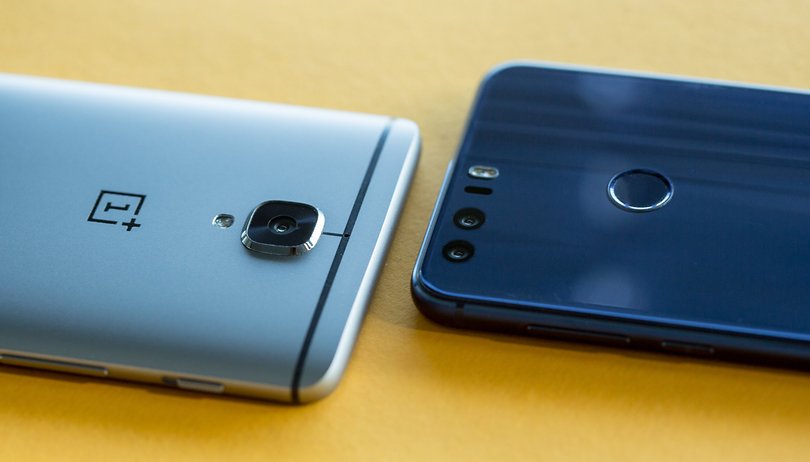 The OnePlus 3 and the Honor 8 are definitely the two best Android smartphones available on the market for under $400. Both are from Chinese manufacturers, and are competitors on the same level as the high-end Galaxy S7 and the S7 Edge. Last year, the OnePlus 2 was even a step ahead of the Honor 7. This year, though, things are looking a bit different. Check out our comparison of the Honor 8 and the OnePlus 3.
Honor 8 vs OnePlus 3: design
Looking at the two models, it's impossible to overlook the stylistic differences, thought they have one stark similarity: elegance. The OnePlus 3 reiterates design ideas from previous generations of OnePlus devices and borrows a few aesthetic notes from some of its current competitors, like the HTC 10.
Just like the OnePlus 2, its frame is made of metal. The combination of curved and square lines, the light nuances in color and the way in which the anodized aluminum distributes light gives the OnePlus a more refined look. Of course, the OnePlus 3 is also significantly bigger, with its 5.5" screen, but its feeling in your hand remains comfortable nonetheless.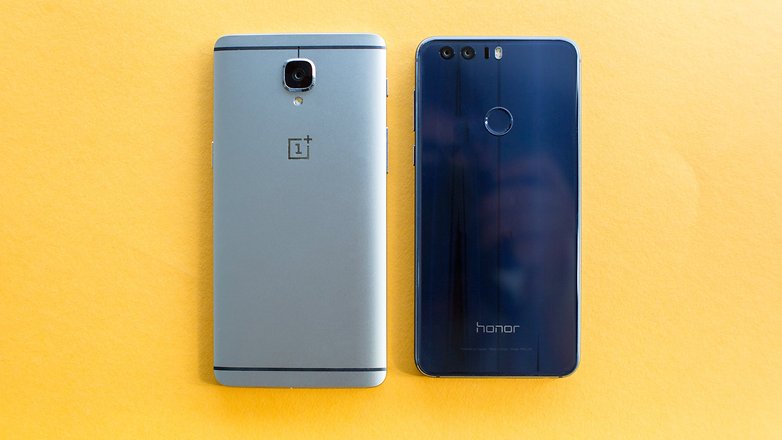 The new smartphone from Honor seems to attract more light. The reason is simple. The Honor 8 is made from metal and glass, which results in an extraordinarily reflective back. Another notable difference with the OnePlus 3 (apart from its smaller size) is that it doesn't have a home button on the front.
Personally, I prefer the experience that the Honor 8 gives you, as its format is more compact and its curved corners make it easier to hold. Sadly, the smartphone tends to retain fingerprints on the back.
Honor 8 vs OnePlus 3: display
Let's take a glimpse now at one of the principal differences between the two phones. The Honor 8 has an LTPS TFT-LCD Full HD screen measuring 5.2" (1920 x 1080 pixels). Color reproduction is excellent and very realistic. The clarity and sharpness of the images are also very nice. An interesting detail, though, is that the Honor 8's screen uses an "eye comfort" mode, giving the screen a yellowish tint. It's not the first time that I've said this, but I really appreciate this feature before going to bed and right when waking up.
The OnePlus 3 has a nearly perfect colorimetry.
The OnePlus 2 offers a Full HD screen measuring 5.5" (1080 x 1920 pixels). For the first time in its history as a company, OnePlus utilizes an AMOLED screen. Though it may have been a bit of a disappointment at its rollout, a big update helped a lot and now it boasts a near perfect colorimetry. The screen is therefore very good, but that isn't really a surprise considering Samsung created the Super AMOLED. The OnePlus takes the cake in this round.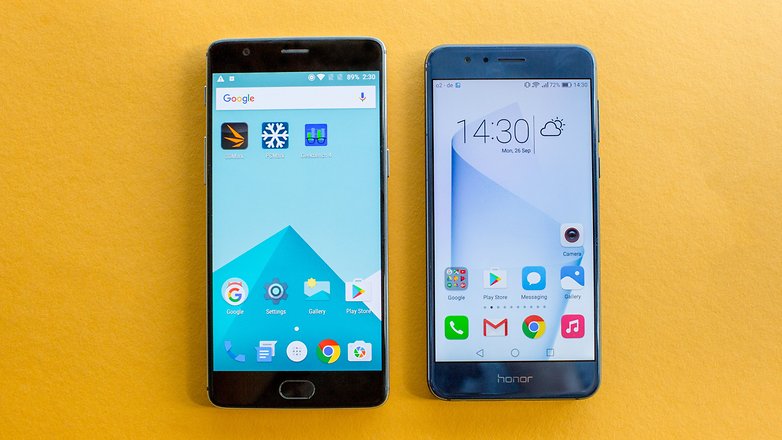 Honor 8 vs OnePlus 3: user interface
Here two different user interfaces come head to head. The OnePlus 3 offers a system very close to that of Stock Android, namely Oxygen OS. There's very little bloatware to speak of. Honor has an overlay from the brand EMUI 4.1 that looks remarkably similar to the iOS, rather to Android. There's no app organizer on this model, but you can install a downloaded version. The two are based on Android 6.0.1 Marshmallow.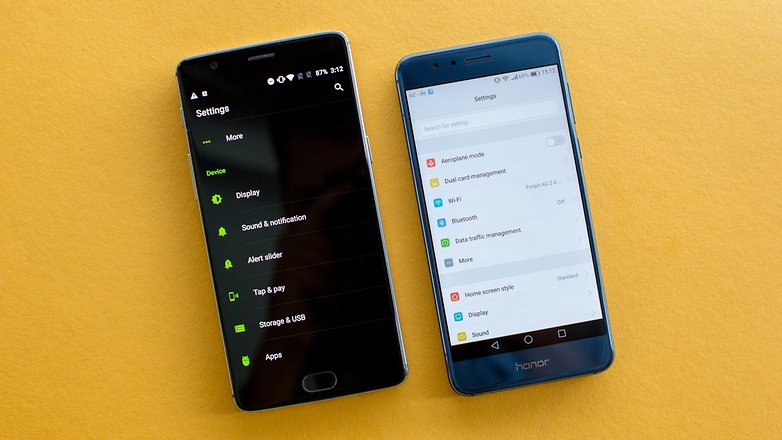 There is, nonetheless, another major similarity here: it is extremely difficult to get Android updates. If you want to use the new Android 7.0 Nougat as soon as possible, you'll have to look elsewhere.
Honor 8 vs OnePlus 3: performance
Here the OnePlus seems to have an advantage over the Honor model. Far be it for me to say that the Honor 8 is ridiculous in its performance, quite the contrary, in fact. The flagship Honor model uses an octocore processor from Kirin, the 950, and 4 GB RAM, which makes sure its performance is very cutting-edge, especially considering the excellent optimization of the operating system.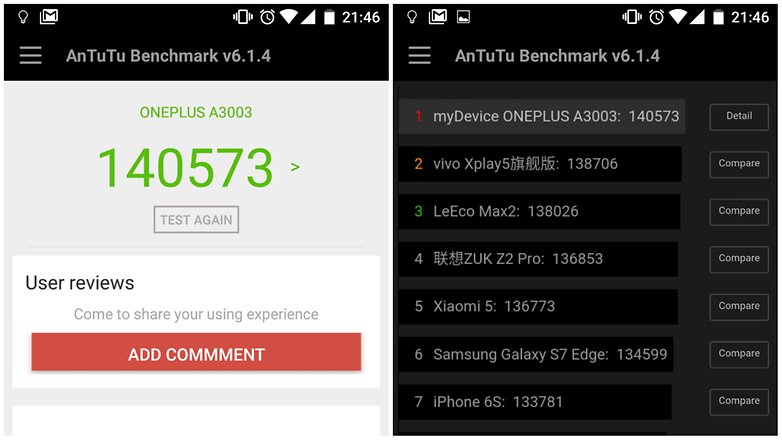 The OnePlus 3 has evolved, however, into a superior class. Under the hood, you can find the top-end processor Snapdragon 820, an Adreno 530 graphic chip, 6 GB RAM LPDDR4 and 64 GB internal memory. The results are all excellent, and as a consequence the OnePlus 3 is setting itself up to be just a rung below the Galaxy S7. As my colleague Omar Hamwi has already mentioned in the OnePlus 3 review, the device is one of the most powerful smartphones tested here at AndroidPIT.
Honor 8 vs. OnePlus 3: camera
A smartphone is also a camera, today, and many do this job better than others. Nevertheless, the OnePlus 3 and the Honor 8 are more or less on par with one another in this category. The OnePlus 3 has a 16 MP camera with an f/2.0 opening, as well as an optic stabilizer and facial recognition. The Honor 8, on the other hand, has a double camera with 12 MP, an f/2.2 opening (one of the lenses, the IMX386 is made by Sony and only photographs in black and white to get the best light).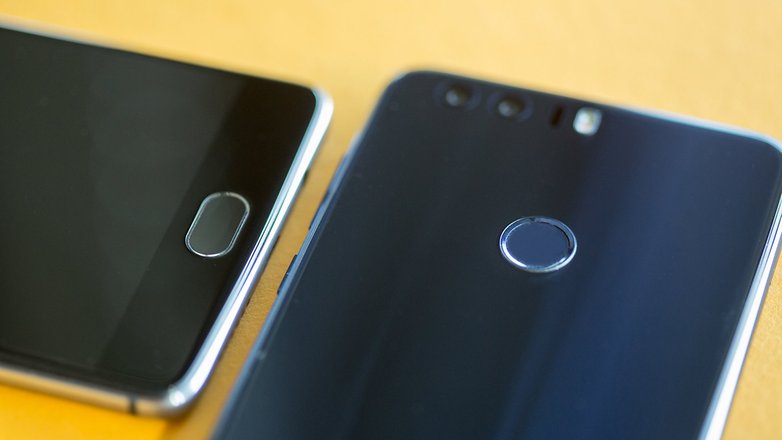 Both phones take great photos. From time to time, the camera on the Honor 8 focuses on the wrong spot and the other objects in the fore/background stay fuzzy, but the colors and details are sufficient enough, even in low light. The OnePlus 3 doesn't do much better in this regard. As far as selfies are concerned, the Honor 8 has the upper hand, offering different ways to personalize your images.
Honor 8 vs OnePlus 3: battery
Considering I've used both models now regularly, I can confidently say I prefer the Honor 8. This isn't shocking, as both phones use a 3,000 mAh battery; the only difference is the OnePlus 3's screen size. Generally speaking, the battery was never OnePlus's strong suit. In principal, it's not all that bad, because it lasts all day, but the Honor 8 gives you more freedom in this capacity. In any case, the two smartphones both have a USB Type-C charging port and rapid charging.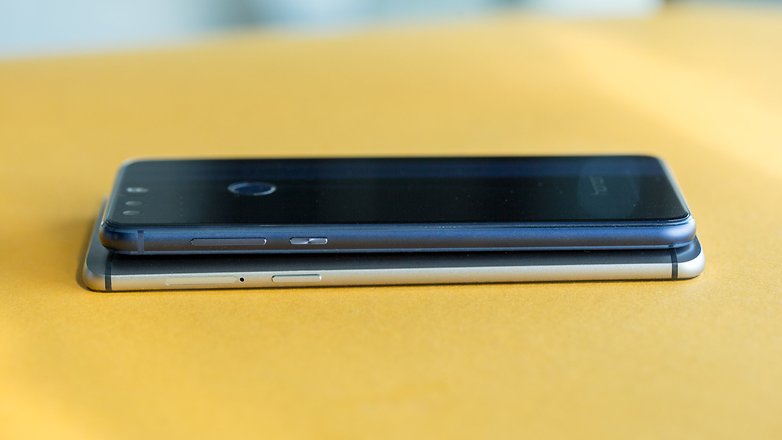 Honor 8 vs OnePlus 3: technical specifications
OnePlus 3 vs. Honor 8 technical specifications
| | OnePlus 3 | Honor 8 |
| --- | --- | --- |
| Dimensions: | 152.7 x 74.7 x 7.35 mm | 145.5 x 71 x 7.45 mm |
| Weight: | 158 g | 153 g |
| Battery size: | 3000 mAh | 3000 mAh |
| Screen size: | 5.5 in | 5.2 in |
| Display technology: | AMOLED | LCD |
| Screen: | 1920 x 1080 pixels (401 ppi) | 1920 x 1080 pixels (424 ppi) |
| Front camera: | 8 megapixels | 8 megapixels |
| Rear camera: | 16 megapixels | 12 megapixels |
| Flashlight: | LED | Dual-LED |
| Android version: | 6.0.1 - Marshmallow | 7.0 - Nougat |
| User interface: | Oxygen OS | Emotion UI |
| RAM: | 6 GB | 4 GB |
| Internal storage: | 64 GB | 32 GB |
| Removable storage: | Not available | microSD |
| Chipset: | Qualcomm Snapdragon 820 | HiSilicon Kirin 950 |
| Number of cores: | 4 | 8 |
| Max. clock speed: | 2.2 GHz | 2.3 GHz |
| Connectivity: | HSPA, LTE, NFC, Dual-SIM , Bluetooth 4.2 | HSPA, LTE, Dual-SIM , Bluetooth 4.2 |
Honor 8 vs OnePlus 3: verdict
Obviously it's a little difficult to say which Chinese smartphone wins this battle. Both phones have their own personality and qualities. Both are outstanding Android models that don't let their manufacturers down. The OnePlus 3 is definitely more powerful than its counterpart, the Honor 8, without being more costly. But the Honor flagship does a little more to defend itself this year, and edges out the OnePlus 3 with its camera and battery life.
At the end of the day, it boils down to personal preference and screen size. If you like phablets, the OnePlus 3 is probably more your style. If you don't, then go for the Honor 8.
Which phone do you prefer? Would you consider purchasing either of these phones?