Honor 8 review: fast, fun, affordable
Update:

Get $100 discount for a limited time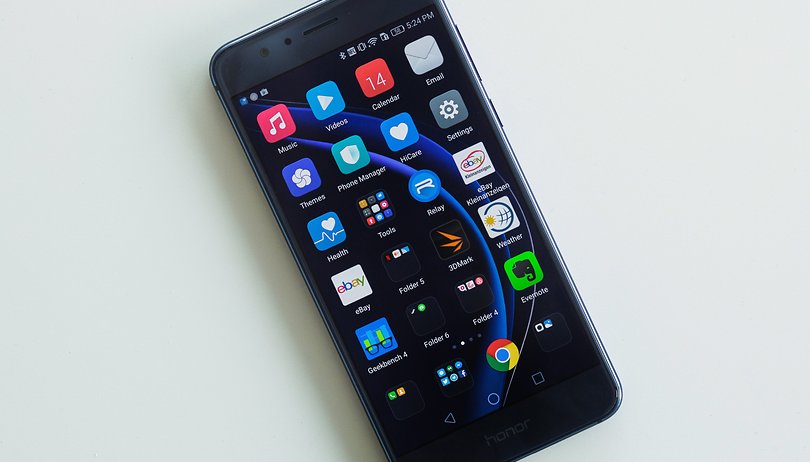 The Honor 8 is a smartphone primed to please a young audience, delivering an attractive design, a good camera and, above all, a fair price. In our Honor 8 review, we explore how this phone delivers on performance, and fun.
Good
Bright, sharp display

Fast fingerprint sensor

Strong overall performance

Sophisticated camera controls
Bad
Closes useful background apps
Honor 8 release date and price
The Honor 8 is available in the 32 GB version for a recommended retail price (RRP) of $399 in Midnight Black, Pearl White and Sapphire Blue, with a Sunrise Gold variant following in some territories. A list of dealers can be found on the HiHonor.com website.
For a limited time, the Honor 8 is available on Amazon for $100 off the normal price for both the 32 and 64 GB versions.
Honor 8 design and build quality
Honor employs the popular design trend of the past two years, delivering glass and aluminum on the Honor 8. Thanks to the vibrant colors the unit comes in, the back always offers striking reflections, bounced through 15 layers of glass.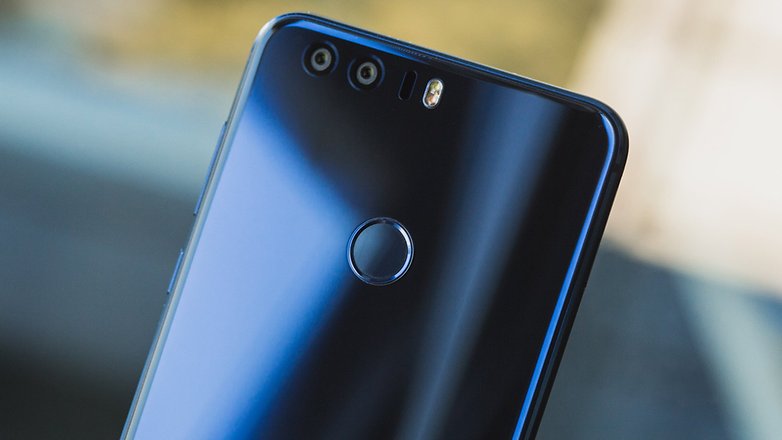 The Honor 8 has a more high-quality feel than many devices in its price range. If I didn't know better, I'd presume it was worth more than $400. It has a similar feel to the expensive Samsung Galaxy S7 from the front and back. It does feature less sturdy display protection than the aforementioned S7 though, with Gorilla Glass 3. In my few weeks with the phone, despite careful usage, it suffered a few scratches.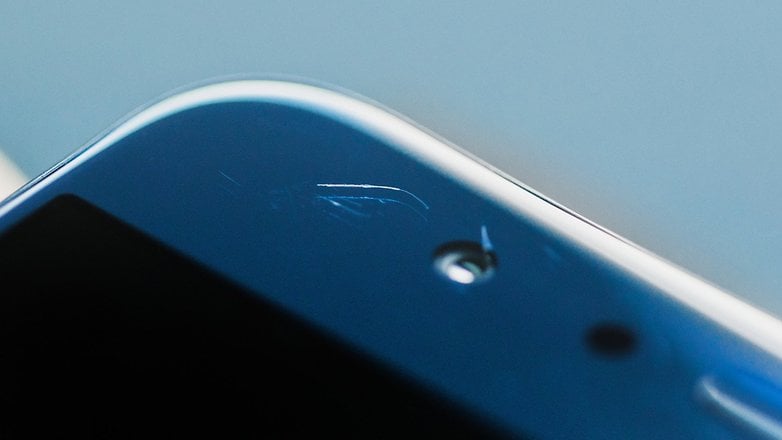 The button arrangement is intuitive and the power and volume knobs are easily reachable with a right thumb or left middle finger. The rear fingerprint sensor is also well-placed, and you can reach the programmable Smart Key button comfortably with a forefinger. The capacitive navigation buttons are displayed at the bottom of the display.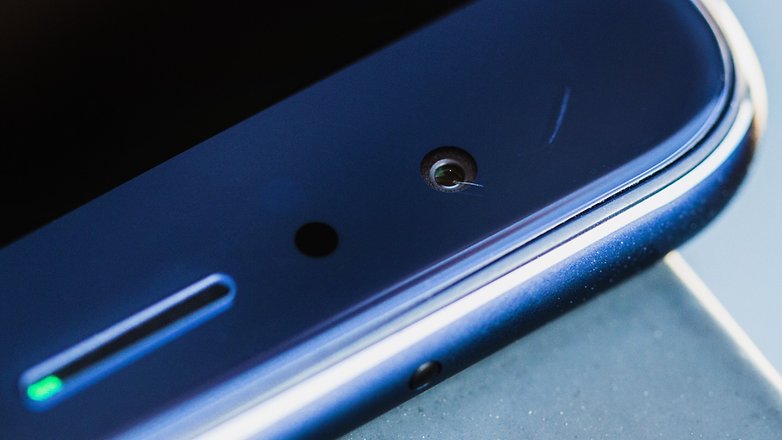 The Honor 8's frame is made of a rounded metal with subtly, diamond-cut edges. In four places the frame is interrupted so that the antennas can receive good reception. The dual SIM card slot is located on the left side and can also be used in single SIM plus microSD card configuration (up to 256 GB).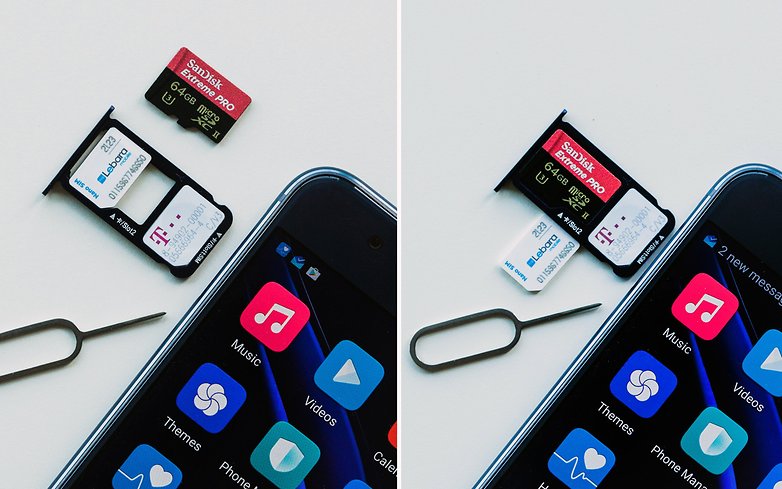 Other connections you'll find include a USB Type-C port and 3.5 mm jack located on the bottom beside the mono speaker. Those who like to use their smartphone as a universal remote control for home stereo, television and other household appliances, are also catered to: the Honor 8 has an IR blaster.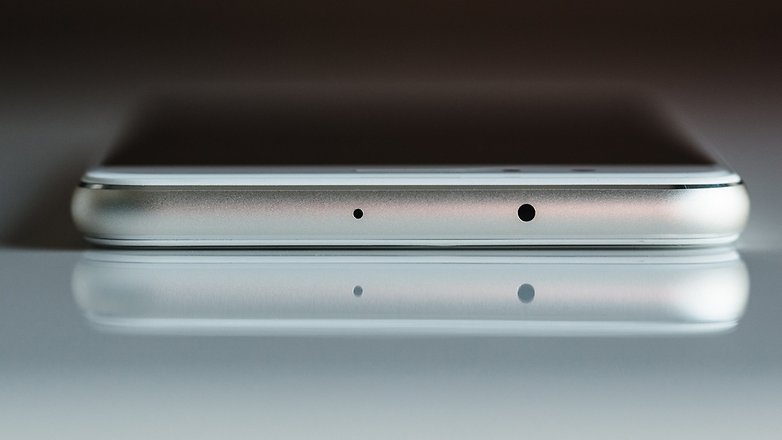 Unfortunately, the Honor 8 doesn't include water-resistance or splash protection, yet another reason why you might want to invest in a case to protect the ingresses. It really is quite a delicate little fella.
Honor 8 display
The Honor 8 display comes in at 5.2 inches at Full HD resolution, delivering 423 ppi. According to Honor, the display should match the DCI-P3 color standard used in the film industry. The display convinces in image quality, touch-precision, contrast and brightness; it's a strong offering from Honor.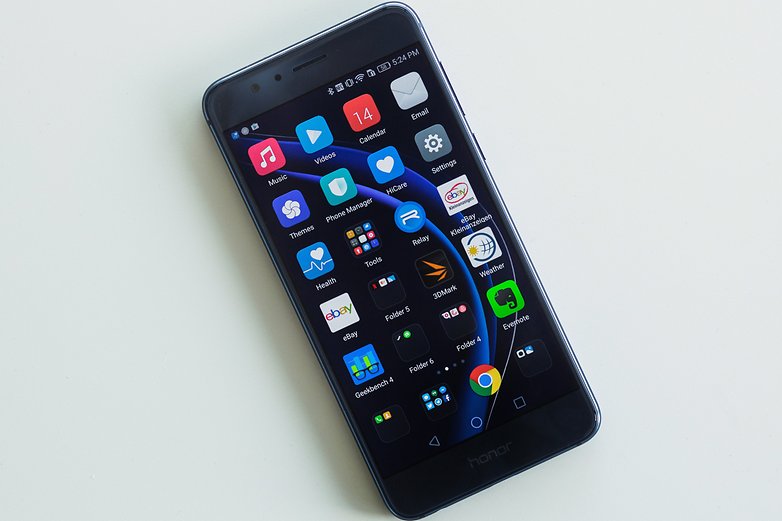 In daylight the display is easy to read and even at awkward viewing angles, remains clear, with colors that never diminish. Honor has also added many software features to improve readability further. You can change the color temperature and reduce the blue-light emitted to reduce eye-strain.
Honor 8 special features
The circular fingerprint sensor on the rear of the Honor 8 also acts as a customizable Smart Key. This physical button enables you to unlock your smartphone, open an app or do another action.
Touch your finger on the sensor, without pressing the button, and you'll arrive at an unlocked home screen or in the recently opened apps. The delay is about 0.4 seconds, the fastest in all our previously tested smartphones. It unlocks about twice as fast as the Huawei Nexus 6P.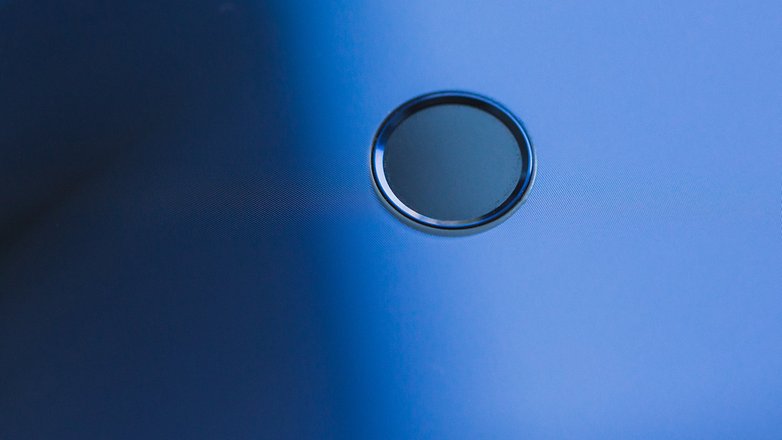 The Smart Key allows actions to be achieved with either a short, long or double-press. You can select the special voice recorder, flashlight and screenshot, or launch one of your apps.
Dual SIM
You can also insert a second SIM card into the Honor 8, so that two numbers can be accessible at the same time. This can allow you to use cheap data plans or avoid roaming charges abroad.
Honor 8 software
The Honor 8 arrives with Huawei's EMUI 4.1 interface based on Android 6.0 Marshmallow, with critical security updates supplied regularly by Honor. Pre-installed apps can be quickly and completely uninstalled, but some background 'optimizations' do interfere with the functions of some apps.
This is a heavily modified version of Android and is clearly designed to look similar to iOS. Perhaps in China, the benefits of additions like APK management, backup tools and the other enhancement tools are welcomed. For me, the adjustments are mostly disadvantageous. While I can't exactly pinpoint the cause, the symptoms are clear.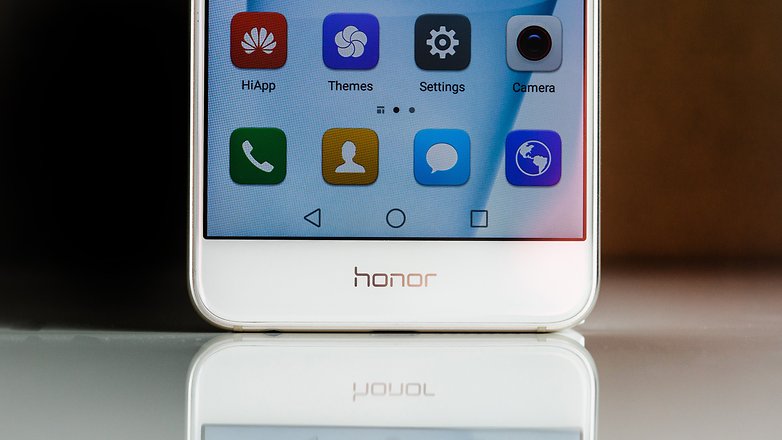 Individual apps like Caffeine or Touch & Travel, which must run in the background to function, are regularly closed and reset. News apps are unable to deliver up-to-date information, basically their key function. The handset fails to push messages. It's an everyday issue.
The problems have been known for some EMUI versions for a while and are yet to be resolved. Honor's recent partnership with XDA-Developers could, however, help resolve some of these issues and it opens up some new opportunities for the Honor 8 software.
In terms of pre-installed apps, however, the Honor 8 sets a great example. Although there is plenty bloatware to be found, it can all be uninstalled. And thanks to a handy wizard, even in one move.
Honor 8 performance
The Honor 8 is fast and its benchmark performance is both excellent and, surprising, especially in view of the relatively low price tag. The antennas swap easily between transmission towers for mobile internet, ensuring a fast and stable connection. The Honor 8 is fast in image processing, web surfing and it's faster all-around than many more expensive devices.
Inside the Honor 8 is a Kirin 950 octa-core processor from the Huawei-owned HiSilicon brand. It is made up of four Cortex-A72 CPUs @ 2.3 GHz and four Cortex-A53 CPUs @ 1.8 GHz, with a Mali-T880 MP4 graphics unit. 4 GB of RAM ensures quick changes between open apps and the internal memory deliver fast booting speeds when you turn on the Honor 8.
The gaming performance of the Mali GPU is perhaps the weak point of the device. The benchmark performance is far behind that of Snapdragon-based devices such as the OnePlus 3 or the LG G5. It's sufficient to play most Play Store games but not with the maximum settings.
The heat generated by Honor 8 under heavy use is moderate. I also didn't experience any slowdowns or depreciation, unlike the OnePlus 3 which benchmarked well at first and then yielded weaker and weaker results. Throughout my four-week test, the Honor 8 has been extremely stable, with no crashes or necessary reboots.
Honor 8 audio
The Honor 8 has a bottom-mounted single audio speaker. Despite its less than opportune position, the overall audio quality of the Honor 8 is good. An additional microphone helps to suppress noise, while the earpiece ensures call audio is heard loud and clear. During a phone call, you will also be well-understood.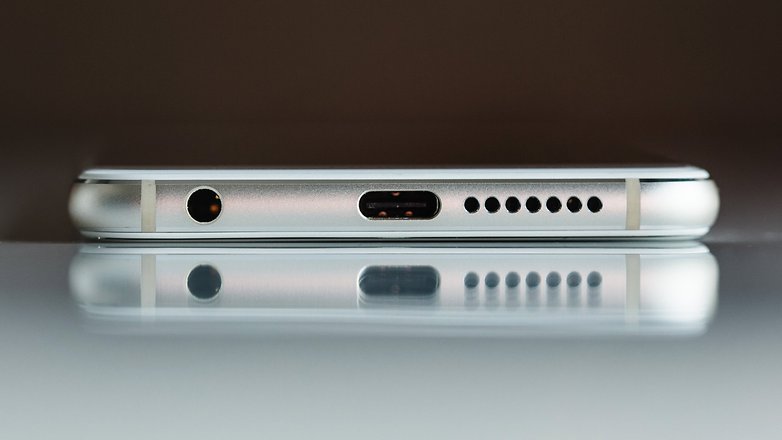 Honor 8 camera
Taking photos with the Honor 8 is a pleasure. Most snaps look good immediately, even if you have to make sure the focus is correct before shooting. Once you have, though, the colors and details are excellent day and night.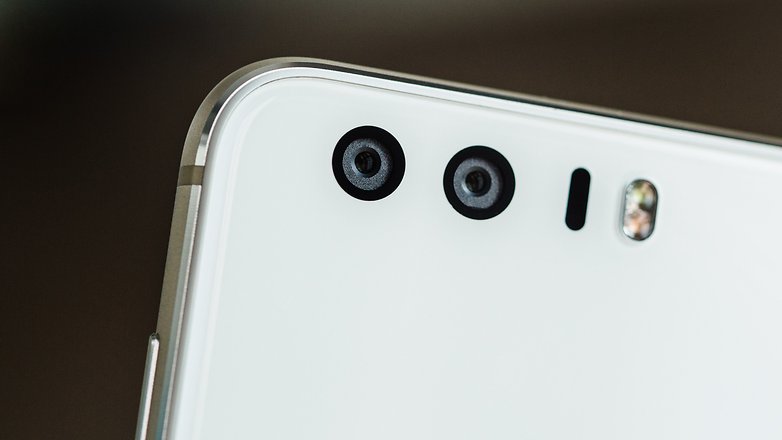 The Honor 8, like the Huawei P9 and P9 Plus, is equipped with two main cameras. This has two advantages. Firstly, one of the Sony-brand IMX386 sensors captures only in black and white and helps provide brighter pictures. Secondly, focus can be adjusted in 12 MP pictures up until the point you export it.
The main cameras have an f / 2.2 aperture, while the front camera makes use of an 8 MP sensor with f / 2.4 aperture lens. This is great for selfies, but I'd advise turning off the digital Beauty features: they just make your face look weird.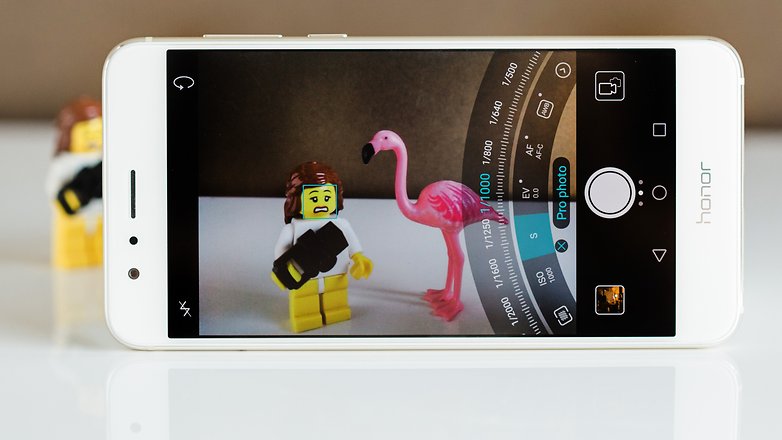 For more control, the camera app features a manual mode reminiscent of those from the latest Motorola Moto G and the Huawei P9. It has a number of customizable features including an exposures dial for shooting at night or light painting.
There is also a pro mode for video recording, meaning you can track objects, activate digital stabilization, shoot time-lapse and slow-mo shots. It's a great overall package.
Honor 8 battery
With its 3,000 mAh battery you can enjoy more than 24-hour battery life on the Honor 8. In the stress test using PCMark for Android, the Honor 8 (with SIM card inserted) lasts for almost eight hours, an hour longer than the more expensive HTC 10 and three hours longer than the OnePlus 3. The Honor 8 also features fast charging technology, providing several hours of talk time in just a few minutes.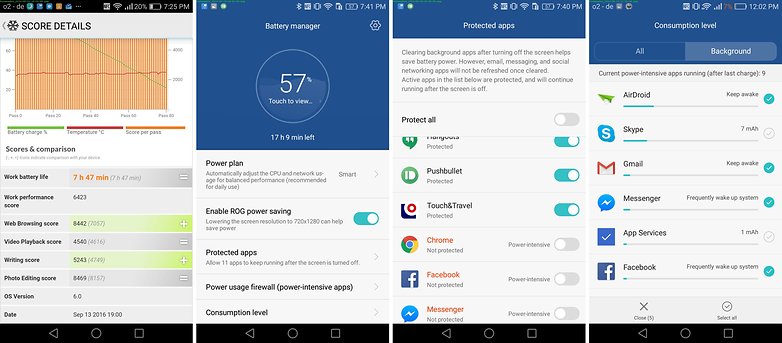 The Honor 8 is equipped with a complex power management system. It works out-of-the-box, automatically, and in the background. This consistently closes apps and regularly notifies the user about the fact that Facebook, or a browser or a Music app in the background, is consuming too much power and that it should be closed.
Unfortunately, this well-intentioned system is problematic. It stops some apps working as they should and the power-saving effect is marginal: its value is almost absent. Since the Honor 8 has a good battery life even without the feature in place, Honor should reconsider it.
Honor 8 technical specifications
Final verdict
The Honor 8 impressed me with beauty inside and out. Thanks to the good camera, it also scores in lifestyle. I don't know if you can get a better, new smartphone for less than $399.
The everyday software problems are a disappointment, but they could be improved in time as Honor hear more from the community. And so, I'm confident that the Honor 8 will prove to be a good long-term buying proposition. It comes highly recommended.