Geekom Mini IT 11 review: Lots of power on a mini PC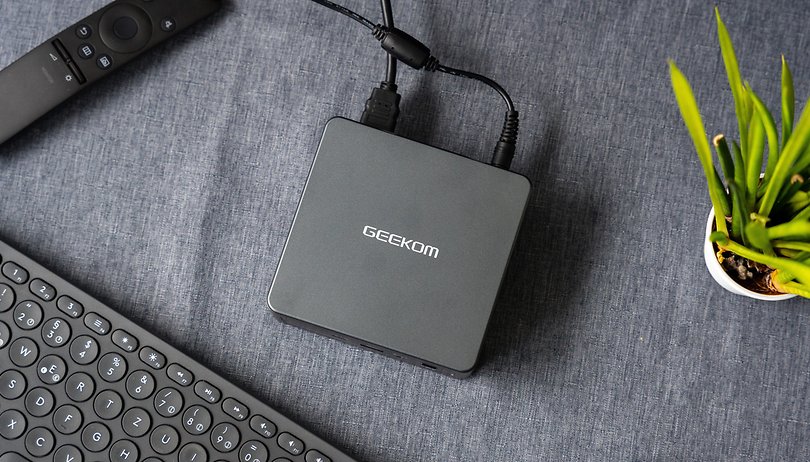 With the Mini IT 11, Geekom offers its most powerful mini PC. In a form factor that easily fits in a backpack, the manufacturer places a powerful 11th generation i7 processor, up to 16 gigabytes of DDR4 RAM, and a fast NVM SSD. But does the small case cause problems in everyday use and is the performance sufficient for video editing and games? Let's find out in this review!
Good
Brisk performance thanks to the i7 processor (depending on configuration)

Very compact and portable

Windows 11 Pro included without bloatware

Solid connectivity
Bad
Only limited upgradeable

Fan control is a bit choppy

No operation via USB-C power supply

Cheap SSD without DRAM
Short conclusion & buy
Our test impression of the Geekom Mini IT 11: A really powerful and above all well-designed mini PC. The solid upgradeability thanks to a slot for a 2.5-inch HDD or SSD as well as the high connectivity with current standards should be emphasized positively. However, you should definitely clarify whether the purchase of a mini-PC is worthwhile and whether the purchase of a larger model with a dedicated graphics card is not sensible at this price!
If you decide to buy the Geekom Mini IT 11, you will have to pay just under $590 with an Intel Core i7, 512 GB of SSD, and 16 GB of RAM. Cheaper versions are already available with an i5, 256 GB SSD, and 8 GB RAM—all models can be found on the manufacturer's homepage. Geekom offers a discount for the 512 GB and 1 TB storage variants for the publication of this review. The following links will take you directly to the offers—as a small bonus, Geekom also includes an additional carrying case.
This review was written in cooperation with the manufacturer Geekom. Geekom had no influence on my opinion or the exact content of the review.
Design & Connections
With dimensions of 117 x 112 x 45.6 millimeters, the Geekom Mini IT 11 fits comfortably in backpacks or even handbags. Nevertheless, the small setup has an SD card reader, HDMI, Mini-Displayport (DP) as well as five USB ports. Unlike the cheaper Geekom Mini Air 11, the integrated fan is much more noticeable in everyday use.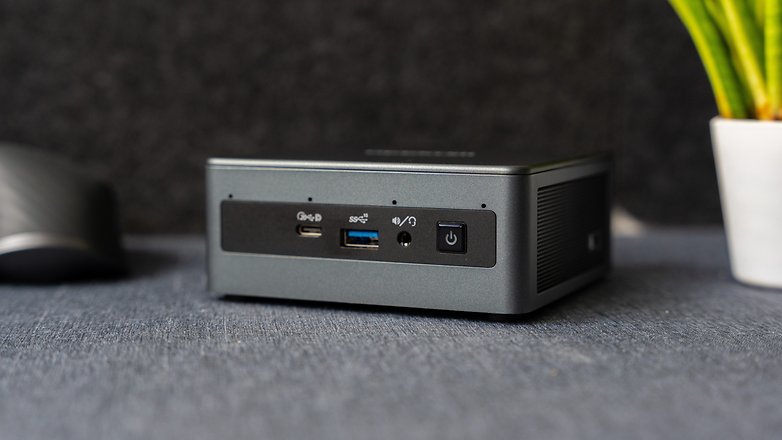 What I liked:
Very portable.
Solid connectivity.
Also fits on monitors thanks to the VESA mount.
What I disliked:
Limited expandability.
Fan noise clearly audible.
With a case thickness of 45.6 millimeters, the Mini IT 11 is a bit thicker than the cheaper and less powerful Mini Air 11. Geekom takes advantage of the extra space and offers you the option to upgrade hard drives and SSDs in 2.5-inch format. Although the IT 11 is a bit thicker, it remains very portable—the PC should easily fit in backpacks or handbags.
Alternatively, you can also install the Mini IT 11 on your monitor and thus create your own all-in-one PC. However, since the PC has to rely on its own power source, you'll have to plan for two sockets. Fortunately, a suitable VESA monitor mount for connecting the monitor and the mini-PC is included.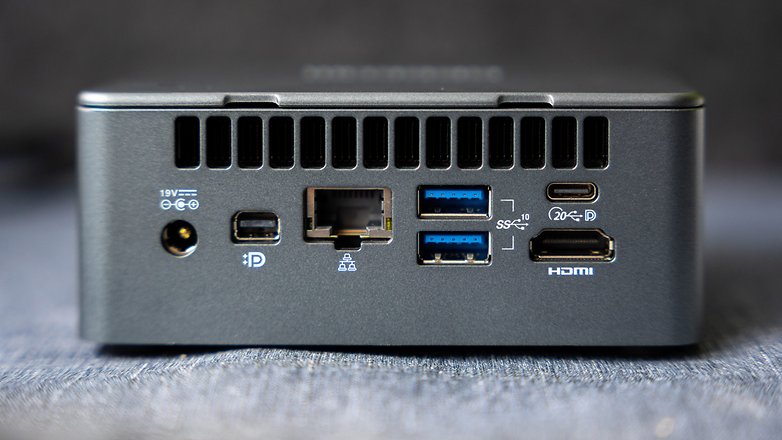 What becomes much more difficult with this installation, however, is connecting USB accessories or headphones. This is because Geekom splits the port variety along the sides, just like in a conventional PC. The distribution looks as follows:
In front

1x USB-C (USB 3.2 Gen 2 and DisplayPort compatible)
1x USB-A (USB 3.2 10 gbps)
1 x 3.5 mm headphone/microphone combo jack
Button for switching on

Left side
Right side
Rear

1 x USB-C (USB 3.2 Gen 2 and DisplayPort compatible)
2 x USB 4 in USB-A format
1 x RJ45 Ethernet port
1 x HDMI 2.0 port
1 x Mini DisplayPort connector
1 x DC jack
Personally, the port variety is sufficient for everyday use and even represents a reasonable upgrade compared to my MacBook Air from 2021. However, I connect both my mouse and keyboard via Bluetooth. If you use wired peripherals, two USB ports on the back will be taken. If you want to connect a hard drive plus another device via USB-A, you'll have to change the port temporarily—or use a USB hub.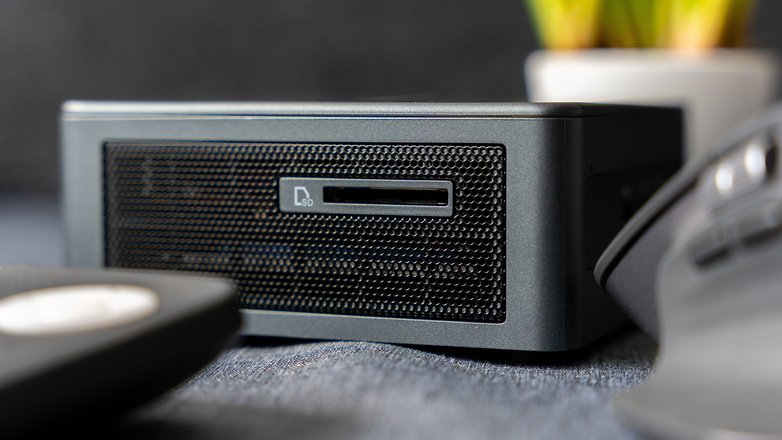 Compared to the cheaper model, there is a wireless upgrade to Bluetooth 5.2 and Wi-Fi 6. If you want or need to expand the Mini-PC's memory, you can do so via a 2280 M.2 SATA for the mass storage and DDR4 SO-DIMM for the RAM. Additionally, you can install 2.5-inch SATA hard drives for mass storage. Lastly, up to 64 gigabytes of RAM can be installed.
Software & Drivers
The Mini IT 11 comes with Windows 11 in the Pro version. However, the manufacturer also advertises that you can configure a dual-boot setup with Linux, for example. There is no pre-installed software or special drivers!
What I liked:
No bloatware or driver chaos.
Windows 11 Pro included.
What I disliked:
Product key not transferable due to OEM installation.
When you start the Geekom Mini IT 11 for the first time, Windows 11 greets you. The setup is self-explanatory and Microsoft proves how beginner-friendly the operating system has become in recent years. Besides the guided setup, Windows also convinces with a fresh design including a centered taskbar, integrated protection against malware, and a still unmatched variety of programs and apps.
While you had to struggle with installing drivers when setting up new PCs a few years ago, this is not necessary with the installed OEM version from Geekom. You only have to install codecs for video playback or drivers for peripherals like mice or keyboards after the first boot.
Last but not least, it is very positive that Geekom does not install any bloatware—Windows 11 is too complex at this point to find out all the advantages and disadvantages. So you don't have to install any superfluous programs and can start directly with the installation of the software you really need. A good transition to talk about the performance of the small PC.
Performance & Components
You can configure the Mini IT 11 with different components before buying it. The most powerful version with an Intel Core i7-1195G7 from the 11th processor generation was available for our review. Without a dedicated graphics card, you can use the Intel Iris XE G7 onboard GPU—a Lexar NM620 with 512 GB is available as an SSD. The RAM in the test unit was shipped with 16 gigabytes.
What I liked:
Fast i7 processor.
Fast working speed in office applications.
4K video editing, image editing, and gaming possible.
What I disliked:
Cheap SSD without DRAM.
Processor soldered.
Fan control a bit annoying.
In the configuration with the Intel i7, the Mini IT 11 is much faster than its smaller brother, which we reviewed a few months ago. The built-in i7-1195G7 comes from Intel's 11th processor generation and is considered one of the more powerful processors for notebooks and convertibles from 2021 according to Notebookcheck. Unfortunately, we encounter a first limitation of the small case here.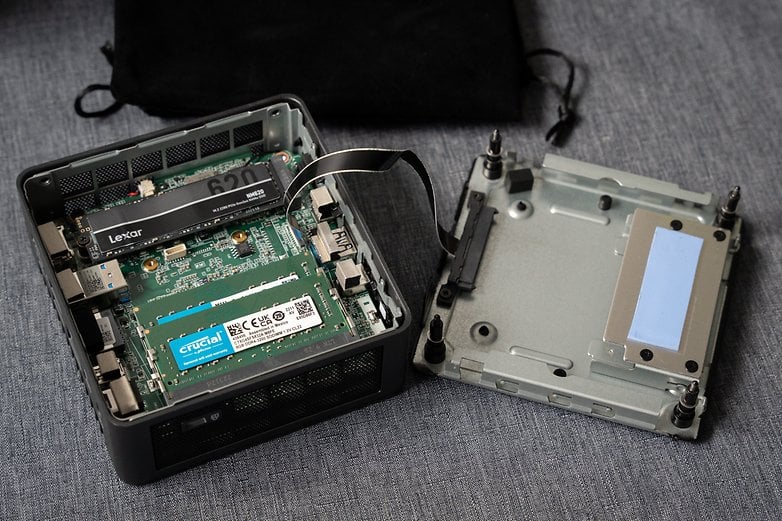 After all, the Mini IT 11 is neither a notebook nor a convertible—and thus does not have to run on battery power. Thus, the advantages of energy efficiency are comparatively of little use in the Geekom PC. The i7-1195G7 is also only equipped with four processor cores that are clocked at 2.9 GHz. They briefly reach up to 5 GHz in Boost—but this level of performance is not to be expected permanently. Overclocking is not really recommended due to the small fan in the mini-PC.
However, the performance is perfectly sufficient for everyday office use. If you want to surf the Internet, write documents and manage files with the Mini IT 11, you won't notice much loading times. Apps and programs open without noticeable delays and even the memory-intensive Google Chrome browser does not bring the configuration to its knees. As expected, however, you will quickly reach the limits of the onboard graphics.
Benchmark table
| Test | Result |
| --- | --- |
| Geekbench 5 | 17.434 |
| AS SSD Benchmark 2.0 reading | 2,799.02 Mb/s |
| AS SSD Benchmark 2.0 write | 2,238.32 Mb/s |
| Copy speed SD reader with SanDisk SD | up to 90 Mb/s |
Programs like Adobe Lightroom and Photoshop are part of my everyday work. And here I have to put up with significantly longer loading times than on my MacBook Air with an M1 processor, for example. Especially the new AI functions for recognizing objects or automatically filling image content push the small PC to the performance limit. The whole thing takes a noticeably long time and is also even audible.
The fan of the Mini IT 11 turns up frequently and quite loudly. It reminds me of a loud notebook fan and is a bit erratic. Instead of running permanently after a certain workload, it repeatedly starts up and down. Thus, the fan noise hardly disappears in the background. If you need absolute silence while working, you might be better off with a fanless model.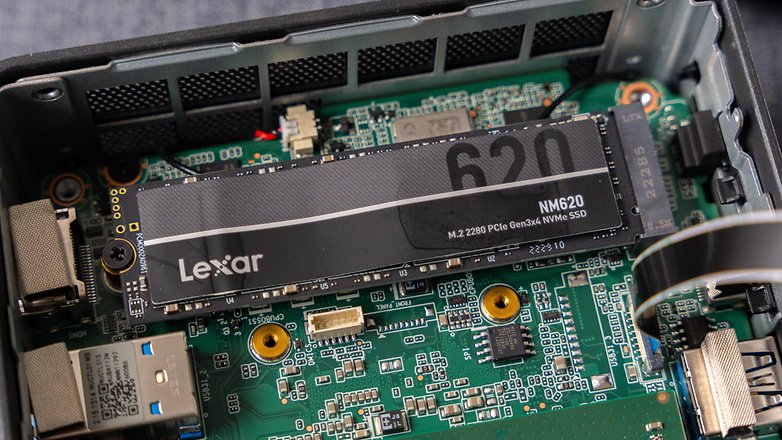 I found further disadvantages in the SSD. It achieves solid read and write speeds in the benchmark, details can be found in the benchmark table, but a look at the spec sheet reveals conceptual problems. The installed Lexar NM620 is an absolute entry-level SSD that is priced accordingly.
Therefore, it is manufactured without DRAM by the manufacturer. To simplify things a bit, the SSD always has to search the flash memory anew when accessing certain files and cannot remember where the required data packets are to be retrieved without DRAM. This is not only at the expense of the work speed, it also ensures higher wear. For a PC costing around $700, such a hard savings could have been avoided.
Overall, the performance level is appropriate for a compact PC, though. In fact, I was surprised by the fact that I was even able to edit 4K video footage without creating proxy files—this is where simplified mini-versions of videos are created as placeholders for editing—with a few jerks. DaVinci Resolve 11 didn't start to jerk until I also color-corrected the files and added animated titles. For simple editing projects, however, the performance is sufficient.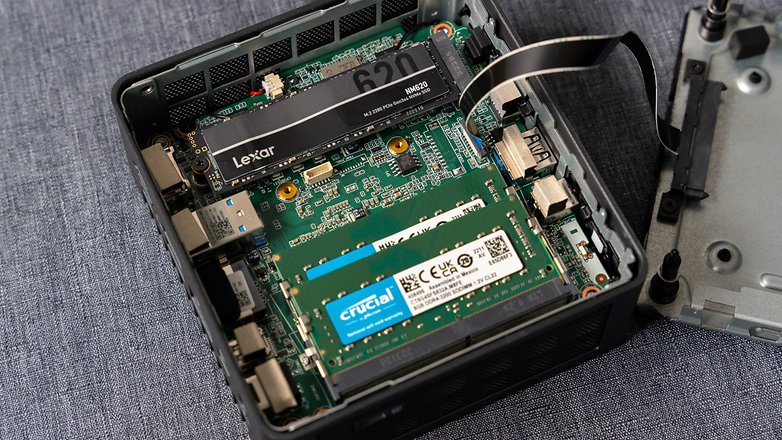 Another test out of interest: Yes, you can game with the Mini IT 11! For my test, I installed Counter-Strike: Global Offense, which promptly configured itself to very high graphics settings on a Full HD monitor. Thanks to the onboard graphics, there were a lot of stutters, but the game still looked nice with high graphics settings and ran smoothly. Thus, the IT 11 can also be used as a compact gaming console for indie titles or older AAA games.
Power supply
One advantage of mini PCs is that they are usually more energy-efficient than desktop PCs with an integrated power supply. The latter is located between the power socket and DC port in the Mini IT 11 and is rated for just under 90 watts. Operation via power banks is not possible, nor can monitors power the PC via USB.
What I liked:
Low power consumption.
Continuous operation tested by the manufacturer.
What I disliked:
With a power supply output of 90 watts, the Geekom Mini IT 11 is more power efficient than full-grown desktop PCs. Unfortunately, I was not able to measure the power consumption directly at the power outlet, since I tested the mini PC during a trip back home. However, the Open Hardware Monitor analysis tool consistently showed only about 26 watts when rendering a video for 30 minutes. At most, the unit consisting of CPU and GPU is supposed to consume 30 watts.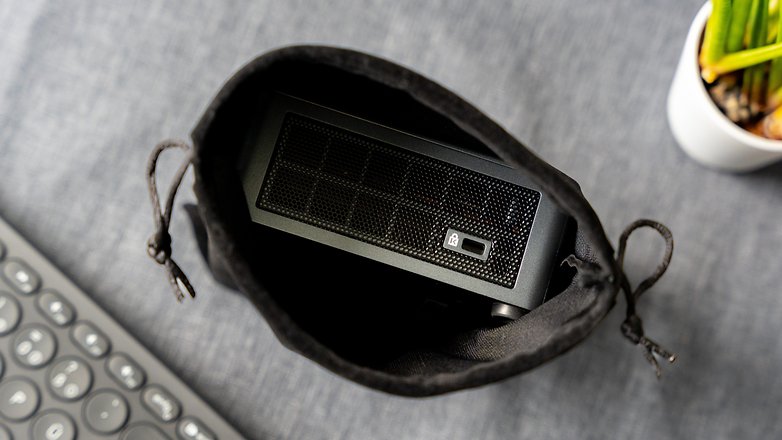 However, since both the components and the performance are comparable to a notebook, there is a disadvantage compared to modern laptops. This is because many manufacturers now rely on USB-C for the power supply. With a suitable screen, you can then both connect and charge them—for the future, this would still be a practical use case for Geekom's mini PCs. However, the Mini IT 11 currently has to be plugged in with the power supply.
Final verdict
My impression after many hours of testing is ambivalent—and Geekom's charming little Mini IT 11 cannot be blamed for that. The Chinese manufacturer has put together a really high-performance, portable, and high-quality computer. If you really want to save space on your desk or want to assemble a repairable all-in-one PC, you will get a very good overall package for just under $590. The only remaining points of criticism are a rather restless fan and a rather inflexible power supply via DC input. The use of a cheap SSD without DRAM can also be criticized for this price.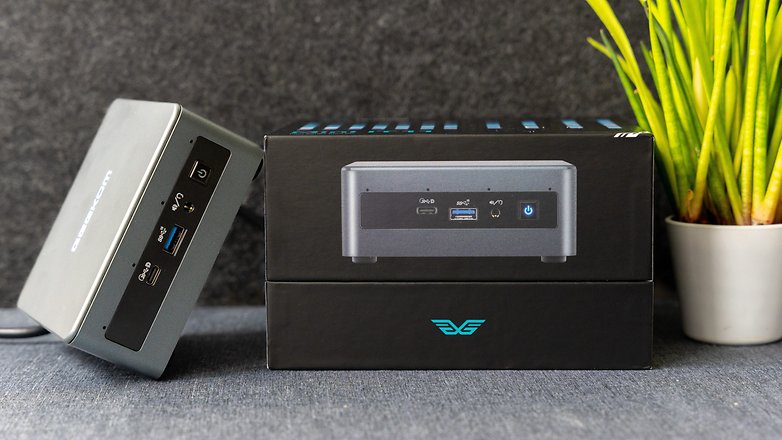 I have to give Geekom credit for including a Windows 11 Pro license without any bloatware. In general, the IT 11 looks high-quality, well-designed, and the hardware choices are very sensibly designed. Especially in office mode as well as in basic work in image editing and video editing, you will get pleasant workflow performance.
Unfortunately, the Mini IT 11 comes as a mini-PC but with some drawbacks compared to larger PCs. For example, the CPU is soldered, you cannot install a dedicated graphics card, and the compact standards for RAM and SSDs can also get expensive when upgrading. So, if you don't necessarily need a PC that fits in your pocket, you are better off with models with a micro-ATX mainboard in my opinion.