Garmin Forerunner 955 review: The ultimate running watch?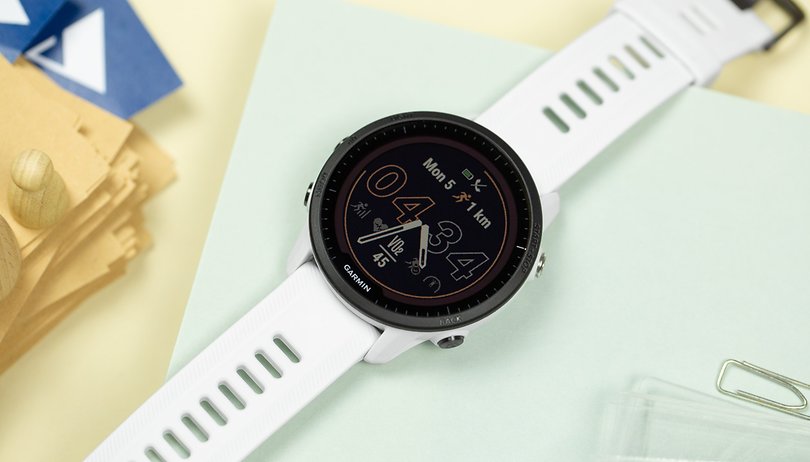 The Garmin Forerunner 955 is the top model among Garmin's running watches and offers dual-band GPS, turn-by-turn navigation, and a good two weeks of battery life in addition to countless training features. NextPit reviewed the sports smartwatch in detail.
Good
Many precise sensors included

Calculates many useful metrics

Chic and practical design

Successful operating concept including the touchscreen
Bad
Rather poor smartwatch features

Mobile payment options are limited
The Garmin Forerunner 955 in a nutshell
The Garmin Forerunner 955 is expensive, there is no question about that. Garmin itself charges a whopping $499.99 for the running watch, and the prices goes up by another Benjamin for those who want the solar option. However, you get almost all the features of the far more expensive Fenix 7 series, which then bestows the sports smartwatch an excellent price-to-performance ratio within the Garmin universe.
Garmin's ecosystem offers different types of chest straps, cadence sensors, and other accessories, making it an exciting proposition for you to further improve and expand the stored metrics of your favorite sporting activity. Below, you will find some notable examples.
Garmin HRM Dual Heart Rate Monitor
Design and operation
The Garmin Forerunner 955 arrives in the typical Garmin design with five buttons around the display. Unlike the previous version, however, Garmin's new top-of-the-line running watch now also features a touchscreen - and an enormously complex as well as thoroughly understandable user interface.
---
What I liked:
Easy to use user interface.
Can also be operated via buttons only.
What I disliked:
Display is not very impressive.
---
The Garmin Forerunner 955 comes in just a single size and two different colors: black and white. While the black model is kept completely black, Garmin colors the top of the bezel black on the white model. The sports watch is compatible with all 22 mm Quickfit straps, opening the doors to a world of customization for you.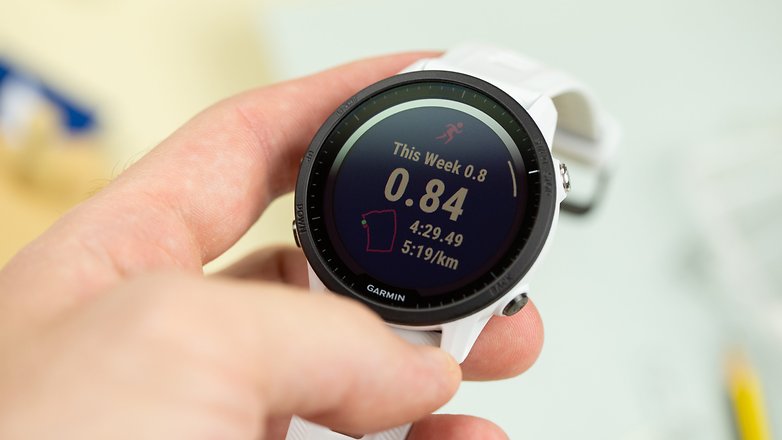 In front is the 1.3-inch touchscreen display with 260 x 260 pixels resolution, protected by Corning Gorilla Glass DX. When you compare it to modern smartwatches that have double or even quadruple the resolution, the display already looks rather pixelated, especially when it comes to looking out for finer detail. Furthermore, the transflective MIP panel with 64 colors is not exactly an explosion of colors even though it is partly responsible for the sensational battery life and remains perfectly legible under all light conditions.
There are the usual five buttons around the display with the Forerunner 955. On the right, you'll find the Start/Stop button at the top and the Back/New Lap button below it. On the left, you will find three buttons for light/quick menu, up/main menu, and down/music control. You can freely configure up to a total of seven shortcuts in the app, for example for the Start+Down button or for holding down the Start button.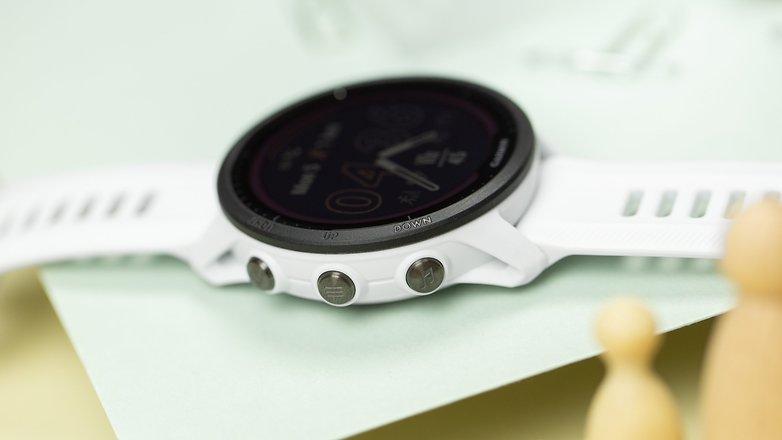 What is it that I generally like about Garmin smartwatches? For starters, the interface can also be wholly operated via the buttons. You can therefore access all functions even while wearing thick gloves, although the touchscreen is of course much more convenient in some cases. This applies to navigation via maps, for example, but more on that later. What is also nice is this: You can specify for each individual workout whether the touchscreen should be deactivated or not in order to avoid incorrect entries, such as when you are swimming.
By the way, you can also specify each individual workout on which data fields should be displayed here. For example, heart rate, time, endurance, running power, distance, and so on. You can also plaster the watch's face with different data fields accordingly and thus, will always have the most important metrics in view. In addition to the standard dials, you can find countless other watch faces in the Garmin Connect IQ Store.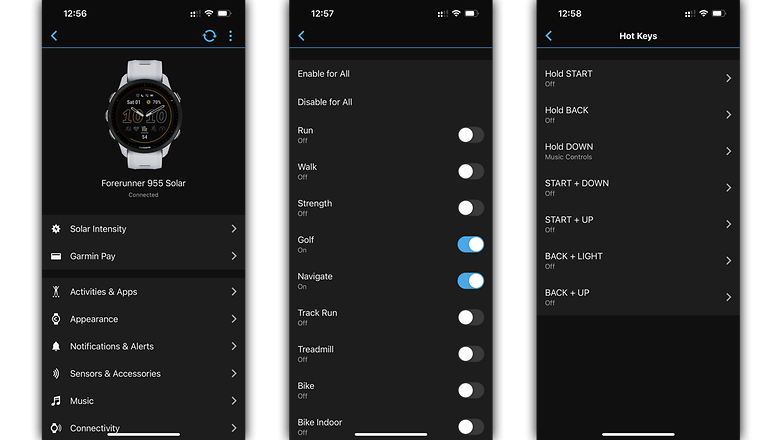 The operation of the Forerunner 955 is clearly structured. Starting from the home screen, you swipe vertically through a configurable list of widgets that inform you of various details such as the training load, VO2Max value, sleep quality, notifications, weather forecast, or sun exposure. Alternatively, you can also use it for music playback controls. You can always access additional details by tapping the widgets. Behind your VO2Max value, for example, you'll also find an estimate of your lactate threshold as well as a forecast for current 5K, 10K, half-marathon, and marathon times.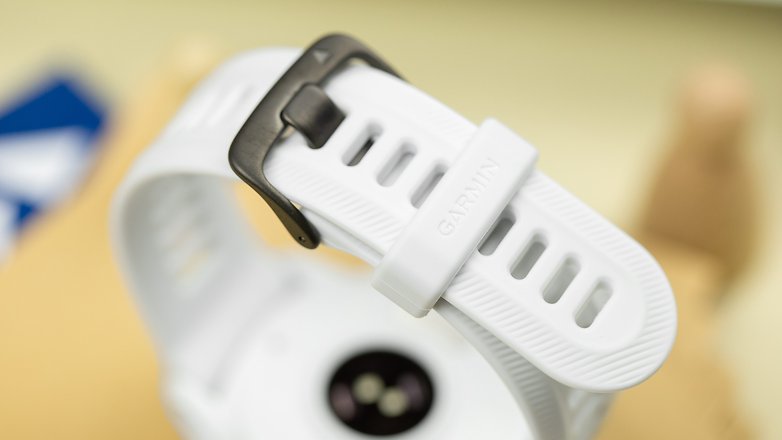 A long press on the light button on the top left of the Forerunner 955 launches a configurable quick menu with functions like Garmin Pay, DND mode, find smartphone, timer, key lock, or turn off watch. A long press on the up button opens the main menu with numerous settings for the smartwatch, from the alarm clock to the language to the energy-saving profile. Most of these settings can also be found in the Garmin Connect app, which is a far more convenient way of managing such operational details.
Even though the extremely complex interface seems a bit overwhelming at first due to the extensive range of functions, everything is logically structured and easy to find. After a few weeks, operating the Forerunner 955 becomes second nature. Systematic problems, such as frequent accidental key presses during push-ups or incorrect inputs via the touchscreen, did not occur during the review duration which I found to be amazing.
Smartwatch features
If there is one aspect where Garmin still has to catch up, it is the smartwatch features. While the ConnectIQ store now offers a decent selection of apps, the smart features of the Forerunner 955 are not comparable with those of an Apple Watch or Pixel Watch. Garmin Pay is also unfortunately not yet widely supported worldwide.
---
What I liked:
ConnectIQ store with many apps and watch faces.
What I disliked:
Limited bank support on Garmin Pay.
No hands-free function on the smartwatch.
No LTE version available in 2022.
---
The Garmin Forerunner 955 offers most of the industry-standard smartwatch features. At this point, I would like to explicitly exclude the Apple Watch, as well as the Samsung Galaxy Watch 5 and the Pixel Watch, which are miles ahead of all other competitors I know due to their deep integration with iOS and Android, respectively.
Of course, you do receive notifications from the smartphone on the Forerunner 955 and can at least read snippets of WhatsApp or Slack messages. However, replying to messages is not possible on the timepiece. However, if you delete the notifications on the smartwatch, they also disappear on the smartphone (I tested this out on the iPhone). Unlike the Venu 2 Plus (review), the Forerunner 955 neither offers a hands-free function on the wrist nor support for voice assistants.
On the Forerunner 955, you have access to Garmin's app store called Connect IQ Store. The best way to do that is via the corresponding app on the smartphone. You will find a really impressive selection of apps here, from countless watchfaces to Komoot, Spotif, and the like. The apps we tested all worked flawlessly.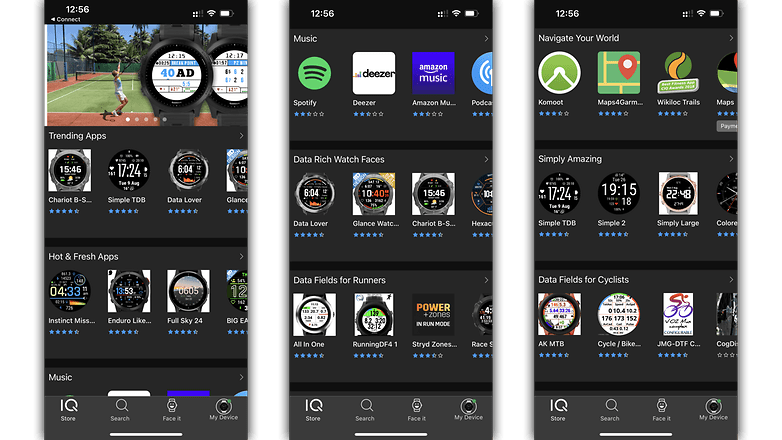 You don't need an app for mobile payments, because Garmin has its own payment system known as Garmin Pay. Depending on where you live, the list of supported banks varies. You will be able to check out whether your bank is supported by Garmin Pay via this list on the Garmin website.
Lastly, one particular feature in the smartwatch market that plagues many models would be the lack of LTE. While its predecessor, the Forerunner 945 from 2019 was available with an optional 4G modem, Garmin does without an LTE version for the Forerunner 955. Sure, LTE connectivity requires other chipsets, LTE comes at the expense of battery life, LTE needs another antenna in the case which adds weight, and so on. But LTE also has major advantages: from the emergency call function during ultramarathons to paying for your Sunday rolls at the bakery after a pleasant run.
Sensors and tracking
The Garmin Forerunner 955 offers more tracking options than almost any other sports watch on the planet - not least thanks to Garmin's large portfolio of accessories.
---
What I liked:
Incredible number of sports modes with real added value.
Great metrics for endurance athletes.
Extremely accurate multi-band GPS.
What I disliked:
Overwhelming number of options.
Many overlapping metrics.
---
The Garmin Forerunner 955, like Garmin's other top-tier watches, has such an incredible number of features that even if you're a diverse amateur athlete, you won't come close to taking advantage of them. Armed with so many features, we can't come close to capturing them all in this review but we will still give it a try.
GPS & Navigation
One of the highlight features of the Garmin Forerunner 955 is the new multi-band GPS, and as a result, it has more ways to receive signals from positioning satellites, which ultimately increases accuracy. We tested the Garmin Forerunner 955 in direct comparison with the Apple Watch Ultra and the Amazfit GTR 4, which also enables multi-band GPS.
In a direct comparison with the Amazfit GTR 4, the GPS tracking on the Forerunner 955 is a tad more accurate. For example, the Garmin watch showed better coverage consistency for routes that have been run several times in the forest. By the way, Garmin enables multi-band GPS on the Forerunner 955 right out of the box, whereas you have to manually activate the feature on the compatible Fenix models. Do take note that multi-band GPS consumes a lot of battery power. According to Garmin, the workout runtimes with multi-band GPS and normal GPS are 20 and 31 hours, respectively.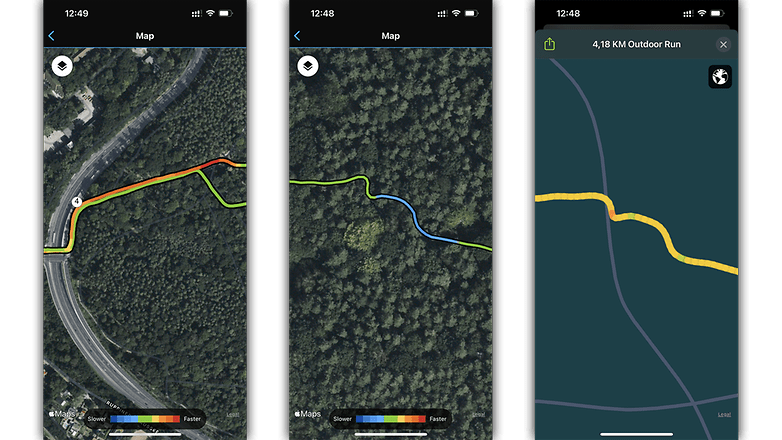 Another feature of the Forerunner 955 that is worth highlighting: You have 32 GB of space for maps here, and only the Sapphire Solar models of the Fenix 7 series offer that much for at least $899.99. You will have access to Garmin's worldwide TopoActive Maps on the top Forerunner, but not everything fits on the watch at once. Europe and North America alone take up about 10 GB each.
You can then use the maps for turn-by-turn navigation, for instance, to specific coordinates, along imported routes, or to POIs in the vicinity. How about having you tell the sports watch: I'd like to run a circuit from here to the north with a total length of 8 kilometers - and the Forerunner 955 generates a suitable running route including turn-by-turn navigation. In addition to TopoActive, there are also SkiView and CourseView maps for ski slopes and golf courses.
Outdoor sports: from pulse to training readiness
You've just seen it in the GPS and Navigation section: The Forerunner 955 is the ultimate sports watch for runners and triathletes, respectively. It reflects this not only in its navigational capability but also in terms of body tracking. With Garmin's new Elevate V4 PPT sensor, the running watch measures your heart rate and the oxygen saturation in your blood. It also records your breathing rate and heart rate variability.
From this measurement data, the Garmin Forerunner calculates a huge bunch of other metrics. The most important of these are:
Body Battery: Your body's battery, so to speak - everyday life discharges it, and sleep recharges it. If you have a lot of stress or train hard, then the body battery is drained faster. Sufficient and quality sleep ensures that the body battery is full in the morning.
Workout Readiness: How much should you work out today - or rather: Should you exercise at all today? Unlike Body Battery, this value focuses more on the physical condition rather than the general condition of the body.
HRV Condition: Heart Rate Variability is a reliable indicator of your current cardiovascular fitness. Intense cardio sessions bring the value down just as much as a party weekend or as in my case right now, a cold.
Training Effect: What is the focus of your training right now: endurance, speed, or power? You can receive feedback on whether your training is mainly aerobic or anaerobic, allowing you to balance your training regime.
Acute Load: You can view a time history of the last workouts and how hard your workouts were over the past few days.
Training Condition: How hard did you train in the last seven days, and how well did you recover? This value combines Acute Load, HRV Condition, Training Effect, and VO2Max Trend into one metric and spits out a current diagnosis for you. Among them include Recovery, Unproductive, or Loaded.
The biggest challenge now is: What do I do with all these values? Unfortunately, you will have to figure that out for yourself. The body battery and the training readiness are similar and are an indicator of how much strain you should put on yourself in general or physically at the moment. The other four values, on the other hand, look more into the past and tell you in different ways how you have challenged yourself lately.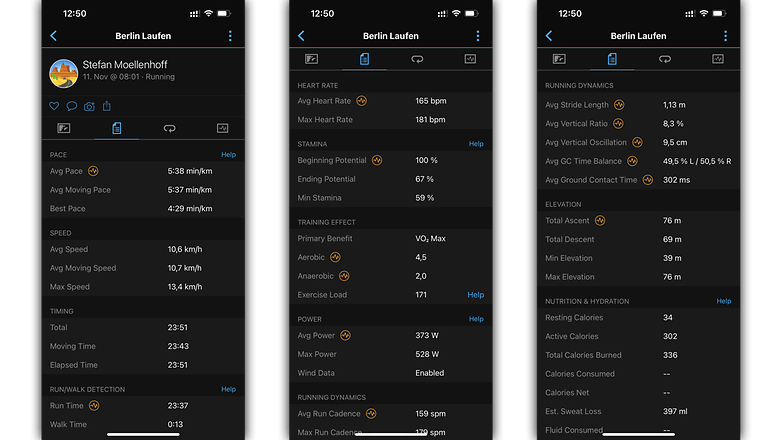 Another exciting feature for endurance athletes is the stamina value. Here, the Forerunner 955 calculates how much energy you still have in the tank during the workouts and dares to venture a guess on how long you can still hold out at the current load. During a long-distance run, for example, you can estimate relatively accurately whether you'll make it to the finish line at your current pace or not. There's also a calendar in which you can enter your planned races in the near future. It is here where you will also receive a time forecast based on your current VO2Max value.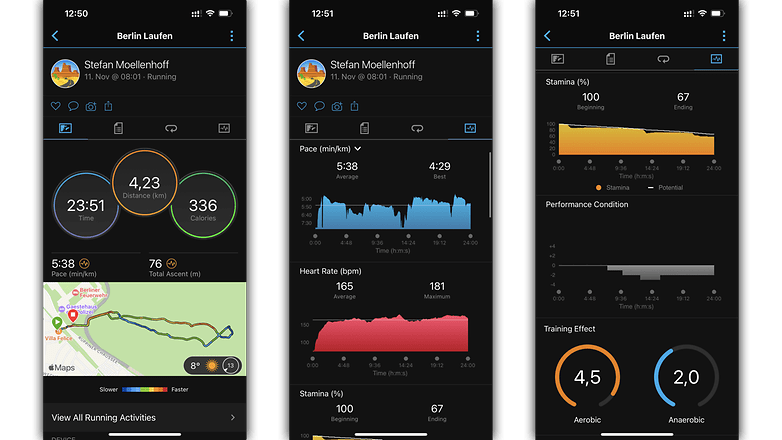 Of course, the Garmin Forerunner 955 mainly relies on the heart rate to record the current load. It is here where the PPT sensor does very well as expected. It is especially pronounced during endurance sports, as the wrists are usually not bent and strained too much, and hence, no major differences are visible in a direct comparison with a chest strap system. Only during interval training can you see that the increase or decrease in heart rate is registered a bit faster using the chest strap system. However, this does not have a big impact on the workout's overall balance.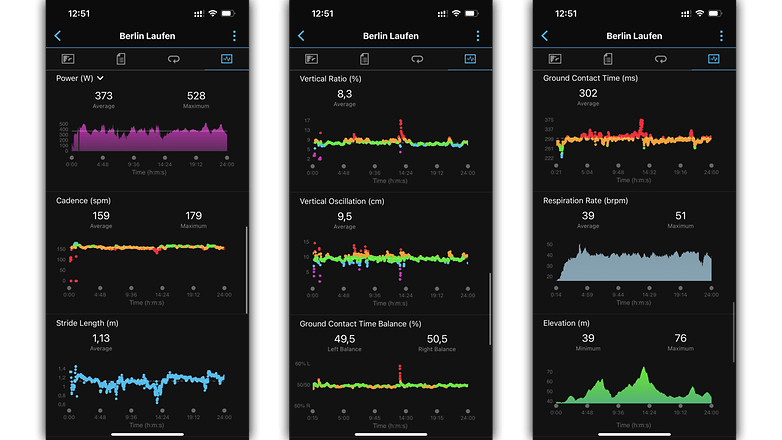 You can, of course, further improve the heart rate measurement with one of the many Garmin chest straps and then also receive additional measurement results to your running efficiency values, such as the ground contact time or the vertical movement while running.
Indoor sports & fitness
Apart from the typical outdoor sports modes for running and cycling, the Garmin Forerunner 955 offers countless other sports modes to choose from. In total, there are a whopping 51 of them. Unlike many smartwatches, "Strength Training" does not just change the name stored in the app for the respective strength unit. Instead, you get unique evaluations of the muscle load during dumbbell training because the watch recognizes which exercises you perform during the workout and counts the repetitions. You only have to mark the sets and can even enter the weights used if desired.
In my smartwatch reviews, fitness training is always the acid test for the integrated pulse sensors in smartwatches. Wrists that are bent during push-ups or forearms that are tense during pull-ups hinder the blood flow at the wrist, which significantly reduces the measurement quality. The Garmin Forerunner 955 still performs quite well in these tests compared to a chest strap system, but it delivers significantly lower values during push-ups, for example. On the positive side: The current Garmin watches perform better than all smartwatches that I have reviewed so far - with the exception of the Apple Watch Ultra, which actually has slightly more precise measurements and a faster reaction.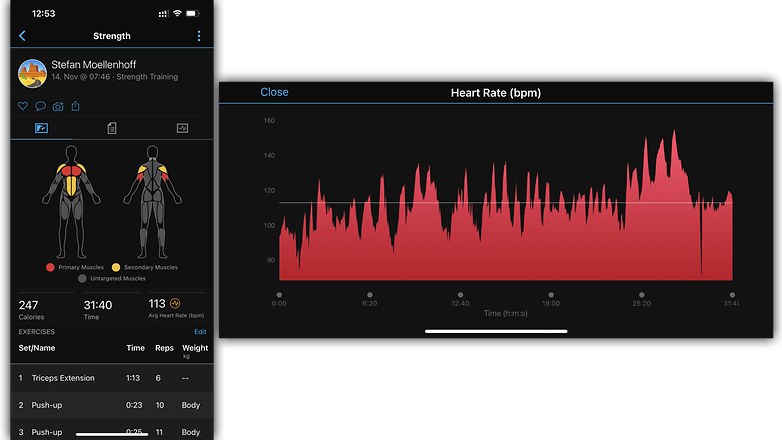 When playing golf, there are not only maps and details of 42,000 golf courses on the globe, but also swing tracking. Those are just two of many examples. There are other various hidden features among the sports modes, such as turn-by-turn navigation or a feature called Health Snapshot, which outlines your current state of health within two minutes based on stress level, heart rate, and heart rate variability.
Sleep tracking
Last but not least, the Garmin Forerunner 955 offers sleep tracking, which records various sleep phases in addition to the times you fall asleep and get up. Due to the lack of a sleep lab, we cannot track the sleep phases as we would have liked. At least the fall asleep and wake-up times precisely match my actual bedtime and my alarm clock.
This is also where the SpO2 sensor comes into play, which is supposed to detect two main things in smartwatches: Sleep apnea and altitude sickness. The Garmin Forerunner 955 can tell if you're having breathing problems at night based on your blood oxygen saturation. And if you're in a high altitude situation, a drop in blood oxygen saturation is an indicator that your body can't handle the altitude.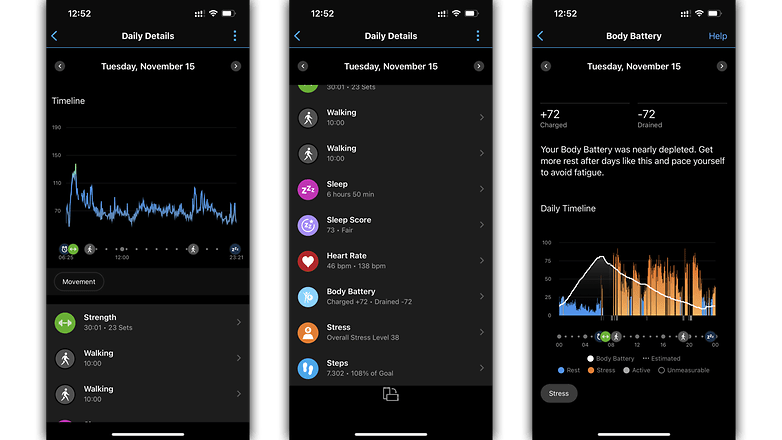 Battery life and solar
The Garmin Forerunner 955 offers an impressive battery life of about two weeks with the factory settings. In "running" mode during workout tracking, the running watch should also offer sufficient runtime for most ultra-marathon runners, although the solar option only offers limited advantages here.
---
What I liked:
Great battery life, both in standby and during exercise.
What I disliked:
Solar option is only useful for niche cases.
---
15 days: That's how much runtime Garmin is confident of the Forerunner 955 lasting. In reality, we actually achieved that figure with the default settings enabled and a rather short sporting session per day as well as countless notifications. If you activate the nightly SpO2 tracking, regularly listen to music via the smartwatch, and are on the move for hours with activated multi-band GPS every day, the runtime is naturally shortened.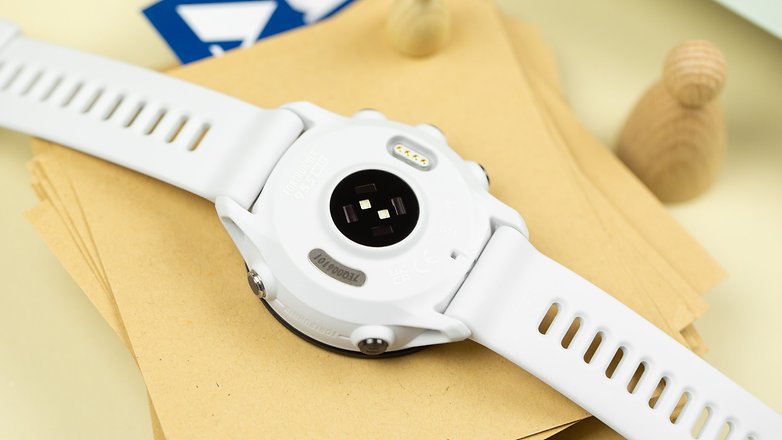 Also, while reviewing the Garmin Forerunner 955, I realized that I've obviously been too preoccupied with power stations and photovoltaics recently. Why else would I have equated 345 mAh of battery capacity and with three hours of daily sun exposure to an additional 25 percent extra runtime? This means you'll collect a whopping 7.756 Wh per year using the solar option! To compensate for the $100 price difference between solar and non-solar model, you need 3.2 million years at an electricity cost of 40 cents per kWh to make back your initial investment.
What I mean by that is: The solar option pays off for you if you are an ultra-marathoner, where 20 hours of multi-band GPS runtime might not be enough for you. If you really need every little bit of extra battery you can get, go for it. Otherwise, it's something for the very long term - or you can just go for the cheaper version without solar.
Final verdict
The Garmin Forerunner 955 is probably the best running watch NextPit has reviewed so far, and it is surprisingly affordable. Sure, $499 is a lot of money for a sports watch, but hear me out. The Forerunner 955 packs the vast majority of features from the Fenix 7 (review), which is at least $200 more expensive, into a slightly less bulky and less robust case with similarly great battery life.
If you're looking for the ultimate sports watch and can do without the advanced smartwatch features that only an Apple Watch or Galaxy Watch 5 Pro (review) or Google Pixel Watch (review) offer, the Forerunner 955 is an all-around great fitness smartwatch. It is just a shame that Garmin still does not offer an LTE version in 2022.