Galaxy S6 vs Galaxy Note 4 comparison: how does Samsung's 2014 phablet hold up now?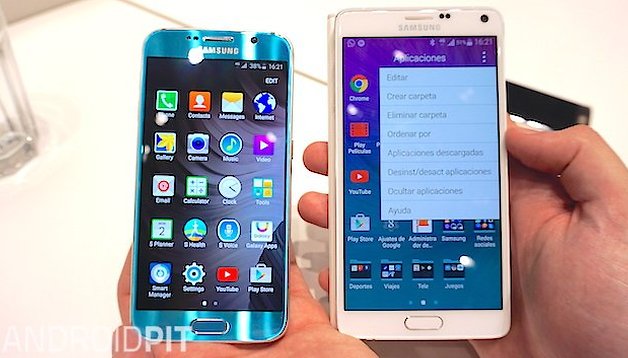 The Samsung Galaxy S6 and Galaxy Note 4 are two of the most powerful smartphones on the planet. The S6 has just wowed us at MWC 2015, while the Note 4 currently sits at the top of our best Android phones pile. But what are the major differences? And which is the best device overall? Find out in our Galaxy S6 vs Galaxy Note 4 comparison.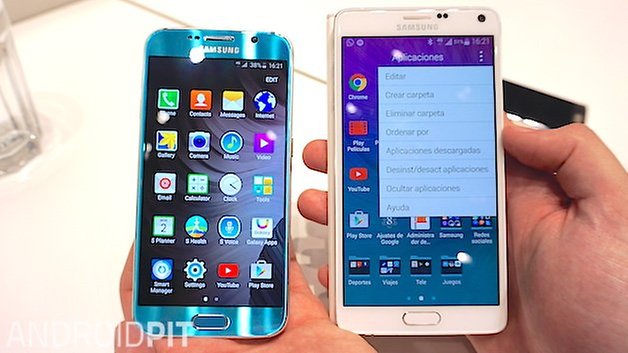 Galaxy S6 vs Galaxy Note 4: Design
The Galaxy S6 is a slim device of glass and metal. The corners are softly rounded and the face and rear are flat. The Gorilla Glass 4-coated front and rear are something completely new from Samsung, and it's one of the best designs the Korean company has ever produced (even though the back quickly attracts fingerprints).
One of the caveats of the consistent unibody S6 construction is that the battery is non-removable, which is sure to pain some die hard fans. This is definitely an area in which the Galaxy Note 4 wins out.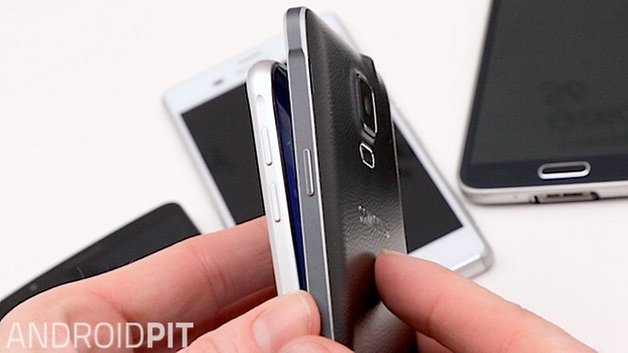 The Galaxy Note 4 features a metal trim with a raised, textured plastic rear. It's a more angular handset, and the way the back sticks out slightly makes it look less polished and precise than the S6.
The two Samsung devices are also different in regards to the size - the Note 4 with a 5.7-inch display against the 5.1-inch S6. The Note 4 is taller, wider and heavier.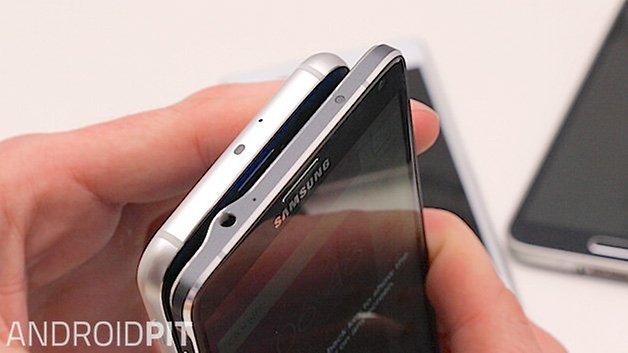 Galaxy S6 vs Galaxy Note 4: Display
With the Galaxy S6, Samsung has clearly addressed some of the key design concerns which plagued the Galaxy S5, but what of the display? The South Korean company never misses a beat when it comes to screen quality, and you will find a state-of-the Quad HD (2560 x 1440 pixels) Super AMOLED display on the Galaxy S6.
The Note 4 also features a super-bright QHD display, and there isn't much between them. The pixel density of the S6 is a little higher at 577 ppi, compared to the Note 4's 515 ppi. The result is that the Galaxy S6 may appear a tad sharper, but at the cost of a smaller screen. It must be said, however, that these are two of the most beautiful displays on the market.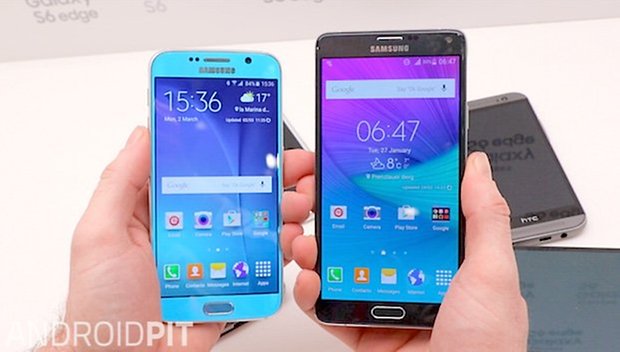 Galaxy S6 vs Galaxy Note 4: Software and performance
Both handsets are running Samsung's TouchWiz UI - the Galaxy S6 with a streamlined Android 5.0.2 Lollipop, and the Note 4 coming with Android 4.4.4 (upgradeable to Lollipop in some territories).
Samsung has included less "bloatware" than ever before on its Galaxy S6, but that's not to say there still aren't a few prepackaged apps present that you may or may not want. Despite this, the OS runs as fast and smoothly as ever, hinting that Samsung's latest edition Exynos CPU is more than capable of handling some excess bloat.
The differences between the two phones' TouchWiz UIs aren't dramatic; where the software really differs is the Note 4's S-Pen stylus functionality. The Note 4's own stylus offers a range of options, from capturing snapshots of text and pictures, to sharing links more efficiently. This is an area where the Galaxy S6 cannot directly compete.
The S6 has the advantage of a vastly improved fingerprint scanner, and it includes some new gestures and an emergency feature where if you press the power button three times it sends out an SOS message. Here's hoping you don't need to use it!
Galaxy S6 vs Galaxy Note 4: Camera
The Galaxy S6 camera is one of the best we've ever seen. It houses the same 16 MP Sony IMX240 sensor as the Galaxy Note 4, but as you should know by now, there is more to good pictures than raw megapixel count.
The S6 camera is faster to activate (double tapping the home button will activate the camera in under a second), with a faster shutter speed. Additionally, the new software provides the following modes: Auto, Pro, Focus, Panning, Slow Motion, Fast Motion, Virtual Shot as well as the ability to shoot in RAW.
The Note 4's camera is also a stunner, but the speed and impressive low-light pictures offered by the Galaxy S6 means it is hands-down the victor.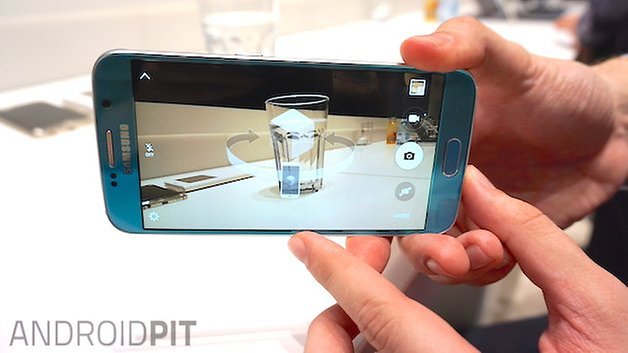 Galaxy S6 vs Galaxy Note 4: Specs
| | Samsung Galaxy S6 | Samsung Galaxy Note 4 |
| --- | --- | --- |
| OS | Android 5.0.2 Lollipop, TouchWiz | Android 4.4.4 KitKat, TouchWiz (planned upgrade to Lollipop imminent) |
| Display | 5.1-inch Super AMOLED QHD 2560 x 1440 pixels (577 ppi) | 5.7-inch Super AMOLED 2560 x 1440 pixels (515 ppi) |
| Processor | Exynos 64-bit, octa-core | Qualcomm Snapdragon 805 (SM-N910S) |
| RAM | 3 GB | 3 GB |
| Internal memory | 32/64/128 GB non-expandable | 32 GB + microSD |
| Battery | 2550 mAh (non-removable) | 3220 mAh (removable) |
| Camera | 16MP (rear), 5MP (front) | 16 MP (rear), 3.7 MP (front) |
| Connectivity | HSPA, LTE, NFC, Bluetooth 4.1 | HSPA, LTE, NFC, Bluetooth 4.1 |
| Dimensions | 143.4 x 70.5 x 6.8 mm | 153.5 x 78.6 x 8.5 mm |
| Weight | 138 g | 176 g |
| Price | 649 USD for the 32 GB model, 749 USD for the 64 GB and 849 USD for the 128 GB model. | About 649 USD 32 GB |
Galaxy S6 vs Galaxy Note 4: Battery
The Galaxy Note 4 has a 3,220 mAh battery complete with Samsung's "fast charging" capabilities. In contrast, the Galaxy S6 has only a 2,550 mAh. Samsung's Galaxy S6 battery might sound pretty small considering it powers a QHD display and octa-core processor, but it can (natively) charge wirelessly, and it supports even faster charging than the Note 4 (supposedly adding 4 hours of battery life in just a 10-minute charge). You'll have to wait until our full review to get the big picture on the Galaxy S6's battery life.
Conclusion
The Galaxy S6 looks and feels better than the Galaxy Note 4. It's slimmer, lighter, more stylish and easier to handle. It also has an improved camera, faster processor and is quicker to charge. Aesthetics and specs-wise, it's a clear winner.
Where the Galaxy Note 4 will sell it to you is its unique S-Pen stylus. If you desire a larger screen and the phablet experience, there is nothing quite like the Note 4, and it still holds up 6 months after release as one of the very best handsets ever designed. The Galaxy Note 4 also has a removable battery, and this is something of an essential feature for many people.
Which device would you prefer? A Galaxy Note 4 or a Galaxy S6?