Galaxy Note 3 review: powerful, more S-Pen & leather?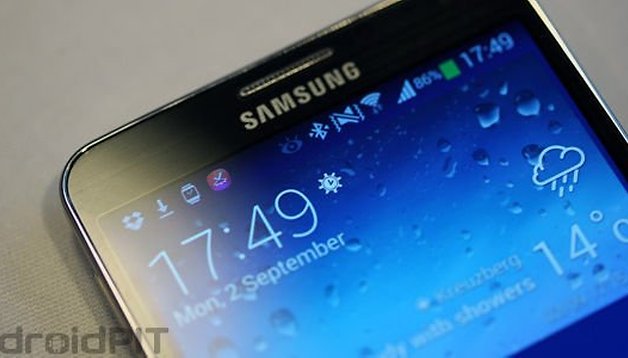 Samsung presented the Galaxy Note 3 today and we offer you a first video of the phablet here in our review. It becomes quickly clear that the manufacturer fulfilled its duty in creating a successor to the Note 2 with an even sharper display, better performance and many more stylus functions, or more specifically said, S Pen features. In terms of design, Samsung managed to surprise us, including a new element that is sure not to please all tastes. Take a look yourself in our Galaxy Note 3 review.
Good
Display

S Pen integration

Performance

Camera
Bad
Design

Artificial leather is subject to individual taste
Samsung Galaxy Note 3 design and build quality
Despite its larger display of 5.7-inches, compared to the Note 2's 5.5-inches, Samsung crafted a more compact chassis, making the newcomer even smaller and sleeker than its predecessor. What's more, the Korean company adopted an edgier look which differs from previous, more rounded Note devices.
So far, so good you might think, the smartphone looks great from the front. However I was slightly taken aback when turning it around to take a look at the back. Instead of that shiny varnished plastic, they opted for textured synthetic leather which is firmly sewn onto to the battery covering with a visible seam. If you take off this covering, it's quite thin and even pliable.
The fake leather covering really comes down to a matter of taste. In my opinion, other manufacturers have made better products and here I'm thinking of Sony's Xperia Z Ultra.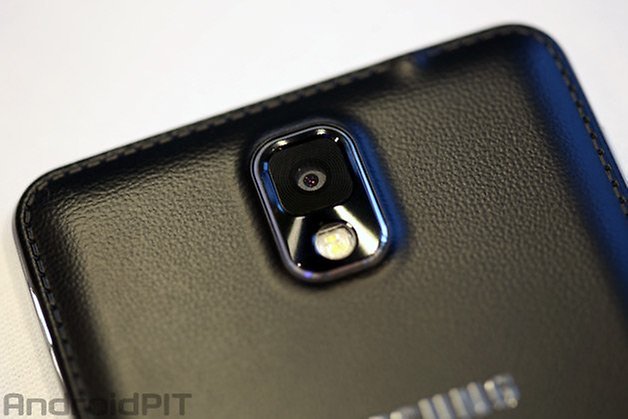 Samsung Galaxy Note 3 display
It's here that Samsung really pulled out all the stops: finally a Full HD resolution of 1,920 x 1,080 pixels has been brought to a Note device and it is quite a lot sharper and clearer when compared to the Note 2. When I tested it myself, I could clearly see that the new display really optimized reading on the internet and watching YouTube videos (which have the required resolution). The Note 3 display can be compared with the one on the Galaxy S4, though it's noticeably bigger. The Galaxy Note 3 specs are class leading.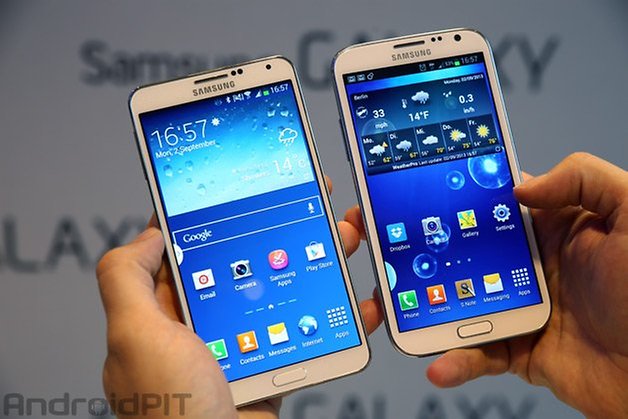 Samsung Galaxy Note 3 special features
According to what Samsung stated at their presentation, there are two areas in particular where Note users have asked for more: S Pen functions and multitasking options. As an alleged direct consequence of these requests, the manufacturer has focused on adding more to these areas with the Note 2 successor.
When you pull the S Pen out of its holder, this will automatically open a new menu which Samsung calls ''Air Command''. Despite whatever app you have open, the semi-circle will always be present over the top and offers five new options for using the S Pen, which I would like to briefly introduce: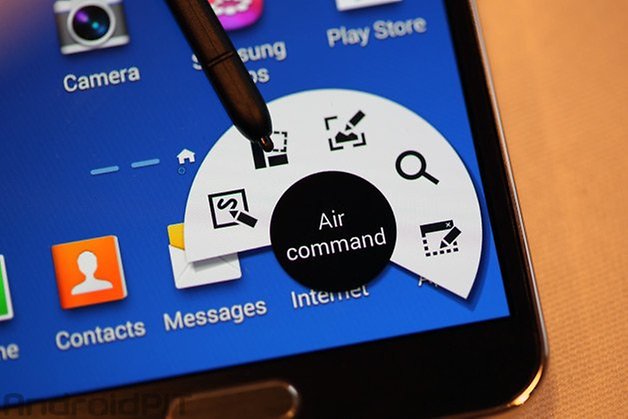 Action Memo
When tapping on this option, it will open up the memo app on which you'll obviously start writing. The notes that you are taking can also be used afterwards with one of the many options from the context menu found above. You're able to send your notes via email or SMS, or even link whatever you have written to other apps. Another example is being able to jot down an address and subsequently open up Google Maps. This will then show you the exact location of the handwritten address. Another option is writing down phone numbers which can be added to your contact list.
Note: while you're using the Maps or SMS app, you will always have access to where the original action was made, ie the Action Memo note. You can reach this via a small overlay icon which can be freely moved around the interface at will.
Scrapbook
The ''Scrapbook'' allows the user to ''cut out'' parts of the content (images, text or both) found on the display, which can be tagged and saved for later use. This very intelligently combines information from many different sources. For example: when browsing through a product site like Canon, I circle the product name and the photo with the Scrapbook function and write ''price check'' over it.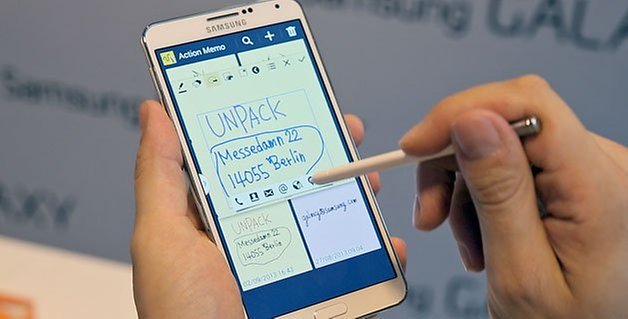 Screen Write
Quite similar to a screen shot which can be captured with the S-Pen, I can now jot down notes on top of whatever I've selected.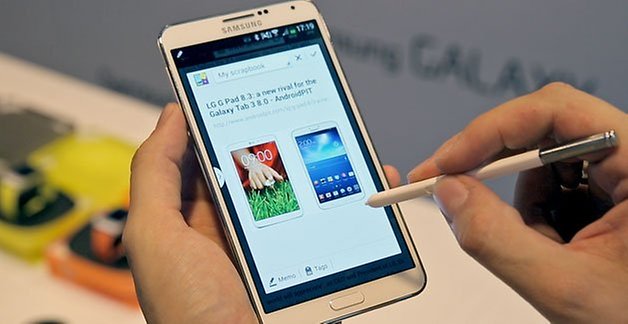 S Finder
Choosing S Finder will open up the search function which Samsung also boasted has some extra features. Not only will you be able to search the internet, but also the entire device such as system settings when searching for Wi-Fi for example, as well as your Notes and even the meta files from other applications, like photos. S Finder also allows you to search for objects by drawing them, for example by drawing a star. S Note has been upgraded from the older version that we have known from the other devices in the Note series. Now you can freely move objects, share notes between devices, sync to PC, tablet or other smartphones as well as seemlessly integrate it with apps like Evernote as well as sync to Cloud. Multi-Window will let you have 2 chats from one app open at the same time.
Pen Window
This option can be found on the right side of the ''Air Command'' menu which will open a second app that will work as an overlay on top of the active app. The size of this box can be altered by pulling the right corner of it in and out. I really questioned the purpose of this feature at first, but the application possibilities are endless. For example, you can open a calculator while you are writing an email or watching a video or even chatting on Hangouts. The display ensures that this function is really useful for the user thanks to its large size and sharp resolution.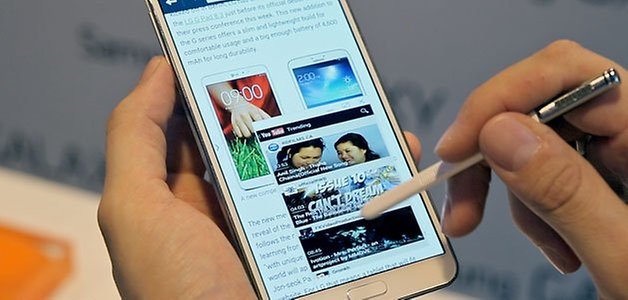 Samsung Galaxy Note 3 software
The Samsung Galaxy Note 3 integrates a new personalized home screen called Magazine which is activated by pressing the home button while on the home screen. By doing so, the normal interface will disappear and is replaced by large tiles which show recent articles from internet magazines. It goes without saying that these tiles can be personalized as well as scrolled through horizontally right on the screen to easily access messages from your social networks. The whole thing reminds me of BlinkFeed from HTC, and to be quite honest, I find it to be a tad useless.
Samsung Galaxy Note 3 performance
Samsung also expanded the functionality of its multiwindow functions. Now it's possible to create many different multiwindow app arrangements, for example a combination of email and picture gallery which you quickly access by pulling out the side bar on the left side of the screen. The content from each app can easily be moved around or switched from window to window using ''Drag and Drop''. For example, I can add a picture from the gallery to an email.
A normal question that arises with this heap of new software extras is of course: does the processor hold enough power to be able to run the Android system with enough speed and stability? The answer after having tried it out myself is decisively a yes! This is particularly seen when comparing it to its predecessor, where the performance has definitely moved ahead in leaps and bounds and apps are noticeably quick in the multiwindow area. Also the ''Air Command'' semi-circle menu was also seamlessly integrated.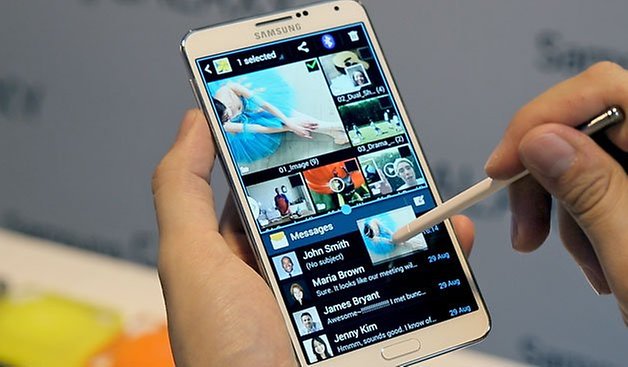 Samsung Galaxy Note 3 camera
The camera does a satisfactory job and for a smartphone can capture average-looking photos (except when in bad lighting situations, it's probably best to leave the Note 3 in your pocket).
Samsung Galaxy Note 3 battery
The Galaxy Note 3 features a 3200 mAh battery which should last as long as its predecessor when taking the processor and display into consideration. What's important to point out is the fact that it incorporates a new USB 3.0 port, which in theory ensures for a higher data transfer rate (500 Mb/s instead of 60 Mb/s) and faster charger (900 mA instead of 500 mA). Whether the Note 3 can really charge faster in practice is yet to be seen.
Note: Even if the port looks slightly different, it remains compatible with older micro USB cables.

Release Date and Price
The Galaxy Note 3 price is currently set at 599 USD off-contract for the 32 GB version. The Galaxy Note 3 release date was September 25th, 2013.


Samsung Galaxy Note 3 technical specifications
The Note 3 will be offered in 2 variations: a 3G variant with Samsung's Octa-core chip set Exynos 5420 at 1.9 GHz and a 4G model with a Qualcomm Snapdragon 800 at 2.3 GHz. Both will be equipped with 3 GB RAM. The model which I tried out was the Qualcomm model. It will be available on September 25 and will be priced at 699 Euro / 749 Euro in Germany for the 32 GB and 64 GB models respectively. In the US it will be available on AT&T, Sprint, T-Mobile, Verizon Wireless and U.S. Cellular.
Final verdict
Duty fulfilled: that's how I will conclude my first review of the Note 3. Samsung really delivered something of quality, but didn't hit it out of the ball park. This unfortunately means that there is yet a lot of potential to explore. The Note 3 could have been a lot better looking, but instead of getting upset about it, I'll instead focus on the amazing display which was cleverly paired with some new software functions. It really delivers something that neither Sony, nor LG, nor HTC can offer at the moment. Samsung simply offers what people are wanting to see and in smartphone language this means: no one can do it better, top class, world record. But as I mentioned earlier on, there is still in fact a lot more potential to fulfill.