Ecovacs Goat G1 Review: Robotic Mower Get its Eureka Moment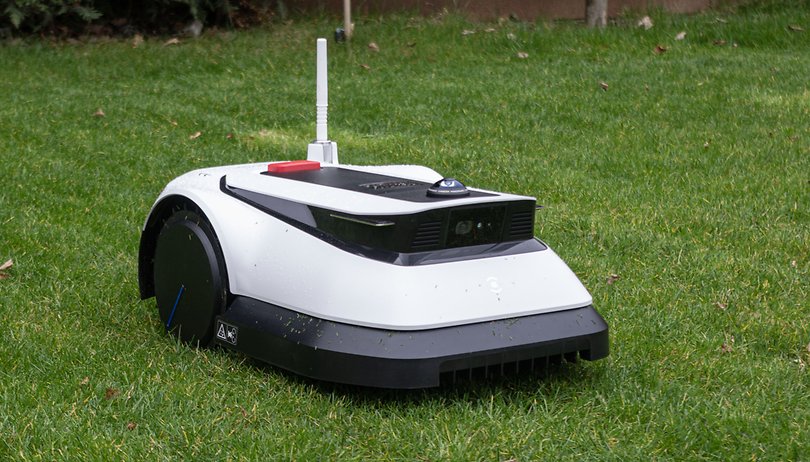 With the Goat G1, Ecovacs dipped its toes in the world of robotic mowers and is set to turn the industry upside down. The robotic mower doesn't need a boundary wire but offers all kinds of smart features, including three cameras. NextPit has reviewed the Ecovacs Goat G1 in detail, so read on to find out what we think about it.
Good
Fast and robust setup

Reliable navigation

Quiet and thorough mowing

Surveillance camera function
The Ecovacs Goat G1 in a nutshell
The Ecovacs Goat G1 uses a different navigation principle than most robotic mowers. Instead of navigating along a wired boundary across the lawn, this model relies on a combination of GPS, inertiall navigation, and UWB beacons that are strategically placed in the garden. Setting it up takes approximately 1.5 hours.
The setup and operation proved that the Goat G1 is very robust and flexible. Are you mowing an area with a flower bed? Not a problem at all, since the area to be mowed can be adjusted for in a few minutes. Finally, there are all sorts of smart and practical features such as a mowing schedule, as well as an entire host of cameras that are primarily used for obstacle detection and monitoring purposes.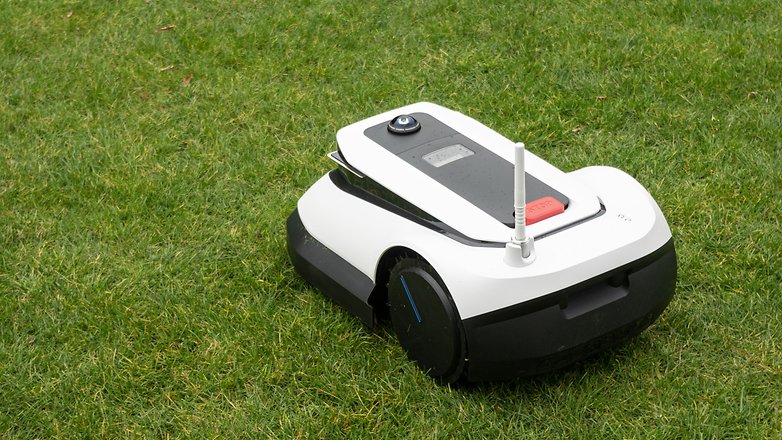 The bottom line is, the Ecovacs Goat G1 is a great robotic lawnmower, although the asking price of €1,599 means this is not an entry-level acquisition. The robotic lawnmower is now available in the Ecovacs online store and on Amazon for €1,599 a pop. Do bear in mind that this is not available in the US, hence the Euro pricing.
If your garden has a very complex shape, you might need more than the two included trackers. If your garden requires more trackers, you can place an order for them for €99 apiece. Of course, you can also order more should it be required.
Unboxing and setup
Due to its design, the Ecovacs Goat G1 offers a quick and uncomplicated setup process. In addition, the extremely high-quality mowing robot is very robust and flexible at the same time: If you were to enlarge or reduce the lawn size, you can adjust the area to be mowed in a matter of minutes. The beacons (navigation aids) work great no matter where they are placed in your garden.
What I liked:
Easy-to-understand instructions.
Docking station and robotic mower feature high-quality workmanship.
Uncomplicated setup.
What I disliked:
Additional UWB tracking transmitters are required based on your garden size.
Charging light could interfere with its mowing capability.
Once you have moved the robotic mower's typically huge and heavy box into the garden, it's time to unbox it. It all starts well enough: You will find an extra-large manual that clearly explains how to set up the Goat G1.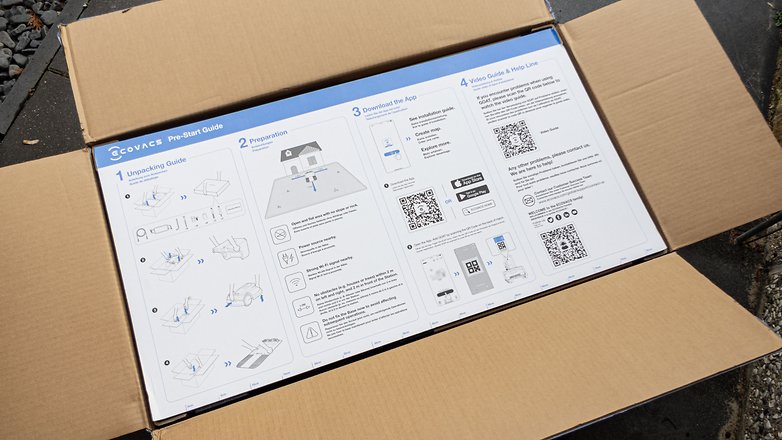 You will find the following items in the box:
One Ecovacs Goat G1 robotic lawnmower.
A two-piece charging station including a power supply.
Two UWB tracking transmitters (aka beacons).
That's all you really need to set up the robotic lawnmower in your garden.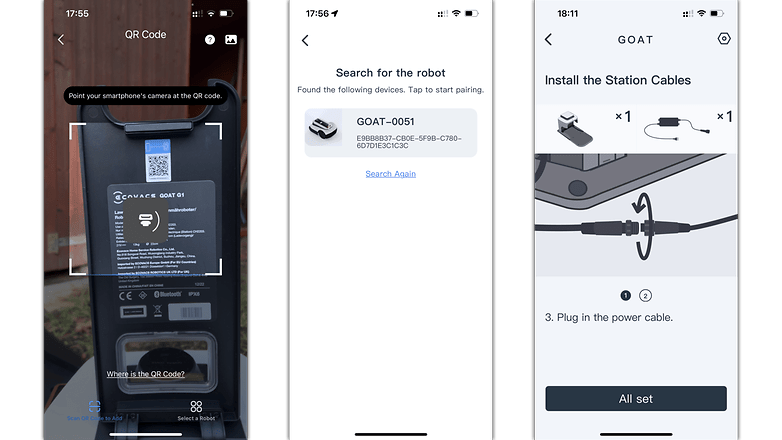 This is how the setup process works: Ideally, you already have a location for the station within reach of a power outlet and now carry the robotic lawnmower, the two-piece station including the power supply, and your beacons there. From there, you install and launch the Ecovacs app. Fortunately, the manufacturer uses the same app as its robotic vacuum cleaner.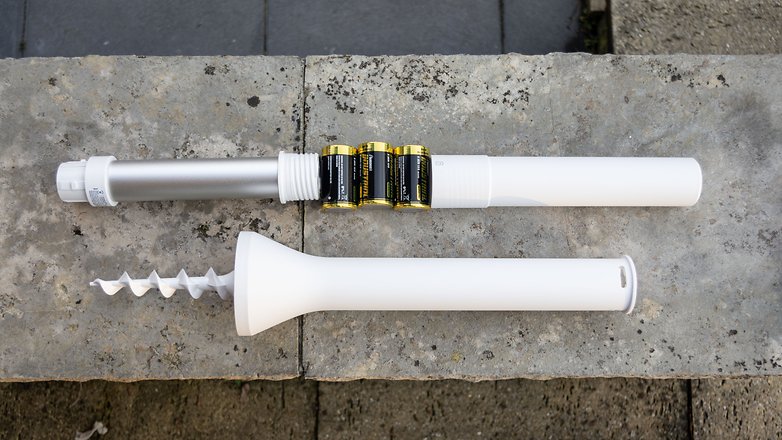 Under a flap on the top of the robotic mower, you'll find not only a display and a number of controls but also a QR code. After scanning the code, the app guides you through the already simple setup process. These include plugging the station together, setting up, and connecting the beacons, all the way to the first mapping exercise of your garden.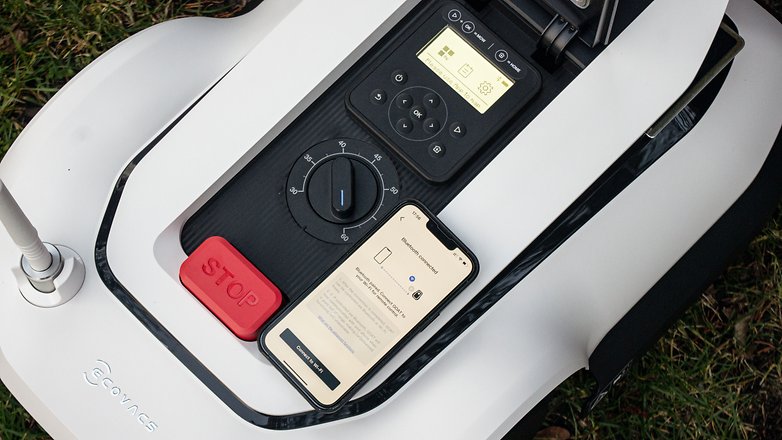 The mapping process is quite a simple one: First, the Goat G1 must have located at least two UWB tracking transmitters. From there, you steer the robotic lawnmower using a virtual joystick once around your lawn to define the outer boundaries, and that's it! You don't even have to worry about drawing a particularly accurate line because the robotic lawnmower automatically refines the edges over time as it learns. Another positive point is how little to no lag there is in steering the robot using the virtual control pad.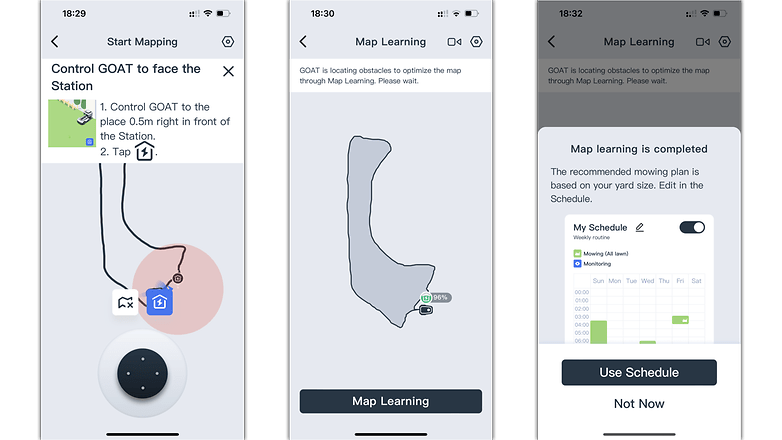 Once you've set everything up and taken the Goat G1 around your lawn once, it's time to set up the mowing schedule. Here, you can either agree to the automatically generated mowing schedule for your garden or set up your own schedule. Of course, if you prefer to retain full control, you can also use the manual mode.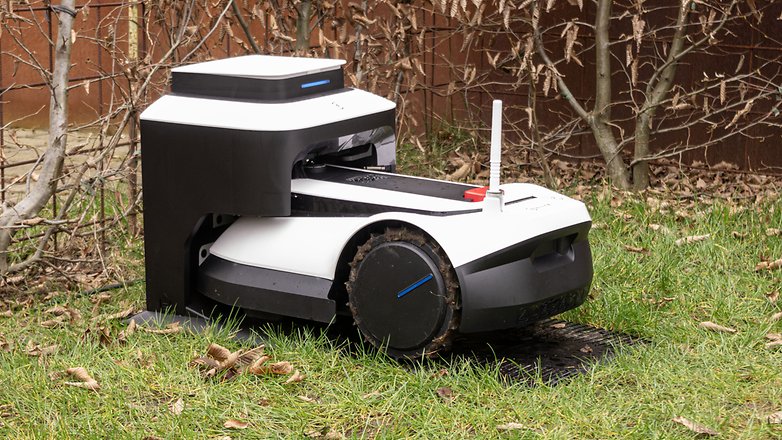 Smart features and programming
For many years, Ecovacs has been building robots that move around independently and take work off people's hands, and it shows. Although it is the manufacturer's first outdoor product, the Goat G1 convinced us with a sophisticated app that boasts many practical smart features.
What I liked:
Flexible options to create mowing schedules.
Doubles up as a surveillance camera.
Comes with voice control capability.
What I disliked:
Alert siren is too soft.
App/robotic mower often asks for the PIN.
After the setup is successfully completed and the mowing schedule activated, you don't really have to do anything but sit back and relax. The Ecovacs Goat G1 then reliably mows the garden according to the predetermined paths. Instead of relying on a random pattern like many other robotic mowers, Ecovacs relies on a linear pattern. This saves plenty of time. If you want to prevent streaking, you can rotate the pattern in the app. Unfortunately, this only works manually and not automatically when it falls back upon the mowing schedule.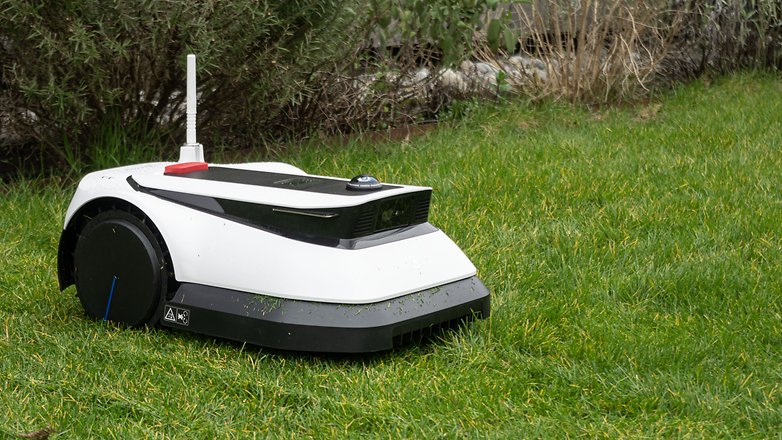 The Ecovacs Goat G1 offers two camera modules. The first module is located in front of the robotic mower and includes an RGB camera alongside a ToF sensor. The advantage of having ToF? The use of an active infrared laser allows it to work in absolute darkness when it comes to detecting obstacles.
There is also a 360-degree camera on top of the robotic lawnmower. While the front camera module detects obstacles from 3 to 15 cm high, the top camera takes care of anything higher. Not only that, the top camera serves as an all-around surveillance camera. This lets you check your garden when you're out and about. If only the app doesn't require you to enter a PIN, as is often the case.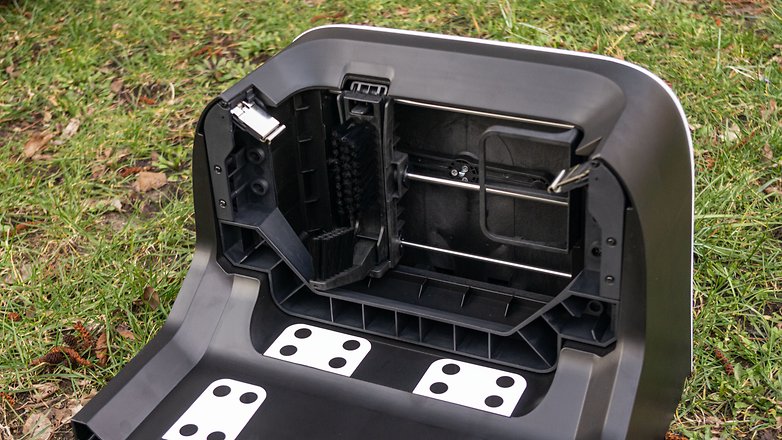 This was actually a cause of frustration during the review. As soon as the app or the robotic lawnmower receives an update, you will have to enter the PIN once again to access all conceivable operations. For instance, to navigate the Goat G1 through the garden as a rolling surveillance camera or to edit the map.
You can even send the robotic lawnmower on patrol and let it remain in certain places for a set amount of time. As soon as a person is detected within a radius of about 7 meters, the robot will sound an alarm. This happens via push notification to the smartphone and on-site via its loudspeaker. However, the audio is so soft that the G1 is unlikely to send a burglar scurrying away.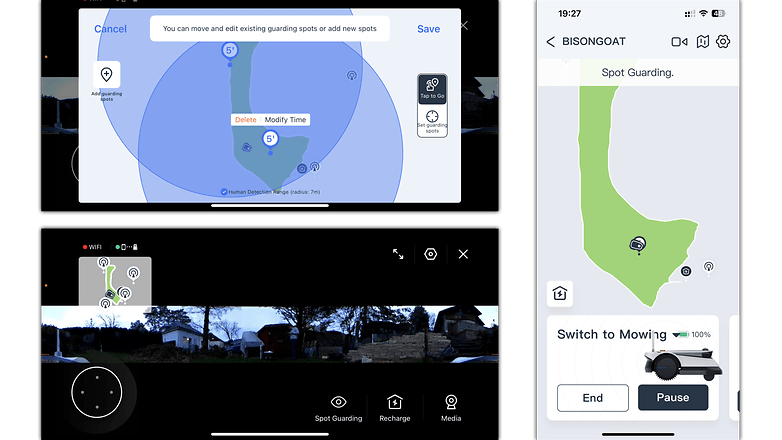 Speaking of burglars, Ecovacs provides multi-layered theft protection for its robotic mower. You have to type in a four-digit PIN to access just about all functions, which renders the robot unusable for thieves. In addition, the robot will sound an alarm if it is lifted or removed from the designated mowing area.
In addition, the Goat G1 has a rain sensor on board and halts the mowing process when it gets wet. You can even set in the app how long the robotic lawnmower should pause after a rainfall. However, linking to external sensors is not possible in such a situation.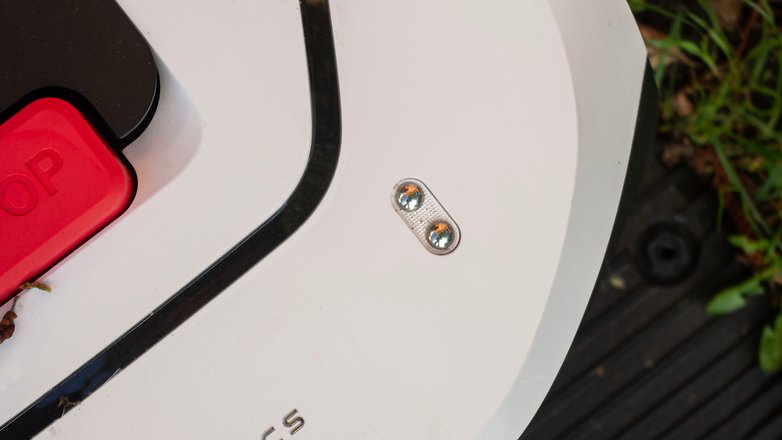 If you have a very large garden without Wi-Fi coverage, Ecovacs offers an additional docking station that is even suitable for a Wi-Fi-free weekend cottage thanks to its SIM card slot. Just make sure you have adequate cellular reception!
Mowing performance and practical impression
The Ecovacs Goat G1 mows remarkably quickly and quietly. Even though our test lawn in Berlin's late winter is not yet the best example for a robotic mower to show off its capabilities, initial impressions point to a very reliable robotic mower.
What I liked:
Mows very quickly and quietly.
Reliably detects obstacles.
Good mowing performance.
What I disliked:
The Ecovacs Goat G1 chews its way through your garden in a pleasant, quiet manner. From a distance of about ten meters, the robotic mower is practically inaudible and thus should not cause trouble with noise-sensitive neighbors. The G1 achieved its low-noise level with three mini-blades on the underside, which are mounted on a rotating disc. You can adjust the cutting length in 5 mm increments from 30 mm to 60 mm with the help of a dial under the flap on the top.
The mowing result is pleasant enough, although our test lawn was still in hibernation mode and mainly offered the blades of the Goat G1 material to mow in the form of crocuses. However, we already had the opportunity to see the performance of the robotic lawnmower on an overgrown lawn at an earlier event. Since the robotic mower gets its job done regularly, it doesn't matter whether it gets the job done in each session. After all, the "electric goat" systematically covers the area to be mowed, making the complete mowing process a very quick one.
Safety is ensured in several respects: as soon as you lift the robot, the blades stop immediately. In addition, the Goat G1 detected obstacles in the review reliably. Whether it is a human foot, a stuffed dog toy, or a garden hose, the robotic mower stops in time. Whether you actually want to let the robotic mower do its job when a toddler is crawling around the lawn is something you should nevertheless weigh carefully. In any case, the Goat G1 also recognizes stones lying around and does not scrape its fancy housing on them, which is in stark contrast to the Gardena Sileno City (review).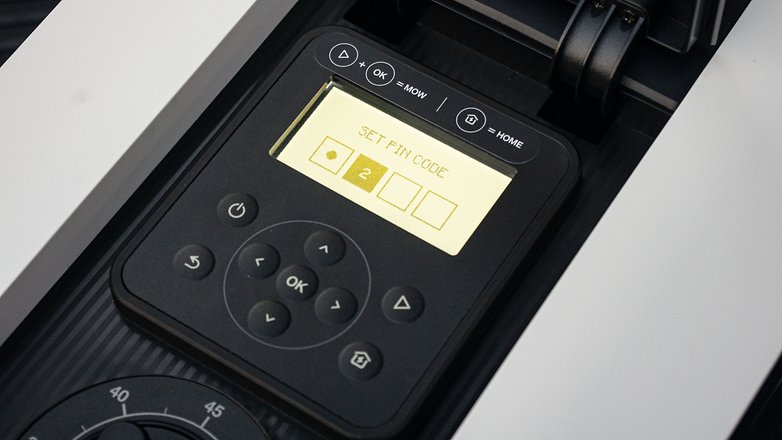 Finally, navigation worked excellently in the review. Thanks to integrated GPS, UWB beacons, and inertial navigation, the Goat G1 always knows precisely where it is. Changing the mowing area also worked flawlessly. Anyone who regularly creates new beds in the garden or simply wants to spontaneously let a patch grow wild can have their own wishes implemented in a matter of minutes.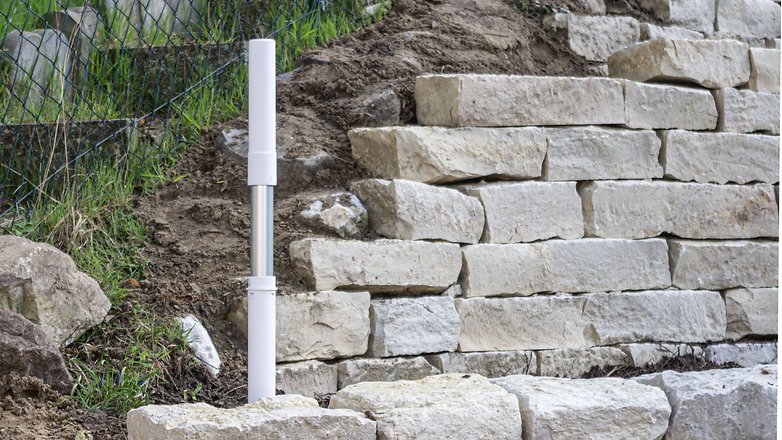 Final verdict
Of course, the Ecovacs Goat G1 is no bargain at €1,599. It is also too large for tiny, urban gardens. Compared to its wireless competition, it is dirt cheap and it is not that much more expensive than many models that work using complex guide cables. This is especially so when you think of the elaborate setup and tedious repair process or conversion work required, not to mention accidental mowing incidents or flower bed relocations.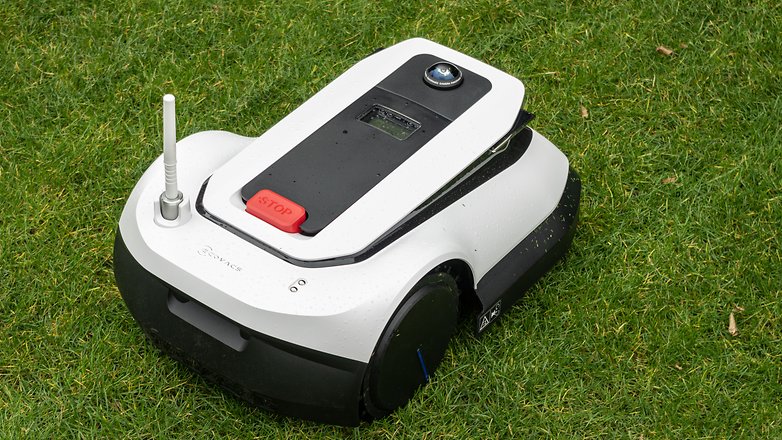 In addition, the Goat G1 offers all kinds of smart features that make for a truly successful overall package, from the various mowing schedules to the option of SIM operation to the flexible surveillance camera function. Ecovacs has really hit the bull's eye with its first robotic mower.