Chromecast Audio review: Google's ghetto caster
Update:

Multi-room functionality added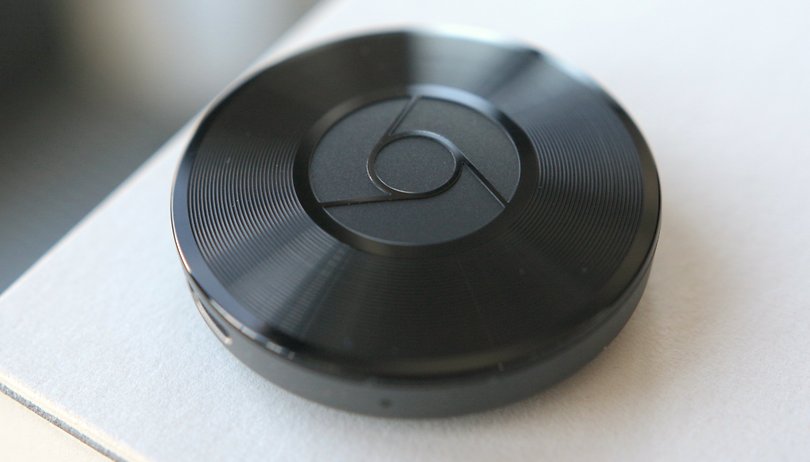 The Chromecast Audio aims to do for stereo systems what the Chromecast did for TV sets. By connecting this discreet device to audio speakers, you can use it play music from Spotify, Google Play Music and other streaming services through those speakers, using a Wi-Fi connection and your phone as the controller. We've put Google's new audio product through its paces to find out whether it's a must-have gadget. Read on for our full Chromecast Audio review.
Good
Flawless streaming

Digital output

Excellent quality
Google Chromecast Audio: All deals
Google Chromecast Audio release date and price
The Chromecast Audio release date was September 29, 2015. It was launched alongside the Chromecast 2 in the Google Play Store. The Chromecast Audio price is set at US$35, including shipping, and you can add a selection of subscription trials to the purchase.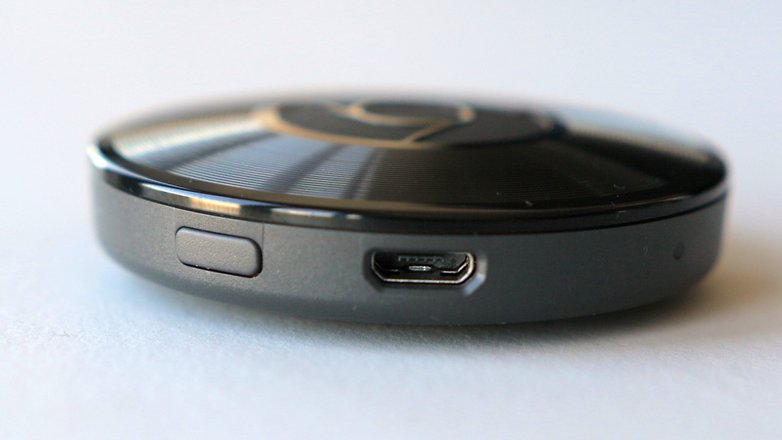 Google Chromecast Audio design and build quality
The Chromecast Audio is a small circular device that connects wirelessly to your smartphone and via cable to your speaker system. It's design is reminiscent of a vinyl record.
Like the Chromecast 2, the Chromecast Audio has a micro-USB power source, but its output is a ⅛-inch jack for audio rather than an HDMI cable. This combined port supports optical output (mini-TOSLINK to TOSLINK) as well as RCA, but only a 3.5 mm cable is supplied. This is one of the most common types of audio cable; it's certainly the auxiliary input on most speakers.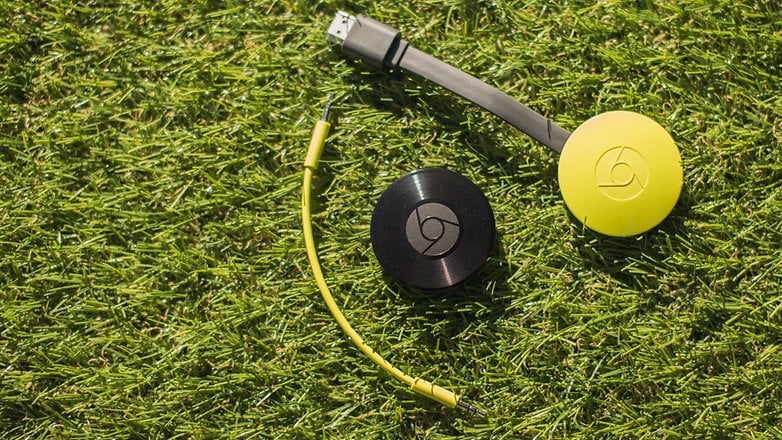 Effectively, the Chromecast Audio is a low-cost way to transform almost any stereo system into a wireless speaker setup.
Google Chromecast Audio display
Unlike the Chromecast 2, the Chromecast Audio does not include video-output, and the housing itself does not have a display. Everything is operated using your smartphone, tablet or computer.
Google Chromecast Audio special features
As of December 11, 2015, Chromecast Audio supports multi-room functionality. Simply by plugging Chromecast Audio devices into speakers in separate rooms and creating a group using the Chromecast app, you can sync them all to play the same music.
Could it be the death knell of Sonos? It certainly provides a far cheaper way to sync music throughout your house, and it's an extremely valuable addition to Chromecast Audio. The pre-Christmas timing of such a useful addition seems more than a little coincidental, too.
Google Chromecast Audio software
By using the Chromecast Audio in conjuction with a smartphone (including iPhones), tablet (including iPads) or computer on the same network, you can stream or 'cast' content from your device to your speakers. The Chromecast comes with easy-to-follow, step-by-step instructions for the initial setup, and you can start listening to content as soon as you've downloaded a few software updates.
The Chromecast app on your phone will show you where to find the Casting button in compatible apps, which will enable you to send audio to your speakers. It also ensures that your Music app – whether Spotify, Google Play Music or something else – will send the media to the Chromecast Audio rather than play it through the speakers on your phone or tablet.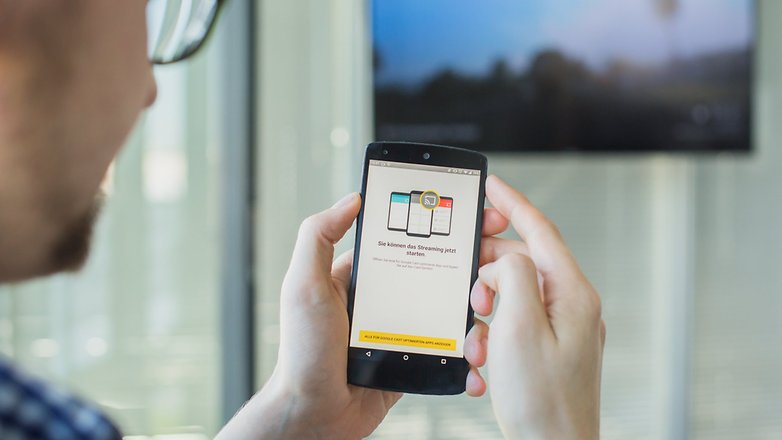 One disappointment is that video apps such as YouTube or Netflix don't support Chromecast Audio. As YouTube is a major source of music, it's a real shame that you can't cast from it.
The number of apps that are compatible with Chromecast Audio is small at the moment, but it's likely to increase pretty steadily.
Both the Chromecast 2 and Chromecast Audio use the same Chromecast app. This is where you can search for songs or music across compatible services. Sadly, Chromecast Audio doesn't have the native ability to cast music from files in your device's internal storage, though is possible using third-party apps such AllCast or Local Cast (with varying levels of success).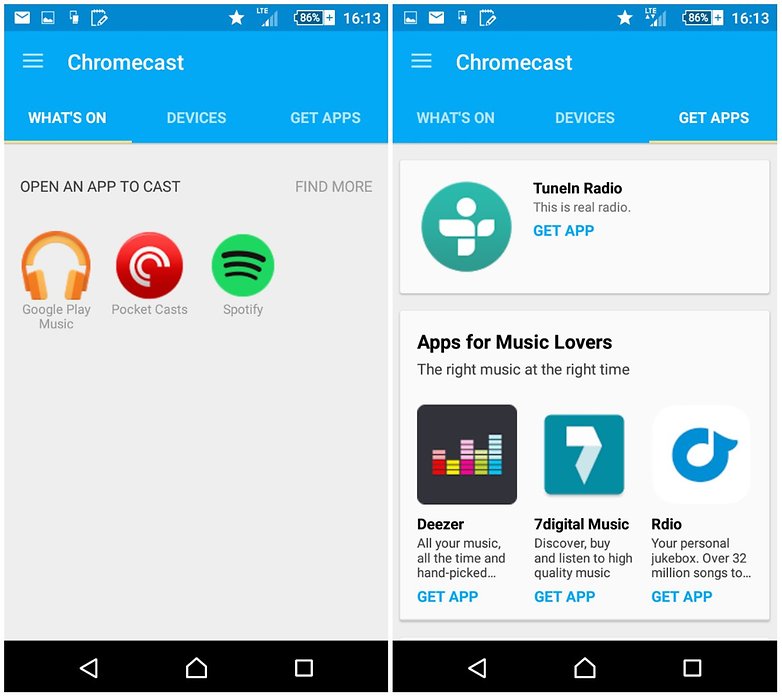 The value of the Chromecast Audio is clear. Here you have a device that turns your stereo speakers into wireless speakers, for 35 bucks. Competing Bluetooth speakers and dongles are lower quality, and work within a smaller radius of the location of your smartphone. The Chromecast Audio has basically killed the market for Bluetooth dongles.
It doesn't need to be 'paired' to a device, its effect on your phone's battery life is minimal and, because the Chromecast Audio works over the wireless network, the location of your device doesn't really matter. You can also continue to use your smartphone as normal while playing audio in the background.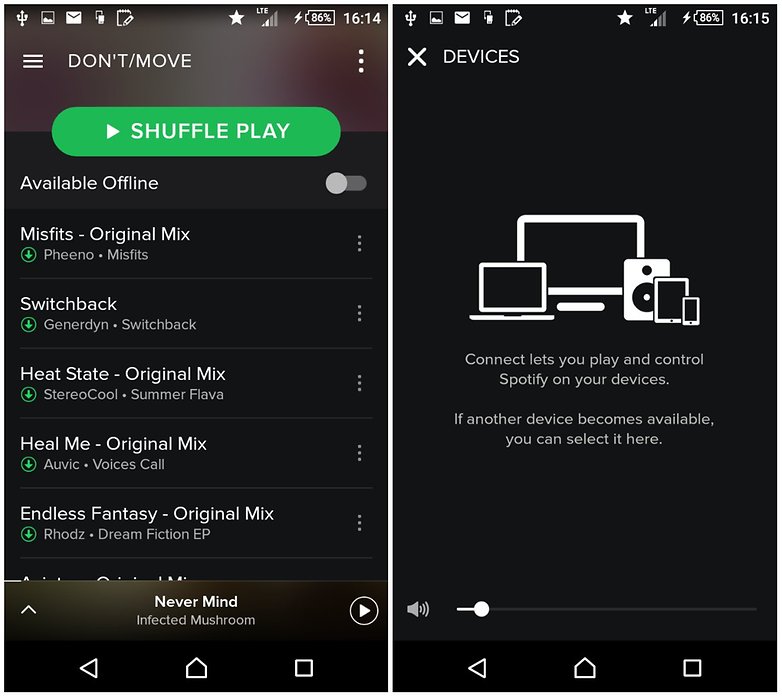 Possibly the best thing about the Chromecast is that your friends can easily connect to it. They don't need to your Wi-Fi router's password, you can just set up a PIN for your Chromecast Audio so that they can easily access it, and contribute to the playlist. This is an excellent device for parties, when everybody wants to be the DJ.
Multi-room functionality was added in December – see the Special Features section above.
Google Chromecast Audio audio
For this review, I tested the Chromecast audio with Superlux HD 668B studio headphones to assess the signal quality. Songs from Google Play Music and Spotify sounded crystal clear, and the dynamic range tangibly improved audio quality. The response time between casting a song and hearing it in my headphones was also very short. It played back HD-Audio at 24-bit / 96 kHz, with no mention of codecs, and no stuttering or lag.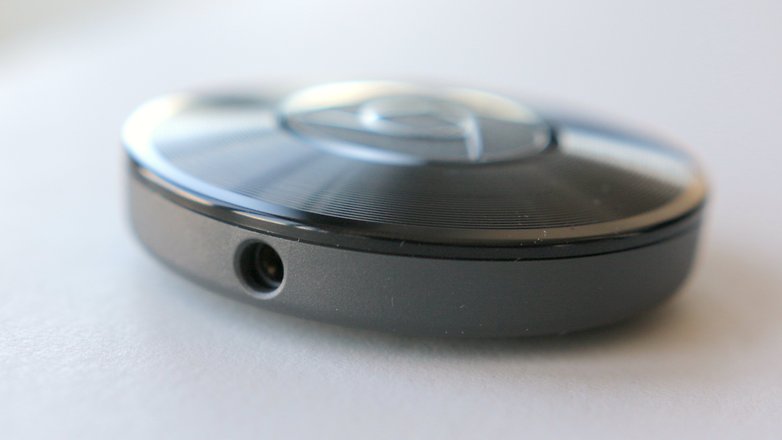 Google Chromecast Audio technical specifications
Output:

stereo analog output [2 Vrms]
optical digital output

Dimensions:

Device: 51.9 x 51.9 x 13.49 mm (without cables or accessories)
Audio Cables: 146 mm
Power cable: 1.75 m

Weight: 30.7 g
Ports and connectors

3.5 mm connector with analog and optical digital audio output
Micro-USB

Color: Black
Connectivity / Network: Wi-Fi 802.11ac with 2.4 GHz or 5 GHz
Power: AC adapter, 5 V, 1 A
Wireless security: WEP, WPA / WPA2
HD-Audio: 24-bit / 96 kHz
Compatibility:
Android 4.1 and higher
iOS 7.0 and higher
Windows 7 and above
Mac OS 10.7 and higher
Chrome OS (on a Chromebook with Chrome 28 and higher)
Final verdict
The Chromecast is a five-star product. It is not only the best of its kind in terms of ease-of-use and functionality, but it also comes at the best price. US$35 is a small price to pay to breath new life into your old speakers. I can't recommend it to everyone, however, because if you don't need a way to stream music from your phone to your speakers, then you just don't need a Chromecast Audio – that's all it does, after all.
If you are in the market for something like the Chromecast Audio, however, then the Chromecast Audio is definitely the one you need, hands down.
That's my take, what's yours? Let us know in the comments.