Asus Zenfone 8 review: Going against the grain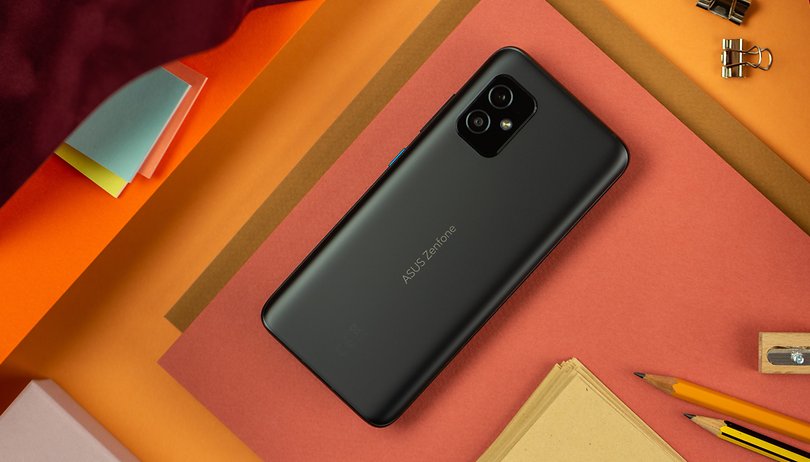 Time to throw down the gauntlet! When the Asus Zenfone 8 was launched on Wednesday, May 12, at an expected retail price of $599, the Taiwanese company wants to deliver a more measured, more all-encompassing flagship device that goes against the grain of extreme high-end flagship models from the likes of Samsung or Oppo, arriving in a compact form factor like the iPhone 12 Mini that will also carry its fair share of compromises.
Good
Compact and very sleek design

120Hz AMOLED display

Powerful Snapdragon 888 chipset

Competitive price for a flagship

IP68 rating

3.5mm jack with LDAC codec support
Bad
Camera module lacks versatility

Questionable long-term software support

30-watts Fast Charging support

4,000 mAh battery might be insufficient
Asus Zenfone 8: All deals
Asus Zenfone 8 in a nutshell
The Asus Zenfone 8 will arrive in three memory configurations: 8/128 GB, 8/256 GB, and 16/256 GB. According with the company, the US price is still being finalized, but it will cost somewhere between $599 and $799.
$599 was the asking price of the OnePlus 8T when it was first released in October 2020. Hence, Asus has no illusions that it has positioned the Zenfone 8 in flagship territory, albeit at a price point that even Xiaomi is unable to match with its Xiaomi Mi 11.
But the quality/price ratio is, strangely enough, not the key argument that Asus wanted to drive home. Instead, the manufacturer wanted to focus on the compact form factor of the Zenfone 8. Gone is the flip camera rotating module that took up too much space, which is now reserved for its "Pro" version, the Zenfone 8 Flip.
Gone also are the virtually useless camera sensors such as a 2 MP macro whose only purpose was to artificially inflate the specifications sheet. One of the compromises made to accommodate its small form factor? A very small 4,000 mAh battery that is inadequate for a flagship in 2021 - at least on paper.
In short, Asus has made some compromises when it comes to the hardware specifications in a high-end Android-powered smartphone. The Verge has even equated the Zenfone 8 as the Android equivalent of the iPhone 12 mini in its review. I would say that it is a truly unique Android flagship handset that goes against the grain.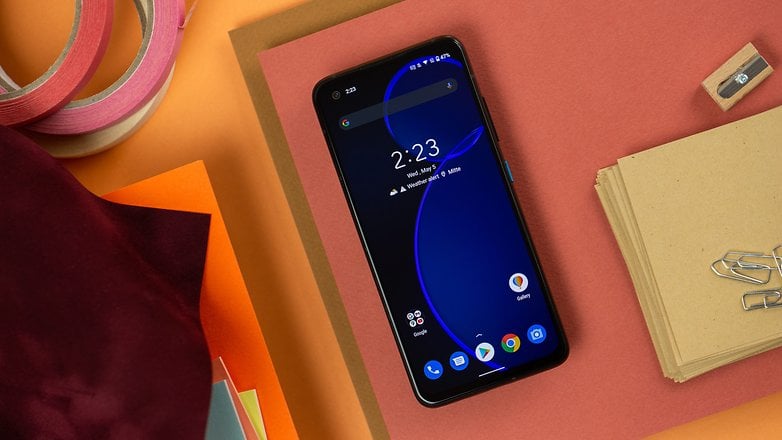 A compact, sleek design that is reminiscent of Google's Pixel
The Asus Zenfone 8 looks a lot like a Google Pixel. It's slightly less compact than a Pixel 5 (the Zenfone 8's dimensions are 148 x 68.5 x 8.9 mm and 169 grams while the Pixel 5 measures 144.7 x 70.4 x 8 mm and weighs 151 grams). But it's clearly lightweight against the behemoths in the high-end Android market that tip the scales at 200 grams and more.
I loved the:
Compact and elegant design
Responsive and well-calibrated 120 Hz AMOLED display
3.5 mm headphone jack
IP68 certification
I did not like the:
Smaller screen size that takes some getting used to
Lack of expandable memory
Location of the fingerprint reader
The flat AMOLED display is pierced by a punch-hole camera at the top left. Surrounding by rounded corners, the fairly noticeable chin, matte glass back, and the unassuming dual camera module, I found it easy to hold in my hand securely just like the latest generation of Pixel handsets.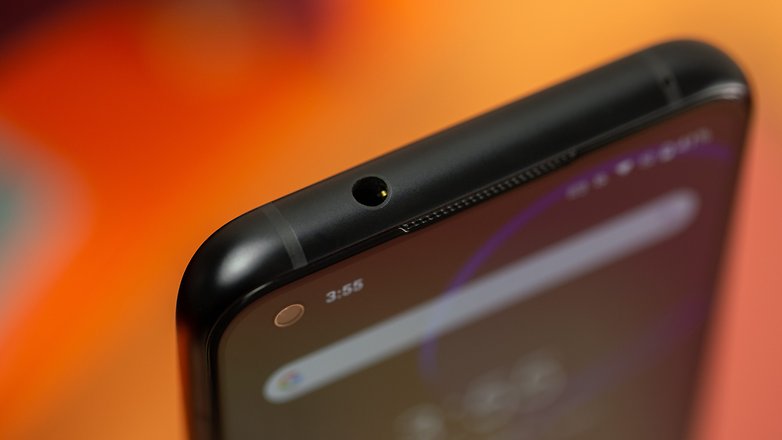 I've already written a lot about this matter, but this format obviously has the merit of maximizing the "reachable area" for your fingers, a fact that more and more manufacturers take into account even in their user interface. In short, the idea is to facilitate one-handed use. For this matter, Asus has hit the nail on the head.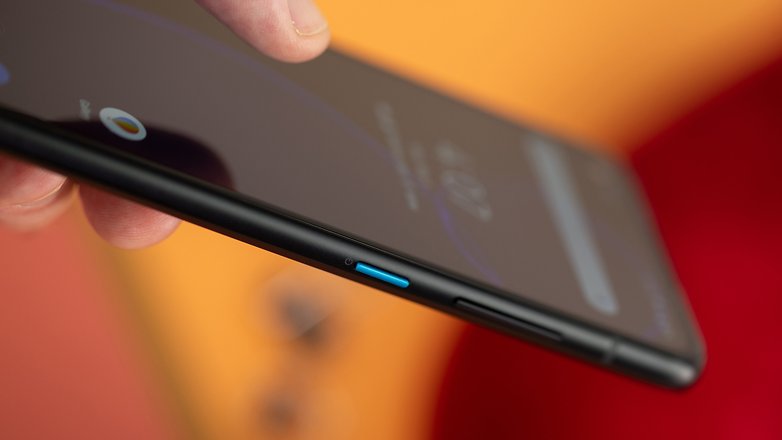 As for the display itself, I'll have to use it for a longer period of time, but the smoothness achieved via the 120 Hz adaptive refresh rate is very pleasant to the eyes, even on a "small" display.
The Full HD+ panel offers a maximum brightness of 1,100 nits, which is not really extraordinary, and a touch sampling rate of 240 Hz that is suitable for gaming. These are considered "normal" specifications within such a price range. I found the colors in default mode to be a bit dull but once I switched to standard mode, the colorimetry satisfied me.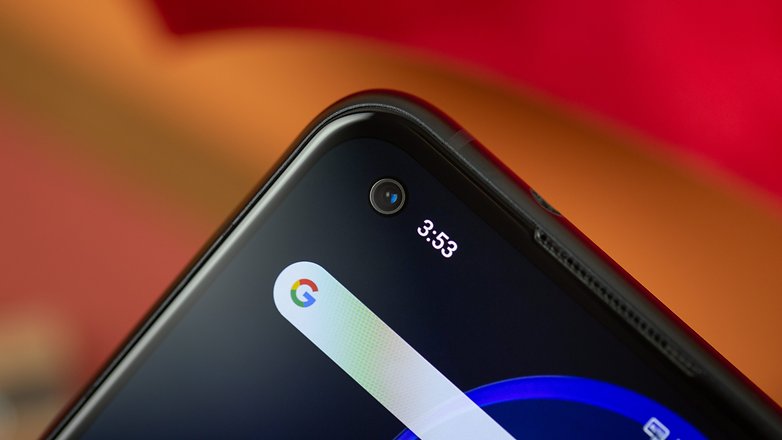 Overall, the Zenfone 8 does follow the footsteps of Apple when it comes to a compact smartphone form factor. But this is a good thing that no other Android manufacturer has implemented so far. Not content with being compact, the Asus Zenfone 8 is also very classy looking with a refined design, sporting an excellent grip, and a well-calibrated screen that can be used with one hand!
The power of the Snapdragon 888 SoC
Like every other Android flagship in 2021, the Asus Zenfone 8 is powered by the Qualcomm Snapdragon 888 SoC. In this hands-on, Asus loaned me the highest-end model which carries 16 GB of LPDDR 5 RAM and 256 GB of UFS 3.1 storage!
I loved the:
Raw power of the Snapdragon 888 chipset
Ability to compete against larger and more expensive flagships
Intuitive game menu that was inherited from ROG Phone 5
I did not like the:
Asus Zenfone 8
Graphics benchmarks

| Benchmarks | Asus Zenfone 8 | OnePlus 9 | Xiaomi Mi 11 | OnePlus 8T |
| --- | --- | --- | --- | --- |
| 3D Mark Wild Life | 5753 | 5683 | 5702 | 3812 |
| 3D Mark Wild Life Stress Test | 5825 | 5716 | 5697 | 3792 |
| Geekbench 5 (Single / Multi) | 1124/3738 | 1119/3657 | 1085/3490 | 887/3113 |
| PassMark Memory | 32247 | 32124 | 26.333 | 27766 |
| PassMark disk | 112318 | 115311 | 120.430 | 98574 |
On paper, the Zenfone 8 outperformed its direct competitors like the OnePlus 9 or the Xiaomi Mi 11 in terms of pure benchmark scores. Unsurprisingly, the smartphone will be able to handle all types of usage, from productivity to gaming, without any issues.
I ran the Wild Life and Wild Life Stress Test benchmarks from 3DMark which simulated an intense gaming session of 1 and 20 minutes, respectively. Since I began this review, the smartphone benefited from a software update that would affect the final results. I, therefore, repeated my test protocol that comprised of 3 sessions for each benchmark that was spaced about fifteen minutes each in order to provide enough time for the smartphone to cool down in between.
In the 1-minute test, the Zenfone 8 did not heat up at all, maintaining a frame rate that was always above the 30 FPS mark on average.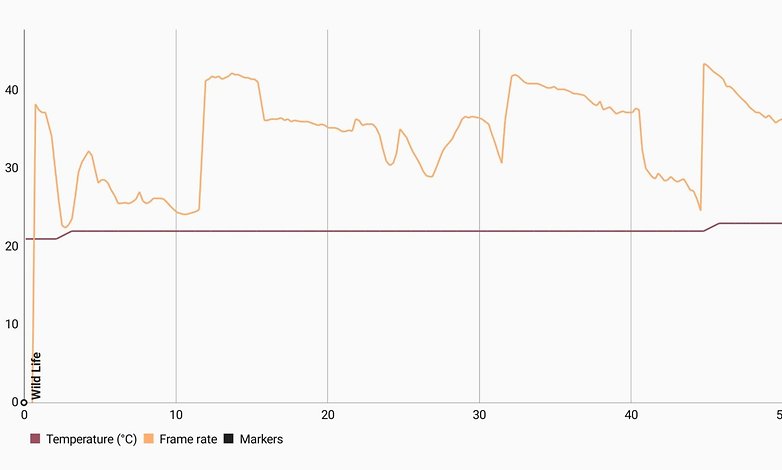 In the 20-minute test, the smartphone heated up a lot, hitting the 50 °C mark. I couldn't hold it in my hand for more than a few seconds at that point. Stability saw a nosedive in the second half of the test. When using it for longer gaming sessions, I did not notice such a degree of overheating, but make no mistake about it - the Zenfone 8 does heat up after 15 minutes of gaming.
I think it is a matter of the form factor. The Snapdragon 888 is well-known to heat when it is pushed to its limits, and the Zenfone 8 just doesn't have enough space within the case design to dissipate heat effectively.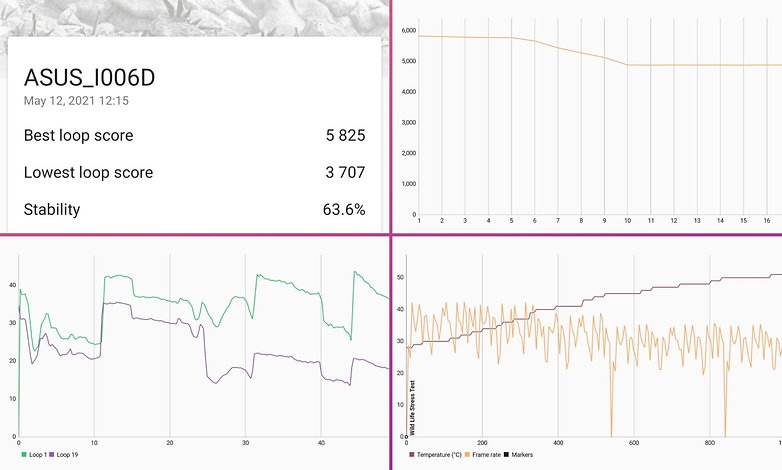 Overall, my impression of the performance of the Asus Zenfone 8 remains positive. I was pleasantly surprised to see it outperform more expensive rivals in terms of raw power. However, the rate at which it overheats easily remains a dealbreaker if you are a heavy duty mobile gamer.
A dual 64+12 MP camera module that's a little too conservative
It's not just in terms of design that the Zenfone 8 looks like a Pixel. Like Google's smartphones, the Asus Zenfone 8 makes do with two lenses - sporting a wide-angle and ultra wide-angle lens. The only exception is, Google has far more expertise in this area, of which I found the camera experience to be rather limited with the Zenfone 8. My full review did not cause me to experience a shift in my initial impressions of what ultimately is, a rather conservative camera configuration in the Zenfone 8.
I loved the:
Ultra wide-angle photos were not distorted too much
Adequate zoom performance without a telephoto lens
Decent night mode performance
I did not like the:
Lack of versatility
Lack of a telephoto lens
Disappointing ultra wide-angle performance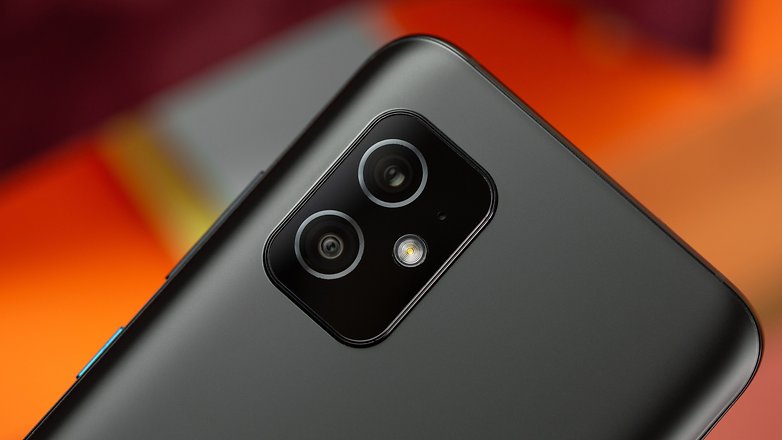 Asus Zenfone 8
Photo Module

| Lenses | Specs |
| --- | --- |
| 64 MP main lens | Sony IMX 686, 1/1.7-inch sensor size, f/1.8 aperture, 2x1 OCL, OIS |
| 12 MP Ultra Wide Angle Lens | Sony IXM 363, 1/2.55-inch sensor size, f/2.2 aperture, 113° FOV Dual PDAF, EIS |
| 12 MP Selfie | Sony IXM 663, 1/2.93-inch sensor size, f/2.45 aperture, Dual PDAF |
Zenfone 8 wide-angle and ultra-wide-angle photos
During the day and under good lighting conditions, the main sensor offers a good level of detail, a wide dynamic range, and rather natural colorimetry.
But things begin to go wrong when you snap photos with the ultra wide-angle lens. The ultra wide-angle lens has too limited a FOV and the distortion at the edges is noticeable. I noticed a lack of detail on the most complex elements of my shots so far (foliage remains very blurry). The dynamic range is also rather poorly managed, with the half of the first photo being too bright while the other half is totally overexposed.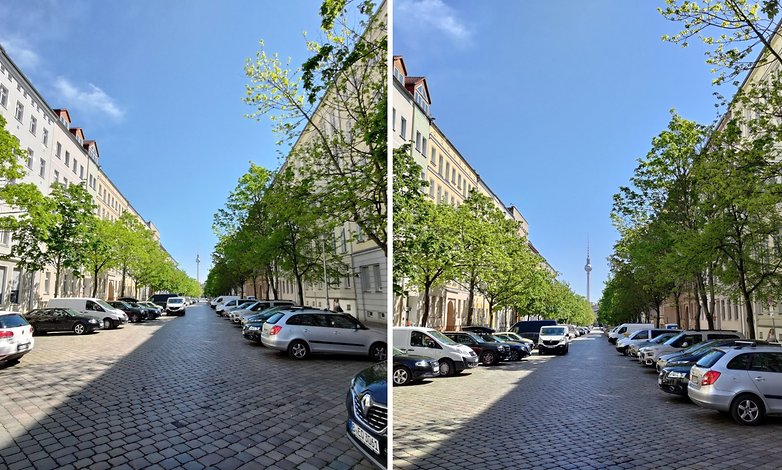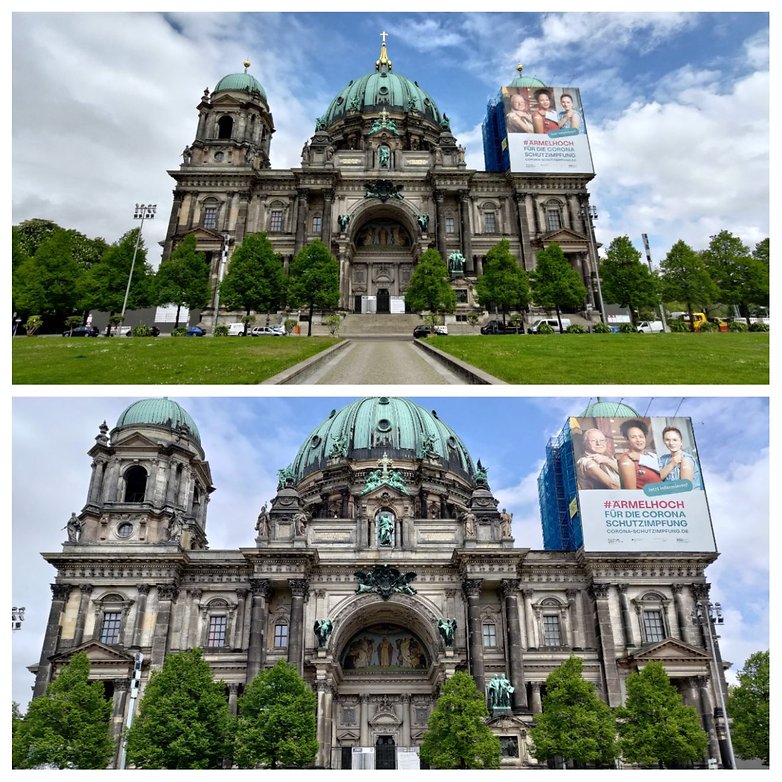 I also find that the two sensors lack color consistency. I have the impression that the saturation is more pronounced in ultra wide-angle. In fact, it is too pronounced compared to the main sensor in my opinion. Finally, it must be said that the 113 ° field of view is well below what its rivals offer at around 120°.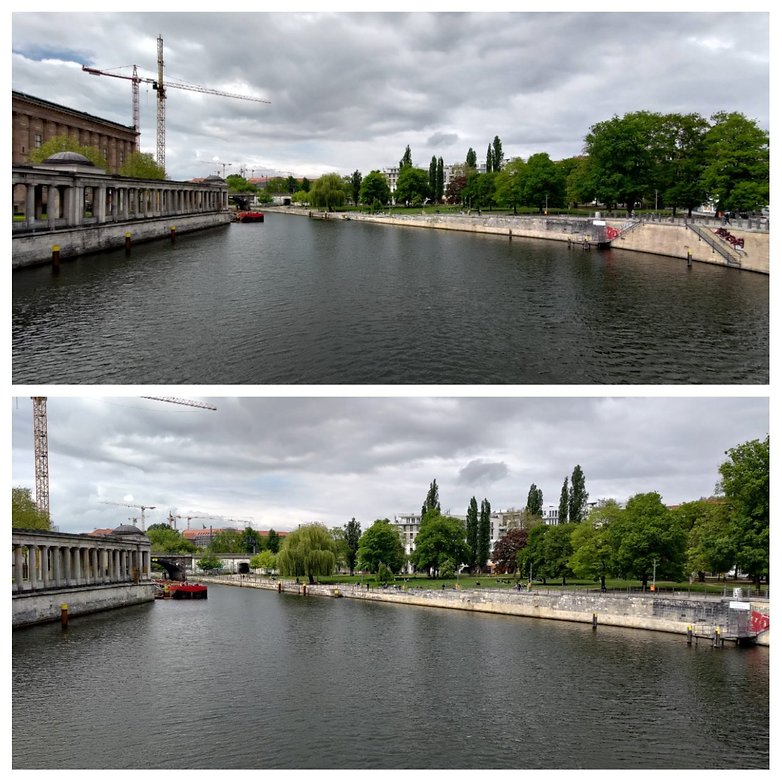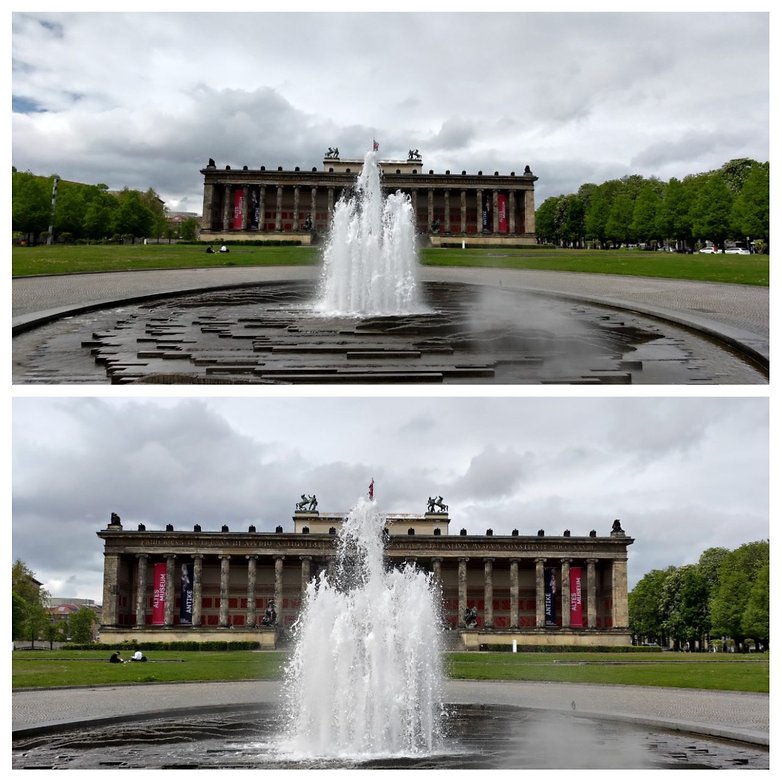 Zoom photos of Zenfone 8
When it comes to zoom performance, the Zenfone 8 is deprived of a dedicated telephoto lens and so it boils down to cropping your image or going through a digital magnification process via the main camera sensor. Obviously, we should not expect miracles beyond the 2x mark, with a maximum magnification level of 8x.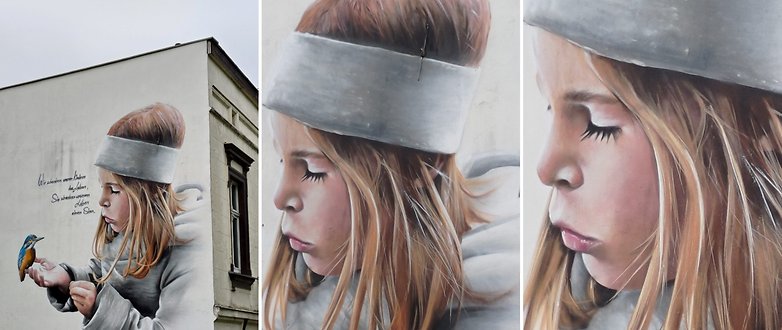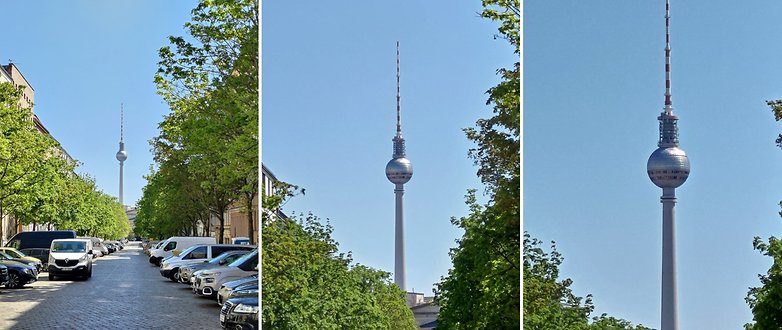 But the pictures that I was able to capture were far from catastrophic. Understandably, it is normal that Asus manages to limit the loss of quality at such low magnification levels. But better to keep a small promise than breaking a big one!
The best zoom results that I achieved when walking around, assuming I get close enough to the subject, allowed me to obtain 8x zoom photos such as the statue of King of Prussia Frederick William IV that is located in front of the old national gallery or this painstakingly carved face at the edge of the Neptune fountain in Berlin.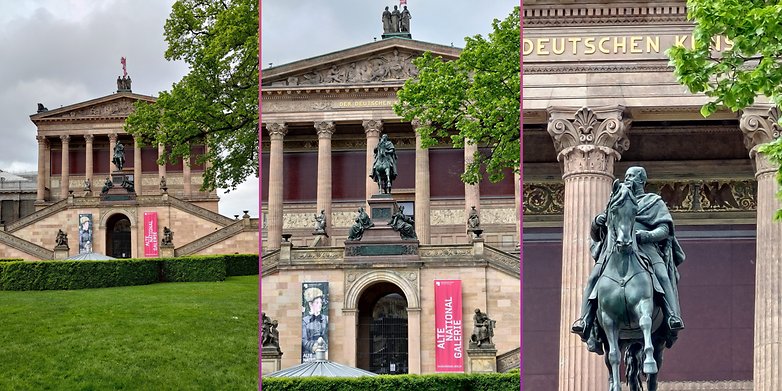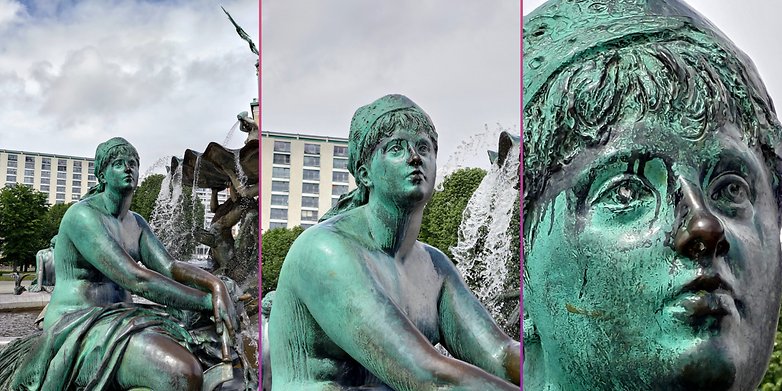 Even in 8x, I found that the photos retained a certain degree of sharpness, although there were issues in the smoothing as can be seen in the ornamental cherubs that overlook the entrance to the Berlin Cathedral.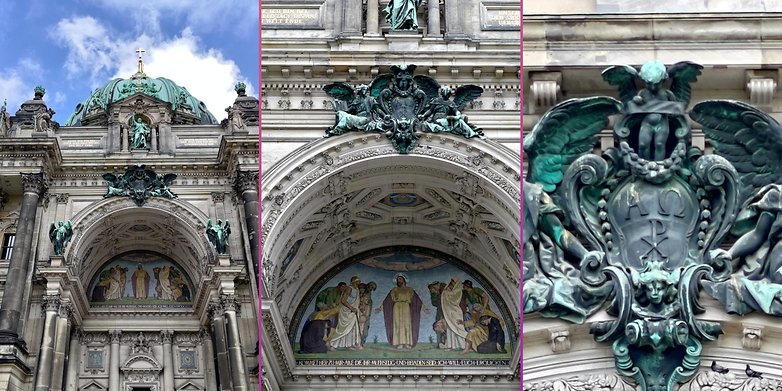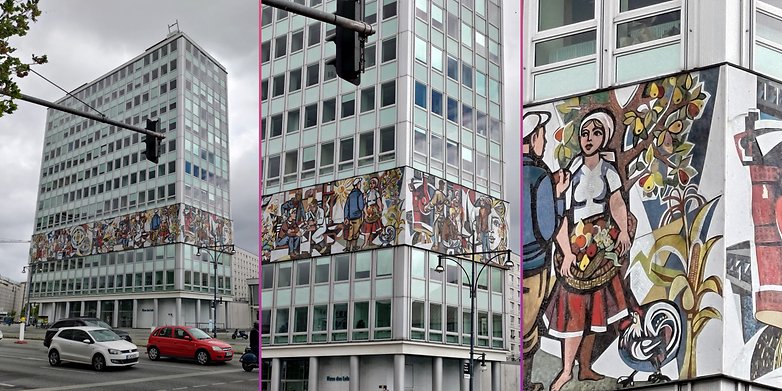 Zenfone 8 photos at night
At night, the Zenfone 8 behaves exactly like the ROG Phone 5. Its night mode kicks in automatically, where it activates itself based on the surrounding lighting conditions (although you can easily opt to have it activated manually).
You have the choice between two shutter speeds of 4 or 7 seconds. By default, night photos with an exposure time of 4 seconds illuminate the scene very well. The flare effect of city lighting is adequately limited, leaving the exposure to be well-balanced while retaining a satisfactory level of detail.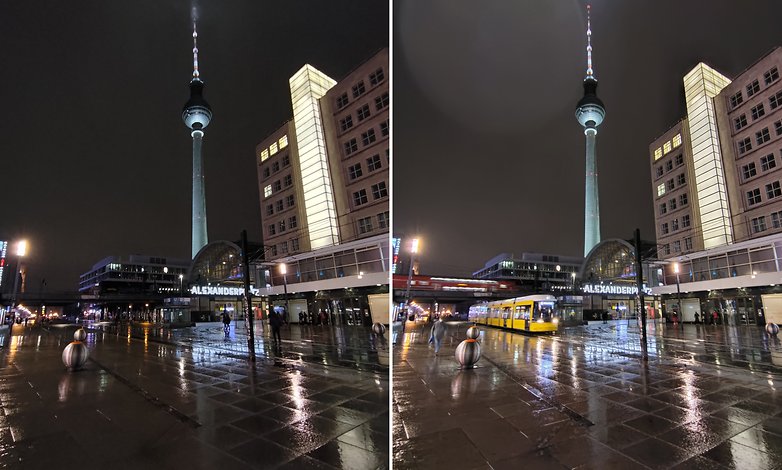 Overall, the Zenfone 8's camera performance is clearly not its best selling point. We quickly find ourselves limited by this camera module that lacks zoom performance and with a tight ultra-wide angle. The results are adequate or even good in some cases, but I was left unsatisfied at the end of it all. I found it to be lacking in versatility and rather too boring in terms of user experience. But I clearly expected worse!
A tiny 4,000 mAh battery
The Asus Zenfone 8 has a 4,000 mAh rechargeable battery that charges using a 30-Watt charger. This is a fairly small battery for an Android flagship in 2021, of which we must remember that it has to cater to the power-hungry needs of a Snapdragon 888 processor in addition to a high refresh rate display.
In real-life usage, I was able to have the Zenfone 8 last for over 24 hours, achieving a Screen On Time (SOT) of 4 hours and 45 minutes at a refresh rate of 120 Hz. This is a respectable performance, but it falls short of what other Android flagships offer with their larger capacity batteries.
But for a normal user who does not play games for more than 2 hours daily and does not use the smartphone as the main video streaming device, a full day of battery life is more than enough.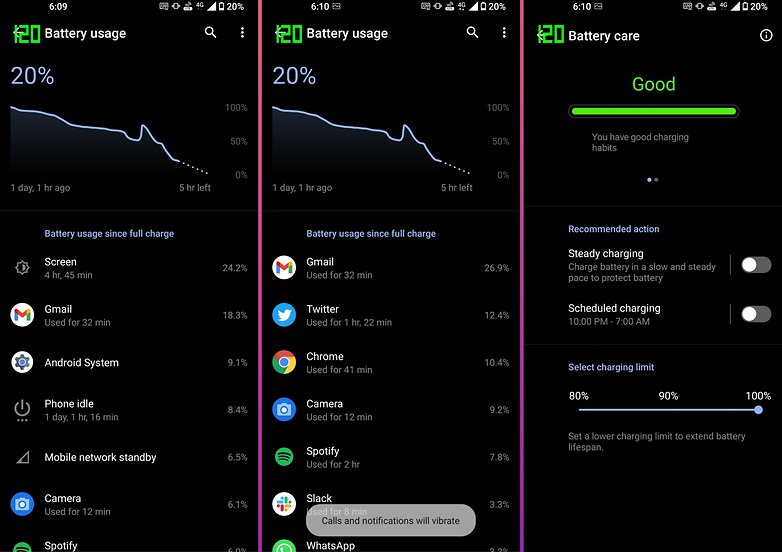 Like the ROG Phone 5, the Zenfone 8's battery uses the STP (Specific Tab Process) technology which charges the battery from the middle to the outside of the cell and not from end to end. This reduces impedance and temperature rise during the discharge process, further reducing the risk of fires.
Asus promises that its 30W HyperCharge charger can recharge the Zenfone 8's battery from 0 to 60% in 25 minutes, from 0 to 80% in 38 minutes, and from 0 to 100% in 1 hour 20 minutes. The best time that I obtained was 1 hour 22 minutes, which is close enough for me to consider it falling well within the specified claims.
Once again, Oppo, OnePlus, and even Xiaomi obviously perform better in this department. Asus itself does better with its ROG Phone 5. The battery life of the Zenfone 8 is clearly nothing spectacular, but it is not bad either. However, we must admit that it does not seem to represent the average "flagship" battery life score.
Asus Zenfone 8: Technical Specifications
Asus Zenfone 8
Technical data
Specs
Asus Zenfone 8 Flip
Processor
Qualcomm Snapdragon 888
Memory

8/128 GB
8/256 GB
16/256 GB
LPDDR 5/UFS 3.1

Expandable storage
No
Screen

5.9-inch Amoled
Full HD+ 1080 x 2400, or 445 ppi
120 Hz refresh rate
240 Hz touch sampling rate
1100 nits max brightness

Camera module

64 MP main lens: Sony IMX 686, f/1.8 aperture, 2x1 OCL PDAF, OIS
ultra wide angle 12 MP: Sony IMX363, f/2.2 aperture, 113° FOV, Dual PDAF
12 MP selfie: Sony IMX663, f/2.45 aperture, 76.5° FOV, Dual PDAF

Video

8K UHD (7680x4320) at 24 FPS + EIS for main lens
4K UHD (3840x2160) at 30/60 FPS + EIS for ultra wide angle
1080p FHD at 30/60 FPS with HyperSteady mode
720p at 30 FPS

Battery

4,000 mAh
HyperCharge 30W fast charge
charger included

OS
ZenUI 8 based on Android 11
Audio

Dual stereo speakers with Dirac HD Sound
3.5mm jack with Qualcomm WCD9385 Aqstic codec (Hifi DAC)
Bluetooth LDAC + aptX HD / aptX adaptive / AAC codec

Connectivity
Wifi 6E / Bluetooth 5.2 / NFC / LTE / 5G / Dual SIM / Dual nano SIM
IP Certification
IP68
Dimensions & Weight

148 x 68.5 x 8.9 mm
169 g

Colors
Obsidian Black / Horizon Silver
Price
$599
Conclusion: Going against the grain
I really like the philosophy of Zenfone 8. It's reassuring to see a manufacturer like Asus not bowing down to the dogma of insane marketing claims that stretch the truth by including unnecessary hardware to fool potential customers. This is even more important since Asus has confirmed that it will offer 2 years of Android updates and security patches, meaning you won't have a handset that becomes obsolete after just a year (software-wise).
Above all, it shows the desire of Asus to offer a high-end smartphone that is as complete as possible in a compact form factor that is reminiscent of older handsets when times were simpler. This is an effort that no other Android manufacturer has yet attempted to embark on, even though most of us expected a tidal wave of compact smartphones by virtue of Apple's effort with the iPhone 12 mini.
With the Zenfone 8, we have a flagship-class device that retails for less than $600 while offering a very complete hardware package. The sheer performance of its Snapdragon 888 chipset is undeniable, while the 120 Hz AMOLED display in Full HD+ resolution blows you away. In fact, the simple, elegant design and compact form factor make it highly attractive.
However, the smartphone is not without its shortcomings. It tends to overheat rather easily, while the camera performance leaves some unanswered questions with less-than-stellar battery life.
If I was a casual user or simply use it as my daily driver for simple tasks and looking for a high-end Android smartphone with a pocket-friendly price and a compact form factor, then the Zenfone 8 would be a very attractive proposition. I don't think the Zenfone 8 is meant to be a niche product, but if you want great camera and gaming performance on your smartphone, there are more suitable alternatives out there.