Asus Zenfone 2 review: RAMbunctious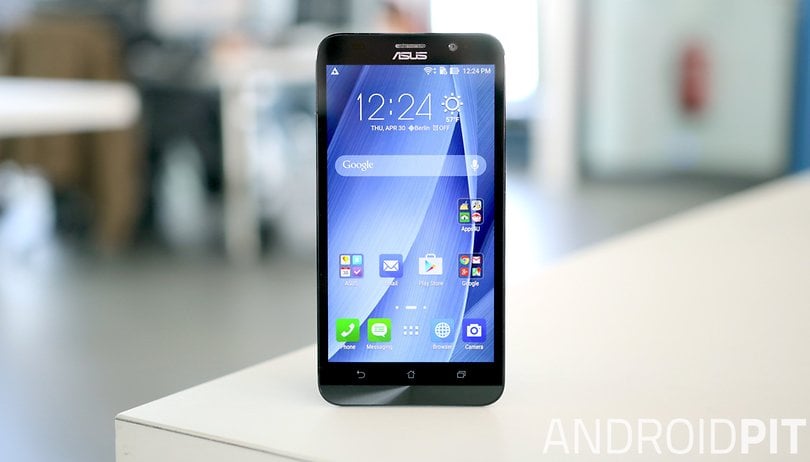 Initially presented at CES 2015, the Asus Zenfone 2 – the world's first smartphone to ship with a 64-bit processor and 4 GB of RAM, was a bit of a showstopper. But perhaps the most spectacular part of the Zenfone 2 isn't its specs sheet, but its price: the ''lighter'' version of the Zenfone 2, with 2 GB of RAM and 16 GB of internal storage, starts at just 199 USD, with US pricing for the 4 GB version to be announced at an event in New York City on May 18. Check out our Asus Zenfone 2 review (the 4 GB of RAM version - model ZE551ML) for more details.
Good
Incredibly low price

4 GB of RAM, 64-bit CPU

Customizable ZenUI

Pixel Master low-light technology

Premium looks and build quality

Dual-SIM and microSD card slots

Fast charging battery: 60% in 40 mins.
Bad
Capacitive buttons (non-illuminated)

Generally mid-range specs

Display is not so bright outdoors
Asus Zenfone 2 release date and price
The Zenfone 2 release date was May 19, 2015. The Asus Zenfone 2 price is 199 USD for the 16 GB/2 GB RAM/720p/1.8 GHz version. The ''flagship'' version, with 64 GB/4 GB RAM/1,080p/2.3 GHz is an incredibly low 299 USD. See the ''Where to buy'' section at the bottom of this reveiew for more details.
Asus Zenfone 2 design and build quality
Considering the very low price of the Zenfone 2 (at this point we know that you can pick up a 4 GB Zenfone 2 on Amazon and eBay for between 325 - 399 USD for the 32 GB and 64 GB models respectively, giving you an idea of what the final US price will be), you might be forgiven for thinking that it would look, well, cheap. But you couldn't be more wrong.
The Zenfone 2 sits very nicely alongside the LG G3 and HTC One (M8) in the looks stakes, and they are still two of the best looking phones around. In terms of size, it's pretty close to the LG G4.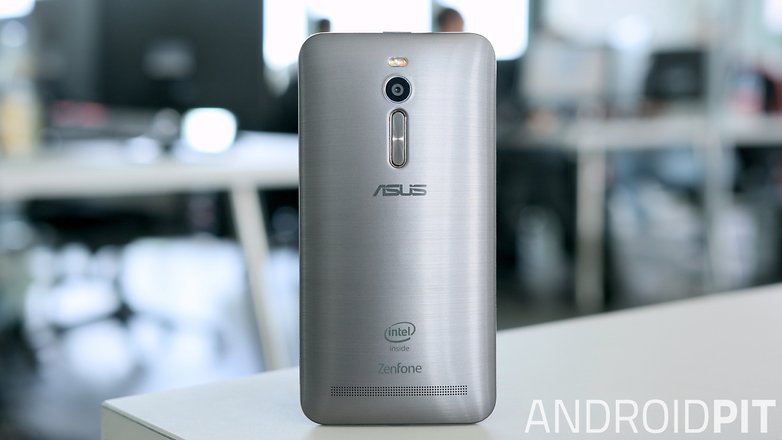 The Zenfone 2 has a curved ''brushed aluminum'' plastic back plate that aids with grip thanks to the slightly textured surface. The phone sits very nicely in the hand and has centered volume buttons on the back like the G3, along with a camera sensor, dual-LED flash and speaker grill at the bottom.
The power button sits up top in the center, which is admittedly a little awkward, much like it is on the HTC One M8. While everything looks great, the plastic is a litttle creaky and despite having a removable back panel, the battery is non-removable.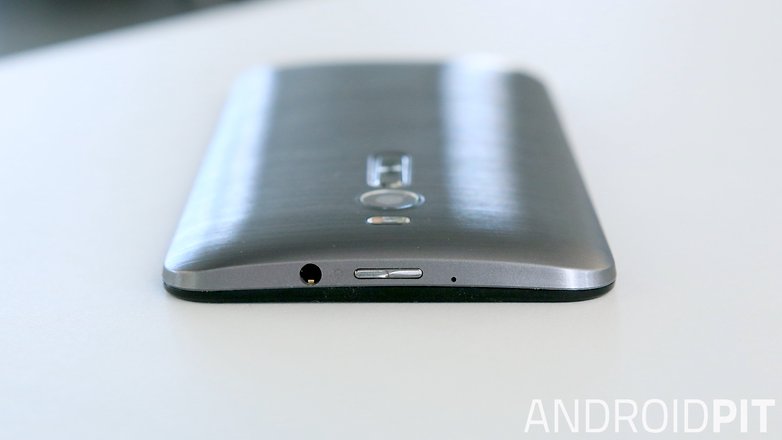 On the front you've got the unfortunate addition of capacitive buttons, which are not illuminated, making them a little hard to see in some circumstances (like at night). These buttons are, like the HTC One M8, positioned in a black band underneath a otherwise nice and big 5.5-inch screen.
The side bezels are a little chunky, but the overall screen real estate on the Zenfone 2 is an impressive 72%. The build quality of the Zenfone 2 is truly impressive considering the price at which it is being offered and you've got black, gold, gray, red and white color options.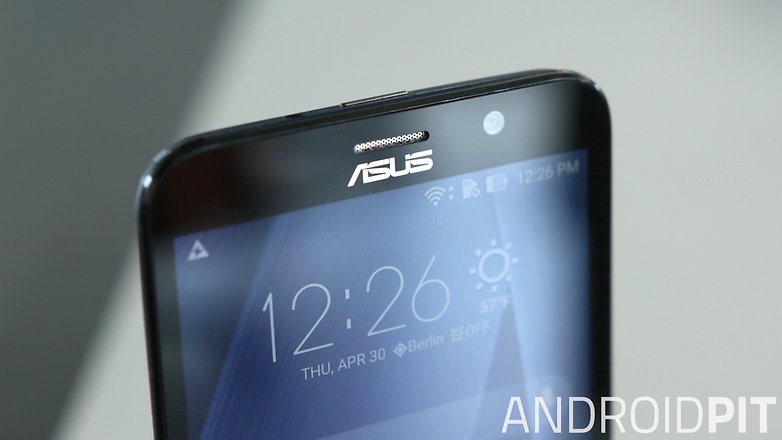 Asus Zenfone 2 display
The Zenfone 2 has a nice bright 5.5-inch IPS LCD display with Full HD resolution and 403 pixels per inch. An anti-fingerprint coating on the Corning Gorilla Glass 3 reduces friction by 30% making for a super-smooth touchscreen experience and of course it reduces fingerprints too.
The display can bump up to 400 nits and it looks great with good contrast and saturation and very impressive viewing angles. The screen is actually one of the high points of the ZenFone 2. Sure, it's ''only'' Full HD (1,920 x 1,080 pixels), but it's really quite good.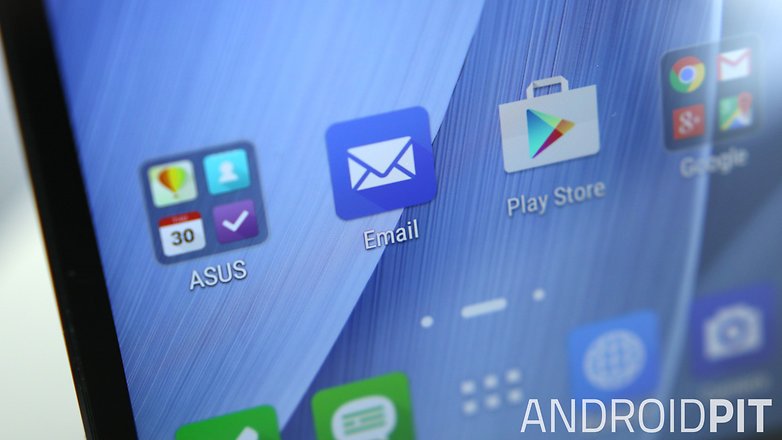 On the downside, the display picks up a lot of reflections and glare, which may be due to the anti-fingerprint coating. This fact, combined with the brightness, make it quite hard to see outside on a bright day. That ear piece just above the screen is also a dust magnet and will soon be full of pocket lint and fluff.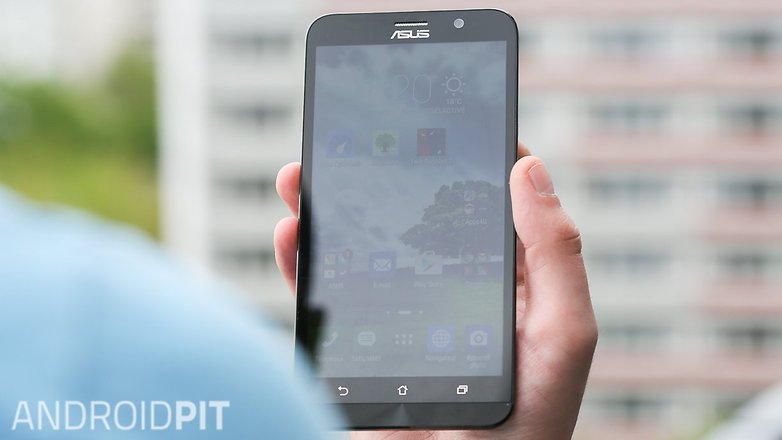 Asus Zenfone 2 software
The Zenfone 2 doesn't slack off in the software department either, running Android 5.0 and a completely reworked ZenUI which is completely customizable from top to bottom, providing a native custom look without the need for additional customization tools and apps.
The interface may not be to everyone's liking (I'm looking at you, icons), but the Quick Settings menu and notifications shade are a blend of stock Lollipop and the new-look TouchWiz, but with a more subdued color palette.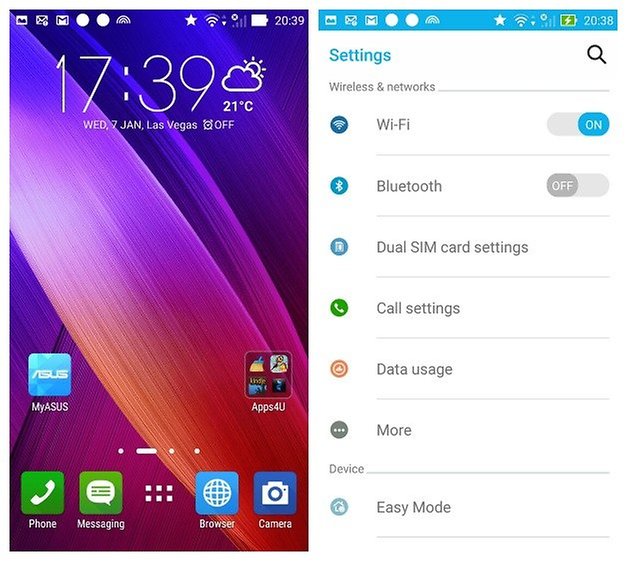 On initial setup, you've got Lollipop's Tap & Go feature for transferring the contents of your old phone to your Zenfone 2, but then you've also got Asus' Data Transfer which does basically the same thing. This can be a little confusing but two options are better than none.
You can also score 100 GB of free Google Drive cloud storage when you first sign up. I'm not sure how I feel about Trend Micro being pre-loaded though.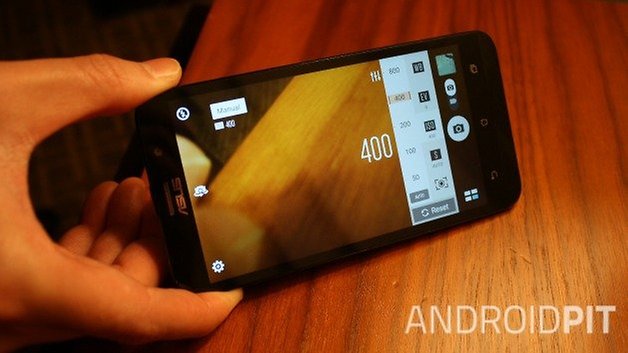 One of the best software features of the Zenfone 2 is the impressive Pixel Master technology in the camera: offering up to 400% more brightness in low light situations. This feature was originally demoed to me at CES by taking a photo of a butterfly inside a completely black box and actually being able to see it clearly where even the Galaxy Note 4 struggled to make out anything at all (to be fair, the Note 4 didn't have a low-light setting enabled though).
As per usual, when you swipe a finger down on the home screen, you'll get access to your notifications. But if you swipe a finger up, you'll see the ''Manage Home'' menu. It's kind of a like an additional command panel, where you have access to auto-grouping of apps into folders, quick access to settings, icon packs, wallpapers, home screens, themes and so on.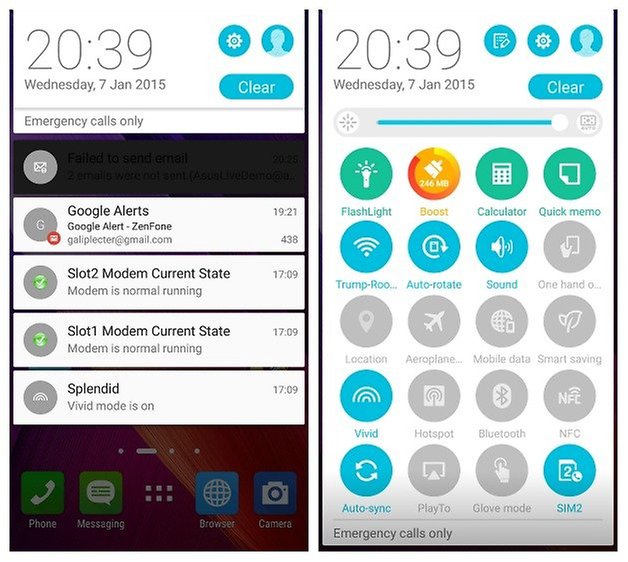 There are some other nifty software features in the ZenMotion settings: Touch Gesture and Motion Gesture. Motion Gesture is simply a ''shake to take a screenshot'' function with a reminder feature. Touch Gesture is more useful and features some classics like double tap to wake, app launch gestures (whereby you draw a letter on screen to quickly launch a pre-selected app) and double tap to sleep.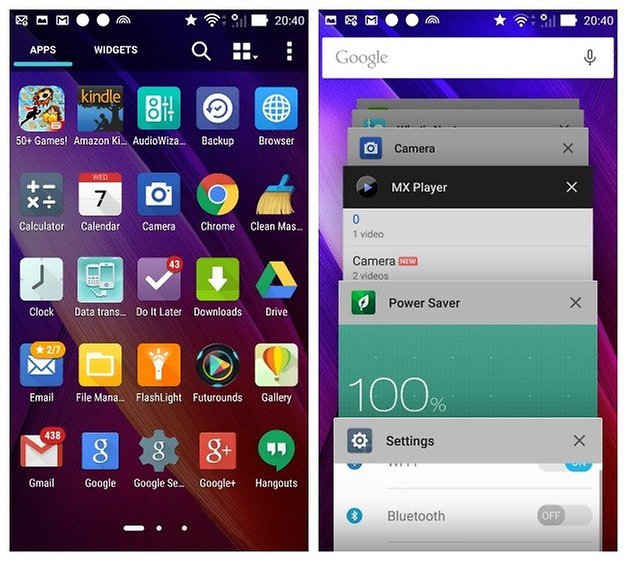 There is also a whole host of Asus apps for various things you'd probably have other preferences for already: messaging, gallery, note taking, file manager and email, but there are a few, like Do It Later for reminders and the weather app which are really quite good.
The AudioWizard is also great: it gives you rapid access to cycle between different audio modes like movie mode, speech, gaming and more. The Zenfone 2 comes with Kids Mode, for more secure loaning of your device and password-protected web access, as well as an FM radio (at least the European version does).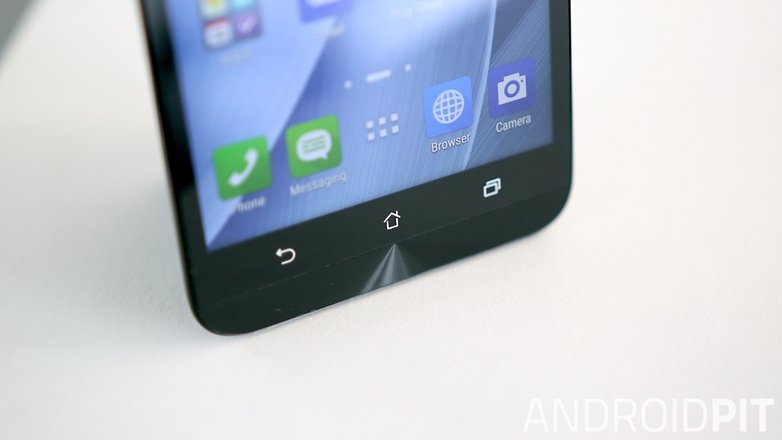 Asus Zenfone 2 performance
As the world's first smartphone equipped with 4 GB of RAM and a 64-bit chip (a quad-core Intel Atom clocked at 2.3 GHz), the Zenfone 2 specs are pretty impressive on paper. In practice too, the presence of this hardware package makes short work of all but the most demanding processes, although the processor is nowehre near as powerful as many other high-end chips. Multitasking, however, is a breeze and the overall responsiveness is very quick and fluid.
The addition of Android 5.0 Lollipop adds to the fluidity of the experience and I can only say I am impressed and can confirm that it is very hard to slow this phone down, no matter what you throw at it. Even serious sessions of hi-res gaming (with five 3D games at a time) and endless app switching are easy work for the Zenfone 2. If slow-down under stress has always bothered you in the past, the Zenfone 2 will make you happy.
The Zenfone 2 features a range of hardware options: two versions with 2 GB of RAM and a quad-core Atom chipset clocked at 1.8 GHz, one with a 1080p display and another with a 720p display, and the big one (that we are reviewing here): with 4 GB of RAM, 1080p display and the 2.3 GHz CPU.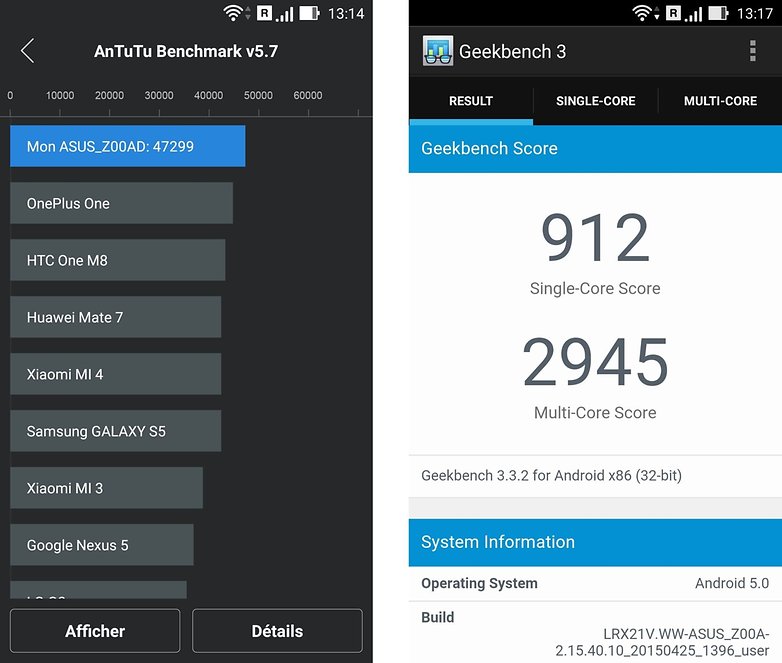 There are 16, 32 and 64 GB storage capacities on offer along with microSD expansion. You even get 5 GB of lifetime web storage with Asus and the 100 GB Google Drive storage we mentioned earlier. The Zenfone 2 is a Cat. 4 LTE device with data speeds of 150 Mbps.
We benchmarked the Zenfone 2 to see if those figures matched up with our real-world experience. In AnTuTu, the Zenfone 2 scored just over 47,000 (for comparison, the Galaxy S6 tops 67,000) - a little surprising considering how well it handles multi-tasking, but not so surprising when you consider the relative weakness of the Intel chip compared to the S6's Exynos 7420.
In Geekbench 3, the Zenfone 2 scored pretty poorly too, with a single-core score of 912 and multi-core score of 2945. Again, compared to the Galaxy S6, which scored 1500 and 5100 respectively, you can see where the Zenfone 2 starts to fall down when it is compared with devices that cost three times as much. The takeaway here is multitasking good, raw power not so good.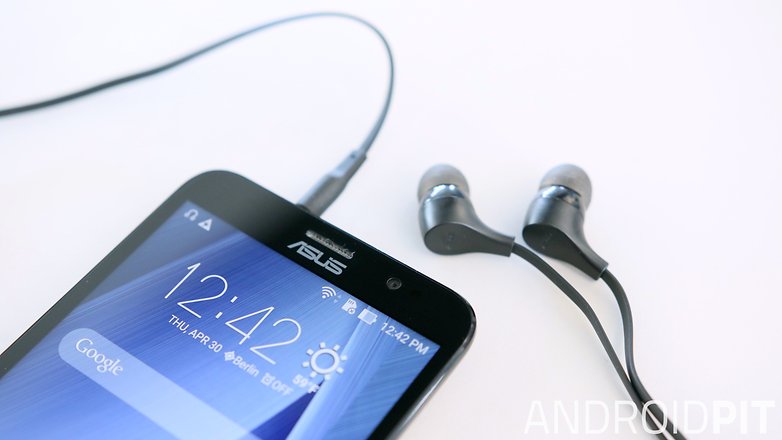 When it comes to graphics, the PowerVR G6430 provides quite competitive performance, with between 153.6 to 230.4 gigaflops (floating point operations per second). By comparison the Adreno 418 in the LG G4 hits 155.5 gigaflops and the Galaxy S6 (with the Mali-T760MP8 GPU) going up to 320 gigaflops.
Of course, performance is not all about the numbers. As you can tell by our commentary above, the graphics and multitasking performance of the Zenfone 2 far surpasses it's raw processing power. As always, take numbers with a grain of salt and try the device out for yourself to see what you think of its performance strengths and weaknesses.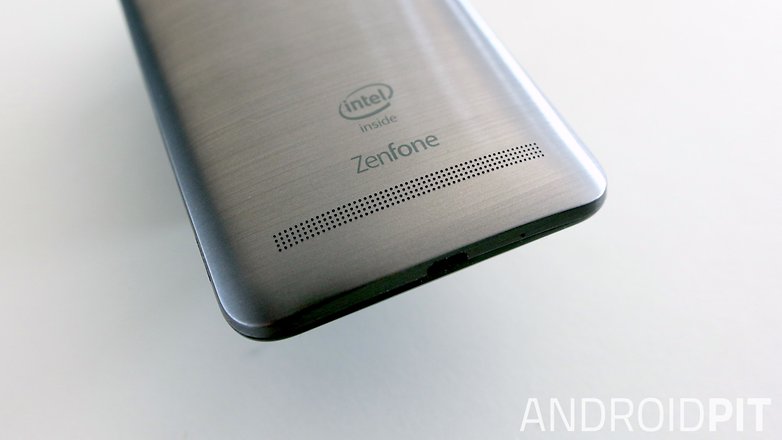 Asus Zenfone 2 audio
Despite that nice big speaker grill on the back of the Zenfone 2, if you pull the back cover off you'll quickly see that the speaker itself is quite small and located on the left hand side only. Having said that the audio quality on the Zenfone 2 is pretty impressive. For a phone at this price point you really can't ask for me and to be honest, you're unlikely to find a better speaker on a phone at this price point.
The microphone and speaker for calling are good in both directions. Call quality on the Zenfone 2 speaker is crisp and clear and the same is true when receiving a call from the Zenfone 2 (although it's hard to measure the microphone quality without being entirely dependant on the speaker quality of the phone receiving the call). Audio recordings produce solid results though, which reinforces the experience when receiving calls from the Zenfone 2.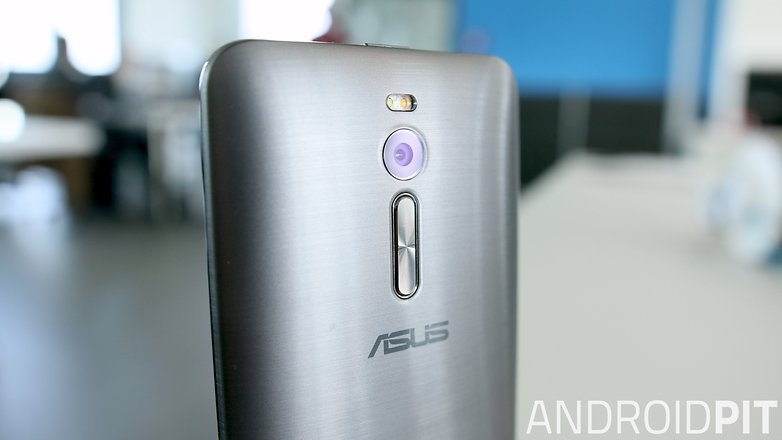 Asus Zenfone 2 camera
As mentioned above, the Zenfone 2 camera features Pixel Master technology, which promises excellent low light performance. The fast shutter speed of the 13 MP camera certainly held to produce good shots in low light which you can see below.
Both the main camera and 5 MP front-facing camera have a f/2.0 aperture and there's a two-tone flash for more natural looking selfies. Pixel Master brings low-light improvements, Backlight (HDR) mode and a manual mode which is very nice to see on such a cheap device.
It goes without saying that the Zenfone 2 camera is not in the same league as the cameras found on the LG G4 or Galaxy S6, but for a phone that only costs half as much or a third of the price as those devices, the Zenfone 2 holds up very well. The 5 MP front-facing camera is also surprisingly good and provides excellent quality selfies and video calling images.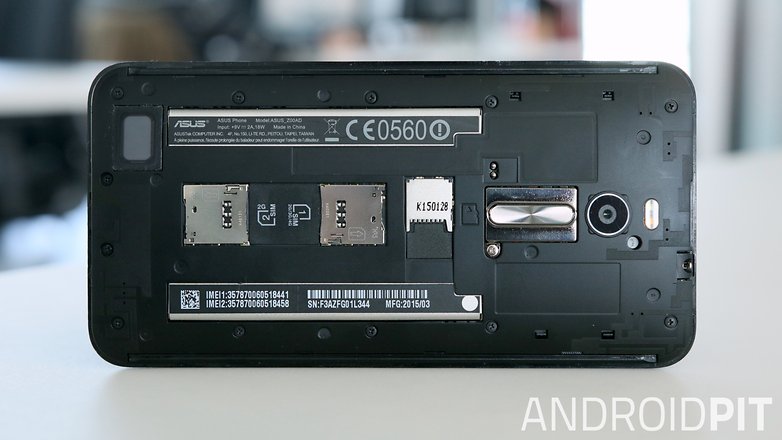 Asus Zenfone 2 battery
The Zenfone 2 has a 3,000 mAh fast-charging battery that is non-removable. With the hardware optimizations of a 64-bit chip and Full HD display, you can expect all day battery life to be no problem. If you're conservative with your usage it's not impossible to hit two days' worth of battery life, but we found one day to be a much more realistic figure.
Fast-charging makes things easier too, so you can load up to 60 percent of the battery's capacity within just 40 minutes. While this doesn't solve the larger battery issue facing the Android world, fast charging is a pretty great stop-gap and it's great that the Zenfone 2 includes it.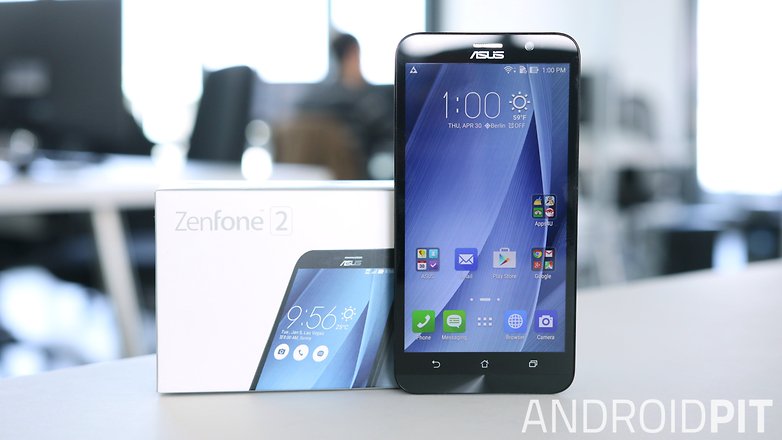 Asus Zenfone 2 technical specifications
Final verdict
Asus has really outdone itself here: it has managed to produce a premium-looking device in the same design class as the HTC One (M8) and the LG G3 at the same time as putting the world's first 64-bit chip in combination with 4 GB of RAM.
But the real feather in the cap is the price, which is incredibly low. Sure, the rest of the specs sheet of the Zenfone 2 may not be quite as impressive as some of the other flagships we've seen this year, but again: look at that price. For a phone this cheap you're not going to find anything comparable (until the OnePlus Two appears perhaps).
With impressive devices like the Zenfone 2 and the always-low Asus pricing structure, the company is making great inroads. To sum up the Zenfone 2 you've got a great-looking device with a solid camera and battery, fun and customizable interface and serious multitasking and graphics capabilities. The raw processing power may not be up there with high-end flagships, but for the price the Zenfone 2 is pretty unbeatable.
Asus Zenfone 2 - where to buy?
US
UK
(The Zenfone 2 version with 16 GB, 2 GB RAM is available from the above retailers for a RRP of 199 USD and 150 GBP.)