Zenbook 17 Fold OLED review: How good is Asus' giant foldable?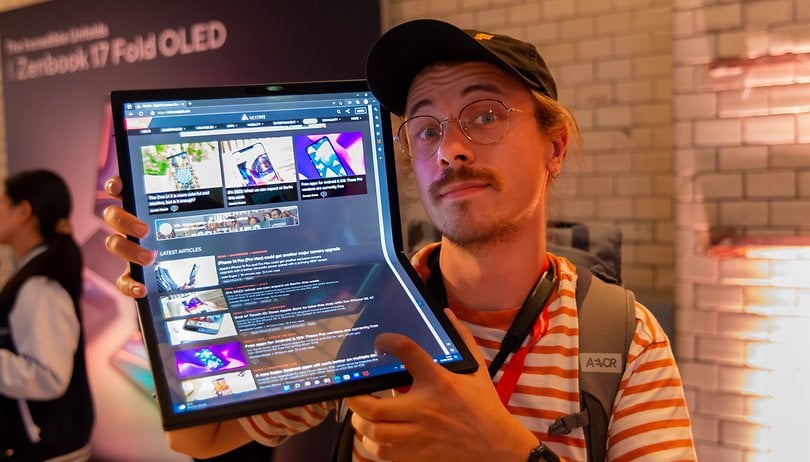 At first glance, the Zenbook 17 Fold OLED looks like a Galaxy Z Fold 4 - on steroids! A second glance revealed a new way of thinking about notebooks. I was able to test the laptop out that was armed with a flexible OLED screen on behalf of NextPit and to reveal how well the concept works in this hands-on.
Good
Wide range of applications ...

Ingenious desktop mode thanks to its integrated stand

High performance level

Long battery life (up to 9 hours)
Bad
... which are not all useful

Extremely expensive!

Few connectivity options

Keyboard and touchpad with too high latency
Asus Zenbook 17 Fold OLED release date and price
Even though Asus presented the Zenbook 17 Fold OLED at IFA 2022, the foldable notebook is not a new novelty in the world. We marveled at it at CES in 2020. However, Asus has now announced an official launch for the device.
The Zenbook 17 Fold OLED will be released in the fourth quarter of 2022 at a price starting at $3,500. You can read whether this massive purchase is worth it, at least in terms of first impression.
Design & Concept
The highlight of the Zenbook 17 Fold OLED is, of course, THE foldable OLED display, which measures 17.3-inches across diagonally when opened. This makes the notebook more compact than a conventional 17-inch notebook, but it can theoretically offer the same display area. In order to achieve this, you place the opened notebook vertically and use it with a mouse and keyboard. When you're on the go, you fold up the Foldable and type on the lower half of the display.
---
What I liked:
Flexible display without any visible crease.

Ultra-compact for a 17-inch display.
Very high-quality for a first model.
What I disliked:
Thicker than conventional notebooks.
Connection to external keyboard is not lag-free.
Very susceptible to fingerprints.
---
At the presentation of the Zenbook 17 Fold OLED, everything revolved around the new possibilities that the novel design brings with it. At the roundtable, everyone present even had to reveal what their favorite use case scenario is. And indeed, many work uses can be realized with the $3,500 "foldable notebook" (note from Stefan: "Aren't all notebooks 'foldable'?").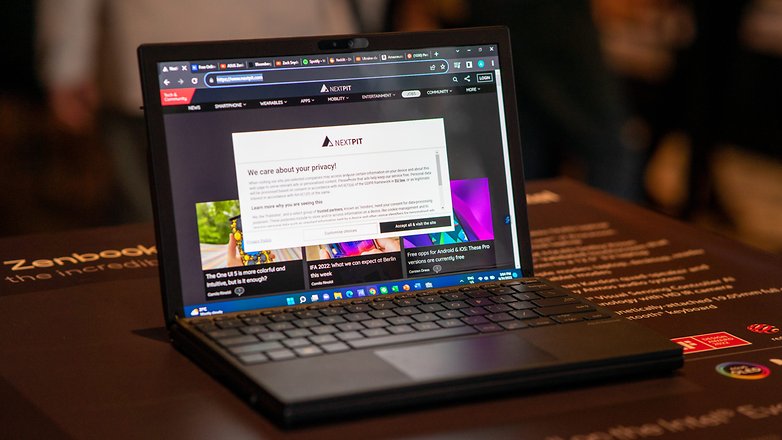 As the Zenbook 17 Fold OLED comes with a detachable keyboard, it folds over one of the sides in a smooth manner. The pre-installed Windows 11 directly recognizes that a keyboard has been connected to it and consequently, displays all contents on the upper segment. Thus, you can use the notebook like a conventional model without a flexible display.
If you remove the keyboard, you can optionally work with a virtual keyboard. But who wants to do that? Instead, you can open the foldable completely and use it like an oversized tablet. That would be the second purpose Lenovo had in mind during the conception. However, the rather hefty weight of 1.5 kilograms without the keyboard makes sofa surfing a real feat.
On the other hand, I found Lenovo's idea to use the opened tablet as a desktop replacement via the integrated stand and keyboard to be really clever. The compact form factor, which actually resembles a 13-inch notebook, can be turned into a PC with a 17-inch screen on the train, on a plane, or at a café. That's quite enormous, even if you want to watch movies or binge on your favorite TV series.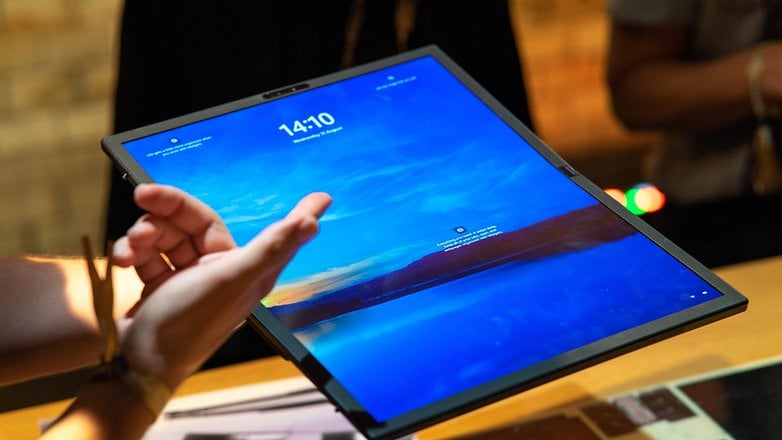 The display itself is high-contrast thanks to OLED technology and sufficiently sharp thanks to a resolution count of up to 2650 x 1920 pixels, even if you would have wished for more in such an expensive notebook. The display shrinks to 12.5 inches when folded and offers just Full HD resolution with 1920 x 1280 pixels. In return, the 4:3 (opened) and 3:2 (closed) formats are excellent for mobile work.
The OLED display also covers the DCI-P3 color space by 100%. Lenovo integrated a feature to divide the screen in the Zenbook 17 Fold OLED so that multitasking works satisfactorily in every mode. Windows are displayed in two or three display areas at the touch of a finger.
Asus guarantees the durability for five years, or up to 30,000 times opening and closing. This means that you can open the notebook 10 to 15 times a day, which should be enough for most users. If you have seen many foldable smartphones like I have, you will also notice one thing: a crease is hardly visible in the center of the foldable OLED display. You would only be able to notice it when you run your finger over it. Whether this is still the case after 30,000 folds remains doubtful currently.
Asus Zenbook 17 Fold OLED performance
Asus also mentioned difficulties about designing such a notebook on stage at the eWerk in the heart of Berlin. One of these challenges was the dissipation of heat generated under a heavy performance load. Among other things, a cutting-edge 12th-generation Intel processor is helpful here.
---
What I liked:
Solid performance for an ultraportable notebook.
What I disliked:
Not available with a dedicated graphics card.
Every component is soldered, leaving no room for future upgrades.
Limited connectivity options.
---
So far, in my initial impression of the Zenbook 17 Fold OLED, I've gushed about as much as I would in a love letter to my first girlfriend. When it comes to the performance (of the notebook!!), however, I have to be a bit more critical. It's true that the performance is promising enough thanks to a cutting-edge 12th generation Intel Core i7 (i7-1250U), 16 GB of LPDDR5 RAM and up to 1 TB of SSD storage according to the fast PCIe 4.0 standard.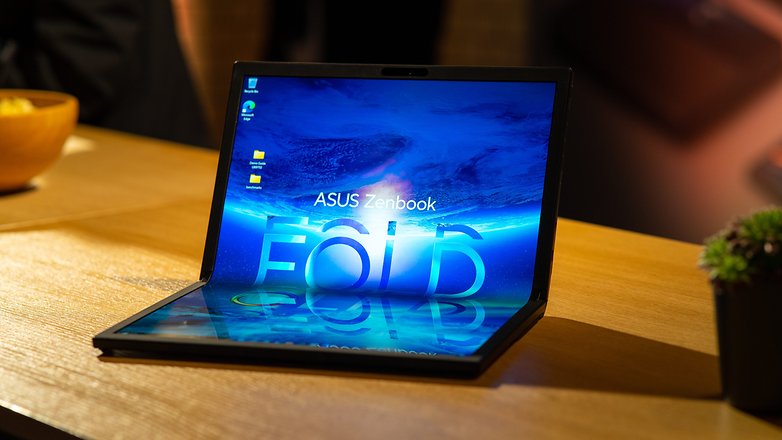 In view of the price, it's a pity that you have to settle for Intel Iris Xe onboard graphics chipset. The intended function for it as a mobile device for video editing and image processing is thus eliminated. At the same time, none of the offered features can be upgraded later, since Asus soldered all components onto the motherboard.
To make matters worse, you only have two Thunderbolt 4 ports and one available jack. What has long been considered normal in the world of MacBooks is still far from normal for Windows subnotebooks. Other models offer a lot more ports, which makes buying dongles and adapters an unnecessary exercise.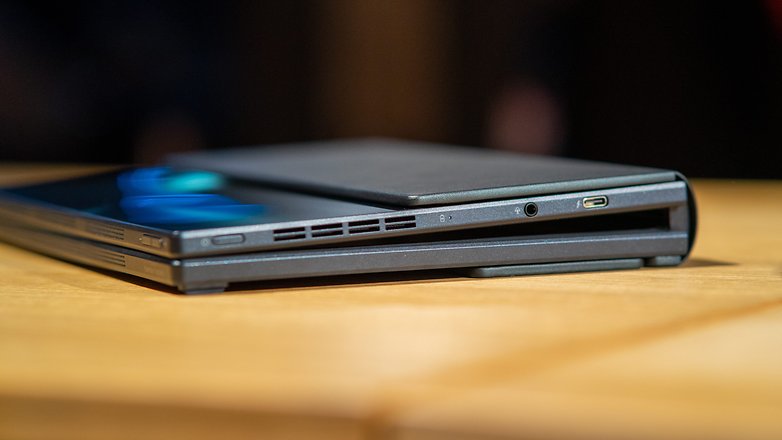 Bluetooth 5.2 and Wi-Fi 6E connectivity options are on board for wireless connections. There's nothing to complain about here—but that's all we can say after the short hands-on session. Asus emphasized that heat dissipation was difficult to execute in the design, and I would really like to try that out in a later review. After all, notebooks dissipate a lot of the hardware's heat via the keyboard and the lower part of the notebook —and there is a display in the Zenbook 17 Fold OLED. So where does the fanless notebook heat up?
Asus Zenbook 17 Fold OLED battery
According to the manufacturer, the Zenbook 17 Fold OLED should offer a battery life of more than nine hours despite the gigantic display. A battery with 75-watt hours sees action in the foldable notebook. Quick-charging is also on board, but Asus did not reveal how long charging takes in its press conference.
---
What I liked:
No disadvantages in battery life due to the foldable design.

Long battery life.
What I disliked:
75-watt hours make me skeptical.
---
Although none of the Zenbooks was connected to a power source on site, not much can be reported about the battery life after trying it out. So, I have to trust the manufacturer's claim that Asus' subnotebook with a 75 watt-hour battery lasts for a proud nine hours. This is supposed to be possible due to the energy-saving 12th generation Intel chip.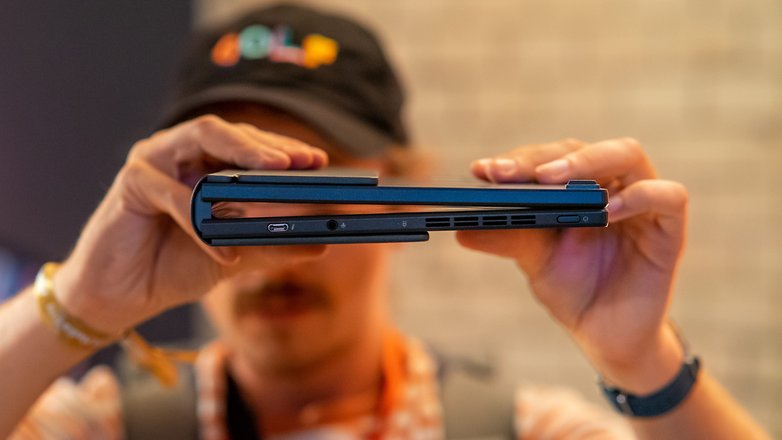 Possibly, this information refers to the use with the keyboard on top, where one half of the display is turned off. Since this is an OLED panel, this should significantly reduce power consumption since inactive OLED pixels are actually turned off. So once again, we will have to wait and see how the battery life is in reality.
Early Verdict
Is Asus' new foldable notebook a super exciting device that makes you want more? Yes! But is it also much too expensive if you are looking for a notebook for work or everyday use - unfortunately, yes!
This is because comparable hardware can already be found in sub-notebooks, which even Asus barely scrapes by with the $1,500 price tag. Of course, they do not have a flexible OLED display, but you will probably not benefit much from it in most situations. The advantage that you can also use the 17-inch notebook as a desktop replacement is beyond question.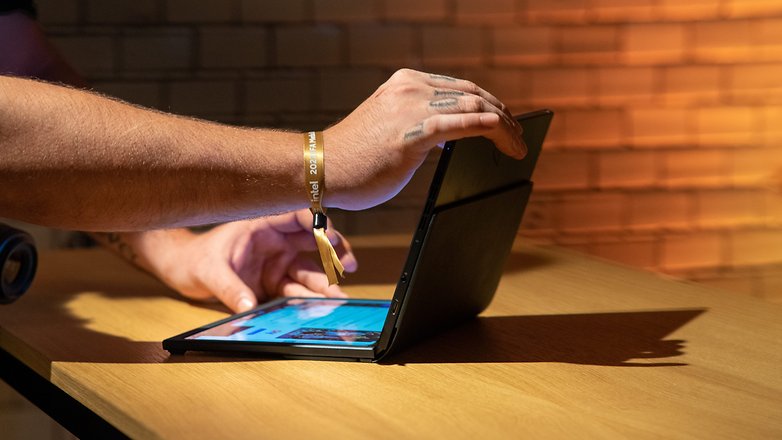 Apart from that, the giant tablet is too heavy for the sofa, intensive typing is tiring and imprecise in virtual keyboard mode, and you transform the Zenbook 17 Fold OLED into a conventional notebook with the keyboard on. Here, I find Asus' notebooks with a secondary display on the lower side to be much more practical in everyday life, at the same time they can even be better positioned for better visibility in new generations.
Like the Lenovo ThinkPad X1 Fold that we also explored in our hands-on, the Zenbook 17 Fold OLED is a sci-fi dream come true that is actually available for purchase! It is exciting to see how finished and well-thought-out the first edition of such a concept looks from Asus. The manufacturer proved that it can debut unconventional notebook concepts very well. The entire idea is a bit cheaper at Lenovo, but comes without a physical keyboard as standard and only lasts for four hours on the road. Asus has the upper hand here.
However, I would not recommend buying it after my first impression. It is too expensive, does not offer a real advantage in many situations and I do not completely believe Asus' promises about heat dissipation and battery life after the press conference. But one thing is for sure: I want to test the Zenbook 17 Fold OLED out in everyday use!