ARM Cortex-X4 is Announced with a 15% Boost for 2024's Flagships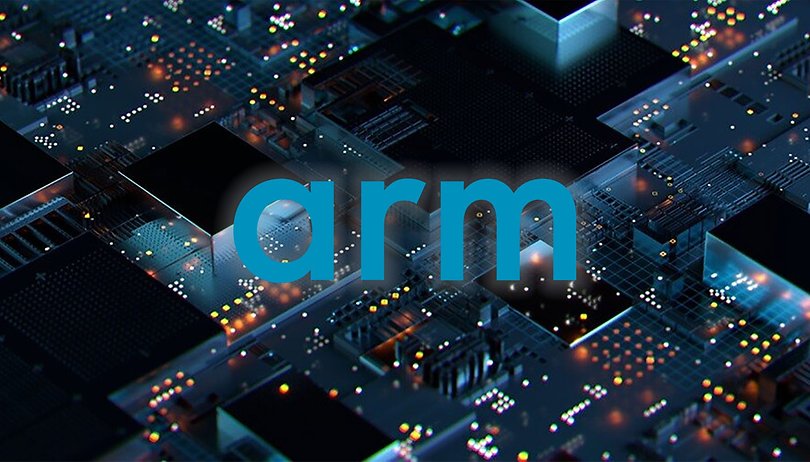 Just like clockwork, ARM announced its new generation of CPU cores. All of its major mobile cores received updates but the highlight is a more flexible core layout and the new ARM Cortex-X4 CPU promising double-digit performance gains for next year's high-end processors.
ARM chips with up to 14 cores
More than simply upping the model numbers, the new reference design from ARM—called Total Compute Solutions (TCS23)—is now built around a new interconnect called DynamIQ Shared Unit 120 (DSU-120), with support for larger caches and more CPU cores, up to 14.
The top-end layout example suggested by ARM—10 Cortex-X4 with 4 Cortex-A720—hint that the new DSU targets laptop and tablet chips, with lots of high-performance cores to challenge the Apple M2/M3 chips.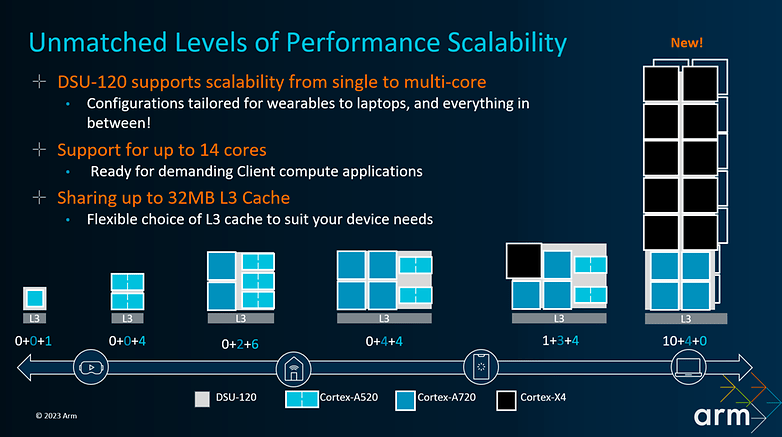 For flagship smartphones, ARM suggests two possible layouts, the first one with a now traditional 1+3+4 structure (high-performance, balanced, efficiency cores, respectively), and a new one with a 1+5+2 organization, using the new CPU cores we cover below.
Cortex-X4 for high-performance mobile chips
Probably the most interesting announcement was the new Cortex-X4 core, not only it features the 15% performance improvement already mentioned over the previous Cortex-X3—found in the Snapdragon 8 Gen 2 and MediaTek Dimensity 9200—it also promises 40% better power efficiency when running at the same performance level.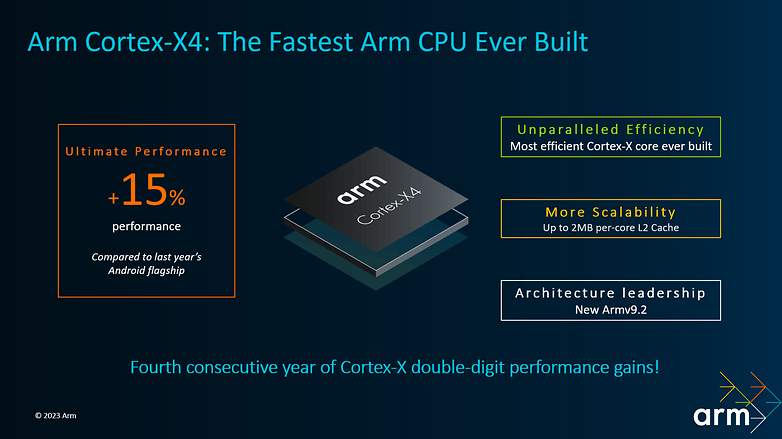 The Cortex-X4, together with its smaller siblings also features enhanced security features, designed to prevent RAM exploits and vulnerabilities, and a new Armv9.2 architecture, with additional instructions for more performance in the increasingly important AI and HPC (high-performance computing) features.
Expect to see the new core in the next-generation Qualcomm and MediaTek processors—presumably the Snapdragon 8 Gen 3 and Dimensity 9300 chips—launching in Q4 2023, and possibly a new flagship Exynos processor.
Cortex-A720 and Cortex-A520 for everyday tasks
Also built on the Armv9.2 architecture, the new Cortex-A720 and A520 cores push ARM chips further into the power efficiency curve, with a 20% and 22% improvement over the A715 and A510 cores, respectively, using the same frequency and lithography process.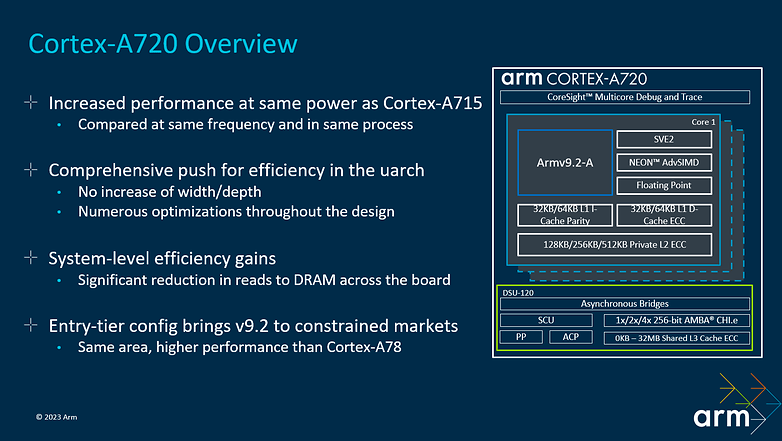 ARM didn't provide performance estimates comparing the Cortex-A720 against its direct predecessors, so don't expect the same performance jump promised on the X4 core.
The Cortex-A520 priorities, on the other hand, are strictly on power savings while being compatible with the new architecture revision. That didn't stop ARM from mentioning an 8% improvement in performance compared to the A510 core using the same frequency and process node.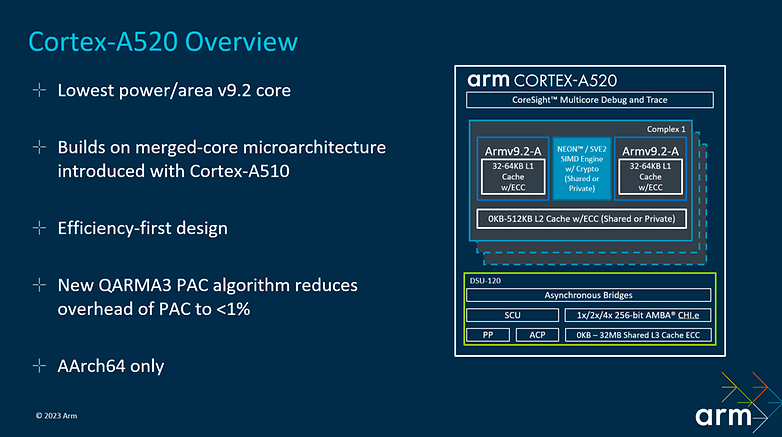 More importantly, the Cortex-A520 leaves behind aarch32 support, supporting only aarch64 (64-bit) apps. Google has been pushing for 64-bit apps on the Play Store, but the transition is still far from over, with even Qualcomm mixing A715 and A710 cores on the Snapdragon 8 Gen 2 to keep 32-bit compatibility, especially in the Chinese market.
It remains to be seen how the other markets for ARM chips—TVs, STBs, wearables—will transition to 64-bit. But considering past architectural transitions, chips for entry-level phones and consumer electronics are usually the last ones to adopt newer cores and architectures.
One more thing: new GPUs
Lastly, ARM also announced a new generation of GPU cores. The fifth generation of ARM promises more performance and efficiency while being compatible with the latest technologies such as ray tracing (on the Immortalis-G720 core), HDR, and variable rate shading for improved image quality.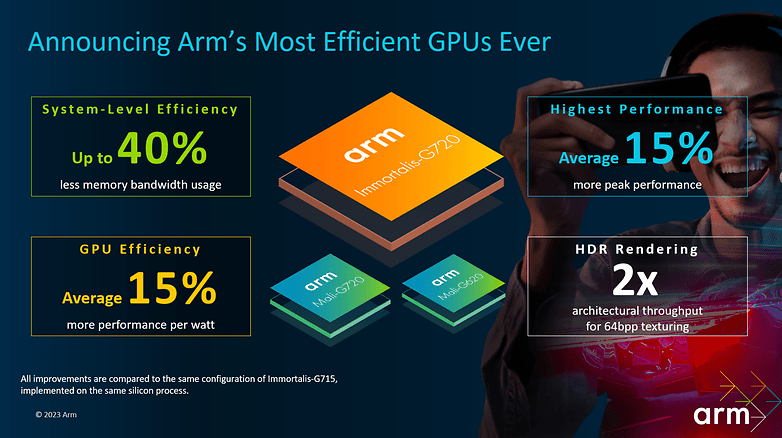 It remains to be seen, however, which mobile chips will be powered by ARM's GPU offerings, since Qualcomm uses its own Adreno cores, Samsung renewed its AMD Radeon licensing for future flagship Exynos chips, and even MediaTek has partnered with Nvidia for its future automotive processors, for now.
As usual, ARM's announcements just prepare the terrain for other announcements from its licensees such as the brands mentioned earlier–Qualcomm, MediaTek, Samsung, etc. So the stage is set not only for more powerful mobile chips but also even processors targeting other form factors such as laptops, VR headsets, wearables, and more.