Here they are: Our top 5 Android and iOS apps of the week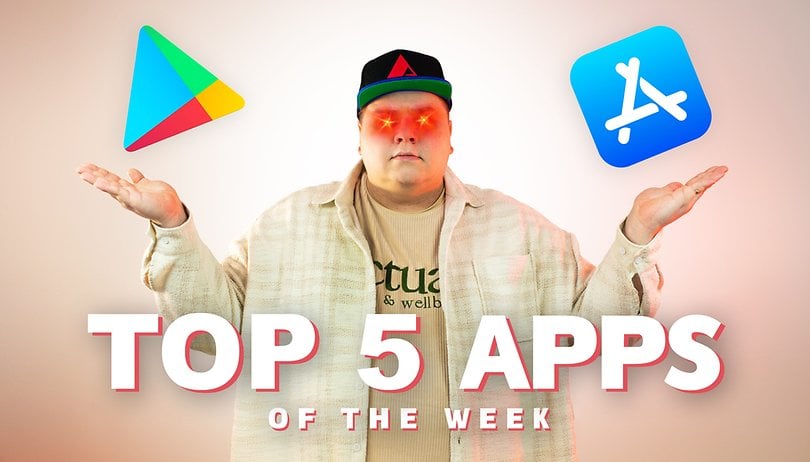 Each weekend, we at NextPit meet to check my selection of 5 free or paid mobile applications and games that caught my eye on both the Google Play Store and the Apple App Store.
Each week, I will try to bring you the best possible apps that are not data traps or microtransaction hells. In addition to my own discoveries, I also included apps discovered by the NextPit community and shared over our forum, which I invite you to check out.
From mobile games to productivity apps, here are the 5 free and paid Android/iOS apps from NextPit this week. We publish this selection every week, you can also check my 5 free apps of last week.
Get a 30-day Free Prime Video
with Amazon Prime Trial
AirNotes (Android)
This application allows you to seamlessly transfer photos from your Android smartphone to your Windows or Mac PC. Once the application is installed on your smartphone and on your PC, you can take pictures with your smartphone or select a handful from your gallery, where they will be transferred in real time over to your PC to a folder of your choice.
AirNotes also offers a one-handed use mode that makes its interface more ergonomic as well as an extension for Word that allows you to add a photo directly to an existing Word document. The connection speed is quite fast and quite stable. The application does not contain any ads or in-app purchases and does not require you to create an account.
Price: Free / Ads: None / In-app purchases: None / Account: Not required.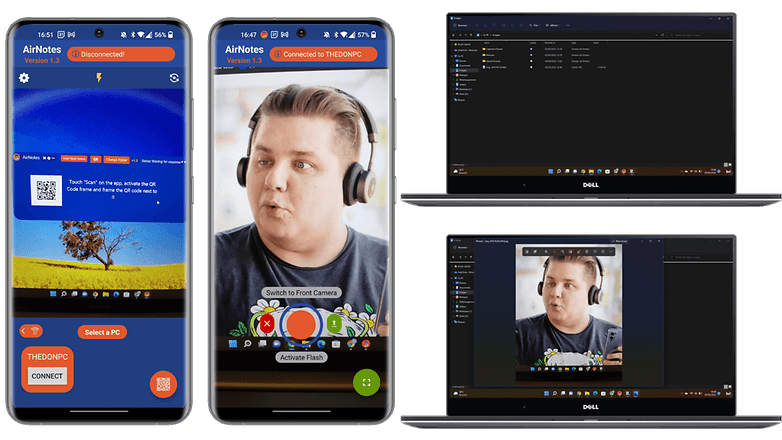 Physics! Fun - Sandbox Game (Android)
This is a game, but I would classify it as a wellness app because it has the same effect as a stress ball. Basically, it's a simulator that allows you to generate shapes and other geometric elements that are subjected to the law of physics. In other words, they are interactive and react accordingly, just like the real world.
So, you can place cubes, circles, triangles, but also particles and even puppets or ragdolls within. Once your elements are generated in the game space, you can trigger events such as explosions and attraction fields to make all of the elements within move in different directions.
In terms of feel, it's a bit like kicking a balloon and smashing a TV with a baseball bat. You can release steam through the digital violence of explosions and projections, but you also have the repetitive nature that is linked to the inertia of the elements, where all of them always end up falling back "on the ground".
I know that I am confusing you with my explanations. I am writing this article on a Friday night and I am giving myself a brain cramp. So watch the trailer of the game below and you'll quickly understand the concept.
Price: Free / Ads: Yes / In-app purchases: Yes / Account: Not required.
Get a 7-day Free Apple TV+ trial
Foundation, The Morning Show and more!
Play Save Videos Watch Later (iOS)
This is a bookmark application for your YouTube videos or others. Using it is as simple as copying the URL to add a video to your queue. You can also drag and drop to add a video as well as sync your saved videos to all your Apple devices via iCloud.
The app also features a widget for your home screen as well as a Safari extension to add videos from your browser in double quick time. Play Save Videos Later is ad-free and has no in-app purchases. However, it will cost you a one-time payment of $1.99.
Price: $1.99 / Ads: None / In-app purchases: None / Account: Not required.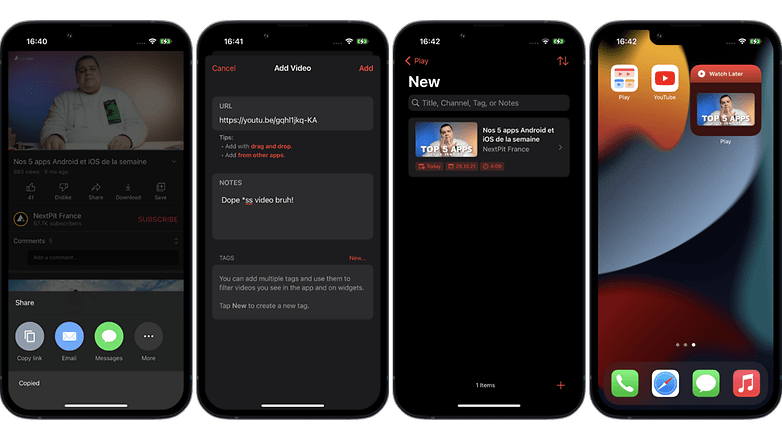 Pushcuts (iOS)
Pushcuts is an app to optimize your home automation. Basically, if you use HomeKit plenty of routines with your ecosystem of connected objects in your smart home, Pushcuts allows you to create custom shortcuts with different triggering mechanisms in addition to notifications.
The idea is to remind you of a particular routine and to trigger it in a specific situation with an accompanying action. Personally, I'm not invested enough in the Apple ecosystem to understand everything. And I may have a fetish for productivity applications, but automation is a guilty pleasure that I haven't really discovered a taste for yet.
The application is ad-free but you have to pay 2,99€ per month or 24,49€ per year to access the full version.
Price: Free / Ads: None / In-app purchases: Yes ($1.99/month or $17.99/year) / Account: Required.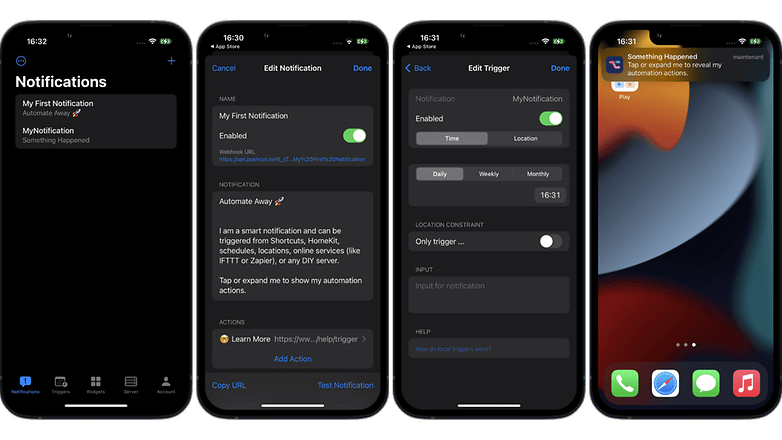 Get a 30-day Free Prime Gaming
with Amazon Prime Trial
Nothing Launcher
You will know of it if you follow NextPit, Nothing, Carl Pei's startup, is going to launch its new product which will be its very first smartphone in due time. The Nothing Phone (1) is not yet released, but you can already have a taste of the user interface through this Nothing Launcher.
It is indeed the official launcher from the manufacturer. But it is obviously very limited in functionality since it is a simple marketing tool, at least for now. We can check out the background that is rather gloomy, we admit, where it resembles a hand placed behind an opaque glass. We can also see 3 widgets for the clock, weather, and Google search bar, in addition to icons that can be enlarged or reduced in size as you please.
Do take note that the Nothing Launcher is compatible with selected handsets only as at press time.
Price: Free / Ads: None / In-app purchases: None / Account: Not required.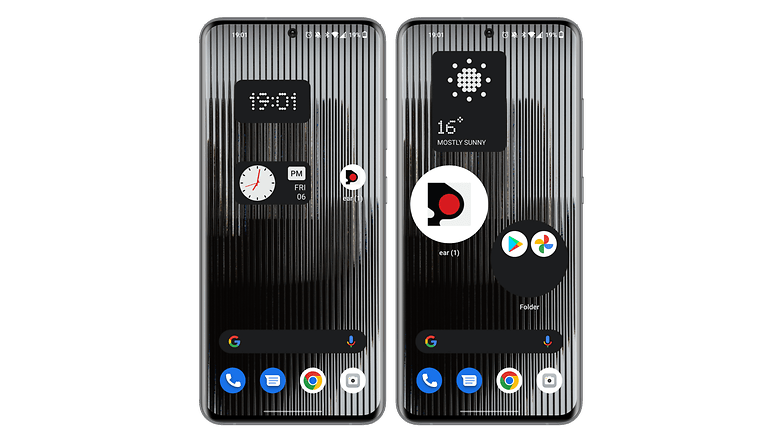 What do you think of this week's selection? Have you already been able to test some apps on this list? What would be your Android and/or iOS apps of the week?