Apple Smart Battery Case review: 50% more battery for your iPhone 11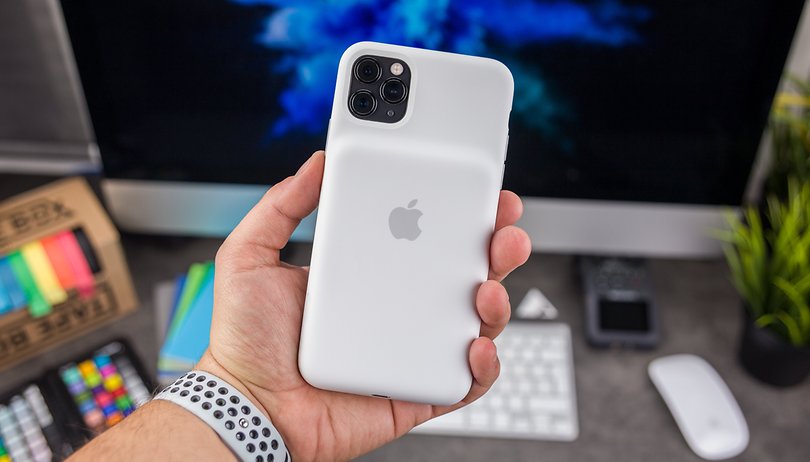 Anyone who has read our reviews of the iPhone 11, iPhone 11 Pro and iPhone 11 Pro Max knows that Apple has already gone the extra mile and improved the battery performance of this year's lineup. And yet Apple has added official Smart Battery Cases, which are supposed to add up to 50 percent of runtime. NEXTPITTV
For those who just got up: welcome to the information age, the third epoch of our modern society. The digital revolution is in full swing. Much around us is smart, equipped with artificial intelligence, portable, mobile and constantly connected to the Internet. (At this point you have to think of an epic choral song in the background).
Almost the entire knowledge of mankind is available to us always and everywhere. At the push of a button, we can pull up every movie, cat video, meme, news article, book, and unnecessary tweet. We can create all this and more ourselves, with the smartphones in our pockets - at least until the battery is empty. Then we panic and search for the right cable and a power bank in our drawers, which we have probably forgotten to charge.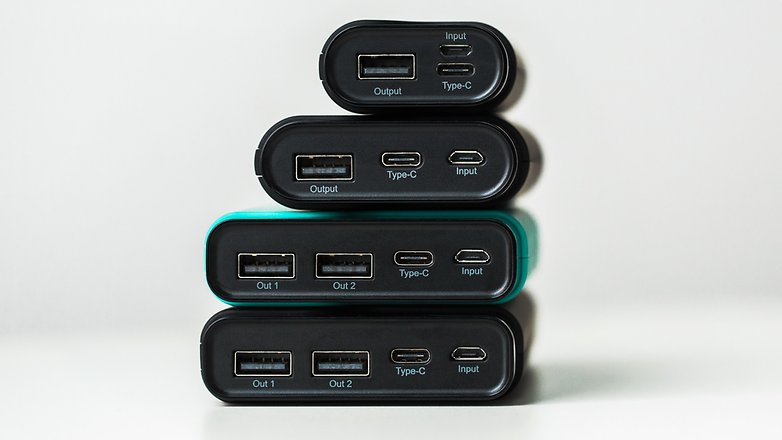 I must confess, I couldn't tell you in a flash how many power banks I own. My unmanageable collection of charging cables causes laughter and astonishment on the part of my better half more often than I would like. But who laughs last, has a charger cable with him, I always say. Unless I forgot to pack one, which I of course only notice when I'm already on the plane or train.
Professionally and privately, I travel quite often, for example to my Austrian home country or to press events, hands-on appointments, trade fairs, and congresses. And as good as always the first two things that are packed are a power bank and a charging cable.
On longer trips, this again required an additional charging cable for the power bank itself, as these can usually still only be charged via micro-USB. Then you need either a second USB charger especially for the power bank or a larger duo charger for the iPhone and power bank. How quickly one of the backpack compartments is filled with charging and cable thunderbolts.
Before you know it, this will all become more of an effort than a relief. But you put up with it. After all, even the best smartphone doesn't send emails, download news, check Slack, or take pictures with a flat battery. And when I come home in the evening and find a group of Pokémon GO players wired to their power banks like Neo from The Matrix standing at the intersection, it's obvious that no Pokémon can be caught with a dead battery either.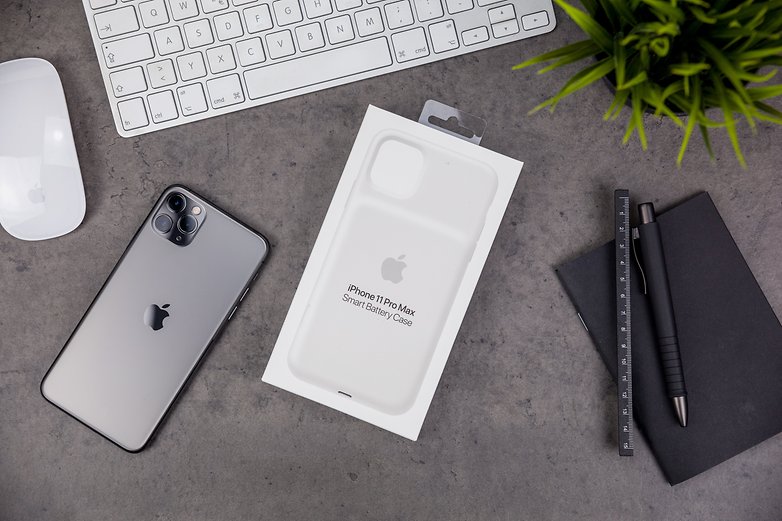 With the Smart Battery Cases, Apple offers iPhone users a much more elegant and also smarter alternative to power banks. As the name suggests, this is a protective case with an integrated additional battery. For a few weeks I have been using Apple's new Smart Battery Case for the iPhone 11 Pro Max and I am literally relieved, and not just of the weight of the charging equipment in my backpack.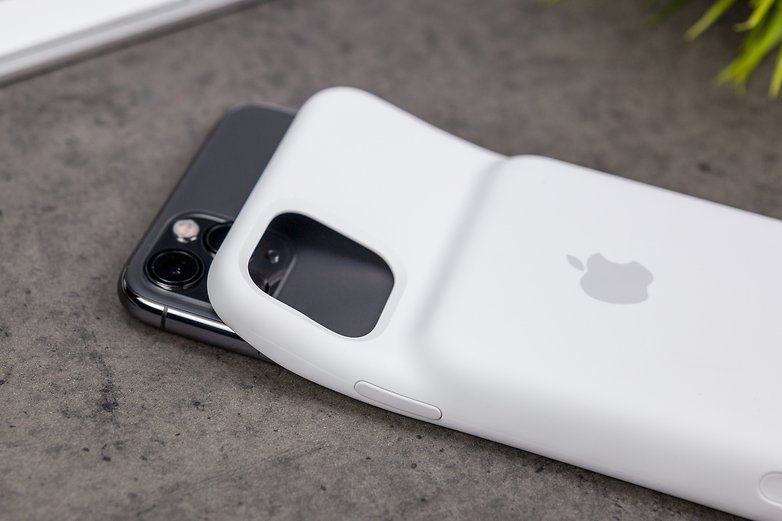 The Smart Battery Case extends the runtime of iPhones by around 50 percent. In hours, this cannot be defined, since everyone has a different usage behavior. Apple's statement checks out. From my own experience, I can say that in the case of the iPhone 11 Pro Max, you can make ends meet without a power plug even on long weekend trips with lots of photos. By the way, the suffix "Smart" comes from the fact that the case and an iPhone inside it constantly communicate with each other and exchange information about charge levels and connected chargers.
Depending on the combination of all three factors, the iPhone and the case calculate and select what is charged when and how quickly. If you need to recharge the case and iPhone, a single Lightning cable is enough to charge both.
If the connected charger is powerful enough - for example, a USB-C charger for a MacBook - the case and iPhone are charged in parallel until all batteries are full. This is the fastest method.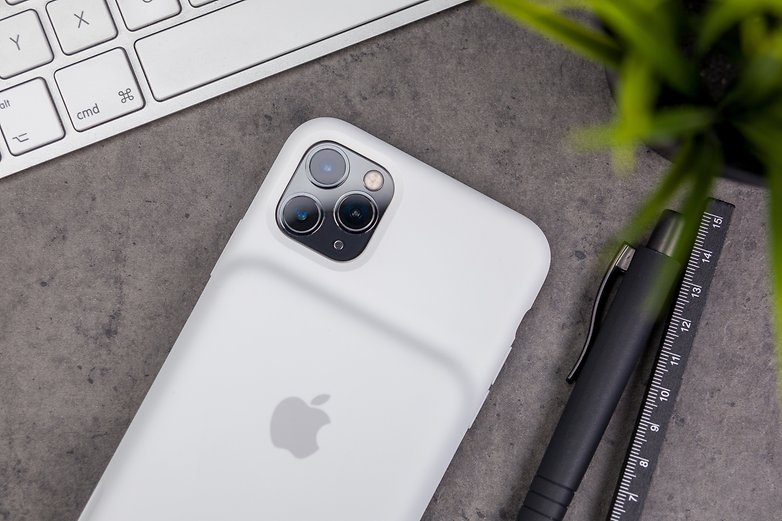 Using an Apple 18-watt USB-C charger, the iPhone is charged quickly and the Smart Battery Case is charged slowly at the same time. When the iPhone's battery level reaches around 50 percent, the charge power is divided equally between the two devices to conserve the battery cells.
If you take a weaker charger, for example Apple's 5-watt USB power supply, the Smart Battery Case channels the power directly through to the iPhone and only helps itself towards the end.
In addition, the Smart Battery Case supports the Qi standard and can therefore be charged wirelessly on its own or together with the iPhone. Enough to fill up a little bit. But if the batteries in the case and iPhone are completely empty, this charging method is by far the slowest at four to six hours for a full charge.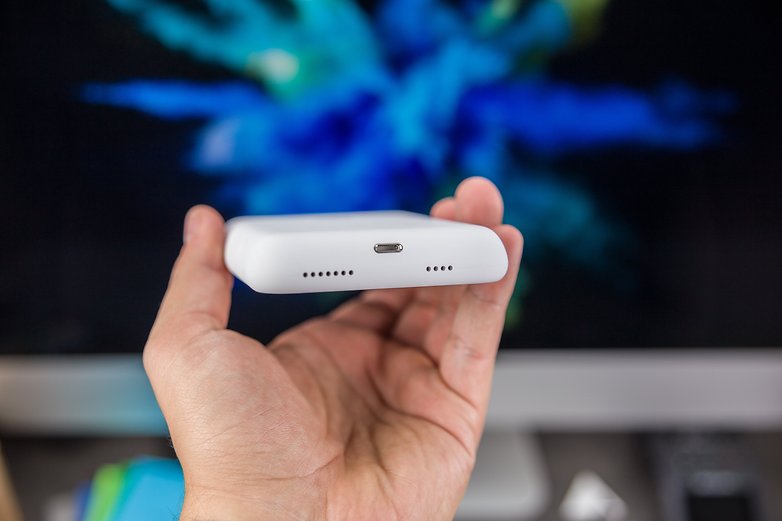 In contrast to other battery cases, the Smart Battery Case also channels data traffic from the iPhone. Thus, wired EarPods and Lightning adapters can be used.
The material feels velvety soft, consists of silicone and is lined with microfibre on the inside. So it basically reminds of Apple's regular silicone protective covers. The speakers and microphone of the iPhone are passively routed through openings in the case.
I did not notice any loss of connection quality, be it mobile telephony, Wi-Fi, or Bluetooth.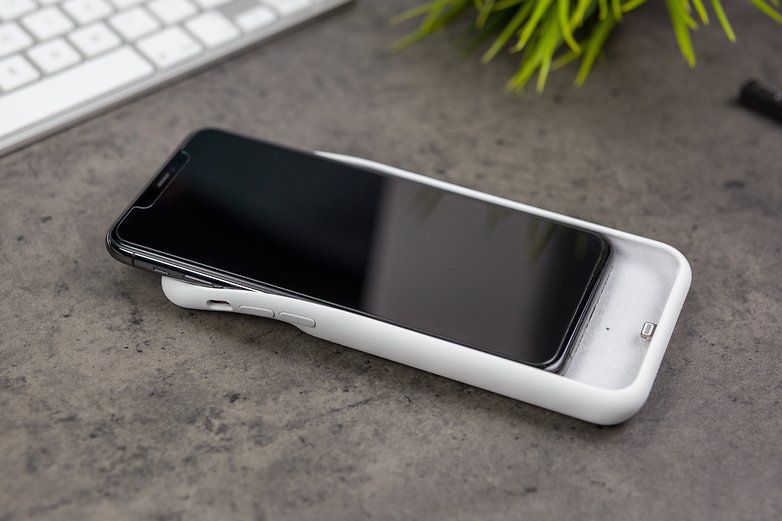 Finally, the Smart Battery Case has a dedicated camera button. It not only serves as a trigger, but can also start the camera app from iOS from a locked state. For Android users, this is certainly nothing really special, but for eager iPhone photographers, it is a very useful feature.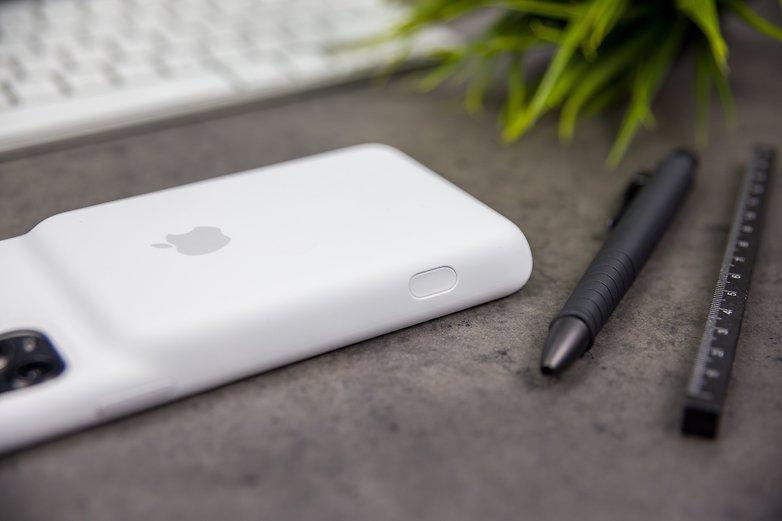 The capacity of all Smart Battery Cases for the iPhone 11 model series is 10.9 Wh. Depending on the model, they are available in black, white or pink sand at a price of $129. A proud price compared to a power bank and cable. But in return, you also get a compact 3-in-1 functionality that purifies your hand luggage, doesn't clog the Lightning port and can, therefore, be worthwhile for frequent travelers and heavy users.