Apple iPhone 8 Plus review: Classic look, future tech
Well, here we are. This year the time has come once more to cross to the dark side of the force, at least for a few days. All of us are anxiously waiting to try the brand new and (in its own way) revolutionary iPhone X, but we must not forget that Cupertino's company has also presented two other devices. But first, we will be analyzing the powerful iPhone 8 Plus.
Good
Long battery life

Perfect performance

High quality apps in the App Store

Best AR platform in the mobile world

Wireless Recharge

Telephoto lens

Video 4K 60 fps and 1080p 240fps 4K 60 fps and 1080p 240fps
Bad
Screen/front panel ratio

No audio jack

Somewhat heavy

Lack of manual mode in the camera

Heats up a lot under stress
Apple iPhone 8 Plus: All deals
Apple iPhone 8 Plus release date and price
iPhone 8 Plus is available for purchase in three colors and two memory sizes. Silver, Gold and Space Grey colors are all available in 64GB and 256GB versions at a price of $799 and $949 respectively, not just change.
The model I'm testing is the 256GB Gold, and I have to admit that the new coloring has impressed me a lot, but I'll get back to that. The price is really high considering that a few years ago at the same price you could buy a new MacBook, but we are used to the premium prices set by Apple and whoever chooses this type of product accepts it without protesting.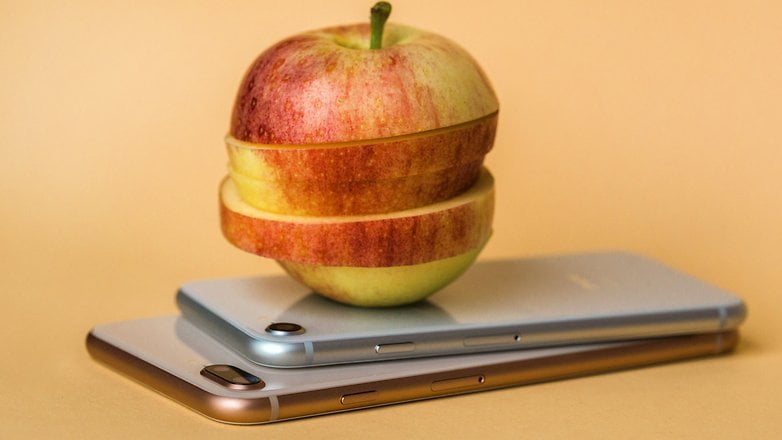 Apple iPhone 8 Plus design and build quality
At first glance, we don't quite have the impression of using a new smartphone. The front is perfectly identical to the previous generation and in my case it's white colored. It is on the back that we find the biggest differences. The old unibody aluminium shell has been replaced by glass.
We find again the pair of protruding cameras that featured were featured on the iPhone 7 Plus. These cameras are now surrounded by a thin band of the same color and material as the phone's frame. Everything else (logo, etc.) is under the glass. Obviously, the smartphone tends to incline on a flat surface because of the bump that contains the cameras.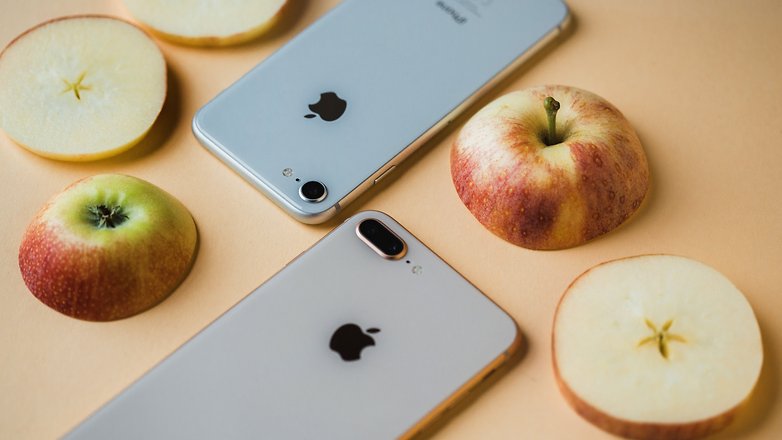 What I liked most about the Gold coloring of iPhone 8 Plus is the light cream-colored tint that we find under the rear glass, which matches very well with the red-copper color of the metal frame and Apple logo. The frame blends almost imperceptibly with the two glass panels present. In a certain light it is reminiscent of the Rose Gold coloring made famous by Apple and I find it the most pleasing of the three available colors. This creamy color closely resembles the Slickwraps retro skins and gives this iPhone an elegant, almost 1970's vintage look.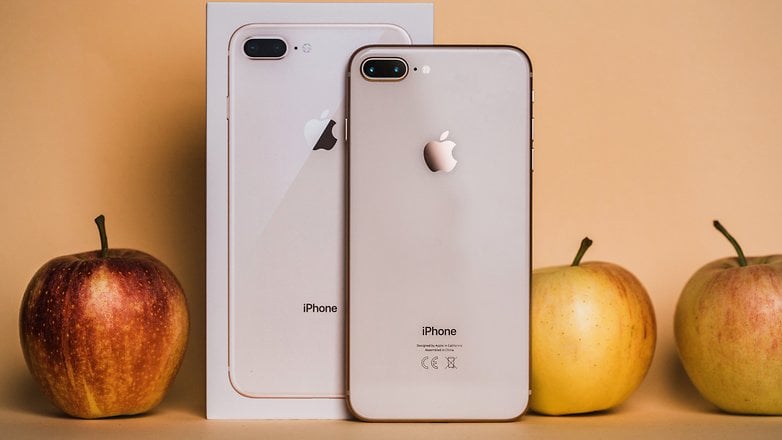 The glass panel on the back helps grip, at least in my humble opinion glass smartphones slide less than aluminum smartphones in hand, but the opposite holds true on any other surface. It's impossible to place your smartphone on the bed, sofa, pillow or any other point not perfectly parallel to the ground without your smartphone sliding quickly in any direction. Too much attention must be paid to where the phone is placed, but this does not only apply to the iPhone 8 Plus. Apple has been working hard on the rear panel for a long time, making it the most durable back panel ever. We'll see what happens when the first iPhone 8 Plus hits the ground due to user carelessness.
The smartphone is very awkward to handle and, although the 5.5-inch display is no longer considered huge today, the iPhone 8 Plus is very difficult to use with one hand. The weight of 202 grams makes this feeling of discomfort even worse. I find lighter smartphones with a larger display but smaller frames are much more comfortable to use in everyday life.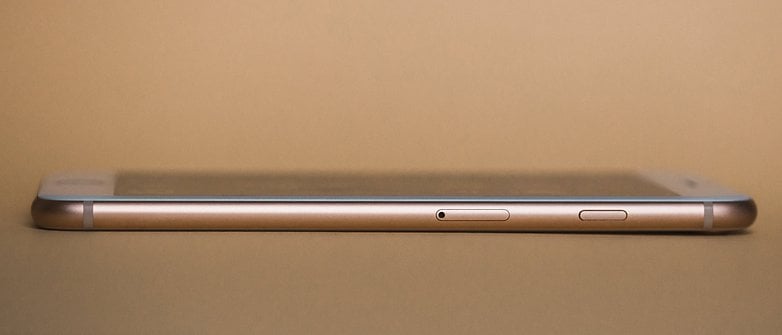 In addition, I find that the power button on the right side is slightly too high to be easily reachable, but considering that you will be obliged to use the front home button to unlock your smartphone even if you don't use the TouchID, this isn't much of an issue.
Small note: the Taptic Engine that replaces the vibration in iPhone's latest years is phenomenal and will make you forget that the Home button is "fake" by simulating the pressure click so precisely.
Apple iPhone 8 Plus display
The iPhone 8 Plus has a 5.5-inch Retina HD display with a resolution of 1920x1080 pixels and 401 ppi. The technology used is IPS type and guarantees natural colors, fairly high brightness and sublime overall quality. It's hard to find full HD 5.5 inch panels that are so pleasant to look at. Unfortunately, there is no HDR mode, no 120Hz update frequency like iPad Pro and the ratio remains the classic 16:9.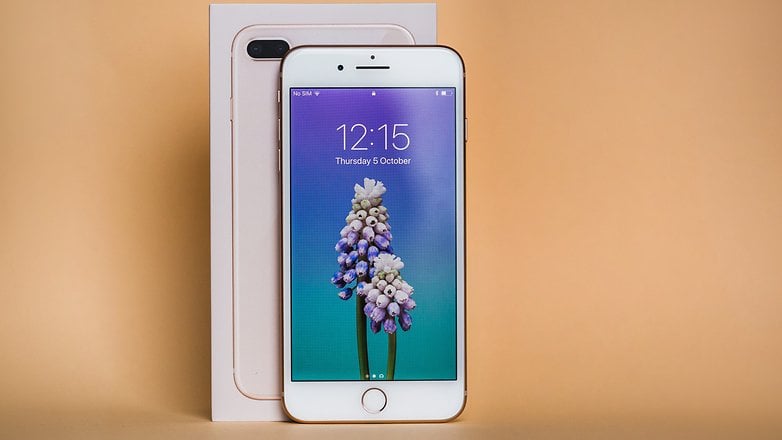 Nothing exceptional, therefore, but despite everything, it is one of the best IPS displays you can find on the market. Personally I prefer AMOLED panels but I can't complain about this screen because of the wonderful rendering and the really nice calibration Apple has done with the colors. The display covers the entire DCI-P3 color range and has a True Tone function that adjusts the display temperature according to the ambient lighting and situation. For example: in a room with warm white light (yellow tendencies), the display will also tend slightly to yellow to balance the colors shown on the display with the surrounding environment.
Blacks are not absolute and direct sunlight sometimes makes the display less visible but does not make it unusable. Apple's official website shows a contrast of 1300:1, which is far removed from the contrast values of OLED displays.
Apple iPhone 8 Plus special features
With iOS 11, support for ARKit - Apple's virtual reality platform - was introduced. The company has provided developers with all the tools and APIs needed to develop applications that, with the help of the camera, can transform reality as we know it.
Aim your smartphone at the sky and you'll see the constellations overlapping the camera images even in full daylight. Study the various organs of the human body walking around us as you observe them in three-dimensional interactive models. Build or destroy entire virtual worlds on the kitchen table with full freedom of movement to find the best viewing angle. Walk alongside extinct beasts thanks to DinosAR (which deserves a prize for the name at least). All this without the need for additional hardware.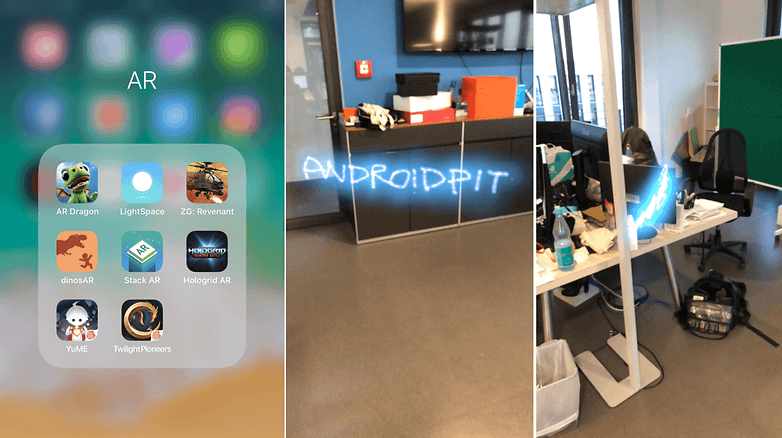 The applications that developers have been able to create are great and the iPhone 8 Plus is able to handle them effortlessly, even if a slight overheating can be detected. For now Apple, thanks to the large number of apps and their quality, confirms its leadership in virtual reality on mobile devices.
Apple iPhone 8 Plus software
iOS 11 powers the iPhone 8 Plus and as every year the new iPhone is the best way to see what the latest version can do. There aren't many novelties but some important components of the OS have been improved. The control center can be customized and allows the use of Force Touch on some buttons to access advanced functions.
Force Touch has also been integrated into notifications and you can now respond or interact with some notifications by simply pressing them forcefully on the display (don't get carried away, though). Screenshots have also been improved: now after capturing a screenshot, it will remain on the screen as a thumbnail for a few seconds allowing you to touch it and go directly to the editor where you can color, crop or rotate it.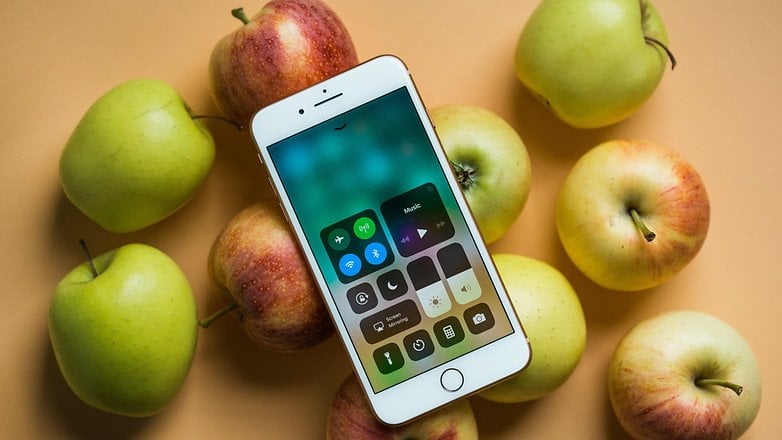 For the first time in iPhone's history we also find a File Manager even if not in the true sense of the word. You'll have access to an area where you can create folders, manage files, copy and paste various items and even integrate with the main online hosting services. The problem is that it's not a real file manager and doesn't give us access to the real file system of the smartphone. This means that we can create our own folder structure within the application, but we will never really know where these folders are placed inside the iPhone memory. Nerd problems, I know...
During the test for most of the time I used iOS 11.0.2 but on Wednesday evening I received the update to iOS 11.0.3. No news or bugfixes beyond those declared by Apple affect this smartphone and I have not noticed any difference between the two versions.
For detailed information on iOS 11, please refer to this article written by my colleague Eric, who goes into more detail.
Apple iPhone 8 Plus performance
As with every iPhone, the pure technical specifications aren't much to rave about. We don't find a 10 core processor or even 8GB of RAM. But often high specifications only serve to impress the audience with nice numbers on paper. It's true that the specifications count, but often (as happens with Mediatek processors) having so many cores and high frequencies doesn't mean anything if the resulting performance is bad.
iPhone 8 Plus: benchmark results
| Smartphone | 3D Mark Sling Shot Extreme ES 3.1 | 3D Mark Sling Shot ES 3.0 | 3D Mark Ice Storm Unlimited ES 2.0 |
| --- | --- | --- | --- |
| OnePlus 5 | 3736 | 4441 | 40819 |
| Samsung Galaxy S8+ | 2527 | 2787 | 31829 |
| iPhone 8 Plus | 2675 | 3663 | 63361 |
On the other hand, on the iPhone 8 Plus we find an Apple A11 Bionic CPU that in some tests has proved to be the fastest on the mobile market. And by no small amount. However, this only applies to pure power benchmarks such as Geekbench. In other tests carried out by myself with the help of Futuremark software, the results are not so far removed from the competition, except in a specific case, but in some cases the scores fall below some Android competitors. But as we know, benchmarks have to be taken with some salt and they are not the only yardstick of comparison between two devices.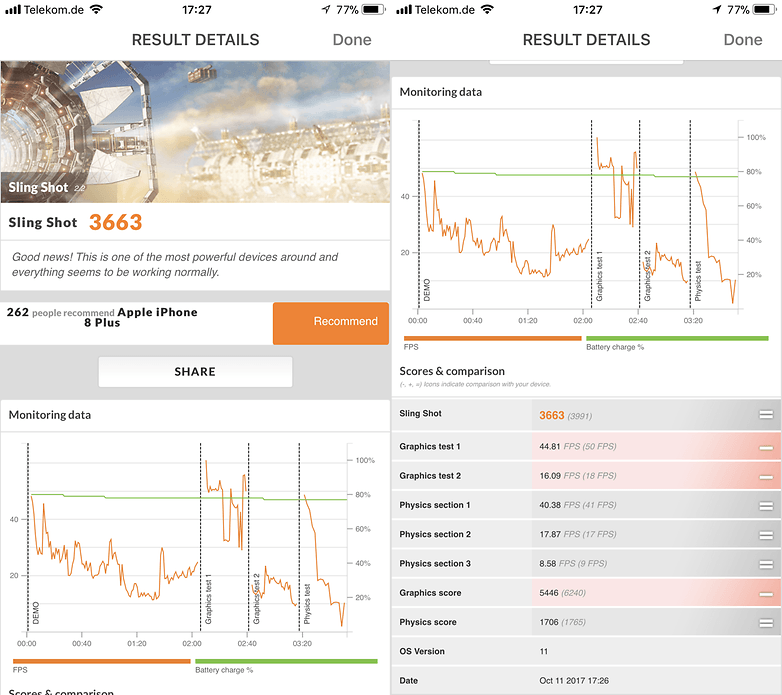 The iPhone 8 Plus runs flawlessly (no surprise) and performance in even the most complex 3D games is excellent. Never a drop in frames and never delays caused by the slowness of the hardware platform. Even AR functions have minimal latency, which is quite remarkable. Only once did I see the animation after unlocking the device slow down and lose frames but I think it was simply a small software bug as it didn't repeat in the hundreds of daily unlockings during the course of my review.
If you are interested in technical data, the Apple A11 Bionic CPU, the same as iPhone X, is equipped with 6 cores: two high-performance and four high-efficiency CPUs as well as an NPU dedicated to performing artificial intelligence functions. This co-processor is what makes a real difference in performance and allows iPhone 8 Plus to perform complex tasks such as processing photo data in the shortest possible time. Other competitors are going down this road such as Huawei with the Kirin 970.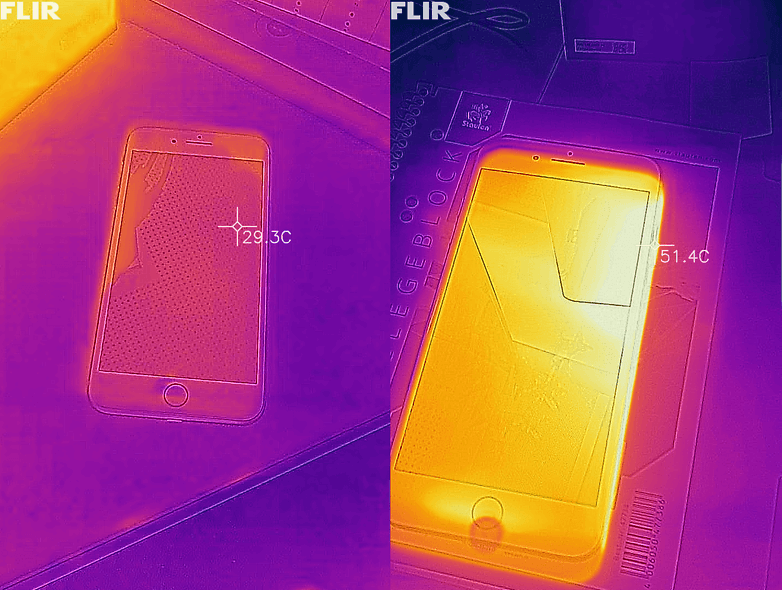 All this power is clearly not exploited on this iPhone at present. As we well know, Apple continues to sell its smartphones for years after releasing them, which means that the power of the A11 could come back comfortably in the coming years and with future updates. AR modes and using ARKit are the only things that can stress the device a little and make it warm up. But despite the fact that your smartphone heats up easily under stress, it cools at the same speed. Apple has done a great job with heat dissipation.
iPhone 8 Plus also features the new Bluetooth 5.0 which allows us to control two different devices at the same time, as well as improving the range of data transmission.

Apple iPhone 8 Plus audio
The audio hasn't changed much on these iPhones, but there are some noteworthy additions. The audio jack is still missing and you can rest assured that you will never see it again Apple is not famous for retracting its footsteps. In the box you can find the usual EarPods with lightning cable and a lightning adapter - 3.5 mm jack.
The main novelty is the system speakers. Like iPhone 7 Plus, this new device also has two stereo speakers: one facing downwards next to the charging port and the other is nothing more than the headset for calls. The system works as in some competitors' solutions, i. e. the bass speaker acts as a woofer, while the speaker acts as a tweeter while holding the smartphone vertically. True stereocan only be achieved by using the iPhone 8 Plus in landscape. What's new? This year's speakers are up to 25% more powerful without loss of quality.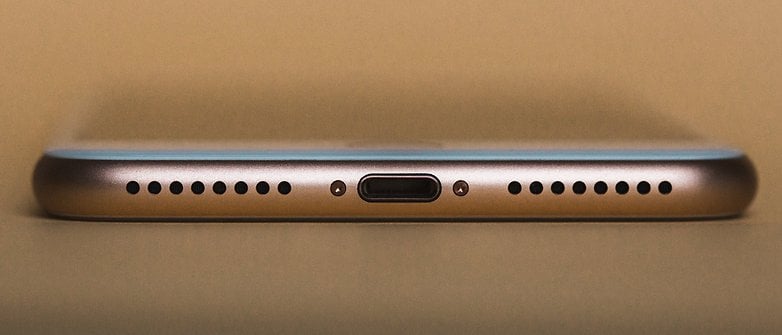 As for the rest, I can say that I was amazed by the maximum power and I think the sound is rich enough to ensure an excellent experience when watching videos, playing games and using AR applications. The lower speaker position is always a shame in my opinion because you're likely to cover it easily, but few smartphones keep front stereo speakers nowadays.
Apple iPhone 8 Plus camera
The photographic hardware on iPhone 8 Plus is no different from its predecessor. We find the main wide-angle lens equivalent to 28mm focal length and aperture f/1.8 and the secondary telephoto lens with focal length equivalent to 56mm and f/2.8. Only the main camera is stabilized with OIS optical stabilization. Both sensors are 12MP in size, and reading these specifications would be expected to change nothing compared to iPhone 7 Plus in terms of results quality.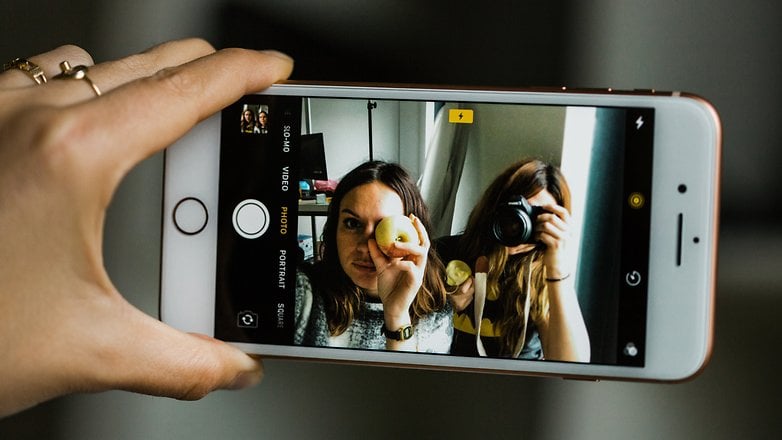 It's here that the capabilities of iPhone 8 Plus and its new bionic A11 processor come into play. Despite the fact that the photographic hardware has not changed, image processing using artificial intelligence and the finished ISP software provides far better results.
It is no coincidence that the company DxOMark, which takes charge of testing and evaluating the photographic qualities of smartphones (and other devices) has awarded him an astonishing 94 score equal to Note 8. The top spot for best smartphone camera never seems to be held by one device for long, and right now the Note 8 seems to have lost the throne. The two new Google Pixels with their score of 98 should guarantee even better photographic results.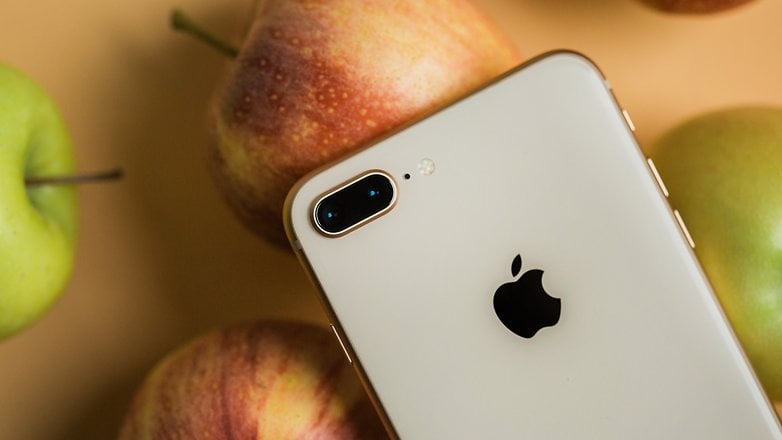 Speaking of concrete facts, my experience with the iPhone 8 Plus camera has been more than positive. The photos captured by the sensors are rich in colors and never overly saturated like those taken with my Galaxy S8 Plus. Contrasts are good and the dynamic contrast range is sufficient. The only thing I have to make is the quality of the photos in the dark.
It's really difficult to get a good result not because of the lack of brightness but because of the few possible settings in Apple's software. Photos taken in automatic mode can be under-exposed or sometimes overexposed as you can see from my picture gallery. There is a picture of the Berlin TV tower where you can see the clouds. At night. At first impression I was amazed but then I noticed that actually in reality the scene was totally different and the photo completely overexposed (which at night had never happened to me before).
Without various features such as exposure time, focal aperture, ISO and others, Apple severely limits the experience of the more demanding users. Despite everything, Apple has one of the best mobile cameras in the market, and for most users that's fine. It's easy to get magnificent photos by simply framing the scene and pressing the shutter release button.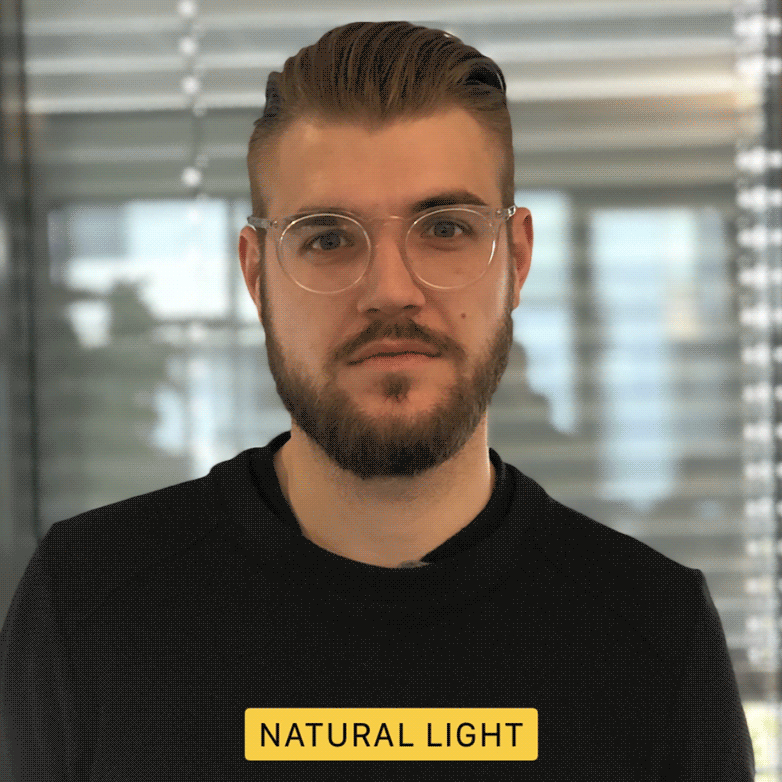 The portrait mode that can create the now mandatory bokeh effect has been improved by adding the stage lighting mode. In this mode, we can set various light conditions added to the face of the subject and background. Unfortunately, it does not always work as it should and the results must be taken for what they are. Good on certain occasions and forgotten in others.
The iPhone 8 Plus (together with iPhone 8 and iPhone X) is the first smartphone in the world to record 4K resolution video at 60 frames per second and the results are amazing. Just think that some professional mirrorless cameras, even though they have better sensors, do not possess this capability, even if obviously at lower resolutions the results are of higher quality. Also present is the 240fps slow-motion mode which jumped from 720p to 1080p. Videos recorded with this iPhone will amaze even Apple skeptics.
Apple iPhone 8 Plus battery
The iPhone 8 Plus's battery is only 2675 mAh, smaller than iPhone 7 Plus. Despite this, Apple has, as every year, done a great job of hardware and software optimization. Although it maintains iPhone performance at the top of the ranking, consumption is minimal. The level of use that usually sees my Android smartphones needing to be charged in the evening doesn't bother iPhone 8 Plus until late the next day.
Same two synchronized Gmail accounts as well as the iCloud account. Same social use: Facebook, Twitter with two profiles, Instagram, LinkedIn, Google+. Same messaging apps as Whatsapp, Telegram, Facebook Messenger, Slack and Hangouts. All notifications enabled in push. No energy saving and use of 4G/LTE at all times except at home and in the office where I use Wi-Fi. All Google apps (which I normally use) installed, localization allowed to all apps. If you can think of any other bad habit that causes a high power consumption I certainly have it. I've never wanted to change my habits to save battery power because I think I should be free to use my smartphone without giving up any features.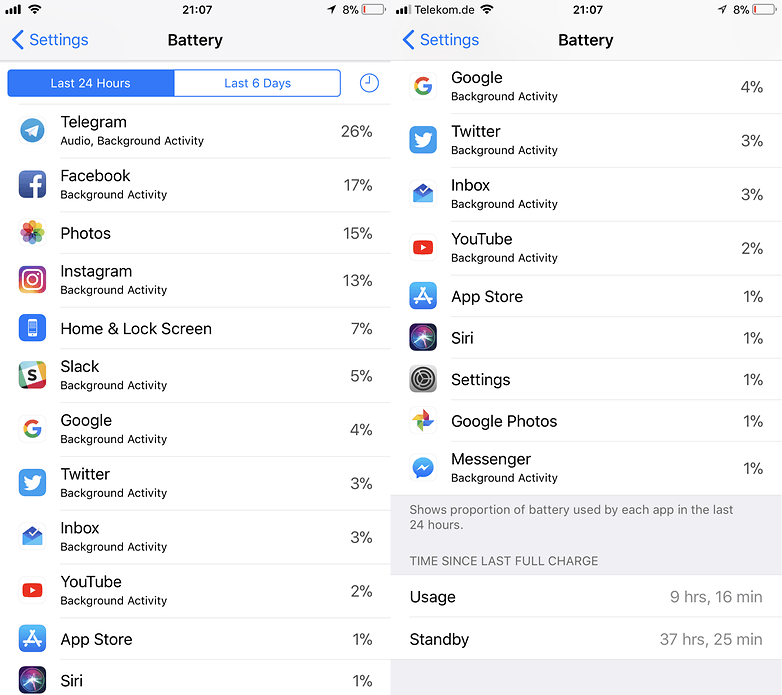 Despite this with the iPhone 8 Plus I have managed to stay 37 hours away from the charger with more than 9h of heavy use and still 8% of battery remaining. For me, this is more than a success since I usually reach about 15 hours away from the charger with 4-5 hours of use on Android smartphones with the same apps running.
Unfortunately, I don't have any data to compare this result with previous iPhone models as the devices I've tried in recent years didn't have all these apps and accounts set up. In addition, I have never held an iPhone for more than a month to verify the consistency of these results over time. But just know that in my trial period of a couple of weeks with the iPhone 8 Plus the results have always been constant.
It is also true, however, that using augmented reality applications and ARKit will drain the battery very quickly. However, since that is not part of the daily routine of most users, it's no big deal to me.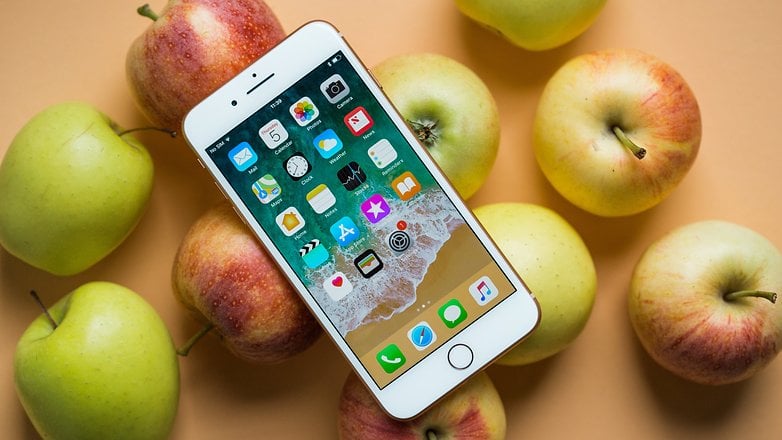 The newest wireless charging feature on all three 2017 iPhone versions is welcome. It's not fast but is better than nothing. Yes, yes, it's true, we Android users have had wireless charging for years but now that Apple has adopted it using an existing standard (i. e. Qi) we'll all benefit from it.
Like all smartphones with wireless charging we'll have to be very careful about how we place iPhone 8 Plus on the charging base to make it work properly. An inch too much out of the center and your smartphone will not charge. This is a problem that you notice more with large phones like this one. Wireless charging makes the back of the device much warmer than conventional charging.
There is a wired recharging option but the charger included in the box remains the classic 5W. Of course you can take your 12W charger from the Apple Retail Store to your home, which will save you about an hour on charging from 0% to 100%. It has to be said that considering the price of your smartphone, I expected to find one in the box.
Apple iPhone 8 Plus technical specifications
Final verdict
iPhone lovers have nothing to complain about with regard to design. It has to be said that compared to other top-range 2017 phones one realizes that this smartphone has been left behind. Take the Galaxy S8 Plus for example: it is almost the same size but has a much larger screen and does not have a protruding camera.
Ok, Apple has the iPhone X as an ace in its sleeve, but despite this it claims that the iPhone 8 Plus is still a top-of-the-range iPhone and therefore deserves the same treatment. As you complain about the "exaggerated" frames (as some say) of competitors like the Xperia XZ1, you can't let this detail run on your iPhone. Apple has put all its efforts into the design on iPhone X and this means that Phone 8 Plus doesn't look like a big leap for users, at least in terms of aesthetics. It is so similar to the previous model that it fits perfectly into the covers of the iPhone 7 Plus.
If you fall in love with the Apple ecosystem and don't want to quit it, other phones may not exist for you and so any comparison is superfluous. But before spending your money, keep in mind that the iPhone 8 Plus doesn't have the latest and most exciting technology from Apple. For that you'll have to wait for the iPhone X.
The smartphone targets all users who want to update their older models such as 6S or earlier. Anyone who has an iPhone 7 Plus should not even consider this model. Another very important section of Apple's users are those upon which the existence of iPhone itself is based, i. e. who consider this smartphone a status symbol. Many people only care about having the latest iPhone and are not interested in any new features or futuristic technology such as a bezel-less display or unlocking with facial recognition.
As a phone it's great and works really well. It does everything it promises without any problems but if you're thinking about spending nearly $1000 and you're looking for a phone with the latest technology, you'd do better to look elsewhere or wait for iPhone X.