iPhone 15 Plus Review: Big Screen, Small Changes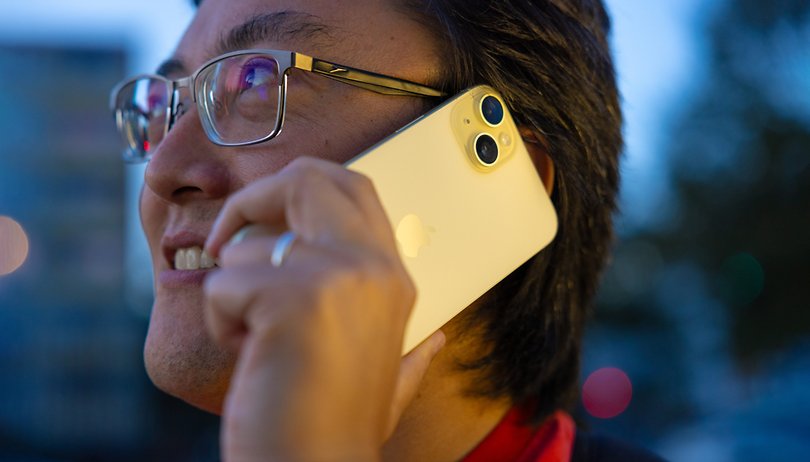 The iPhone 15 Plus offers another serving of Apple's big-screened iPhone, without braking the bank on the flagship iPhone 15 Pro Max. For the 2023 season, the Plus model brought the usual upgrades in camera and performance, but some areas were unfortunately forgotten. Keep reading to see who should consider investing in the iPhone 15 Plus.
Good
Top-notch performance

Great camera

USB-C port

Unrivalled software support

Excellent battery life
Bad
Slow display refresh rates

Feature segmentation with the Pro models
Apple iPhone 15 Plus: All deals
In a nutshell
The 2023 season of the iPhone 15 lineup brought some exciting changes to Apple's smartphone family, but it was clear the focus was on the Pro models, with new materials, the promise of console-level gaming, and enhanced connectivity options.
For the iPhone 15 Plus, Apple did the usual hand-me-down approach, with the Dynamic Island notch and the A16 Bionic processor that iPhone 14 Pro owners have been enjoying for the past year.
New to the 15 generation is the USB-C connection which brings in tow a couple of additional conveniences, and a bigger sensor to the main camera with its own set of new tricks that actually surprised us during the test.
Just don't expect to see fast display refresh rates like those found on $150 Android phones, really fast charging speeds found on Chinese smartphones, or Pro-level transfer rates over USB...
Design and display
The overall design and build quality of the iPhone 15 Plus is very reminiscent of the iPhone 14 Plus, regardless of what Apple says. Yes, the new color-infused back glass is nice and premium-looking, and the fitting between the glass surfaces with the aluminum frame is near perfect, but are you really going to skip using a case on a $900 phone?
Pros:
Impeccable build quality.
Bright display with Dynamic Island.
Almost no issues with fingerprint marks.
Cons:
No Always-on Display.
Only 60 Hz refresh rate.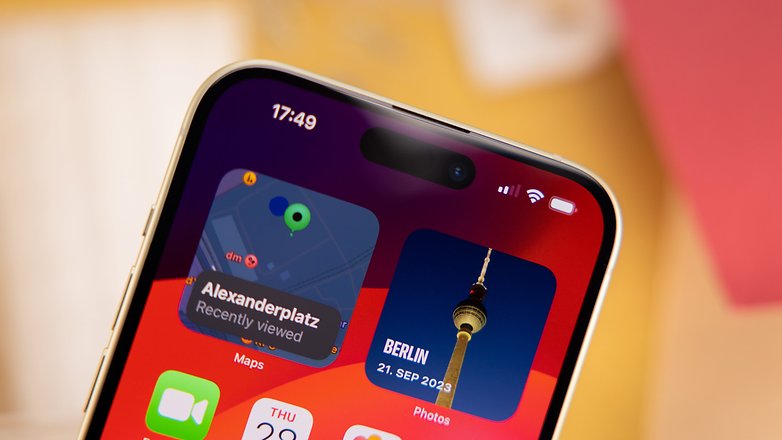 The 6.7'' OLED screen is brighter than ever, reaching up to 2000 nits outdoors (1000 nits typical, versus 800 on the 14 Plus). And the resolution even got a tiny bump from 2778x1284 pixels to 2796x1290. On the other hand, features like always-on display (AoD) and fast refresh rates found on Android phones half the price are still absent.
Regardless, the peak brightness ensures that the screen is readable under direct sunlight, while also being able to dial back to be very dark. Colors are punchy and saturated, just like in every iPhone since 2017's X—or most Galaxy S models, Samsung fans will argue.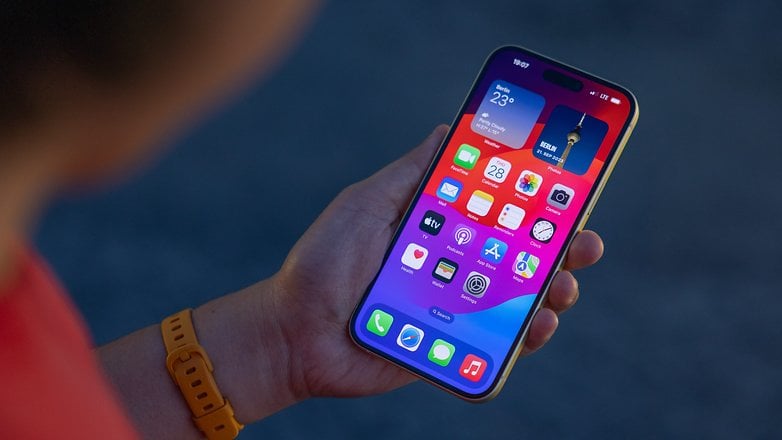 Design-wise, the main difference between the iPhone 15 Plus and its predecessor—besides the increasing lack of factory ink—is the Dynamic Island on the front. There are sub-millimetric differences in the dimensions and the new model is 2 grams lighter (201 vs 203 grams).
Even so, don't expect to use the same cases between generations since the charging port changed. But if you opt to use the iPhone 15 Plus without a case, at least you won't have problems with fingerprints, as the matte finish on the back avoids them nicely.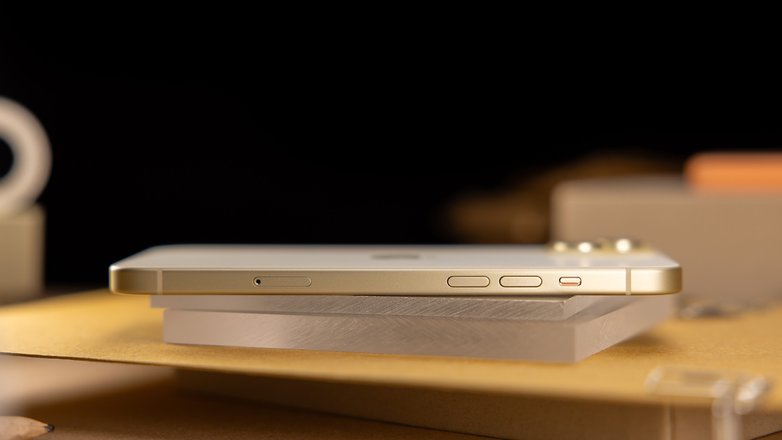 All other recent iPhone features are back on the iPhone 15 Plus including IP68-rated water and dust protection, ceramic shield glass to protect the display, and the silent mode switch.
Apple iPhone 15 Plus software
On the software side, the iPhone 15 Plus comes with iOS 17 with its array of nice-to-have features like NameDrop, Contact Posters, Check-In, Standby, Offline Maps, and others found in all recent iPhones. New to the 2023 model is the Dynamic Island support, inherited from the 14 Pro models, with nice interface tricks to receive app notifications or access background apps like music players, timers, and more.
Apple is smart enough to send the press their highest-specced models, which makes the storage graph in the Settings app very bare. A clean install for the iPhone 15 Plus clocks at around 18 GB of used storage. And of course, Apple doesn't (need to) pack the phone with bloatware, so there is no need to go uninstalling useless third-party apps after the initial setup.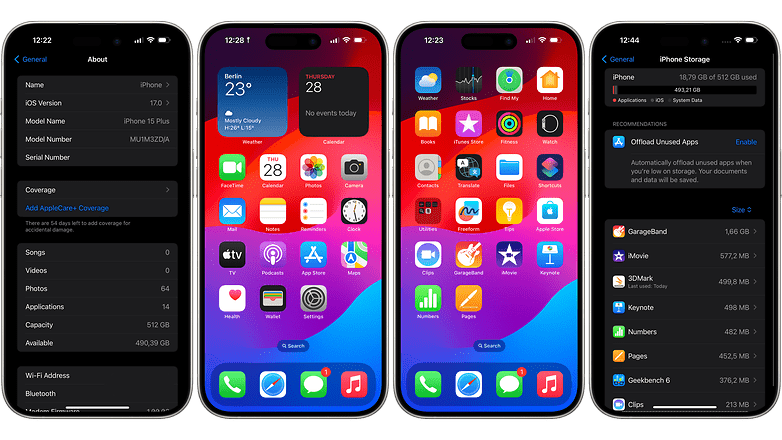 One last thing, although the Android ecosystem is trying to catch up in the update policy department, only Fairphone is close to matching Apple's level of commitment in supplying security updates to its phones, reaching eight years in cases like the 6s and SE models.
Apple iPhone 15 Plus performance
Inheriting the Apple A16 Bionic processor from the 14 Pro models, the iPhone 15 Plus is powered by a mature chip on a proven TSMC node. Despite being already a year old, the A16 still offers competitive performance in games and daily tasks, with fewer issues with temperature control than phones using the A17 SoC, or most of the Android flagship processors.
Pros:
Good performance in games.
Best-in-class CPU performance.
Cons:
Only USB 2.0 transfer speeds.
No native raytracing support.
iPhone 15 Plus
(Apple A16 Bionic)
iPhone 14
(Apple A15 Bionic)
Galaxy S23 Ultra
(Snapdragon 8 Gen 2)
iPhone 15
(Apple A16 Bionic)
3DMark Wild Life Stress Test

Best loop: 9908
Worst loop: 8372

Best loop: 9761
Worst loop: 8321

Best loop: 12278
Worst loop: 7486

Best loop: 9909
Worst loop: 7581

3DMark Wild Life Extreme Stress Test

Best loop: 3253
Worst loop: 2271

Best loop: 2431
Worst loop: -

Best loop: 3849
Worst loop: 2565

Best loop: 2893
Worst loop: 1768

3DMark Solar Bay Stress Test

Best loop: 4165
Worst loop: 3194

Best loop: 5578
Worst loop: 4424

Best loop: 4236
Worst loop: 2815

Geekbench
Performance in daily tasks is fast and smooth, despite the relatively low 6 GB of RAM setup, thanks to the modern standards used in both RAM (LPDDR5) and storage (NVME)—naysayers will point to the 60 Hz refresh rate as another reason... Animations, scrolling, app transitions, effects applications on media, and basic photo editing all work as fast (or faster) than any other phone on the market, with the exception of the iPhone 15 Pros.
The Geekbench CPU tests show how far ahead Apple's custom cores (also used on the company's PCs) are compared to the fastest Android chip available, both in single and multi-threaded tasks. On the other hand, the mature A16 Bionic brings one performance limitation that traditionally affects a small portion of the users, which is the USB 2.0 transfer speeds, a probable legacy of the Designed-for-Lightning SoC.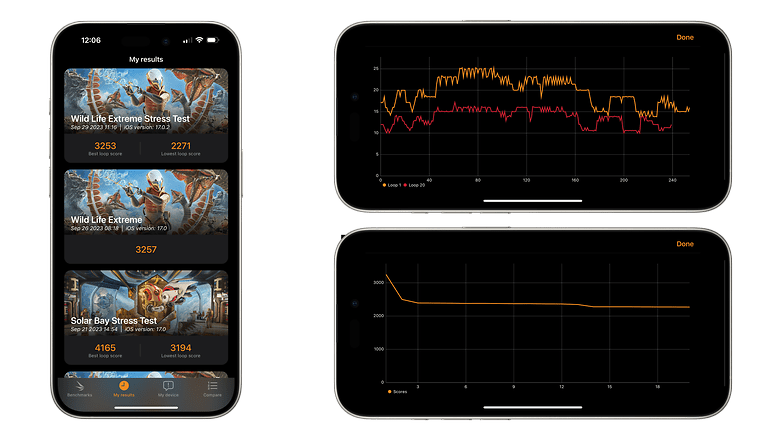 Another point in which the iPhone 15 base models fall behind their Pro siblings is native ray tracing support. The feature promises console-level lighting and reflection effects and puts the A17 Bionic chip on par (at least feature-wise) with the latest generation game consoles, and also Android chips such as the Snapdragon 8 Gen 2, Dimensity 9200 (and the forgotten Exynos 2200).
Despite that, even in software mode, the iPhone 15 Plus is able to run the 3DMark Solar Bay test, with scores around 25% lower than the Snapdragon 8 Gen 2 in hardware mode. In general, phones with that chip tend to perform better in general than the A16 Bionic in graphical benchmarks anyway. But despite that, you won't have problems running games on the big 2023 iPhone.
Apple iPhone 15 Plus camera
As Camila Rinaldi mentioned in her iPhone 15 first impressions, the camera department received a significant amount of love from the Apple engineering team. The iPhone 15 Plus packs a bigger 48-megapixel main camera, bringing a nice trick in tow.
Pros:
Excellent daylight and night pictures
Very usable 2x magnification
Cons:
Not a true telephoto lens
Apple's slow march away from battle-tested Sony 12-megapixel sensors has been slower than Google's. But the Cupertino company at least is making good use of the higher resolution to employ an in-sensor zoom technique—not unlike the one Google and Sony use on their recent Pixel and Xperia phones.
For the standard 1x shots, the camera app outputs a 24 MP (5712x4284) image using a combination of pixel binning and computational photography from the A16's image signal processor (ISP, or "Photonics Engine" if you live in the Infinite Loop).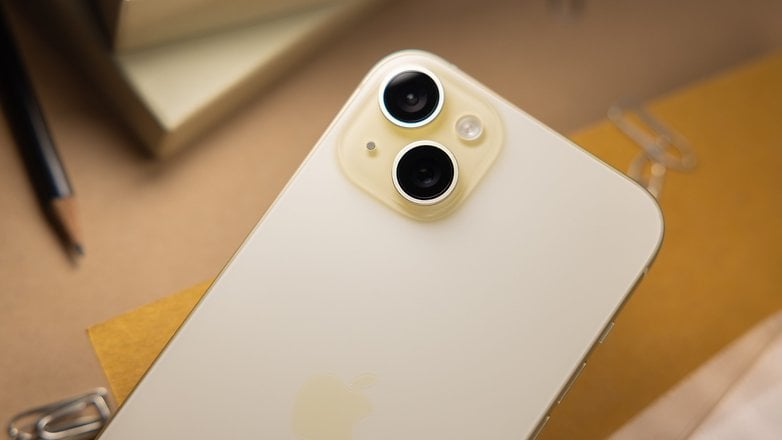 For 2x magnification, the iPhone 15 Plus essentially crops the central area of the sensor's capture for a 12-megapixel file (4032x3024), without having to resort to a digital zoom resizing. Semantically, it can be argued whether the in-sensor zoom is really an optical zoom, but Apple's marketing department dodged that minefield by saying "Three optical-quality zoom levels".
Terminology aside, the results from the 2x zoom were very good, with a nice level of sharpness and detail, with the same pleasing color representation as the main camera in daylight or night pictures.
Ultra-wide-angle shots (0.5x) were true to their name and offered equally good results in daylight. Night shots, however, (even with Night mode) were slightly less sharp than the main camera.
Speaking of Night mode, the iPhone 15 Plus did an excellent job compensating for hand shaking while taking the many shots used to process the saved image. And, finally, selfie shots were also top-notch, with realistic skin tone reproduction, no exaggerated processing, and good subject separation when activating the Portrait mode.
Battery life and charging
Battery life on the iPhone 15 Plus is excellent, despite the usually low-rated capacity of Apple's phones. The level of optimization between software and hardware allows Apple to use smaller batteries than equivalent Android phones while still offering around two days of battery life in real-world usage. Best of all, the 2023 iPhone includes a USB-C port with some added conveniences besides being able to charge on the same cable as the iPad or MacBook.
Pros:
Excellent battery life.
Fast real-world partial charging.
USB-C!
Braided cable in the box.
Cons:
No charger in the box.
Long time for a full charge.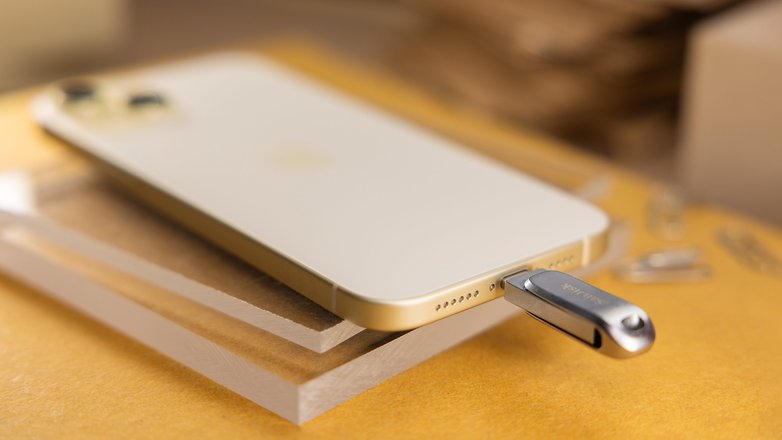 Yes, the USB-C port was a long time coming to the iPhone family, more than 8 years after Apple's first use on the MacBook with the stuck-prone keyboard. The cable allows the iPhone to offer reverse wired charging to accessories or other phones, and also use external storage devices such as pen drives or SSDs.
Yes, that change will make tons of accessories require a $29/€35 dongle to be used on the 2023 iPhones, but the transition will be definitely less painful or expensive than the one from the 30-pin plug to Lightning. As a consolation prize for the environment, Apple packs a braided USB-C to USB-C cable on the box, which feels way more sturdy than the flimsy one packed on previous models. Also, it should be more resistant against those barbarians that bend the cable near the plug or (gasp) disconnect the cable without holding the plug.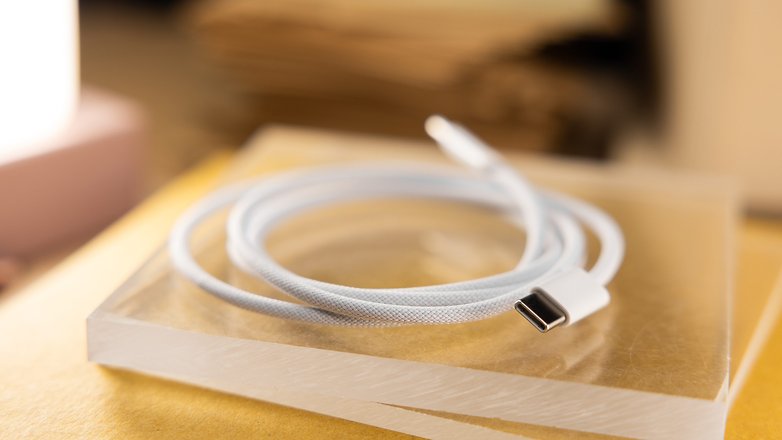 Back to the review, battery life was excellent, with enough juice to easily survive a full day, and going over two days of moderate use. When charging, the iPhone 15 Plus isn't compatible with superfast charging speeds like the Chinese Android phones, but was fast enough in our tests for partial charges, reaching 52% capacity in 30 minutes, and 85% in one hour. A full charge, however, took close to 1h40 using the overkill UGreen Nexode 300W.
iPhone 15 Plus
(4383 mAh | 20 W)
Galaxy Z Fold 5
(4400 mAh | 25 W)
5 minutes
10 minutes
20 minutes
30 minutes
1 hour
Full charge
For a slightly apples-to-oranges (sorry!) comparison, the Galaxy Z Fold 5 nextpit reviewed a month ago with a similar battery capacity, was noticeably slower up to the 30 minutes and 1 hour marks, but reached a full charge faster. That gives a strong argument to limit charging to 80%, which should improve battery longevity in the long run on the iPhone 15 Plus.
Apple iPhone 15 Plus technical specifications
2023 Big iPhone
2023 Standard iPhone
Display

6.7" OLED
2796 x 1290 pixels (460 PPI)
60 Hz refresh rate
Dynamic Island

6.1" OLED
2556 x 1179 pixels (460 PPI)
60 Hz refresh rate
Dynamic Island

SoC
Storage
microSD
Main camera

48 MP | F1.6 aperture | 2.0 µm pixels | sensor-shift OIS

Ultra-wide angle camera

12 MP | F2.4 aperture | 13 mm focal length

Telephoto camera
Selfie

12 MP | F1.9 aperture | autofocus

Battery life

Video playback: 26 hours Video
(streaming): 20 hours
Audio playback: 100 hours

Video playback: 20 hours Video
(streaming): 16 hours
Audio playback: 80 hours

Charging

20 W (cable)
15 W (MagSafe)
7.5 W (Qi)

Resistance

IP68, Ceramic Shield, aluminum frame

Connectivity

eSIM, 5G, Wi-Fi 6, NFC, Bluetooth 5.3, UWB, Satellite

Dimensions & weight

6.33 x 3.06 x 0.31 in | 7.09 oz
160.9 x 77.8 x 7.80 mm | 201 g

5.81 x 2.82 x 0.31 in | 6.02 oz
147.6 x 71.6 x 7.80 mm | 171 g
Final verdict
In a vacuum, the iPhone 15 Plus is a really good smartphone for the 2023-2024 season. Long software support, standard USB-C with reverse charging, nice cameras, and a good mix of performance and features.
However, as a second-generation model after the iPhone 14 Plus, it doesn't really offer enticing upgrade reasons for those who jumped into the 2022 big-but-not-pro iPhone. Yes, USB-C is great (finally!), and the camera is not only higher resolution but is also more versatile.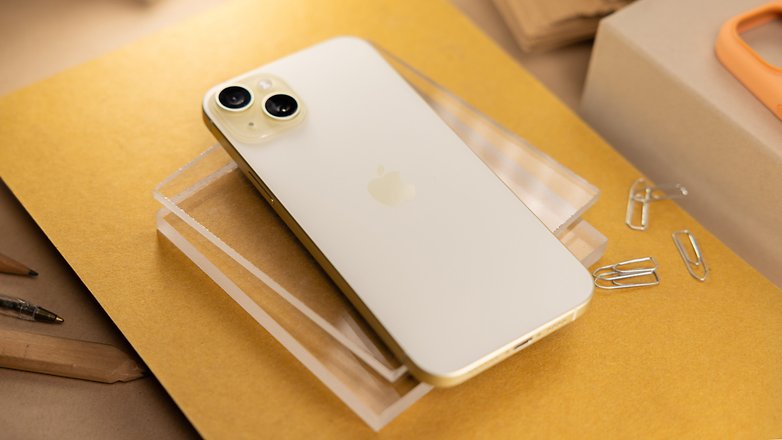 Apple is fencing the 15 Plus of features found in way cheaper phones such as always-on display and fast screen refresh rates. I'd see this as an apparent effort to not cannibalize the iPhone Pro sales, while also saving some money in the process.
Unfortunately, Apple wasn't the only phone company to offer timid upgrades to its phones in 2023. And in times when we in the media are constantly hearing rumors of price hikes for newer generation phones, it is at least good to see Apple keeping its prices in the US (and even lowering them in European countries).
So yeah, a very lukewarm conclusion to the iPhone 15 Plus. An excellent option for anyone looking to get their first big-screened non-Pro iPhone—especially with carrier discounts—, but not enough reasons to upgrade from the previous model.