Apple iPad (2018) review: Still outperforms every Android tablet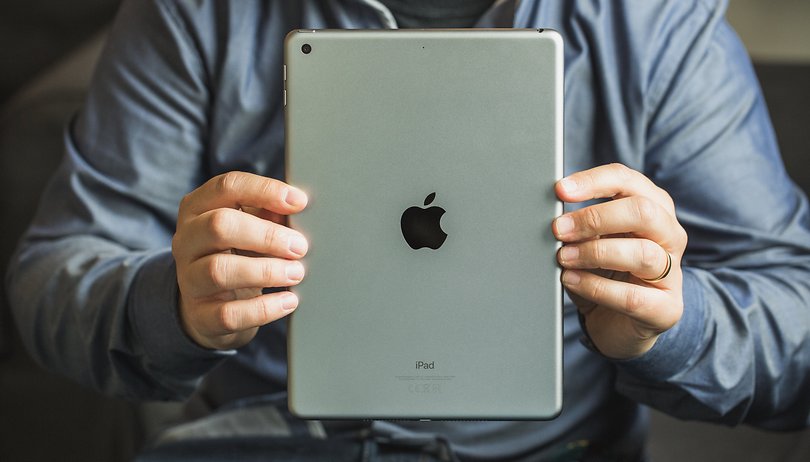 Apple has only itself to blame for this: the sixth generation of the iPad is a cheap iPad, or at least cheap by Apple's standards. You get the sense that it was cheaply produced around almost every corner, and yet Apple has still produced an enormously good tablet with its 2018 edition. We'll share our insights with you in our review, and we'll do our best to also offer an Android-friendly perspective.
Good
Strong performance

High-quality apps
Bad
Display isn't exceptional

Slow fingerprint reader
Apple iPad 6 (2018): All deals
The iPad is still an iPad
My history with tablets has been difficult, especially my farewell to the tablet universe just under a year ago, but I was really excited by the new iPad and its lower price. So I made my way to the Apple Store to get the new device. Unfortunately, things are never particularly easy with Apple, starting from the very beginning.
If you thought the new iPad would just simply be on the shelf at the Apple Store, you're mistaken. You can't just pick one up and proceed to checkout. At the Apple Store, sales need to be made by individual employees, so if you come without an appointment, you'll end up waiting for a free salesman. It was an unusual experience for me as a typical online shopper. I went at 7:40 in the evening and wasn't sure that I'd be able to get an iPad that day. Unbelievable, but I did still manage to get it before the store closed.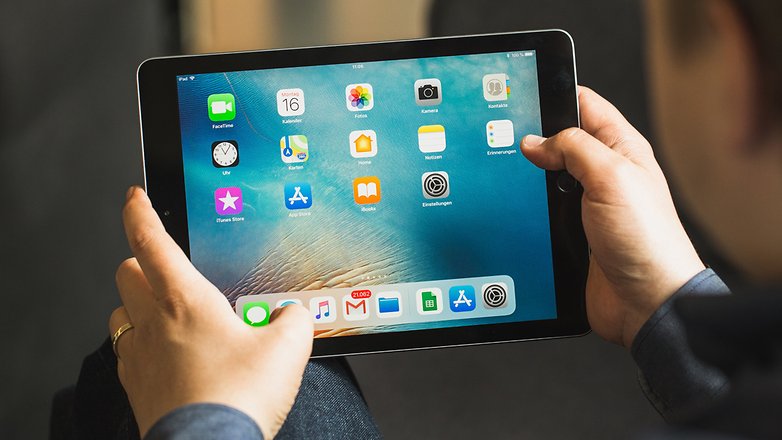 This backstory isn't entirely pointless: it serves to illustrate how much Apple tries to create a complete experience with its products. This kind of purchasing experience is entirely unsuitable for me, but for buyers will less clear ideas or knowledge, this is ideal: before the purchase there is a personal consultation and demonstration.
But back to the iPad: at a starting price of $329.99, it's not too expensive by Apple's standards, but you can feel its simplicity around every corner. The aluminum body looks elegant, but feels a little hollow. The bezel of the display gives a neat but not flawless impression.
Display: Not quite razor sharp
Apple was one of the first brands to incorporate high-resolution displays in smartphones and later in tablets. They use the marketing term Retina to describe these displays, which indicates that individual pixels are no longer recognizable.
The sixth iPad also features a classic retina display, but the pixel density of 264 ppi isn't overwhelming. Movies, photos, and games all look beautiful.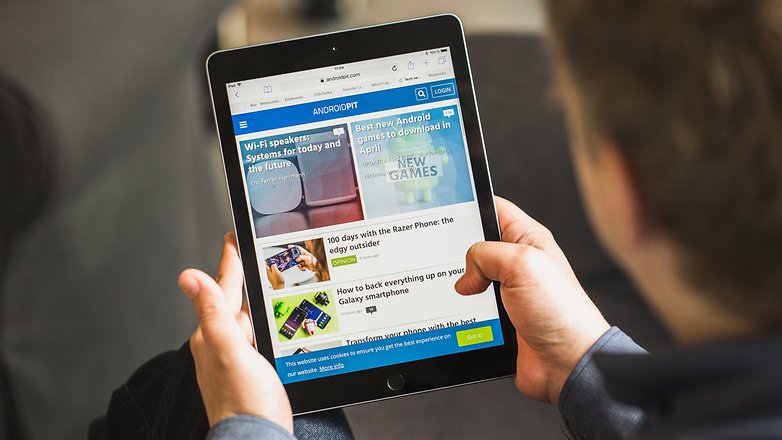 When you're surfing on the web, however, the display doesn't look quite as good: sometimes letters appear spongy. Especially with rather small font sizes or high zoom levels, the typeface could use some more sharpness. It's still readable, and for this price range the display is fine, but more expensive iPads should offer more.
Desktop power in tablet form
With Android tablets, I'm used to processing at 1.5 GHz with ultra fast quad-core processors. I have to laugh sometimes: why would I buy a tablet with a low output? Though I definitely prefer using a tablet in comparison to a desktop computer, I'm never sure what to do with a tablet.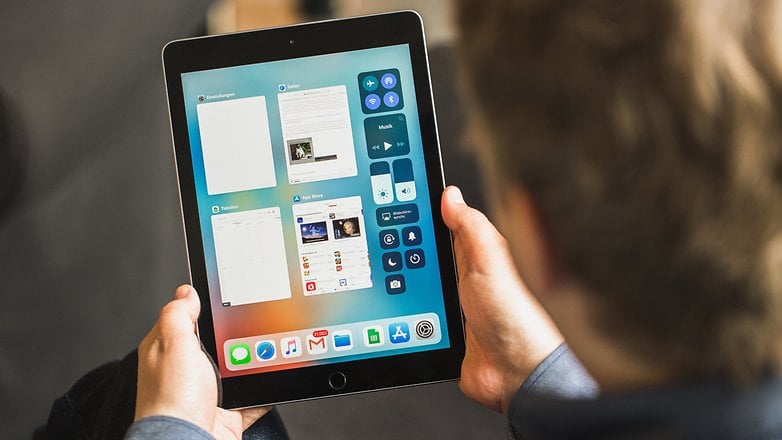 Apple doesn't show any skin when it comes to hardware. On the product page you'll find out very little about the A10 Fusion processor, simply that it's an "A10 Fusion chip of the 4th generation with 64-bit desktop architecture". An entire article could be written about this information, but I'll just summarize it quickly for you: The iPad is really fast. It's not Apple's fastest processor, but beats everything we're used to from Android tablets.
Geekbench isn't clear when it comes to benchmarks. The iPad scores 3505 points in the single-core test and 5,978 points in the multi-core test. Hardly any Android chipset will approach this kind of performance, especially in terms of single-core performance, which still plays an important role. In our benchmark comparison, only the Galaxy S9/S9+ comes close, as the octa-core of a Snapdragon 835 and above exceeds the multi-core values by a few hundred points.
The iPad in everyday use
This is where it counts! Since the whole preliminary debate is useless if the iPad doesn't keep its promises in everyday life. The low weight and display edges are already pleasant: the iPad can be comfortably held and operated for surfing, playing games, or watching videos.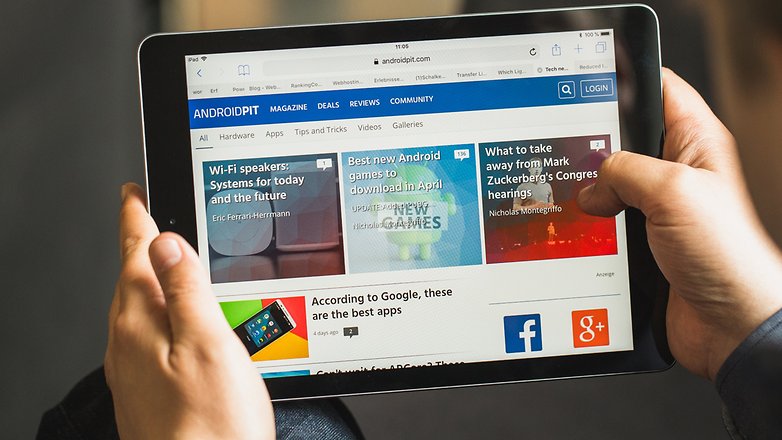 In the past two weeks or so, I've enjoyed using the iPad for surfing and at times working. Yes, with the 9.7-inch display, the iPad is nice to look at, and when you're typing the virtual keyboard doesn't make a sound. I tried out the Apple keyboard, Gboard, and Swiftkey. Gboard seems to be the smoothest keyboard overall, but the Apple keyboard gives you the easiest access to special characters.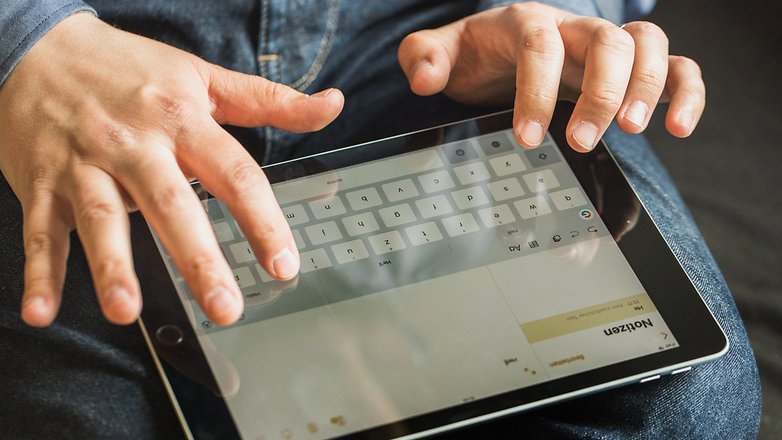 The apps and software experience generally work. Apple has given the tablet a few gesture controls that are easy to learn. If you swipe from bottom to top, the multitasking view and command center opens with a few quick settings for Wi-Fi, volume, etc.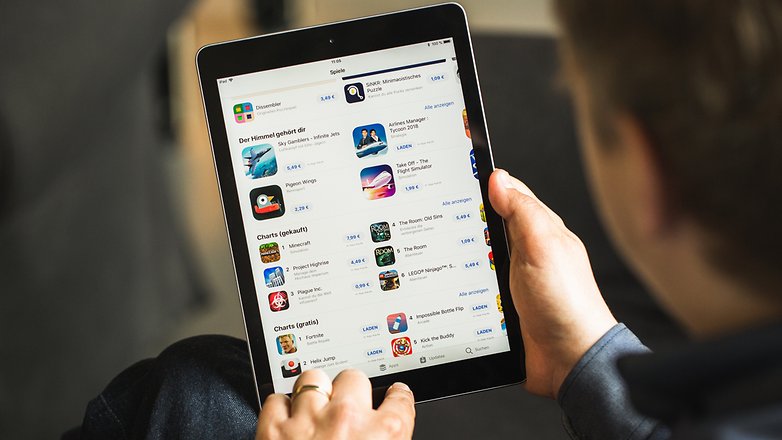 But the best thing is the apps. On Android, it seems the developers don't really know what to do with a large tablet display.
How different it is with iPad: apps usually use all the space they have. There is no need to search for the home button because the gesture control is more intuitive, but the home button is always there if you get into an emergency. And this is beautiful to me as an Android user: important Google apps like Docs, Gmail, and Maps are available on the iPad and run very well.
Here's another example: I don't know an app like Luma Fusion on Android. Luma Fusion is a powerful video editor that lets you quickly cut different clips into one video. All the features like voice-overs, crossfades and music are included. But above all, the preview doesn't jerk and shows the current form of the video without delay.
Disappointing speakers
Only the speakers and the fingerprint reader are somewhat disappointing. Although the speakers have stereo output, they are only mounted on the bottom edge. So when you're watching a movie or playing a game, the sound only goes in one direction, and it's a little weak. You're better off wearing headphones. The fingerprint sensor, which Apple calls TouchID, takes eternities (a full second) to complete a scan.
Apple iPad 6 (2018) battery
The new iPad's battery life is impressively good. You can get several days of regular use after charging it once. If you run too many apps, complex games or ARkit apps, however, the battery will drain more quickly. The battery remains quite stable if you leave the device in standby mode.
Apple iPad 6 (2018) technical specifications
One word about the performance: we tested the basic model with 32 GB. You can optionally buy a model with an additional 128 GB of internal memory for an around an extra 100 dollars. 32 GB is really scarce, especially for people who consume a lot of media, but 100 dollars is a rather hefty sum for more internal memory.
Our early conclusion
Apple advertises the iPad as a computer. The iPad's performance values don't make this sound completely absurd. The device is mobile, the battery lasts long and the app universe is impressive in terms of its quality and larger selection.
The cheap iPad poses the question of what other tablet is worth considering. The iPad Pro will satisfy people who are hungry for performance, but it costs an extra 320 dollars, which seems too high, despite its better display. Things are looking bleak for Android in the tablet world. And Chrome and OS tablets? Well...
We're not done trying it out yet. In a second review we'll talk about the Apple Pencil and whether a keyboard turns the iPad into a productive machine. In the meantime, please let us know what you think of the new iPad in our comments section!