Google's Eric Schmidt Says Android vs Apple Is Tech's Defining Battle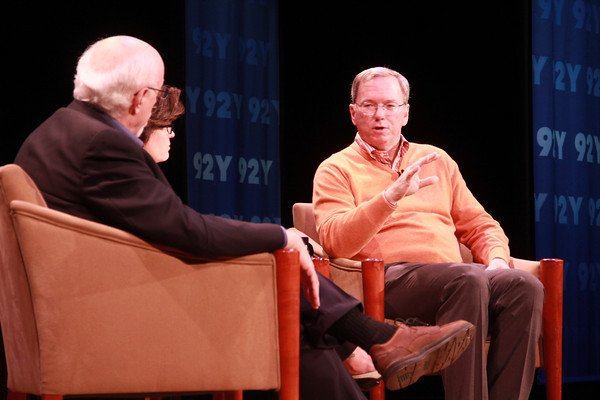 At an interview yesterday in New York, Eric Schmidt (Google's executive chairman) sat down to talk about the Android vs Apple fight, the mobile industry, Apple as a company, and the growth rate of worldwide Android adoption. He made some interesting statements in the intervivew, and If what Mr Schmidt said is true, in just one years time the amount of Android devices will have reached a staggering number.
Eric didn't name his source of information, but stated that he has personally seen surveys showing that there are four Android devices sold for every Apple device. He went on to say that "We'll be at 1 billion mobile devices in a year", which is a clear indicator of who's dominating the Android Vs Apple battle in terms of sheer numbers.
A billion..damn near an eighth of the earth's current population..running Android. If this were to happen, it would mean that Android reached a billion devices before Facebook reached a billion members, and it did it in 3 years less time (FB was launched in 2004, Android in 2007).
Schmidt went on to say that due to the massive amount of mobile devices being currently sold make it the defining battle within the tech industry, which even made previous battles like Microsoft Vs Apple look small.
"The growth rate of mobile adoption exceeds everyone's expectations every quarter. The devices are becoming so useful that unless you're a significant knowledge worker, you could probably live most of your life with your mobile device. // Compare this to the PC industry. Phone user population is six billion, one billion smartphone users. Much bigger than the PC industry — maybe a billion, 1.5 billion installed".
A lot of people don't know that Eric Schmidt and Apple have a history that existed long before the whole Android vs Apple fiasco started, as he was not only served on its board for several years, but was also pretty close to Steve Jobs. Eric Schmidt remained extremely polite when it came to discussing Apple, and said that it will always hold a special place in his heart. He also stated that "Apple has learned that maps are hard" (LOL), and very clearly emphasized Google's strengths.
If you guys want to check out the entire interview, you can find it at All Things D.
Additional quotes from All Things D
Picture credits - All Things D