Alcatel 3L (2020) review: The ideal entry-level smartphone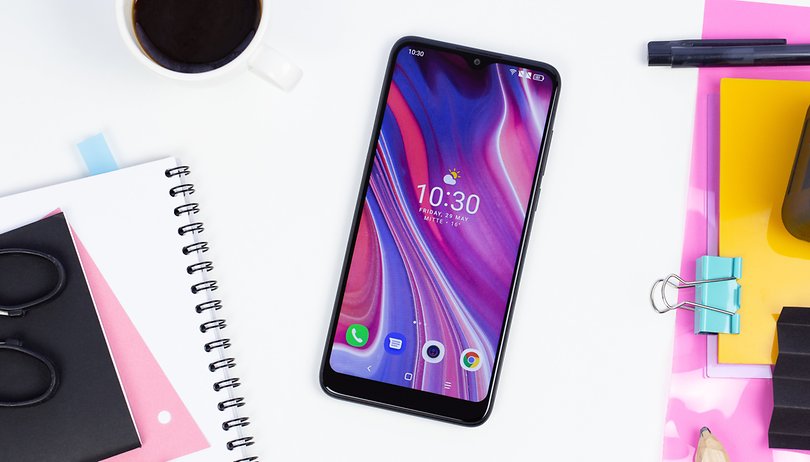 The Alcatel 3L 2020 is the icing on the cake in the manufacturer's entry-level smartphone range, just like how ice cream tastes even better on a hot, summer day. This is because the phone is only around 30 Dollars more expensive than the Alcatel 1S, which at first glance appears identical, but comes with additional RAM, a better camera and a more powerful processor. In the following review, we will find out if the Alcatel 3L 2020 can tip it in our favour after taking into consideration the shortcomings of the Alcatel 1S with improvements introduced in the Alcatel 3L.
Good
Beautiful design and solid workmanship

Display offers good colour reproduction

Great and up-to-date Android 10

Smooth performance with some gaming potential

Large 4,000 mAh battery capacity
Bad
Battery life is not stellar

Triple camera has mixed performance

Poor audio performance

Supplied headset is not worth using
Alcatel 3L: Who is the phone for?
The Alcatel 3L 2020 spec sheet promises a good mix of everything an entry-level smartphone in 2020 is supposed to come with. Alcatel decided to take a different route compared to other smartphone manufacturers, who tend to focus on selected features in sub-200-Euro price range. For instance, Motorola is setting certain precedence with its G-series by releasing a slew of different models. The Moto G Power touts a large capacity battery, while the Moto G Plus model offers a better camera. The Alcatel 3L 2020 on the other hand, offers a little bit of everything: a long-lasting battery, a triple camera, and the latest version of the Android operating system.
Through it all, Alcatel has to make a few concessions. The back of the phone is made up of piece of colourful plastic, while a rather dark LCD panel is used as the display. Perhaps for practical reasons, the French smartphone manufacturer must have stumbled upon a far better middle ground of cheap components that deliver a greater degree of functionality than the cheaper Alcatel 1S, which was not really convincing in our review.
The Alcatel 3L 2020 costs only €150 in Europe and is available in blue including gradient or turquoise and black-grey.
We like the Alcatel 3L 2020 for its ...
... performance
When comparing the specifications sheet of both smartphones, it was noticeable that the 3L offers a more powerful processor and one gigabyte more RAM compared to its little brother. This smartphone model features a MT6762 Helio P22 chipset that works without the all-important "D" suffix, indicating a lower clock rate in this processor. The processor is mated to 4 GB of RAM and 64 GB of internal memory.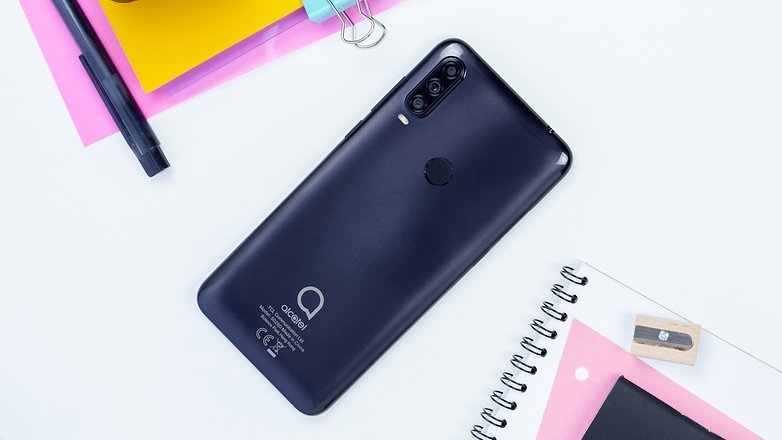 The 6.22-inch LCD screen comes with a fully adequate resolution of 720 x 1,520 pixels, enabling menus, websites, and apps to run noticeably smoother compared to the Alcatel 1S 2020. Performance is also good, but you'll have to be patient with long loading times and occasional lag. This is clearly noticeable when it comes to booting up mobile games. PUGB Mobile ran so smoothly after some initial difficulties that I was able to get one of the infamous "Winner Winner Chicken Dinner" in the first test game. With such performance levels, we are finally able to enjoy the advantages of Alcatel's Android-powered device without having to break the bank.
... operating system
Yes, the Alcatel 3L 2020's pre-installed operating system is simple and simply looks good. Alcatel also adds on some practical functions with this device. For example, in the app overview, you will find a search function that searches the internet as well as the device's storage for the desired terms. Pre-installed apps include a safe mode for children and other useful applications such as an import function to transfer data from your old smartphone to this one. There are some bloatware apps that come with the Alcatel 3L, but thankfully, you will be able to uninstall them within minutes.
If the 6.22-inch screen of the 3L is too big for you, you can activate a one-hand mode via the phone settings. From there, if you swipe the navigation bar at the bottom of the screen to the left, the phone will show a scaled-down version of the screen. This is a feature that follows in the footsteps of Apple devices, and it is nice to see how well Alcatel has implemented it on the Android platform.
It is also praiseworthy that Alcatel is only about one month behind when it comes to Android 10 security updates. While it is common for many manufacturers to neglect their cheap offerings in this aspect, the Alcatel 3L 2020 bucks the trend by being up to date.
Battery life
If you get lost using this handset thanks to its decent performance, a 4,000 mAh battery is capable of delivering sufficient battery life throughout the day. Together with the solid power management of Android 10 and the average screen resolution, the phone lasts the whole day easily, even when you constantly surf the web or indulge in mobile games. The battery will take some time to deplete.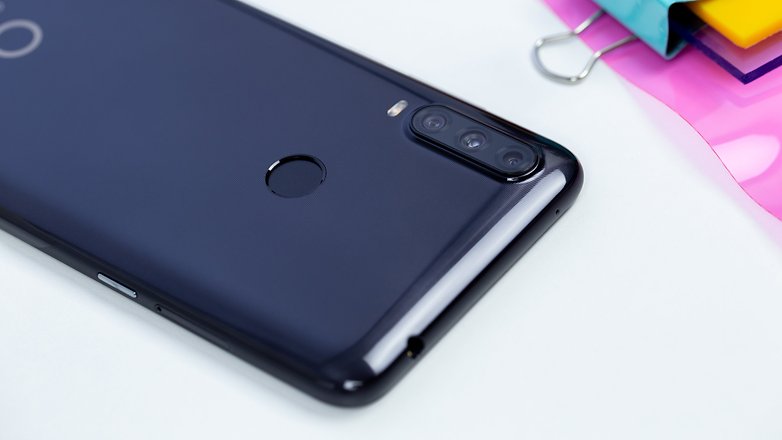 This cheap smartphone does not offer a quick-charging function, which is no big surprise for a device in its price range. The included power adapter delivers juice to the handset via microUSB with 10-watts of power and recharges almost 7 percent of the battery in 10 minutes. This isn't too shabby at all! Do take note that you do not have the comfort of charging the Alcatel 3L wirelessly via Qi without a charger.
The Alcatel 3L 2020 disappoints with its
... triple camera with 48 megapixels
With high hopes, I took a closer look at the triple camera on the back of the Alcatel 3L. Here, Alcatel relies on a trio of lenses, which cover a focal length range from ultra-wide-angle to standard zoom. The third lens serves as a depth sensor when taking portraits and enables macro shots, which can be used to take detailed pictures of flowers or particularly small objects.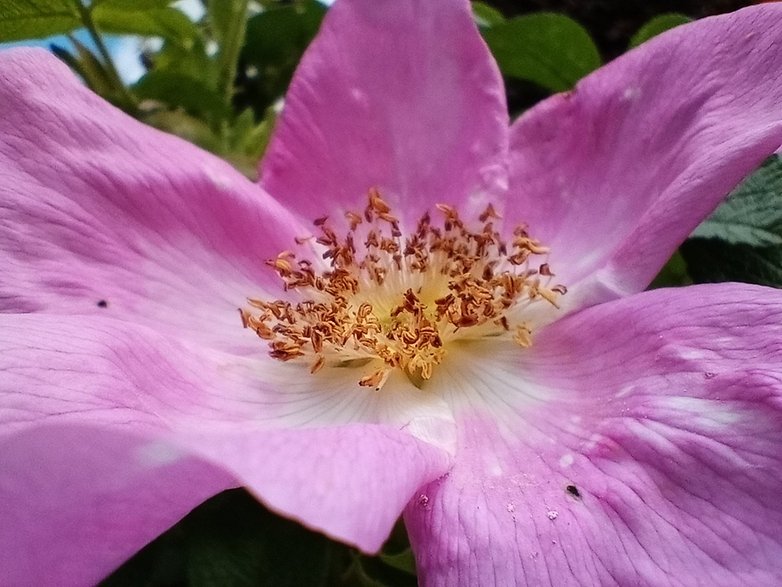 However, Alcatel has installed a 48 megapixel camera in the 3L. Lo and behold, this brought about a significant increase in image sharpness over the 1S, and also in dark environments the main camera delivers good results. Here, problems only occur when you switch from the main camera to one of the other cameras. As the specification sheet shows, Alcatel did not bother to include anything better:
Alcatel 3L 2020 camera data
| | | | |
| --- | --- | --- | --- |
| | Main camera | Ultra-wide-angle | Macro camera |
| Resolution | 48 megapixels | 5 megapixels | 2 megapixel |
| Lightning | Single tone flash | Single tone flash | Single tone flash |
| Pixel size | 1.6 µm | 1.12 µm | 1.65 µm |
| Lens elements | 6P | 4P | 3P |
| Sensor size | 1/2.25 inch | 1/5 inch | 1/5 inch |
| Focus | Autofocus | Fixed focus | Fixed focus |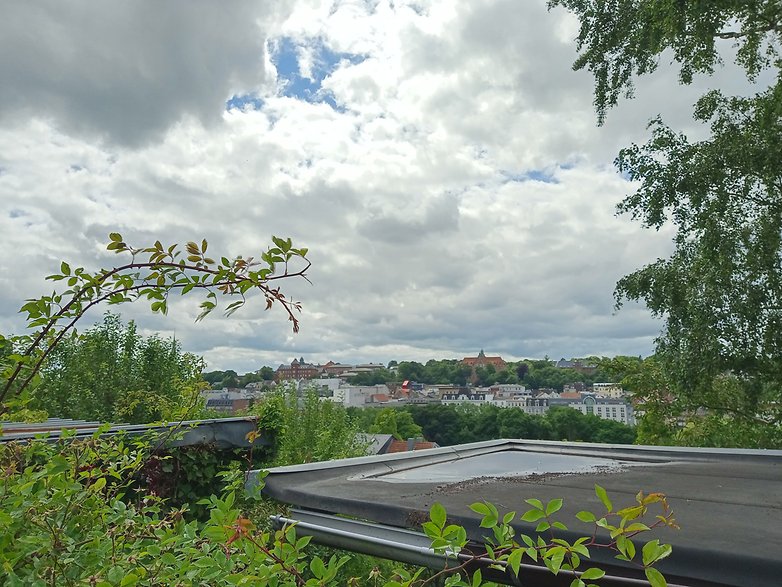 The properties of the ultra-wide and macro camera are hardly usable for good results. While the resolution of the ultra-wide-angle camera with 5 megapixels is just fine, a very strong blue cast becomes apparent when making the switch. With only 2 megapixels, the macro lens is unfortunately relegated to just an afterthought, similar to the 1S. We are positively surprised by the front camera though, which is quite suitable for selfies including snapping portraits.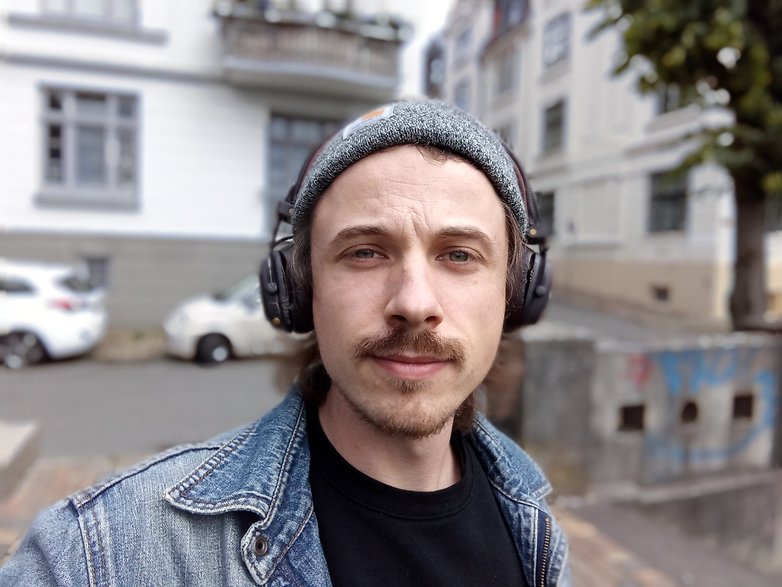 Sound quality
We have to give the 3L 2020 a clear point deduction in terms of sound quality. The internal loudspeakers offer hardly any power and tend to crack even when the audio is cranked up slightly to the middle. Listening to music is almost impossible, and even listening to podcasts in order to fall asleep does not sound good due to the lack of bass. If you hold the Alcatel 3L 2020 horizontally, you will most likely cover the speaker. To the right of the microUSB connector at the bottom, a mono speaker provides very focused sound.
You should get used to using headphones with this device, except that the included headset comes with terrible sound quality. A pair of Bluetooth speakers might help your cause. To connect them, you can use Bluetooth 5.0 or the built-in 3.5 mm connector. Alcatel has included Bluetooth A2DP and Bluetooth Low Energy (LE) wireless standards on board.
Longevity
If you need to buy a new mobile phone and want to save a little money by buying the Alcatel 3L 2020, you should think about the longevity of a smartphone. This is because the poor performance of the Alcatel 1S 2020 is an indicator that the hardware of the 3L is just sufficient for average use. If you install additional apps on the device, save plenty of photos, and run applications like WhatsApp in the background, the Alcatel 3L 2020 may not have enough processing muscle to keep you satisfied in everyday life for a long time.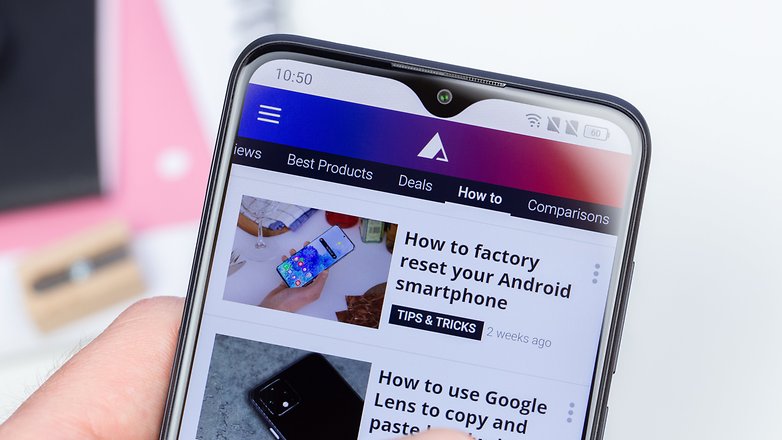 I have a similar fear with the triple camera setup. The camera does offer all the different functions that a smartphone camera should come with, but delivers rather mediocre results. If you are a shutterbug, then we would recommend an upgrade to a smartphone with better image quality.
Final verdict
With the 3L 2020, Alcatel has put together an attractive overall smartphone package for you and, in comparison to the cheaper Alcatel 1S 2020, there are improvements in the right places. Finally, the performance is enough to take advantage of the Android 10 operating system and also play select popular mobile games. Also, the main lens of the camera delivers better results and puts the other two lenses completely in the shade.
The Alcatel 3L 2020 is recommended for all those who are looking for an affordable package or want to give their children a reliable all-rounder for school. Inexperienced smartphone users especially will be enthusiastic about the many possibilities of this handset. Even so, they will soon arrive at the limits of the inexpensive Alcatel 3L 2020 and then look for a better camera, a faster processor, and usable speakers. You can find out which smartphones are recommended in our list of best smartphones you can buy for under $200.
If you already know what you want from a smartphone, you can take a look at the cleverly differenciated Moto G8 series from Motorola. Xiaomi, a strong competitor in the budget smartphone segment has also been present all around the world for some time now. Here you should have a look at the Xiaomi Redmi Note 8T and Xiaomi Mi A3.