Why is Data So Much Cheaper in Europe?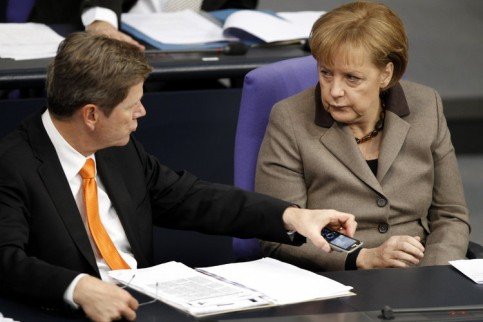 (Merkel's Germany is much friendlier to data hogs).
With users downloading tons of movies off Netflix, gabbing with their friends for hours over Skype and streaming Justin Bieber over YouTube, you'd think carriers would be bending over backwards to try to snatch up customers using a fancy unlimited data plan carrot. Hahaha, no way jose! As data-swallowing apps become more and more popular, carriers have actually gone a step in the opposite direction, offering "tiered" data plans that stand to make them a lot more while giving customers less.
Unfair, right? Totally! But this seems to be the case. Verizon has axed their unlimited plan but charges the same amount for their new "unlimited" plan, which now only offers 2GB. Verizon claims that "only the heaviest users" will be affected by this change, but we know that's not the case. In fact, as the New York Times writes, 2GB is enough to watch about 5 films on Netflix. And then that's it. For the whole freaking month.
But it doesn't have to be this way. In Europe, data is plentiful and cheap. German carriers ePlus and Blau, for example, offer customers 5GB for 20 euros. 20 euros! That's right...for less than the price of 2G in the states, you get more than double the amount of data!
Now of course, plans in other countries are as steep, if not more, than American plans. France's unlimited plans will set you back more than 100 euros, for example. But the fact that some plans in Germany are so much cheaper than their American counterparts makes me wonder if American carriers are telling the whole truth about their expenditures.
Carriers can blame increased network costs, but we all know they've only raised prices because they stand to make a killing on data plans. The only American exception is Sprint. The Now Network offers the nation's only truly unlimited plan. But there's a catch- it's gonna cost you $99. Till American carriers lower their rates, I suppose we can all move to Germany.