New Nook eReader is the monochrome Android tablet you didn't know you wanted Barnes and Noble did a formidable job at making the Honeycomb before pretty much all other devices. Now, they've launched what they call the "All-new Nook", a 6" monochrome touch eReader that, again, runs a proprietary version of Android and is easily hacked to do more than just books. Head on past the break for more info.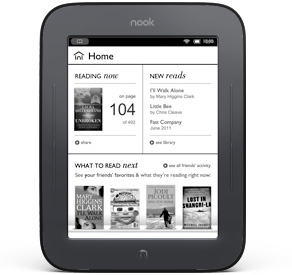 Here's the basic Spiel: it's got a 6" e-ink touchscreen that's good for a month's worth of reading on battery, 215ish grams light, holds 1000 books, flickers less when flipping pages and recommends books based on what you're reading or have read so far. Obviously, none of that makes it the killer Android tablet you've been waiting for, but thanks to it running Eclair 2.1 and some hackertage it runs Angry birds, and that's really what it's all about. Check it out:
The refresh rate of the e-ink is quite a bit lower than what those apps require, but if Angry Birds runs at all it means that more is possible. There's already a hidden browser that was discovered, so if you're in the market for a eInk reader that'll do just a little more than that, the Nook Touch may be worth taking a look at. Below is a picture of the browser.
Images: Barnes and Noble, Android Community
Video: Youtube user JFreke