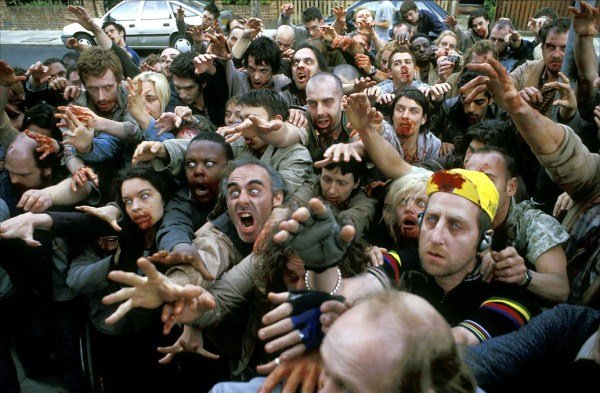 (Sean of the Dead – Universal Pictures)
MG Siegler over at Tech Crunch has an article up about how Google has become the mortal enemy of everyone from Apple to Microsoft, Facebook to Twitter. All of these companies, who would normally hate eachother's guts, have found common ground in hating Google. And, in many ways, this "last alliance" against Google has evolved in response to Google's Android operating system:
Microsoft rarely bashes Apple publicly anymore. In fact, they often take their side on arguments or come to their defense on issues. Again, these were once bitter rivals. And these times should be the battleground for their bloodiest battles yet. Instead, it's all holding hands, s'mores, and Kumbaya.

Why? Because Microsoft has an enemy they hate much worse than Apple. And Apple has the same enemy. Google.

Specifically, Apple hates Android. Sure, we know this already. But it's interesting to think how this hatred has created new alliances in the tech world. Apple and Microsoft, you must remember, used to be bitter rivals. But now that much of Microsoft's software has become irrelevent, the rivalry has lost its lustre. Microsoft and Apple have one big enemy and that is Google.
This explains why the two companies bought Nortel's patents to leverage against Google. It also explains why Microsoft has been spending "obscene" amounts of money to make Bing a primary Google competitor.
In the past, I'd shrug and say, well Apple is a legitimate threat to Google, but Microsoft is not. After all, there's not a snowball's chance in hell that Bing will EVER catch up to Google in the search realm. However, the fact that but its alliance with Windows and its consistently eye-catching designs could transform it into a real competitior.
No, I don't think Android is about to become overshadowed by Windows 8 anytime soon. Nor do I think tons of Android customers are going to suddenly switch over to using iOS. But I think the combination of Microsoft AND Apple is something to look out for. We're talking about the world's largest software company and the world's most valued brand. With enemies like these, Google – and Android specifically – is going to need to continue innovating and converting users lest they get swallowed up and eaten alive – not by Apple or Microsoft, specifically, but by the combination of both.