100 days with the Sony Xperia XZ Premium: Old school charmer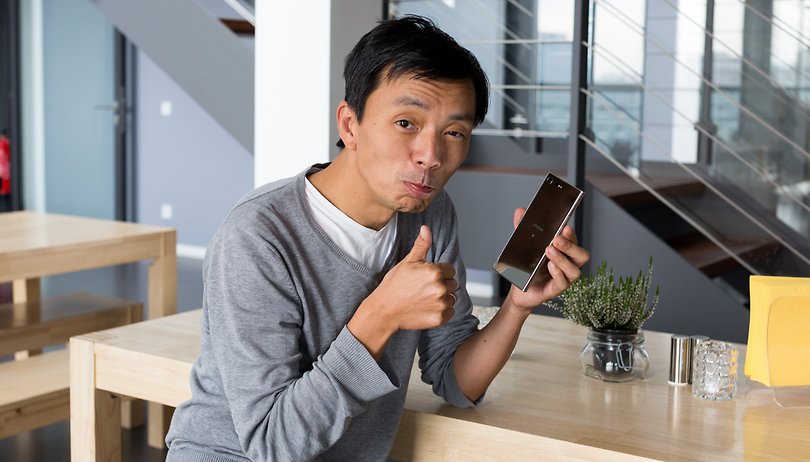 The long history of Sony's smartphones can be considered one of misunderstandings. Only in spending an extended period of time with the XZ Premium can one realize that behind its 'retro' look, is actually a very attractive smartphone.
Sony first presented the Xperia XZ Premium at the Mobile World Congress (MWC) at the end of February 2017. Though it did not appear on the market for some months after, the XZ Premium was first premium smartphone with the new Motion Eye camera with the ability to record in super-slow motion at roughly 1,000 FPS. Sony used enticing marketing terms with the XZ Premium like "4K HDR screen", "hi-res audio" and others designed to make you feel "wowed" at first sight.
In our review, we ended up debunking some of these claims as mere marketing fluff that offers little added value in practical, day-to-day use. Has this extended use review changed any first impressions? After using the Sony Xperia XZ Premium daily for over a hundred days, naturally I have good and bad things to say about it.
Pro: Performance
When it comes to performance, Sony can seriously keep up with competitors Samsung, LG and HTC. It's no wonder that what makes up its technical core—the processor, GPU, RAM and internal storage—are virtually identical to the year's flagships. Truth be told, I quickly installed the Pixel Launcher, since Sony used the dated, yet classic app drawer and not the Pixel's very convenient variant, with which you can enter the app drawer just by swiping up. Nevertheless, despite numerous apps and background activity, I did not notice any performance slumps after more than 100 days so it truly excels in terms of power.
Sony Xperia XZ Premium Benchmark Comparison:
| | 3D Mark Sling Shot ES 3.1 | 3D Mark Sling Shot ES 3.0 | 3D Mark Ice Storm Unlimited ES 2.0 | Geekbench CPU - single core | Geekbench CPU - multicore | PC Mark Work 2.0 | PC Mark Storage |
| --- | --- | --- | --- | --- | --- | --- | --- |
| Day 1 | 3,246 | 3,697 | 40,286 | 1,898 | 6,294 | 6,338 | 4,989 |
| After 100 Days | 3,531 | 4,163 | 40,672 | 1,924 | 6,553 | 6,439 | 4970 |
Con: 4K Display with HDR
When it comes to a television that is bigger than 50 inches, I can understand that 4K and HDR support makes sense to attract customers, but I personally don't see the need for it on screens that are smaller than 10 inches, because the differences between 2K and 4K are hardly, or not noticeable at all. I would actually be so bold to say that the ability to display HDF on a smartphone is a marketing ploy that mostly falls flat because there is not enough HDR content available. Yes, there is a selection of films and series on Netflix and Amazon that were recorded in 4K und HDR. At least you can give Sony Mobile credit for finally making an internal effort to integrate their standout technologies across its different product families.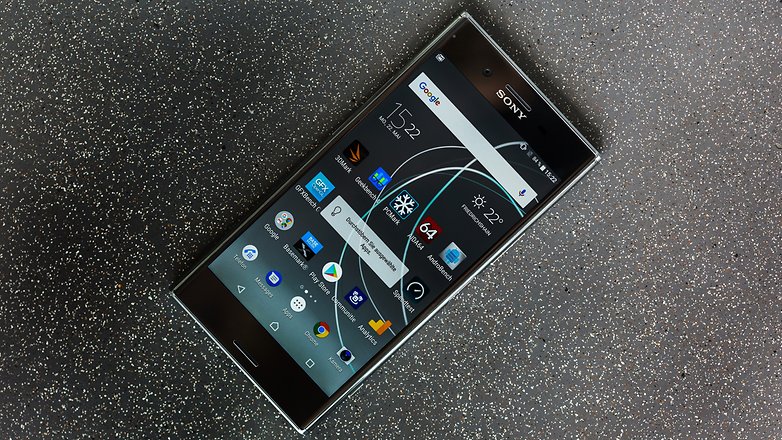 Pro: Compatibility across a range of product categories
Whenever I get the chance to review a Sony smartphone, I am often very surprised at how quick and easy it is to connect with products from the Sony universe. My four-year-old Bravia TV (which is connected to Wi-Fi) is quickly detected and can be controlled remotely with the Xperia XZ Premium without a hitch. I can easily cast YouTube videos and can even use the Xperia XZ Premium as a controller for a PlayStation.
Con: Fingerprint sensor
The idea of integrating the fingerprint sensor into the side bezel was a very gutsy decision by Sony. It's also understandable from a design standpoint, since that's where it stands out the least. Unfortunately, this only lets you use it effectively with your right thumb or left index or middle finger. I hope you never have to unlock the XZ Premium when it's lying next to you on the table! It has a moderate detection rate and that made me pick up the XZ Premium or enter the password to unlock very, very often.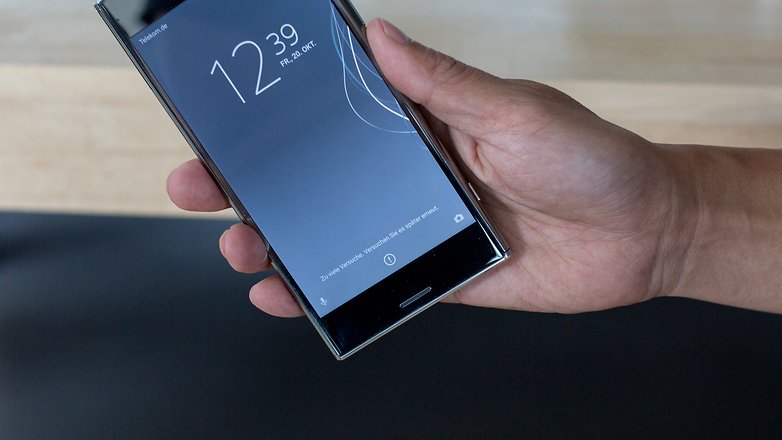 Pro: Sound
When it comes to sound, not all smartphones can impress, primarily when it comes to outputting audio without external accessories like headphones or loudspeakers. Thanks to the two front-facing loudspeakers, the audio output here in the Xperia XZ Premium is better than, say, on a LG V30 or Samsung Galaxy S8 with their mono loudspeakers. Only at maximum volume does the sound minimally dampen the enjoyment. If you prefer to connect headphones or a loudspeaker, wired or wirelessly, to the Xperia XZ Premium, you can bet on a fantastic listening experience.
Just like the XZ1 and XZ1 Compact, Sony has equipped the XZ Premium with all the possible options a music lover would want. However, to achieve the ultimate sound experience, you need a few additional investments like the right headphones and the audio files should also be in hi-res quality formats like flac, wav or alac.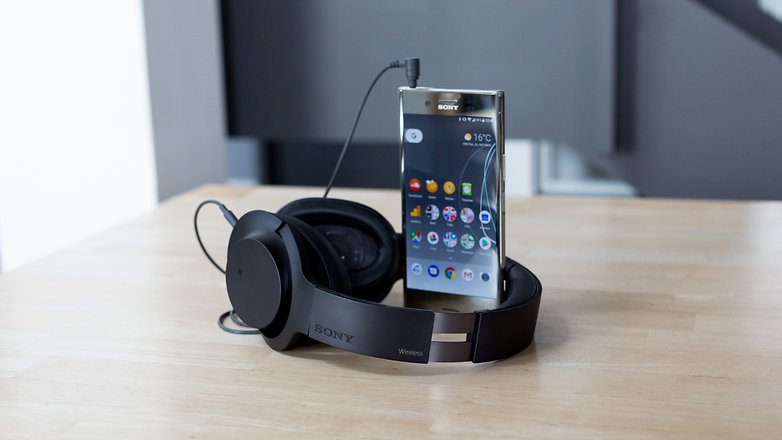 Con: Camera
Before I critique the camera, there's something I need to say first: The standard for current smartphones when it comes to good lighting is generally considered to be quite high. However, it's in settings with less-than-optimal lighting where the true test lies, and I must say that this is where the Xperia XZ Premium disappoints.
The amount of noise is pretty unacceptable for a smartphone in this price range. You would expect better from Sony, which has its image sensors in virtually all smartphones and otherwise produces such excellent digital cameras like the RX100 Series or even the A7. The fact that the Xperia XZ Premium can shoot in super-slow motion at 960 is no consolation either. This feature is fascinating at first, but is squandered in day-to-day use.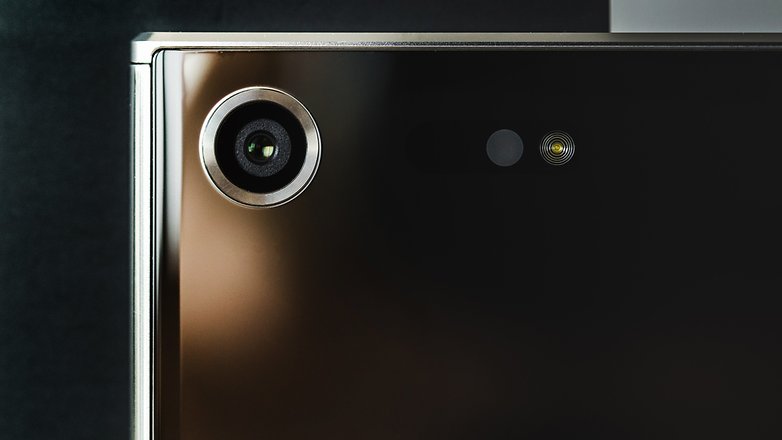 Undecided: Design
I saved the most contentious point for the end of this long-term review: The design. Over the past hundred days, my colleagues in the editorial department always laughed at me. They often joked about the XZ Premium's bezels as they walked past me, and I have to say that they are partly right. When I put the XZ Premium next to a V30, S8 or now even a Mate 10, it doesn't make me go "Oh my gosh I MUST have it", and its striking chrome color doesn't help matters either.
But as is the case when you use it every day, you quickly get used to the Xperia XZ Premium's conservative "retro" design. The smartphone would often slip from the couch and also had a couple of spills on the floor. Its wide bezels have definitely served well as a bumper during one or two drops and thus, prevented the display from breaking, much like on the HTC U11.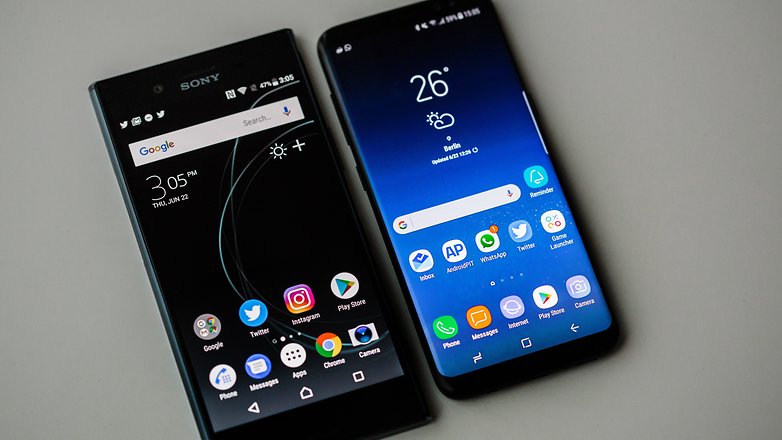 Verdict after 100 days
At this point, I need to come out and say it: I like the Sony Xperia XZ Premium, and it is partly because of the smartphone's positive aspects I mentioned above. In the software department, you can tell that Sony made many slight changes compared to the 2016 devices, which show that things are not stagnating and that their smartphone business is still considered a serious business without a doubt. The camera, even when it exhibits weaknesses in noise behavior in low-light conditions, also shows that the Japanese company wishes to abandon old Sony ways. Its new Motion Eye sensor for example, is exclusive to the company's products for 12 months.
The Xperia XZ Premium and I probably have a lot in common: We both have our good and bad points (pros and cons) and are considered dinosaurs in our fields (design). But we make a match because we reflect both elements of the past, and of change - albeit hopefully for the better - in small but subtle steps.