WWDC 2021: All about the new iOS 15, iPadOS 15, WatchOS 8 and more!
Update:

Updated with all highlights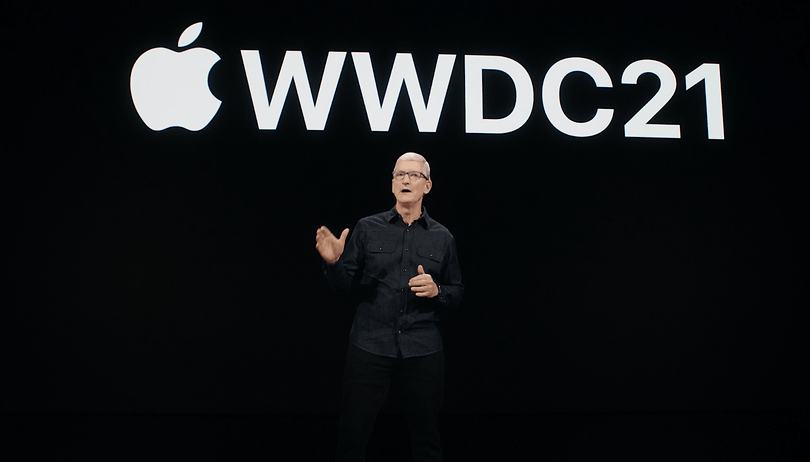 "Glow and Behold"! That was the motto of WWDC 2021, where Apple presented iOS 15, iPadOS 15 and watchOS 8, among others. Also we know the next mac OS version's name, Privacy & Security are more important than ever and health is an important topic. Let's go!
In the following table of contents you'll find an overview of the different topics of WWDC 2021. For most of the topics you'll also find links to more in-depth articles by my colleagues (work in progress). And if you want to watch the nearly two-hour recording of the opening keynote again: you'll find the video at the bottom of this article.
Jump To:
iOS 15: Communication and Mindfulness
The pandemic has not only dominated this year's Google I/O, but also Apple's counterpart WWDC 2021 as well. So iOS 15, among others, is all about communication, productivity and – relatedly – mindfulness.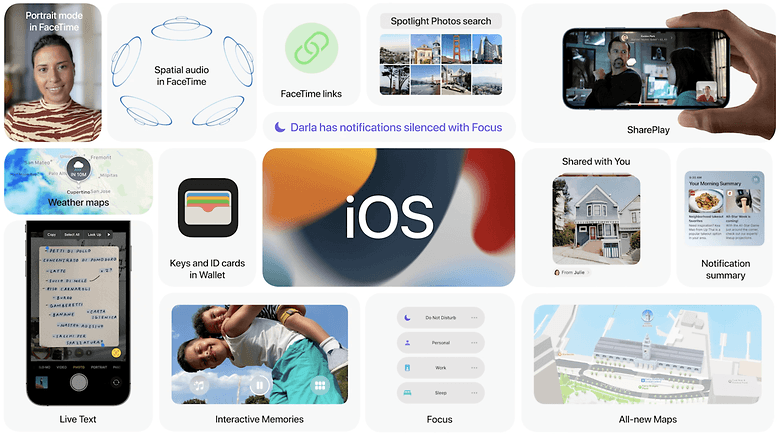 Facetime, Messages and Photos
Facetime, for example, gets better audio features with Spacial Audio and an ambient noise reduction feature. For video calls, there's a Portrait mode that softens the background. Calls on Facetime can now be organised via calendar invitations. The Shareplay function allows you to enrich calls with all kinds of multimedia content. For example, you can listen to music or watch videos together. The new Facetime app also allows you to share your screen.
And the big surprise: Facetime now works with Windows and Android devices. And now that there's a Shareplay API, all sorts of third-party apps can be integrated here in the future.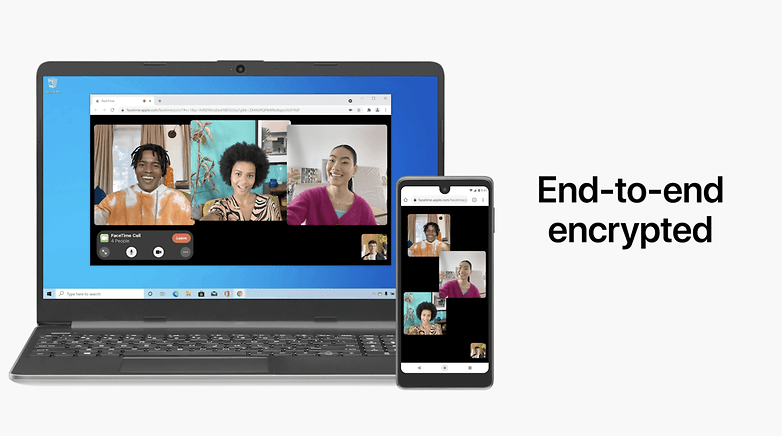 The Messaging and Photos apps in iOS 15 are also getting a few updates. So you can now send collages with pictures directly, to which the recipients can respond directly with hearts. And Photos is supposed to turn shared experiences into shared photo albums in the future – ideally without showing your embarrassing memes in between. Another exciting feature is the Spotlight search, which allows you to search photos for text and use it immediately.
Focus: Can you hear the silence?
Thanks to Focus, you should get the big notification buzz under control in the future. You can create different profiles for different scenarios in your everyday life, and then receive, for example, only messages from your colleagues during working hours. For everything you missed, iOS will send you a summary of missed notifications at set times. As is currently the case with DND mode, however, there is also always the option to reach you in emergencies – the feature should look familiar to the Slack users out there. Apple has also otherwise spruced up notifications in iOS 15. Messages from your contacts, for example, are accompanied by profile photos.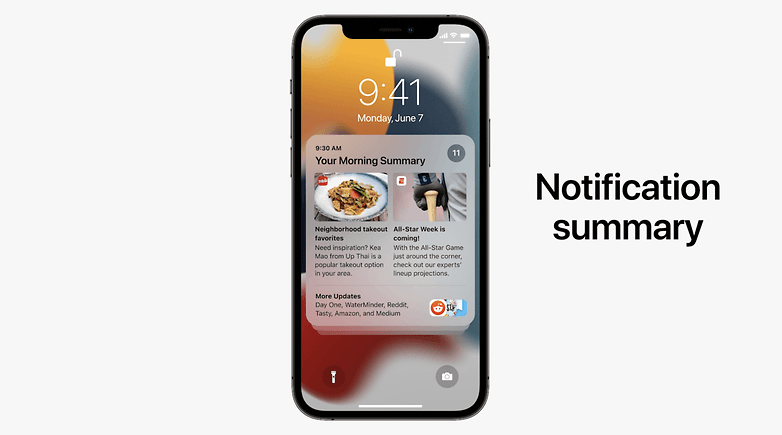 UWB: ID and room card for your mobile phone
Finally, iOS 15 also supports the short-range wireless standard UWB and turns your smartphone into a car key for compatible vehicles or the hotel card for the booked room in the future. In addition, it will soon be possible to store IDs, driver's licenses, etc. in Apple Wallet – at least in the US.
You can read all about the big update for the iPhone in our dedicated article on iOS 15:
iPadOS 15: the intuitive computer
The latest iPadOS update is also all about productivity. The programmers out there should be happy about Swift Playgrounds, which allows for developing apps directly on the iPad. No idea about Swift? Now there's a free coding course built in for that. But also the mortals will get their money's worth with iPadOS 15.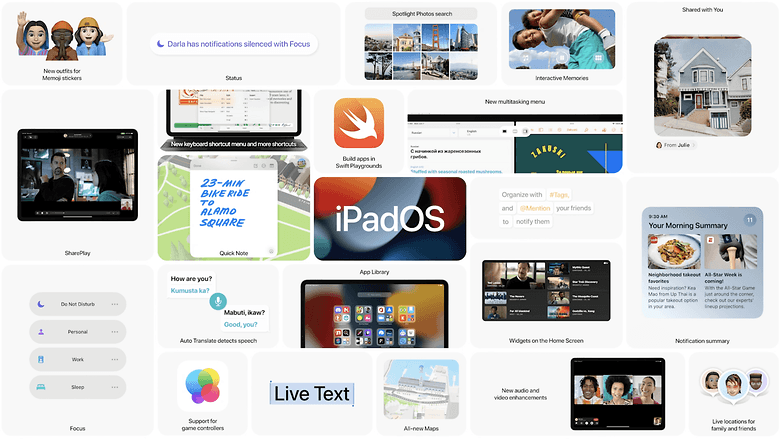 Widgets & Multitasking
With iPadOS 15, you can now better organise your home screen – and mix apps with widgets. And Apple has also given the multitasking capabilities a big boost. For example, split-screen views can now be composed with a swipe of the finger and stored on a virtual shelf for later, which Apple calls "The Shelf". So if you frequently write emails and need to have the browser open on the side, you can store this combination handy.
Notes on steroids
The Notes feature has also received a huge update. A notepad can be pulled out of the bottom right corner, which you can then either write on, type on, or add information from the app itself, depending on the context of the current app. If, for example, you later open a website in the browser, iPadOS will show you the associated notes, if any. And in the notes overview you can jump to your notes, context included.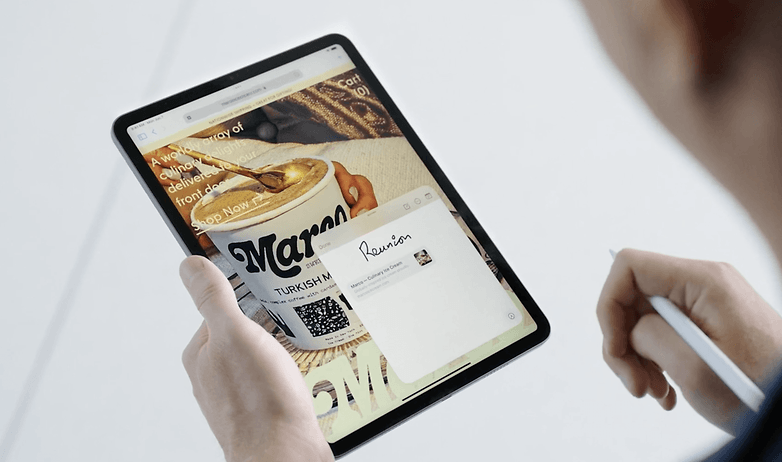 Notes shared with friends and colleagues now offer a change log and can be tagged with keywords. You can also tag people if you want them to respond to a certain item.
What else is going on with the iPad operating system in the latest version, you can read in our separate article about iPadOS 15:
watchOS 8: Health & Mindfulness
Health was also a big focus for the Apple Watch. The watchOS opener was marked by a research project with heart attack patients. By motivating them to exercise more and at the same time closely monitoring the collected health data, the prognosis could be significantly improved here.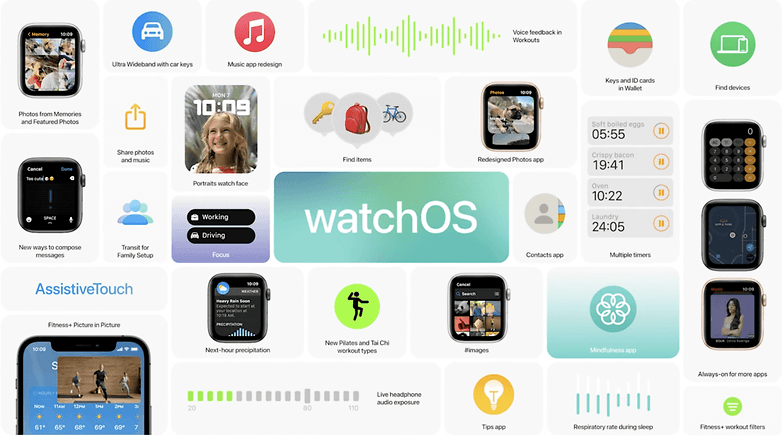 The new Mindfulness app offers various exercises on mindfulness and breathing techniques. And Fitness+ subscribers can look forward to Tai Chi, Pilates, and new HIIT workouts accompanied by music from Lady Gaga, Jennifer Lopez, Keith Urban, and Alicia Keys.
Also, in the future, the Apple Watch will measure your breathing rate while you sleep, which can also indicate illness if there are any changes. Apple calls this analysis "Trends", and also checks for long-term trends in many other health aspects here.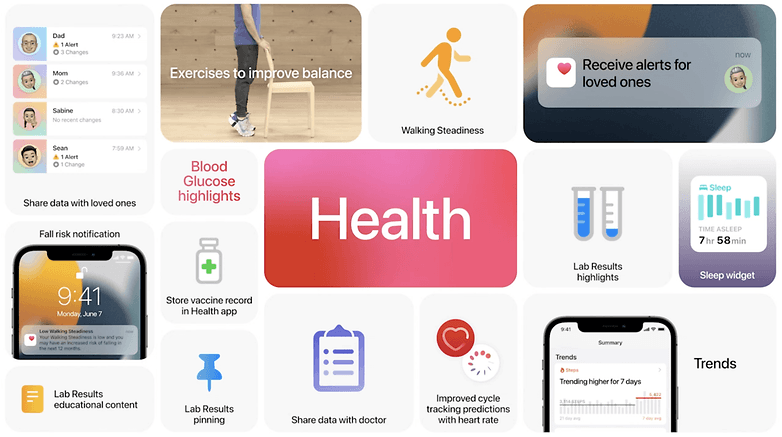 For example, the motion sensors in the iPhone can be used to analyse the user's gait. If there is an increased risk of falling, the iPhone sends out a warning. Of course, these trends can also be shared with the user's physician – or with family members, who can then support a healthy lifestyle.
What else? Otherwise, there's new watch faces for photos including a fancy parallax effect and the ability to easily send photos to contacts. Composing messages, including cool meme GIFs, is also easier than ever.
Privacy and security
After iOS 14.5, it's no surprise that the topic of privacy came up again at WWDC. Going forward, Apple will prevent email tracking through hidden pixels (which is a bit of a creepy mess, by the way). Also, Safari hides the user's IP address, making cross-site tracking even more difficult. Finally, the Privacy Report explains the various prevented data messes.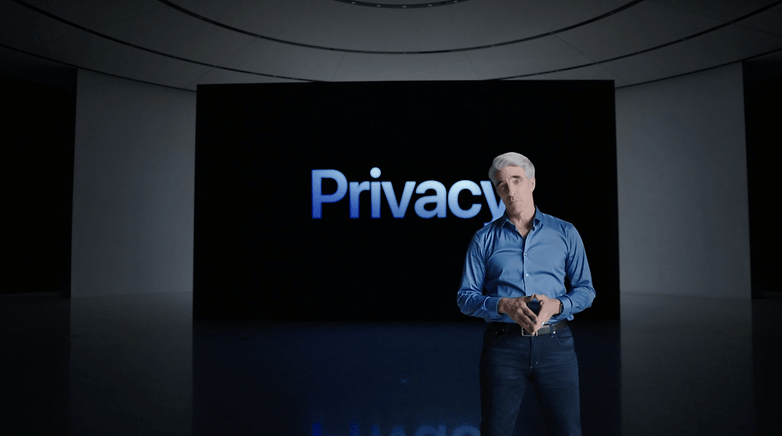 In the future, the voice assistant Siri will no longer send voice recordings halfway around the world – voice recognition is done locally on the device and thus also works offline and, according to Apple, much faster.
You can read more about the tracking of emails in Ruben's article:
Also privacy plays a big role for iCloud, which Apple now dubs iCloud+ for paying customers. Included are handy features like trashmail-style disposable email addresses and an encrypted Internet connection that, according to the feature description, resembled VPN services.
Finally, all iCloud users can add trusted people to their account to help reactivate it. There's also a sort of will service, which will allow pre-determined people to have access to certain areas of the iCloud account in the event of a death.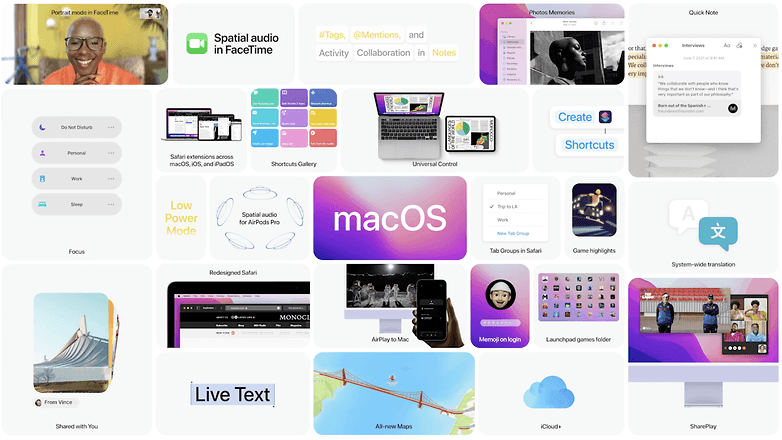 And what else?
Here are a few more interesting news that don't deserve a paragraph of their own, but are exciting nonetheless:
On a side note, Apple has announced a new smart home standard. However, many details about "Matter" are not known at this point. However, numerous partners are said to be on board already.
Siri will also work on third-party devices in the smart home in the future.
AirPods can also be tracked in the future via the Find My function.
Spacial Audio now also works with TvOS – head tracking for better spatial effects included.
The next version of Mac OS is called – drum roll – Monterey.
Continuity is now even more flexible with Universal Control. For example, you can move your mouse cursor directly from Mac to iPad and even drag and drop files back and forth.
Safari gets a new design and support for tab groups for all you tab-obsessed folks out there.
Safari Extensions now also available for iPad and iPhone.
Thanks to the Object Capture API, objects can be quickly and easily transformed into photo-realistic 3D models for Cinema4D in the future.
The App Store will also support in-app events in the future. Yay. Not.
If you still have about two hours left, you can watch the full-length recording of the WWDC keynote here: