Who's the best: Comparing S4 with iPhone, Nokia and Blackberry Our AndroidPIT team has created an amazing comparison of specs for our awesome AndroidPIT followers, so that you know where high-end smartphones stand next to one another. Making an educated guess about what smartphone to buy can lead to tedious web surfing, interrupted by long lapses in Facebook and YouTube. Fear not! We have the goods.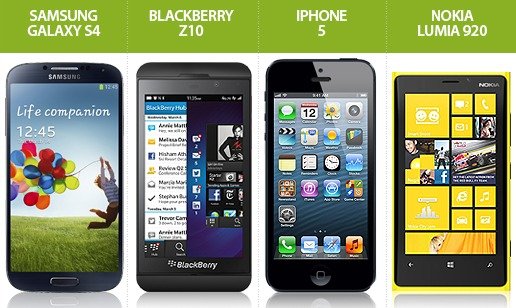 Did you ever wonder what high-end smartphone is the best? Or which one has the best battery. Well, we've taken the opportunity with the new Samsung Galaxy S4 to compare it with other non-Android high-end devices. We are going to be taking a lot at the S4 (obviously), Blackberry Z10, iPhone5 and Lumia 920. It's off to the races, folks!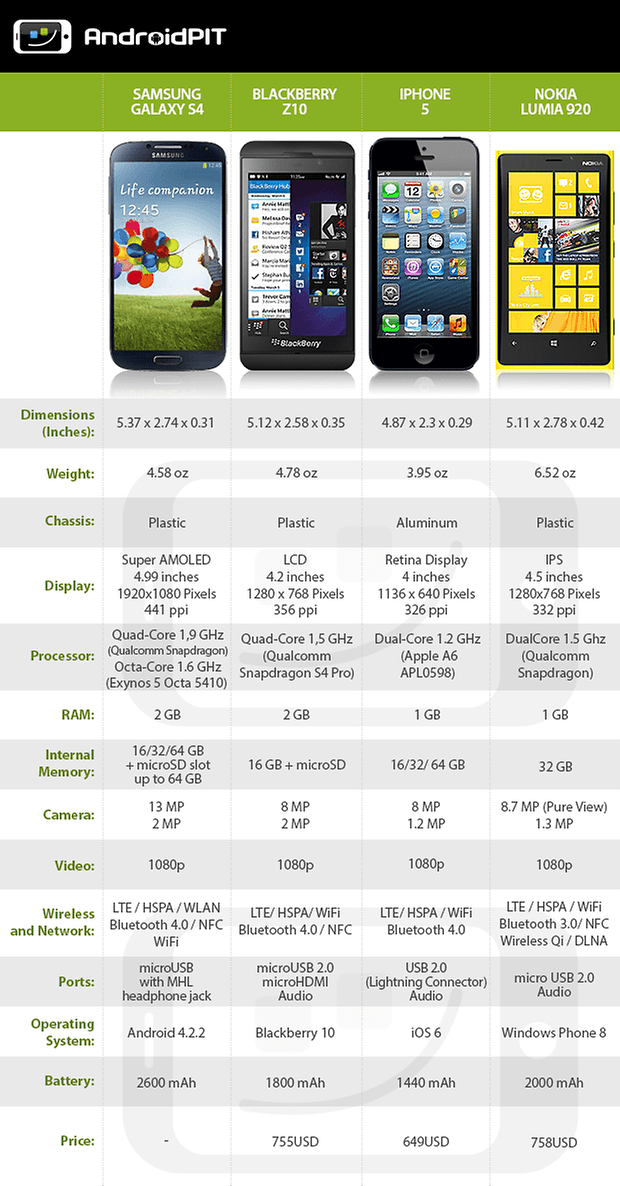 Let's analyze this, bit by bit. First and foremost, let's talk about the processor. The Galaxy S4 runs on an either an Octa-core 1.6 GHz Exynos 5 Octa 5410 or a Quad-core 1.9 GHz Qualcomm Snapdragon processor (the latter only available in selected markets). So obviously it is ahead of the pack with all the others running only either a quad or dual-core processors, beating at even less gigahertz, ranging from 1.2 to 1.5. Good going Samsung, let's see how you do in the other rounds.
Size Matters
Big is better, right? Well it's a matter of taste, wouldn't you say? The S4 has a bigger screen than these other phones. More space to work with, but maybe a bit more clunky. It all depends on the weight and grip and how it feels in your hand. The S4 features guns-a-blazing' super AMOLED visuals with 1920 x 1080 pixels at 441 ppi. It doesn't get brighter (yet) than this folks, making the others seem like a joke with their less than amazing resolution. Their next generations need to step up their game, if they want to compete with the big boy.
Apples and Hot Cakes
Speaking of weight, it lands pretty much in the middle when being compared to its competitors. The other companies, other than Apple with its iPhone 5 aluminum chassis, also chose plastic. There is an advantage here, as we see with any plastic phone, that you can pump out these phones like crazy to keep up with the demand, since once they hit the market, they sell like hot cakes. Aluminum is harder to come by and resources are often dried-out before you've even began! However, Apple has recently said that selling smartphones is more than just pumping out as many as you can. I don't know where this guy went to business school.
Operating Systems to write home about
The S4 has a better operating system, boasting the top of the like Android 4.2.2. Though there has been recent bashing from Apple about the o.s being one year old and the customer will have to update it later with a cost, but I won't go too far into that. So far, it's the best. Who knows what the future has in store.
Money, money, money
Lastly and most importantly, price: we can't really comment on it yet. The other high-end non-Android smartphones range between 650 and 760 US dollars. I can see the S4 costing a similar price. In all other aspects, the devices run side by side, after all, they are all high-end phones and you expect the best.
All in all, I think that the S4 is definitly the best thing out there that you will be able to get. Who knows what the next iPhone will have (which is said to come out in a few months). The way they've been bashing Android devices, they may have some tricks up their sleeves.
We have other interesting articles and a hands-on video (we got to touch the S4!) coming up, so stay tuned.