Tesla Model 3 design flaw could result in a mud-filled bumper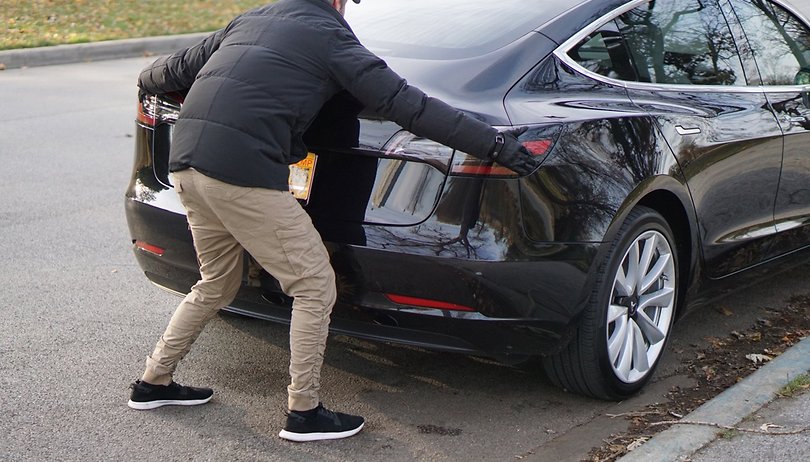 A design flaw can clog the rear bumpers of some Tesla Model 3 cars, with the extra weight making some fall off completely and frustrating owners. In a video, a Canadian mechanic demonstrates the problem. The solution is obvious, but Tesla has not yet commented on the issue.
The cold, muddy winder is making some Tesla Model 3 electric cars in Quebec, Canada struggle. However, it is not the cold that causes the vehicles any problems, but the mud on the roads. It collects in a pocket in the rear bumper.
This increases energy consumption when driving, although it is negligible. However, the extra weight has already torn off some Tesla Model 3 bumpers. This is reminiscent of cases from last summer, when heavy rainfall on the US east coast caused similar problems.
1/2 hr, bringing Model 3 home, run in to heavy rain on the streets & bumper comes off #devastated @Tesla #help @elonmusk pic.twitter.com/mOh2UAjWWr

— rithesh (@rithesh) August 12, 2018
@Tesla this is a result of driving my model 3 through 12-15 inches of water on the street at <10mph. The bumper became a parachute for the water. The design is intended to deflect. Advise on warranty? The service center was not helpful this AM and told me to find a body shop. pic.twitter.com/wwUZCFfkRi

— Ben (@Benj1Franks) August 6, 2018
Following last summer's incidents, Tesla had already told blog Electrek that "quality will be improved", and it turns out that this continuous process of optimization has not yet encountered the sludge. The rust protection expert and workshop operator Eric Bolduc, on the other hand, found buckets of mud in the bumper of various Tesla Model 3; it is apparently a production problem.
A simple design solution would be to add a drain to the rear bumper. Nevertheless, Tesla owners have otherwise had good experiences in harsh climates. The Model S is a bestseller in icy Norway, for example. In this respect, the problem with Model 3 should only be a temporary one.
Have you encountered such issues before? Let us know in the comments.