Sony Xperia Z tested: An Elegant Smartphone with full HD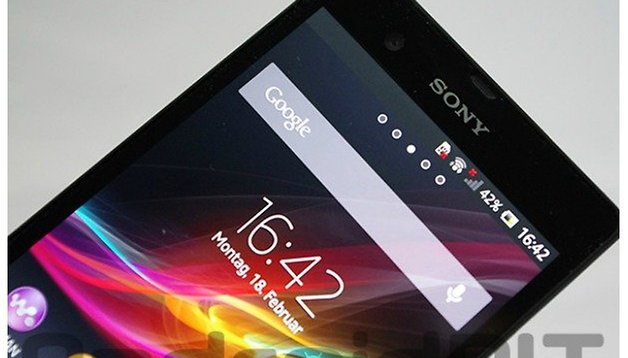 After my first review and video of Xperia Z, I'd like to now follow up with a more detailed test review of the Sony's newly presented model. Whether or not this device is the crème de la crème, you can find it out with us.
Good
elegant and slick design

water resistant
Sony Xperia Z design and build quality
Upper-league smartphones are without a doubt following the trend of up-scale materials and the Xperia Z is no exception. The front and back sides are crafted from a scratch-proof mineral glass. As a further precaution, Sony provided a protective foil for the glass, which also covers the back and the front sides. This extra protective layering is all the while barely visible and therefore isn't really noticeable. Due to this foil, the Xperia Z is a real magnet for fingerprints and blotches. You'll have to get used to routinely cleaning this smartphone, if you chose to you buy it.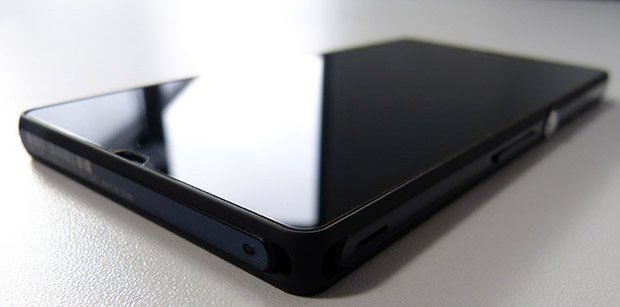 Thanks to its sleek size, its still very pocket friendly.
The quality of the workmanship is excellent. Nothing seems loose to the touch or rattles and the gaps between adjacent parts seems quite consistent. Thanks to its humble size of barely eight millimetres, the Xperia Z has a nice weight and isn't in the least bulky. Hats off to Sony in this department, they did some really good work.


The power button can also be used to snipper button to shot pictures.
The Sony Xperia Z is IP 55/57 certified. This means that the phone is watertight and dust resistant. It won't be damaged if sprayed or even briefly dunked in water. It's for this reason that all ports and openings are hidden behind protective coverings. I can imagine that using the head phone jack on a daily basis will be quite complicated, especially since the coverings cannot be completely detached and are firmly connected to the casing.


All openings and jacks are protected by the water-tight coverings.
You'll find two gold outlets on Xperia Z's left side. These are created an available docking option, so that a USB cable doesn't need to be plugged in. In this way, it's similar to the Galaxy Nexus from Google and Samsung.


The docking station ports are open, as opposed to all the other openings.
The craftsmanship is all around successful and really didn't leave anything out. The Xperia Z belongs to the elite of well-crafted smartphones that are available on the market. The port and jack coverings might take a while to get used to, but are really unavoidable because of the certification. The design is definitely appealing, thanks to its nice sleek shape. Some might find this boring, but for those who are on the look-out for an uncomplicated smartphone without any crazy bells and whistles, the Xperia Z is a real delight.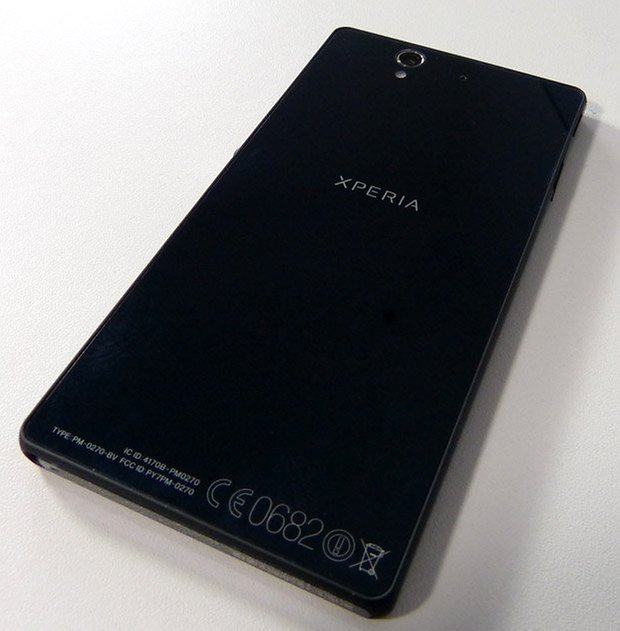 The back is also quite sleek.
Sony Xperia Z display
Sony built the Xperia with a five inch display with full HD resolution ( 1.920 x 1.080 pixels). Thanks to its high pixel count of 443 ppi, details are easily seen and even smaller texts are absolutely razor-sharp. Even though the five inch display is anything but small, Xperia Z doesn't seem ridiculously huge, thanks to its compact build. Compared to delicate and small phones, this is definitely on the bigger side.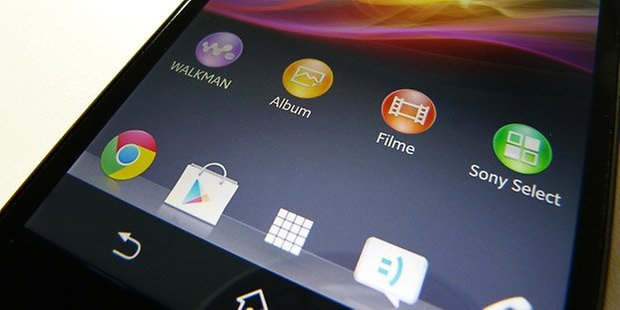 The full HD display allows for razor-sharp images.
Sony Xperia Z software
Many Sony apps are pre-installed on the Xperia Z. If you like listening to music, you'll be really pumped about the Walkman app. It pleasing to the eye and offers well thought-out user guides. Within it, you'll find an equalizer, which offers functions like editing options for missing music information.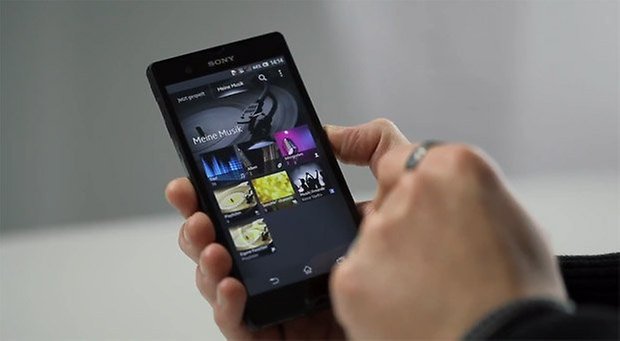 What a hit: Sony's Walkman app!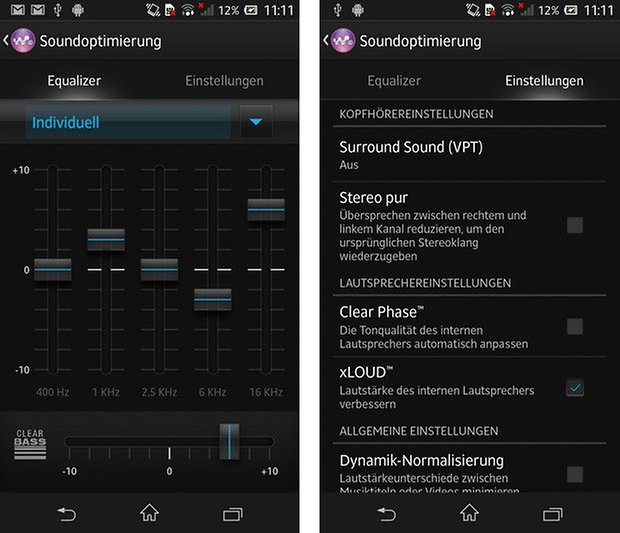 Equalizer and setting options of the Walkman app.
There's also a suitable app for drivers. Once you start ''Sony Auto'', the Xperia Z adapts to an operating mode with bigger tiles. Here you can start up the navigation or even add your own links.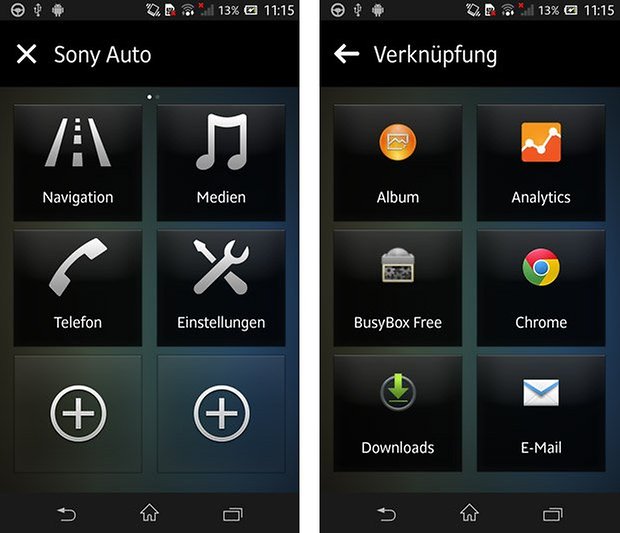 Xperia Z in drive mode.
Another useful function: Thanks to the ''secure and restore'' app, you can set up Xperia Z's backups with a hand gesture. These can be saved on a SD card, on an external USB's memory or on the Cloud. You don't need to bother with installing any additional apps like Carbon Backup.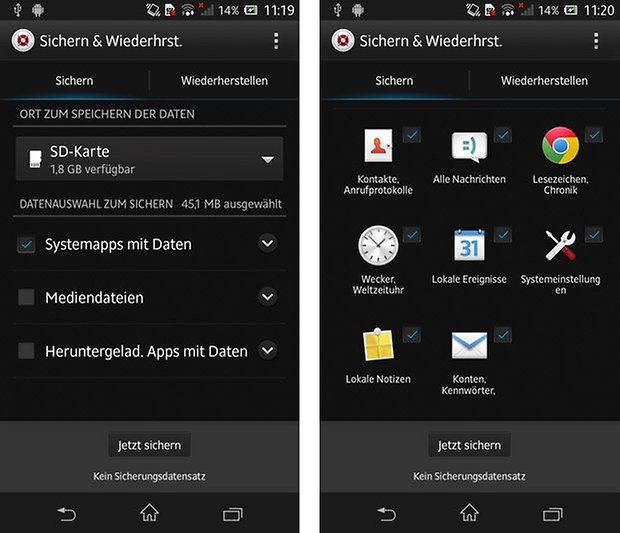 Xperia Z's internally intergrated backup works well and is easy to operate.
Xperia Z shows us its adaptability with its abundance of various designs of different backgrounds for the home and locked screens.
Regarding Home-screens, you can set the quantity of your home-screens individually and determine which of them you'd like use as the standard screen.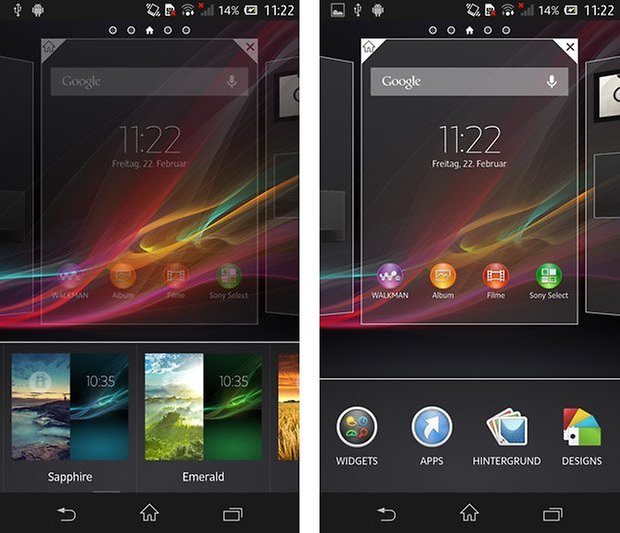 The setting options for your home screen.
Sony Xperia Z performance
The Sony Xperia Z holds a powerful quad-core processor from Qualcomm with 1.5 gigahertz. On the processor's sides are two gigabyte internal memories, which permits the smartphone to operate well. Everything runs smoothly, without any lapses. On the other hand, the Xperia Z's operating doesn't seem to run as smoothly as the Nexus 4. This could be the result of its software, which isn't completely optimized and also from Sony manufacturer's composition choice. Nexus 4 already uses Android 4.2 and this version offers further performance improvements on the behalf of google.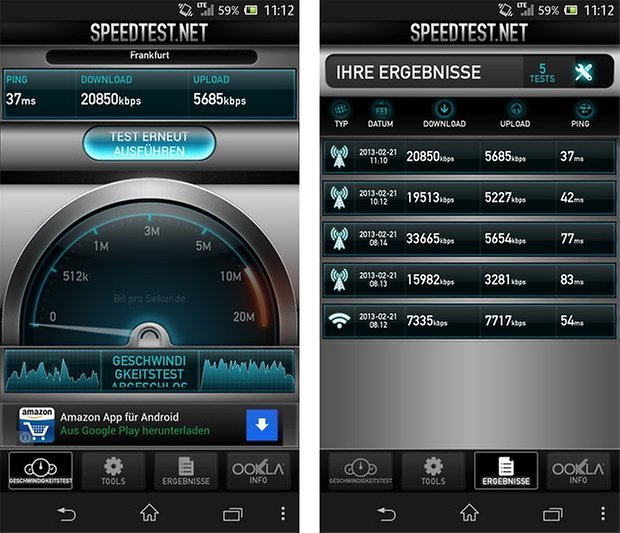 A small speed test with LTE in the T-Mobile network.
This might have had been the cause for the shaky animation when selecting the last opened app, as well as its delayed start. The same thing happens when scrolling through the settings. The animation could also be a smidgen faster. Admittedly, this is complaining on a much higher level, but with a smartphone of this price, it's allowed. All in all, I like how it operates, apart from a few aesthetic defects.
Sony Xperia Z camera
The camera produces impressive pictures, even in bad weather. It captures many details and the image noise is minimal. Taking pictures up close also focuses in easily and the results are really acute.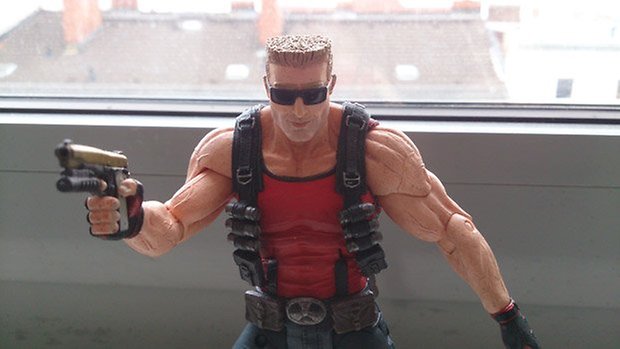 Duke Nukem looks good even in a close-up.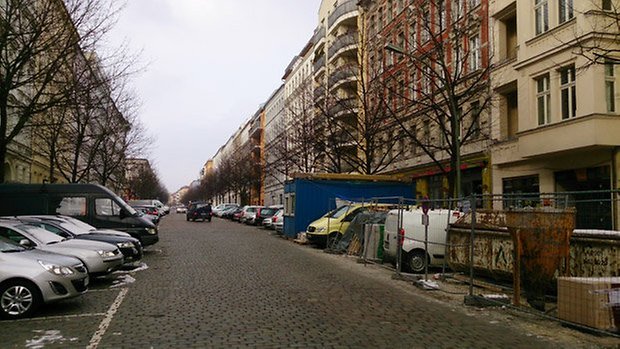 The camera won't flop out even in miserable weather.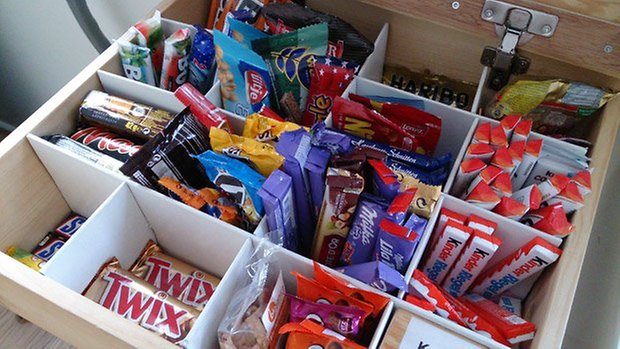 Candy!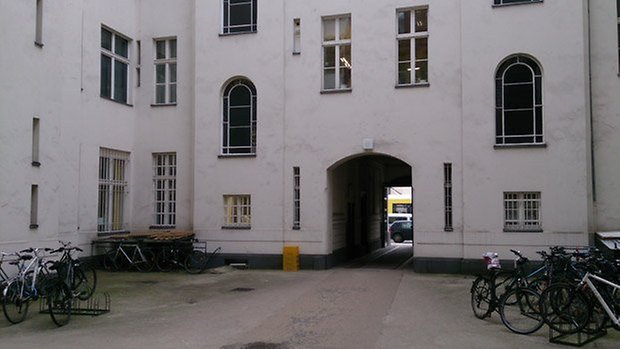 A look at our inner-courtyard.
The camera app offers many other additional functions. The camera uses the ''superior automatic'' mode to try and recognize what type of scenery is being photographed. For example, it can determine if you are moving or if there are people in your picture. It then automatically adjusts the picture mode. This worked really well while testing it out. The close-up shots switched directly to the macro mode, for example.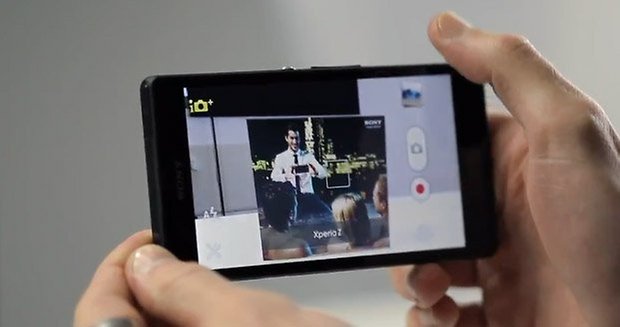 Taking pictures is a lot of fun. The only bummer is the slow start-up.
What's not so great, on the other hand, is the camera app's delayed start-up. After pressing down on the camera symbol, it takes about four seconds till the camera can be used. Once the app appears on your screen, all the functions run smoothly and the photos are shot quite quickly.
Sony Xperia Z battery
It's worth it to note that our Xperia Z wasn't completely charged to maximum capacity, as more charge cycles were necessary. Had it charged longer, the duration would've been augmented. Nonetheless, I can already give details in regards to the endurance of its battery. In every day usage, the duration is solid, so that you can go throughout the day without any worries. I came to the result of 30 hours during my test, even when using email automatic background synchronisation, Google Talk, Twitter and Google Maps, as well as about 40 minutes of internet surfing. I used the telephone for a total of approximately 20 minutes.
Watching videos for a lengthy period of time amounted to a little more than three hours before the battery died. This is more than enough for watching longer movies or several episodes of a TV show.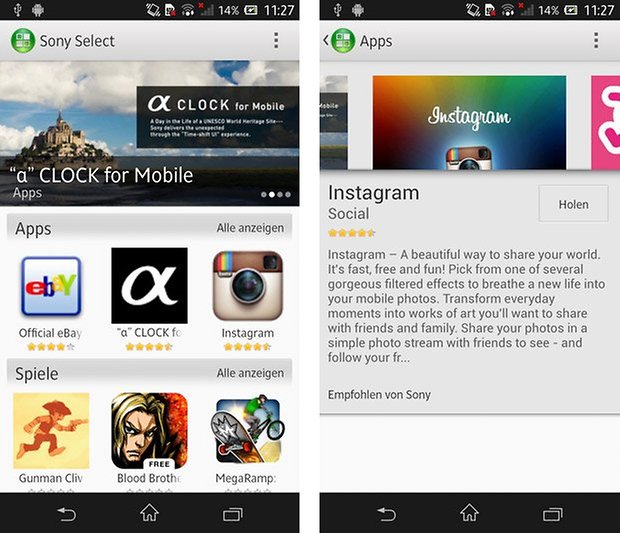 ''Sony Select'' offers you app recommendations.
Sony Xperia Z technical specifications
Final verdict
Sony offers an overall successfully-made smartphone with its new Xperia Z, which has only a few weaknesses: animation and operating could be a bit smoother in some places. However, there's a good chance that Sony will tweak its performance with a future update. The battery life also barely scrimps by with its 2.3000 milliampere-seconds and could be a little bit bigger. The Xperia Z will always make it through the average daily usage. Only power users will have a problem. Because the battery is not interchangeable, extreme smartphone users should maybe think about attaching an external battery.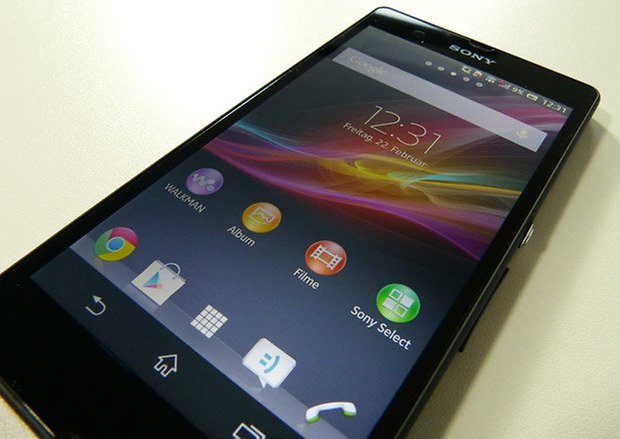 ​Hats off to Sony Xperia Z!
Those who are on the search for an elegant smartphone with efficient hardware and an attractive design, will certainly not go wrong with the Xperia Z.
(Fotos: nh/AndroidPIT)