Smartphone classic Angry Birds makes its way onto VR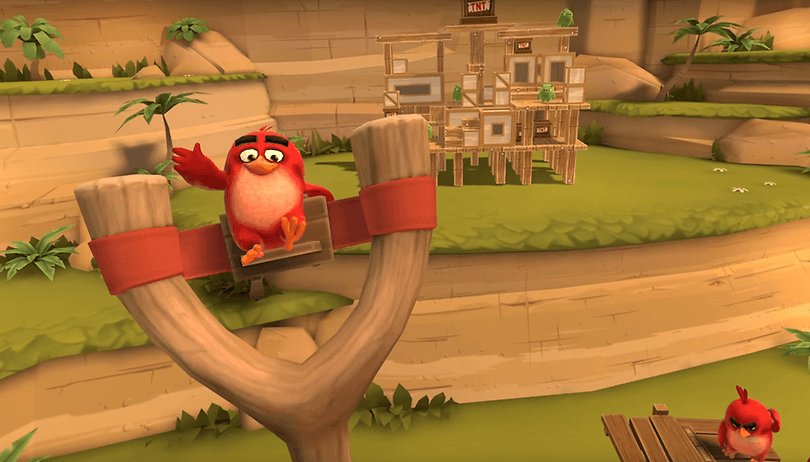 It's been ten years since Angry Birds first launched in 2009. In that time the cute but simple mobile game has transformed into a pop culture phenomenon with multiple sequels, spin offs and even a feature-length movie. Therefore, it was only a matter of time before the angry birds and evil green piggies made their way onto virtual reality.
Angry Birds VR: Isle of Pigs is officially out today. The game is a collaboration between Rovio and Resolution Games and boasts over fifty levels with a familiar goal. You launch birds into the evil pigs' shoddily-constructed lairs until everything comes crashing down. Of course, your favorites Red, Chuck, Bomb, and Blue are all there, boasting their familiar and unique skills. The major difference is that the VR game of the popular franchise puts the slingshot in your hands.
"We felt that the IP itself lended extremely well to using your hands, being able to intuitively know what to do and have this 3D version of an old classic." Tommy Palm, CEO of Resolution Games, told Engadget. This is not the only advantage of 3D, however. Players can jump from one vantage point to another to discover hidden weaknesses that might not be visible from other angles. This definitely adds another dimension to the demolition gameplay. However, you are not allowed to navigate around the structures freely and examine them from all sides - you are 'rooted' to your vantage point.
Unlike the original, Angry Birds VR: Isle of Pigs is not free. The game will cost you either $15 or $9 if you have a Vive Port subscription. Angry Birds VR: Isle of Pigs is out now for the Oculus Rift and HTC Vive, with plans from the studio to launch it on more VR platforms in the coming months.
What do you think about the Angry Birds' VR adventure? Have you played the game already? Let us know in the comments.