Samsung Galaxy Tab Pro 8.4 review: the best screen ever?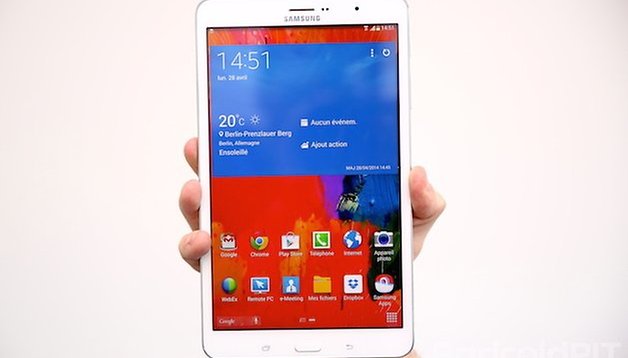 While the 8.4-inch display diagonal of the Tab Pro may seem a little exotic at first, compared to many other super-portable 7- or expansive 10-inch tablets on the market, it does have some advantages. The 16:10 aspect ratio makes it possible to significantly improve the viewing possibilities without sacrificing mobility. The high resolution screen of the Galaxy Tab 8.4 Pro is, on paper, the perfect competitor for the Apple iPad Mini Retina. Here's our test.
Good
Screen

Format (aspect ratio)
Samsung Galaxy TabPRO 8.4 design and build quality
Manufacturing is always neat with Samsung products, and as such there's no space between the parts to be found. Both the front and the rear of the tablet give an impression of solidity and quality workmanship. The speakers are located on the bottom edge of the tablet, the SIM card and microSD slots are on the left side, protected by flaps a la Sony. Like the Galaxy S5, the capacitive menu button has been replaced by a button for multitasking/recent apps.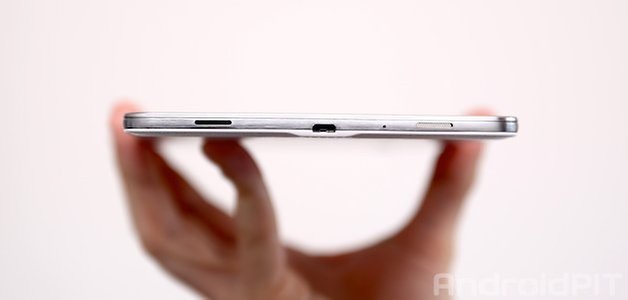 Samsung has included the same metal-look plastic frame and the rear plastic-type leatherette as that found on the Note 3 and Galaxy S5. It may not be everyone's cup of tea, but it has the merit of not scratching too easily and not picking up fingerprints as badly as shiny surfaces would.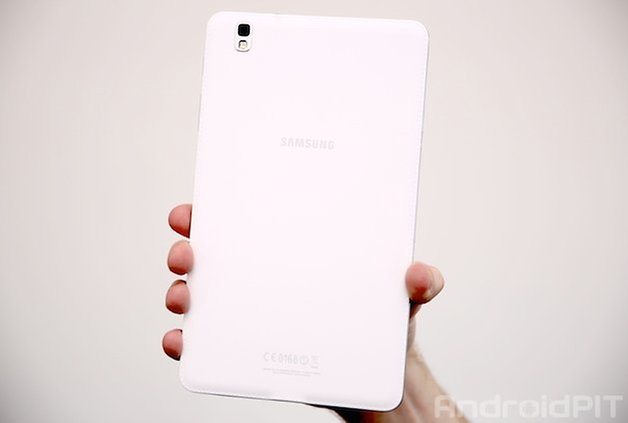 Overall, the Galaxy Tab Pro 8.4 is a pretty nicely designed tablet, which is very Samsung, so if you're already a fan of Samsung styling you will not be disappointed. It fits quite well in the hand and its size and styling make it very ergonomic.
Samsung Galaxy TabPRO 8.4 display
There is much to be said about the screen of the Galaxy Tab Pro 8.4, and at the same time very little. On paper, it is a slab of 8.4-inch with a resolution of 2,560 x 1,600, equaling 359 pixels per inch. For comparison, the iPad Mini has a pixel density of 324 ppi. In practice, it is immediately clear that the screen is straight off the top shelf. Games and videos are very nicely displayed on the Tab Pro 8.4, but there's also an undeniable advantage for reading and internet browsing.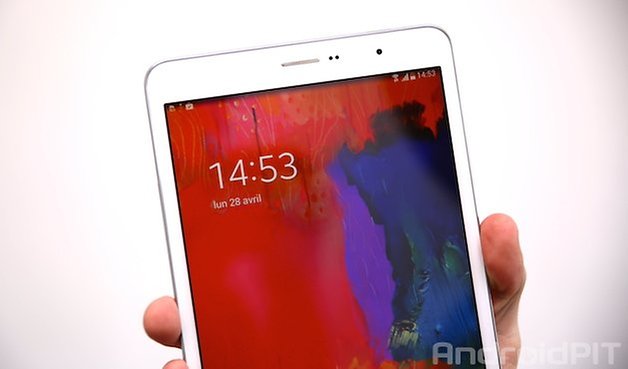 The Tab Pro 8.4 has a 16:10 format. Why is this important? Firstly, its shape is different: as you can see, it seems more "elongated" or taller in portrait mode, even if only by 0.4 inches. For reference, the iPad's aspect ratio is 4:3. The 16:10 ratio is a definite plus when watching movies because we gain a half inch in visual comfort without sacrificing any portability. For example, the tablet is still very usable in portrait mode for typing input because it's taller, not wider.

The color reproduction is very good and much less contrasty than on other Samsung devices with Super AMOLED displays. This is because the Tab Pro has a Super Clear LCD panel which gives an excellent overall impression. In short, you'll quickly understand how the Tab Pro 8.4 offers probably the best screen of all tablets in this size range.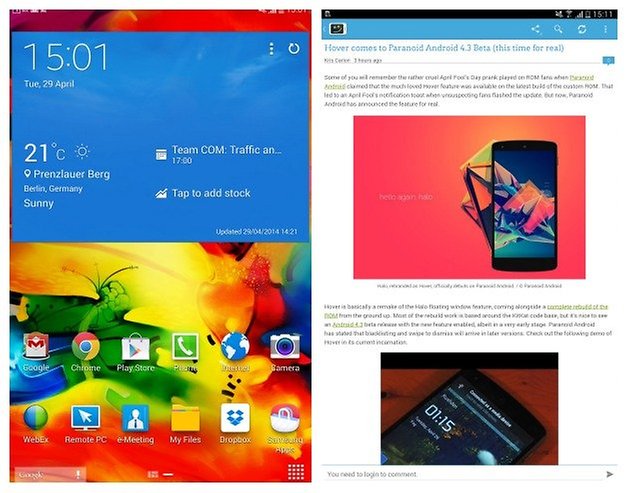 Samsung Galaxy TabPRO 8.4 software
The Tab Pro 8.4 falls under the wave of changes made by Samsung in its TouchWiz redesign, along with new capacitive keys, etc. Long pressing the Home button now opens Google Now, double pressing Home launches S Voice and the new multitasking key launches recent app tiles. As far as Samsung bloatware goes, you'll get the usual applications: Flipboard, Dropbox, Samsung widgets, S Planner, S Memo, a file browser, the desktop tool Hancom Office Viewer and Webex web conferencing solution from Cisco.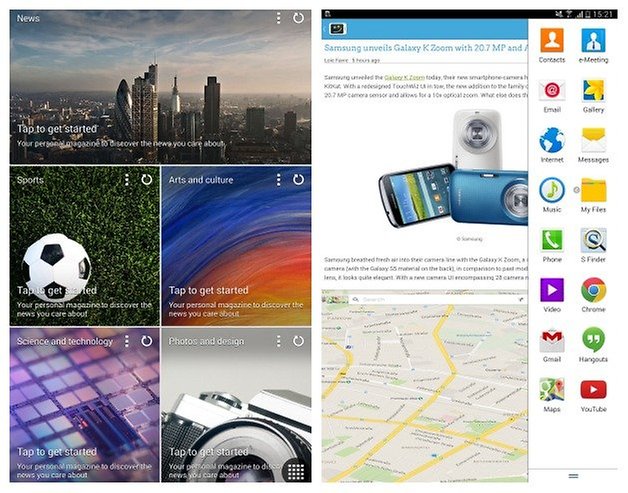 Samsung's new Magazine app also makes an appearance, living in the same place as Google Now on Nexus devices, which is accessed by sliding to the left from the home screen. This is basically just the integration of the Flipboard system into a dedicated home screen, nothing more nor less. You'll also find the Smart Screen function to scroll the screen by tracking your eye movements and Swiftkey, the famous swipe-typing keyboard, is also built-in.
Samsung Galaxy TabPRO 8.4 performance
The Tab Pro 8.4 has high-end features, in accordance with its price. Overall, the performance is very good and all the latest games will run smoothly. However, the application load times, and sometimes just the touchscreen responsiveness is not up to par considering the specs and the performance available on other tablets. The typical end user will not really be bothered by these stutters and minor lags point, but it's our business to notice them and report them.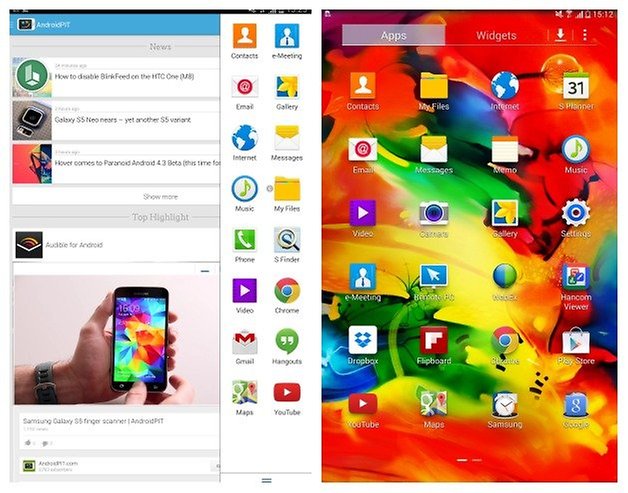 Samsung Galaxy TabPRO 8.4 camera
The 8 MP camera will not make miracles happen. It is about right for a tablet though, but unless you are in full daylight in perfect conditions your pics will tend to be dark and lifeless. The front-facing 2 MP sensor performs very well in the office at least and will allow your audience to see you perfectly well during video chats.
Samsung Galaxy TabPRO 8.4 battery
With a 4,800 mAh battery, the Tab Pro has enough juice for normal use. Watching movies continuously, however, will be limited to a few hours (about 7 hours in our tests). We can return better info on the battery after a longer test but for now, the tablet seems to offer pretty good battery life.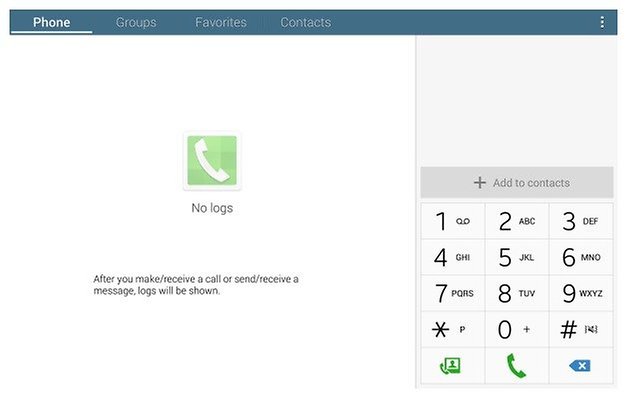 Samsung Galaxy TabPRO 8.4 technical specifications
Final verdict
The Samsung Galaxy Tab 8.4 features some thoughtful decision making by Samsung, and whose format and size will delight users who want a device on which to watch movies and multimedia content. The quality of the screen, perhaps the best in its class currently, is undeniable and mid-range display diagonal perhaps retains the best of both smaller, more portable tablets and larger, more luxurious ones. Although a few lag problems blemish an otherwise nice device, they can't really spoil the good impression that the Tab pro 8.4 leaves. In short, Samsung has popped out a great tablet that will probably prove to be the most popular of the Tab pro sizes, and which, for the price point offers truly excellent display quality.